5 Questions Left Unanswered After NY Knicks Training Camp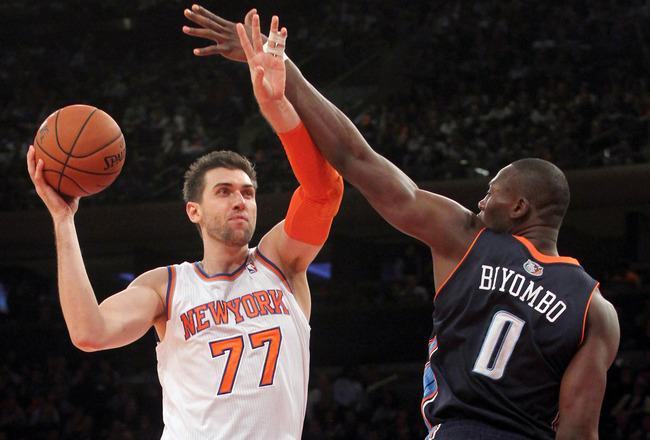 Andrea Bargnani is officially a question mark for the New York Knicks after a poor preseason.

Funny thing about the New York Knicks training camp—it didn't answer any of the juicy questions.
Well, maybe one: What to do with Andrea Bargnani? But even the answer to that isn't official.
Some minor questions were answered, like:
Will 6'2" backup point guard Chris Smith actually make the opening day roster? Yes.
Who will round out the 15-man roster, given 11 guarantees and Smith? The final three are center Cole Aldrich and rookie shooting guards Tim Hardaway Jr. and Toure' Murry.
One major question was answered, but everyone already knew what the answer was going to be: Will Carmelo Anthony opt out at the end of the season, no matter what the Knicks do? Yes.
That's not a good thing if the Knicks regress, no matter what Anthony says about recruiting players from his "big black book," as reported by the New York Post's Marc Berman.
What about these next five questions, though? They're the ones that really matter in the Knicks' 2013-14 title pursuit—and they are still unanswered.
1. Where Does Andrea Bargnani Fit In?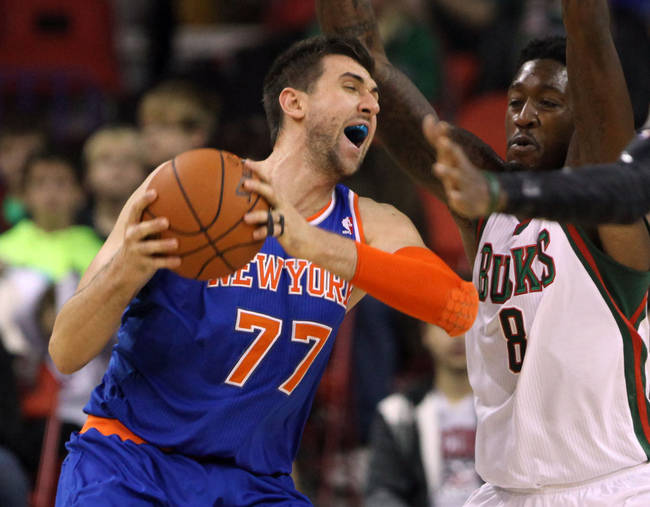 Until the tail(spin) end of the preseason, it looked like Mike Woodson was going to buck last year's uber-successful trend of starting Carmelo Anthony at power forward—where Anthony had arguably the best season of his career and the Knicks their best regular season in over 15 years (1996-97).
Bargnani started all seven preseason games at the 4 and he was—let's put this mildly—a disaster. Marc Berman, again:
Bargnani shot just 20 percent from 3-point range and struggled with defensive rotations and rebounding. The chemistry didn't seem right after the preseason opener. Bargnani was a minus-72 in the last six exhibition games.
Now what?
There has been no official word, but "it sounds as if [Woodson will] start Carmelo Anthony at power forward in the Knicks' season opener," says ESPN's Ian Begley.
Sounds like a collective sigh of relief from fans.
Where, then, goes Bargnani?
To the bench, backing up Anthony at the 4 and maybe even occasionally jumping in at the 5.
None of this is set in stone for Game 1 or even the whole season. The first starting lineup will not be decided until opening day itself, so there's not much to go on for the next 81 games.
Through the first half of the season, Woodson very possibly will tinker with the power forward position if (once?) Bargnani gets up to speed.
Whoever starts at power forward also affects who starts at small forward—in other words, Metta World Peace enters the equation.
2. Will J.R. Smith Start?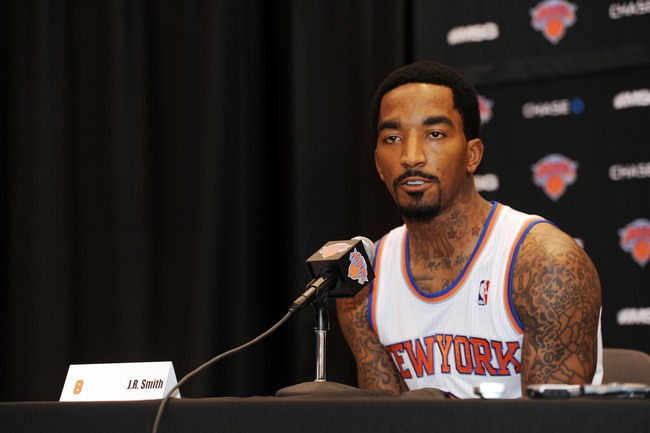 No, this isn't answered despite assumptions the reigning Sixth Man of the Year is just going to jump right back into his suited role.
There's a battle going on between J.R. Smith and Iman Shumpert for starting shooting guard per Frank Isola of the New York Daily News:
J.R. Smith has a starting job that is his to win. Woodson says his plan is to start either Smith or Shumpert at shooting guard. 'I'm going to let them two fight it out.'
Since Smith appeared in just one preseason game thanks to his offseason knee surgery and will miss the first five games of the season thanks to his NBA drug-policy offense—and also since Iman Shumpert has had a sore shoulder affecting his game—this battle isn't getting going in earnest for another month.
Smith, again, has intimated that he wants to start.
Who says Shumpert can't come off the bench to fill some offensive shoes, especially if he picks up where he left off in last year's postseason? He'll bring defense off the bench, too, in a way Smith doesn't (and perhaps can't).
By the way, this does answer whether the Knicks will start two point guards, like they did for chunks of 2012-13. The answer is no.
3. What Will J.R. Smith's Impact Be?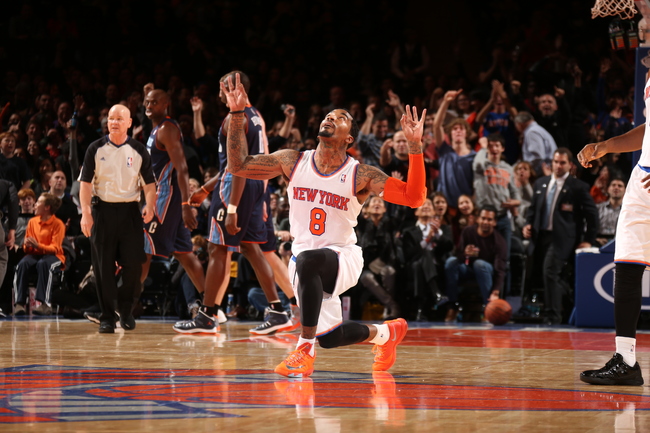 Who on earth knows? You never know exactly what you'll get from Smith, either on or off the court. Pity to have to deal with this from your second-best scorer.
Twitter booty pics, partying with Rihanna during the playoffs, suspended for smoking marijuana, extorting the Knicks to pick up his brother, hiding medical needs for a good contract and then the knee surgery itself.
That was all within one year—and we haven't gotten to the on-court concerns, like inconsistent and poor shooting, irresponsible decisions (see: Game 3 elbow) and flopping in the postseason.
Smith is a riddle that can never be fully answered. You will always hold your breath when he takes that game-winner (or clunker).
We will wonder about his knee.
And it doesn't help that Smith has played all of 13 minutes of preseason ball and is skipping the first week of the regular season.
We won't comfortably know what J.R. Smith's impact will be until the season is over.
4. What Will Amar'e Stoudemire's Impact Be?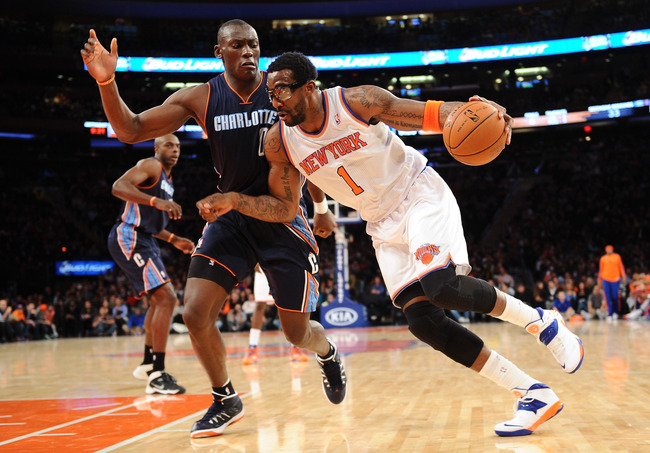 Amar'e Stoudemire also had secret offseason knee surgery and played one less minute than J.R. Smith in the preseason. He scored six points and recorded four personal fouls. Not much to go on there. Pity to have to deal with this from your third-best scorer.
It would be nice to go on how STAT left off 2012-13. He quietly had a pretty good year: 21.8 points, 7.7 rebounds and 1.1 blocks per 36 minutes.
Once Stoudemire started playing 30 minutes a game, though, he popped. And by the time the postseason rolled around, he was done.
Amar'e's minutes will be severely limited through the regular season, if he even plays.
Last year started with what was reported as a relatively innocuous cyst on his knee. Remember? Stoudemire made it into 29 games for the whole season after that.
It's hard to trust the New York Knicks front office on this one.
Chances are Stoudemire's impact will be minimal in 2013-14. The Knicks have no choice but to keep him around and make it look as good and progressive as possible while doing so.
If he puts up similar averages over a few more games and is half-alive in the postseason, the Knicks will take it.
There's always the chance he has a comeback type of season. Don't count on it.
5. Can the New York Knicks Compete with the Best of the Eastern Conference?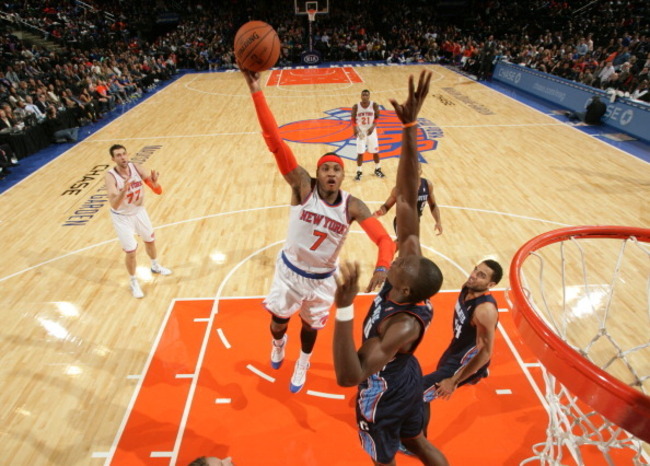 The jury has already decided, but they may have jumped the gun and underrated the New York Knicks once again.
The oddsmakers (vegasinsider.com) leaped into the Kevin Garnett and Paul Pierce-to-the-Brooklyn Nets frenzy, giving the Nets the Atlantic Division title and third seed. The Knicks are predicted to finish fifth in the Eastern Conference.
But, how good were KG, the Truth and the Boston Celtics last year? Not very.
"Most prognosticators now view the Knicks as no better than the fifth seed in the East—which would mean no home-court advantage in the first round," adds the Post's Marc Berman.
ESPN's SCHOENE projection system had this morbid prediction for New York: "37-45, 2nd in Atlantic, 7th in Eastern Conference."
That's barely making the playoffs.
The 2-6 ugly preseason, continuing J.R. Smith and Amar'e Stoudemire issues and the potential bust in Andrea Bargnani haven't helped the Knicks' cause.
Meanwhile, the Chicago Bulls, who swept the Knicks 4-0 during the regular season, get Derrick Rose back. The Indiana Pacers are peaking, bulked up their roster and will only benefit from a full season out of Danny Granger. And the Miami Heat are the Miami Heat, still the team in all of the NBA to beat.
Did the Knicks keep up? Only time will tell. For now, the jury is still out.
Keep Reading

New York Knicks: Like this team?