Masahiro Tanaka Rumors: Latest Buzz and Speculation Surrounding Star SP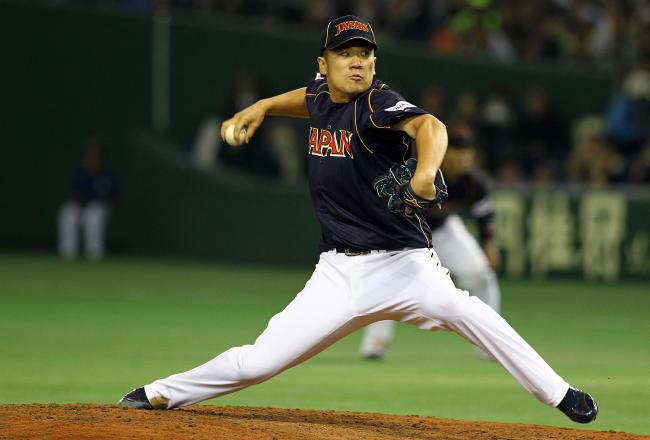 Masahiro Tanaka is the most sought-after Japanese pitching export since Texas Rangers ace Yu Darvish, which makes the bidding war to sign him one of the offseason's most intriguing storylines. With so few top pitchers on the open market, Tanaka is sure to command a high price from a top organization.
Updates from Monday, Dec. 9
From Jon Morosi of Fox Sports:
One GM interested in Tanaka believes he will, in fact, be posted. I expect we will find out for sure in next 24-48 hours.

— Jon Morosi (@jonmorosi) December 9, 2013
Updates from Friday, Dec. 6
From Orange County Register reporter Jeff Fletcher:
Re: Tanaka, 2 MLB execs told me they don't think he'll be posted at all. FWIW.

— Jeff Fletcher (@JeffFletcherOCR) December 6, 2013
Updates from Thursday, Dec. 5
Yozo Tachibana, president of the Rakuten Golden Eagles, also spoke about the decision to post Tanaka (via Dylan Hernandez of the Los Angeles Times):
"We have an obligation to explain to our stakeholders whether it's fair," Golden Eagles President Yozo Tachibana said to Sponichi.

And if it's decided it's not fair?

"There's a possibility we won't take the next step," Tachibana said.

In other words, Tanaka wouldn't be posted.

However, the Golden Eagles will likely come under immense public pressure to let Tanaka come to the United States.
Meanwhile Ken Rosenthal of Fox Sports reported that Tanaka is still expected to be available this winter when the proposed MLB-NPB agreement becomes official:
Source says deal with NPB on new posting system is "very close." To get Japanese player, MLB clubs must be willing to pay his team $20M.

— Ken Rosenthal (@Ken_Rosenthal) December 5, 2013
MLB expects Tanaka and others will still be posted. Otherwise, Japanese players might demand earlier free agency. Currently must wait 9 yrs.

— Ken Rosenthal (@Ken_Rosenthal) December 5, 2013
Clarification: $20M will be the maximum bid, not the required bid.

— Ken Rosenthal (@Ken_Rosenthal) December 5, 2013
MLB insider Peter Gammons previously reported Tanaka may not be available in wake of leaked details of potential agreement:
Not only are Rakuten Golden Eagles opposed to ever-changing US posting rules, but tonight leaning against posting Tanaka, period.

— Peter Gammons (@pgammo) December 5, 2013
Follow @MikeChiari on Twitter
Andy McCullough of The Star-Ledger reports the Yankees will pursue Masahiro Tanaka:
The team has also eyed Japanese right-hander Masahiro Tanaka, who is expected to leave Nippon Professional Baseball this winter.
---Original Text---
The 24-year-old righty has pitched for the Tohoku Rakuten Golden Eagles of Japan's Pacific League ever since he turned 18 in 2007. His star power was apparent from the start as he posted an 11-7 record with a 3.82 ERA that year, but he has managed to get better with each passing year.
This past season was unquestionably the best of Tanaka's career as he dominated to the tune of a 24-0 record with a 1.27 ERA, 0.94 WHIP and 183 strikeouts in 212 innings.
Baseball analysts often debate how much weight success in the Japanese league should carry, but since it is generally considered to be somewhere between Triple A and the Major Leagues in terms of competition level, it's certainly significant.
Tanaka truly burst onto the international scene this past offseason when he took part in the World Baseball Classic for Japan. The likes of Daisuke Matsuzaka and Darvish parlayed strong WBC showings into fat MLB contracts, and Tanaka figures to do the same.
There doesn't appear to be a leader in the clubhouse when it comes to acquiring Tanaka's services quite yet, but the Los Angeles Dodgers, the New York Yankees and the Rangers have all been speculated as potential landing spots.
According to Steve Dilbeck of the Los Angeles Times, the Dodgers are very much interested in Tanaka. He pointed out the fact that L.A. has been aggressive in the international market by signing the likes of Hyun-Jin Ryu, Yasiel Puig and Alexander Guerrero in recent years.
Mark Saxon of ESPN Los Angeles backed up Dilbeck's claim by saying that the Dodgers were among the teams that scouted him.
@Dodgers scouted Masahiro Tanaka three days ago, could be major players if he comes to U.S. He's 24-0 (with a save, weirdly)

— Mark Saxon (@markasaxon) October 22, 2013
After an injury-plagued season that caused them to miss the playoffs, the Yankees will unquestionably be players in the free-agent market this offseason. It's possible that they will lose the services of pitcher Hiroki Kuroda, so it makes sense for them to pursue Tanaka as he has been compared favorably to Kuroda.
According to Andrew Marchand of ESPNNewYork.com, the Yankees' main priorities this offseason are to sign Tanaka, Robinson Cano, Brian McCann and Carlos Beltran. He speculates that the posting fee to sign Tanaka could exceed the $51.7 million Darvish commanded, but the contract could be similar, which means it would be in the neighborhood of $10 million per season for six years.
The Rangers have come so close to winning the World Series in recent years but have yet to finish the job. There is plenty of talent there, but they seem to be in need of another piece or two. According to ESPN's Buster Olney, Tanaka figures to be on their shopping list.
A lot of rival evaluators believe Rangers are going to be really, really aggressive this winter, pursuing Price, Tanaka, McCann, etc.

— Buster Olney (@Buster_ESPN) October 17, 2013
Despite that, T.R. Sullivan of MLB.com claims that while the Rangers may make a bid for Tanaka, they don't think as highly of him as they did Darvish.
Aside from that triumvirate of top clubs, there figures to be plenty of other teams interested in Tanaka as well. Organizations tend to come out of nowhere to take a run at prized international free agents, so it's very hard to predict where Tanaka will ultimately end up.
There is little doubt that he will be a very rich man when this process is all said and done, though.
This article is
What is the duplicate article?
Why is this article offensive?
Where is this article plagiarized from?
Why is this article poorly edited?