Illinois vs. Penn State: Live Score and Highlights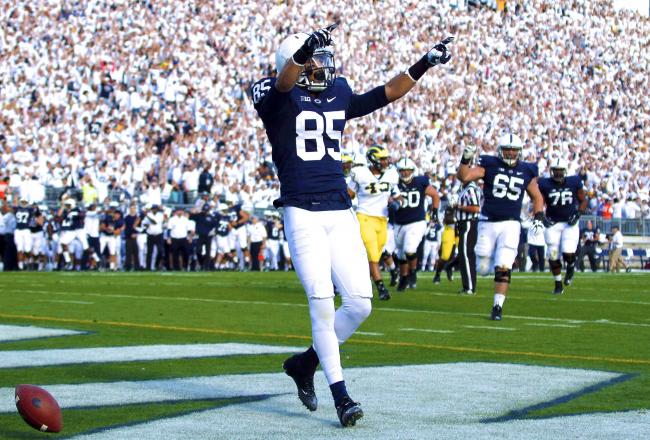 Penn State 24, Illinois 17—Final (OT)

Penn State (5-3, 2-2 Big Ten) needed extra time for the second straight home game, but the Nittany Lions still prevailed, winning 24-17 in overtime over Illinois (3-5, 0-4).
Christian Hackenberg found Kyle Carter for a 14-yard touchdown to start overtime, then PSU's Ryan Keiser intercepted Illinois QB Christian Hackenberg in the end zone on the next play to end the game.
The loss was Illinois' 18th straight in Big Ten play.
Stats from the game can also be found at NCAA.com.
Last post from Penn State-Illinois: check out our take on the 10 things we learned from the Nittany Lions' overtime win.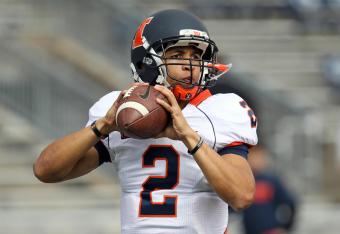 Some Stat Superlatives from This Afternoon's Game
Penn State came back to win the yardage battle over Illinois, finishing with a 491-411 advantage.
Illinois QB Nathan Scheelhaase set career highs for attempts (52) and completions (33), finishing with 322 yards. He had one touchdown and two interceptions, including the one in overtime that ended the game so abruptly.
PSU tailback Bill Belton ran for a career-high 201 yards on 36 carries in his first-ever start.
Allen Robinson was again the best receiver on the field, with 11 catches and 165 yards for PSU. But no touchdowns.
OK, so what does this game mean for both teams?
Penn State
Being able to pull this one out, after trying to give it away so many times in the second half, is huge for the Nittany Lions, especially with a trip to Minnesota coming up. To be able to come back late, regardless of the opponent, is imperative to success.
Illinois
Could this near-win be the sign of better things, or will the Illini be so dejected by coming so close and yet still losing that the remaining games are all letdowns?
Illinois is on the road again next week, against Indiana, before hosting Ohio State the following week.
Welp. Good for Penn State but wow, what a way to blow it for Illinois down the stretch.

— Bryan Fischer (@BryanDFischer) November 2, 2013
That about sums up what we just saw in overtime.
And just like that, it's over.
Scheelhaase goes to the end zone on first down, looking for Spencer Harris. But Adrian Amos tips the pass, and Ryan Keiser comes down with it for the interception.
Wow. Just, wow.
TOUCHDOWN! Penn State 24, Illinois 17
Christian Hackenberg finds tight end Kyle Carter on 3rd-and-11 from the 14 for a touchdown. PAT is good.
Illinois needs its own touchdown to keep this one going.
FYI, Penn State committed just 27 penalties through the first seven games. Today the Lions have 11.
Make that 3rd-and-11 from the 14.
Belton gets around the corner on 3rd-and-1 from the 4, scoring a touchdown...but holding on Penn State (its 11th penalty) is bringing this back. Will now be 3rd-and-6 from the 9.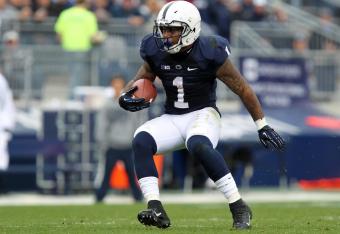 Bill Belton with a first-down run to start overtime. Hoping to atone for that big fumble on the 1-yard line in the fourth quarter.
Illinois won the toss, but will let Penn State take the ball first.
This is Illinois' first overtime game since Nov. 6, 2010, when the Illini lost 67-65 in triple overtime to Michigan.
Penn State hasn't had to wait as long, beating Michigan 43-40 in four overtimes three weeks ago.
Anthony Zettel sacks Nathan Scheelhaase, Penn State's first sack of the game, and Illinois is going to let the clock run down to overtime.
Free football, folks!
Blood pressure low enough for more overtime, anyone?

— John Stuetz (@JohnStuetz_PSU) November 2, 2013
Will we have another four-overtime game, like in Penn State's last home game?
ESPN is saying Josh Ferguson won't return for Illinois. He's collected 106 yards of total offense and both touchdowns in this one. Huge loss for the Illini.
FIELD GOAL! Penn State 17, Illinois 17
Sam Ficken hits a 35-yard field goal with 41 seconds left to tie it. PSU had two passes into the end zone, but couldn't get the go-ahead touchdown.
And the Lions go to Felder in the end zone again, same play, but this time Darius Mosley nearly intercepts it.
And you wonder by Allen Robinson is the only receiver Christian Hackenberg trusts. Brandon Felder just dropped a touchdown in the end zone.
Illinois calls a timeout? Really? Fifty-seven seconds left, ball on the 18.
Belton bounces through the middle to the Illinois 19.
Two plays, 25 yards, and PSU is at the Illinois 25 with 1:17 left.
Penn State starts at midfield with 2:31 left.
Illinois plays it super conservatively on 2nd- and 3rd-and-long, with short runs. Penn State will receive this punt with about two minutes left.
Illinois' Josh Ferguson just came up limping, Illini with a 3rd-and-9 from their own 2-yard line.
So, of course, Illinois throws on first down.
This article is
What is the duplicate article?
Why is this article offensive?
Where is this article plagiarized from?
Why is this article poorly edited?