Definitive Guide to Lakers vs. Warriors and Wednesday's Top NBA Games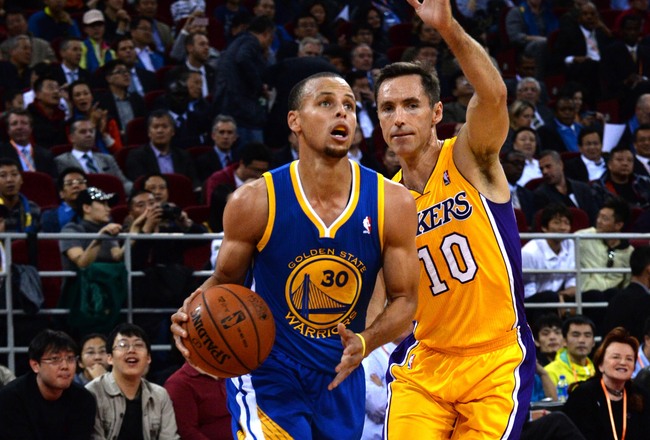 Give yourself a round of applause and supersize your dinner. You've earned it.
The days of meaningless NBA action are over. Games finally have a purpose again. You survived. Be excited.
But not too excited, because we've all got some work to do. Only three games were played on the Association's opening night, meaning there's a full slate of tilts available for your viewing pleasure Wednesday—14 to be exact.
Cancel your dinner plans. You can supersize your colon on Thursday. Wednesday is not the time for relaxation. That comes later, when teams like the Charlotte Bobcats and Philadelphia 76ers play one another (Dec. 6).
Now's the time for intricate planning. Purchasing bigger TVs. Finding that butt-shaped groove in your couch. Explaining to your significant other why your phone is turned off.
Strap yourself in. It's going to be a wild Wednesday.
Wednesday Night Lineup
Cleveland Cavaliers vs. Brooklyn Nets, 7 p.m. ET (NBATV)
Philadelphia 76ers vs. Miami Heat, 7 p.m. ET
Toronto Raptors vs. Boston Celtics, 7 p.m. ET
Detroit Pistons vs. Washington Wizards, 7:30 p.m. ET
New York Knicks vs. Milwaukee Bucks, 7:30 p.m. ET
Houston Rockets vs. Charlotte Bobcats, 8 p.m. ET
Minnesota Timberwolves vs. Orlando Magic, 8 p.m. ET
New Orleans Pelicans vs. Indiana Pacers, 8 p.m. ET
Dallas Mavericks vs. Atlanta Hawks, 8:30 p.m. ET
San Antonio Spurs vs. Memphis Grizzlies, 8:30 p.m. ET
Utah Jazz vs. Oklahoma City Thunder, 9 p.m. ET
Phoenix Suns vs. Portland Trail Blazers, 10 p.m. ET
Sacramento Kings vs. Denver Nuggets, 10 p.m. ET
Golden State Warriors vs. Los Angeles Lakers, 10:30 p.m. ET (NBATV)
*Note: All injury information was obtained from CBS Sports unless otherwise attributed.
Keep Reading