LeBron James' Performance Against Chicago Bulls Shows He's Hungry for 3rd Title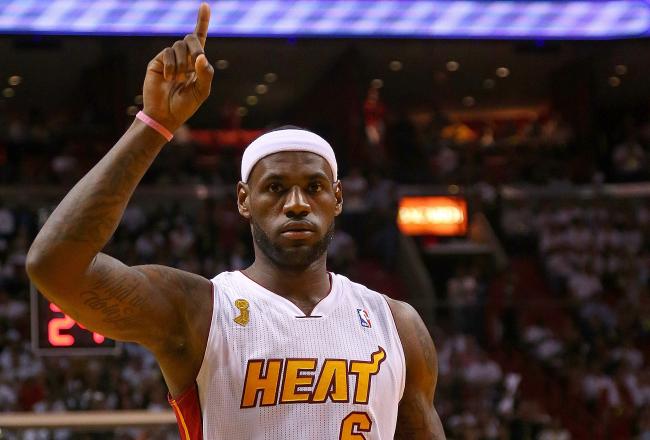 (Photo by Mike Ehrmann/Getty Images)
Any hopes of LeBron James growing complacent were dashed in 48 minutes on Tuesday night.
James and the Miami used those 48 minutes to systematically take apart the Chicago Bulls in a 107-95 win. LeBron had 17 points on 5-of-11 shooting, six rebounds and eight assists.
On the other side, Derrick Rose, Luol Deng and Joakim Noah combined for 18 points on 7-of-27 shooting.
While it wasn't one of those transcendent performances, James was efficient on the ball and a lockdown defender on the other end of the court. It's the kind of game that makes you think the Miami Heat can actually pull off the three-peat.
NBA general managers are confident Miami can do it, per Bleacher Report's Jared Zwerling:
GMs say Heat (75.9%) will win 3rd straight title & LeBron (69%) will win 3rd straight MVP, per 12th Annual http://t.co/DVIL9pjk5T GM Survey.

— Jared Zwerling (@JaredZwerling) October 22, 2013
Still, there's that segment of NBA fans that wonder if some of the Heat players have grown complacent a bit after winning two consecutive titles. The fun comes from the climb up the mountain. Once you've gotten there, the only place you can go is down.
Will LeBron win his third consecutive MVP Award this season?
Can the players find enough motivation to go through another regular-season slog and postseason dogfight? And can LeBron once again be the driving force?
If Tuesday night's game is any indication, then the answer to both those questions is an emphatic yes, and James is the biggest reason why.
He set the tone offensively by getting to the hoop and not taking too many shots from the perimeter. ESPN Stats and Info has a visual of where LBJ's shots came from:
LeBron James scored 17 points. He spread his scoring out -- at the rim, a deep jumper & some mid-range shots: pic.twitter.com/EgWCgI3A1o

— ESPN Stats & Info (@ESPNStatsInfo) October 30, 2013
Watching him grow over the past three seasons has been a pleasure to watch. Having watched LeBron on a nightly basis while he was in Cleveland, you can see he needed the move to Miami in order to become the best version of himself.
Many people were knocking LeBron when he made that "not one, not two, not three, not four..." comment at the introduction in Miami.
Sure, it was fun to joke about for a while, but it was a statement of intent from James. He wasn't going to be content winning a single title, or even two titles. He truly wants to be the greatest player who's ever stepped on the court. He won't be satisfied until he surpasses Kobe Bryant and Michael Jordan in terms of rings.
Will the Miami Heat win their third title in a row?
That winning attitude rubs off on the rest of the players. It's the kind of thing you see with Bryant and the Los Angeles Lakers and saw with Jordan and his Chicago Bulls teams. More is never going to be enough. There's always another mountain to climb, another ring to grab.
And once again, LeBron was the guy to step up and close out the game. It was as if James was content to cede to his teammates early in the first half while the Heat were cruising. Then, when the Bulls started to come back in the fourth quarter, it was time for LBJ to shut the door, and that's exactly what he did.
In turn, he may have shut the door for anybody hoping to see the king dethroned in 2014.
This article is
What is the duplicate article?
Why is this article offensive?
Where is this article plagiarized from?
Why is this article poorly edited?

Miami Heat: Like this team?