Bellator 106: Bleacher Report Staff Main Card Predictions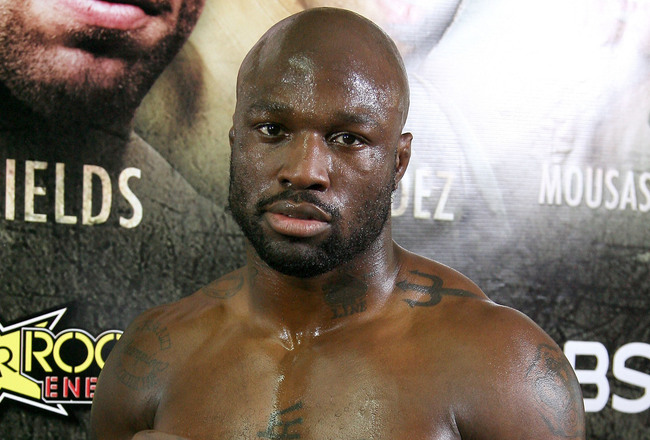 Valerie Macon/Getty Images
Bellator 106 has come with a plethora of emotions and news, as the card has gone from potentially unbuyable pay-per-view to awesomely stacked free TV card.
Originally headlined by fossils Rampage Jackson and Tito Ortiz, the kibosh was put on that after Ortiz suffered a neck injury. Go figure, right?
Anyways, the card carries on with three title fights that also happen to be rematches. On Saturday night, you have Michael Chandler vs. Eddie Alvarez, Pat Curran vs. Daniel Straus and Muhammed Lawal vs. Emanuel Newton.
If you are so interested, our crack team of MMA experts have some predictions for this potentially fun card. Scotty Harris, Jimmy MacDonald, Seany Smith, Craiger Amos and I, "Big Riles" Riley Kontek, will embark on this five-fight journey and give you our picks.
As a bonus, here are the preliminary card picks I made earlier this week.
Mike Richman vs. Akop Stepanyan
sherdog.com
Kontek: A pair of featherweight strikers with heavyweight power in their hands? Count me in! Both men love to bang, which could make this a Fight of the Night contender. However, Akop Stepanyan has shown his weakness on the ground, while Richman has the submission prowess to tap the Russian. This will be a three-round barnburner with Richman overcoming heavy firepower to take a decision.
Richman, Unanimous Decision
Harris: I like Mike Richman and his whole free-swinging banshee style. If Russians didn't train MMA, he'd be on a six-fight win streak. He'll get off that particular schneid on Saturday when he tops a tough but beatable Akop Stepanyan in an exciting fight.
Richman, TKO, Rd. 2
Smith: Richman could win this on the ground, but he's not a fighter who's afraid to stand with good strikers. The more diverse striker in this matchup, Stepanyan doesn't need to be given much time on his feet to land a fight-finishing blow.
Stepanyan, TKO, Rd. 1
MacDonald: This is a decent card-opener, as both men are looking to get back to winning ways. I expect a competitive fight, but Richman should edge the Russian.
Richman, Unanimous Decision
Amos: Neither of these guys has exactly been rolling lately, so this is a pivotal matchup. I anticipate that "The Marine" will control the action and work for submissions all night. I'm not sure he'll lock one up, but I do believe he'll get the W all the same.
Richman, Unanimous Decision
Mike Bronzoulis vs. Joe Riggs
sherdog.com
Kontek: If this fight is anything like the Fight Master ratings in the inaugural season, it will be a must-miss. However, Joe Riggs and Mike Bronzoulis could put on a fun little fight. Riggs is a scrappy vet looking to revitalize his career, while Bronzoulis is a brawler with serious knockout power and a great will to win. The safe pick would be to go with the vastly experienced Riggs, but something about Bronzoulis has me thinking he could get the knockout here.
Bronzoulis, TKO, Rd. 3
Harris: We've dangled long enough. And finally we get our payoff. Which Fight Master reigns supreme? Maybe I'm biased, but I'm going with the toughness, experience and power-punching precision of "Diesel."
Riggs, TKO, Rd. 1
Smith: I'm not sure this is what Bellator MMA was hoping to get out of its Fight Master series. For a certain other promotion, The Ultimate Fighter has been a solid producer of young talent and future stars over its lifespan. Bellator MMA's reality show us given us Joe Riggs and Mike Bronzoulis, a pair of journeymen in their 30s. Anyway, Bronzoulis touches Riggs' chin enough to win on Saturday.
Bronzoulis, TKO, Rd. 2
MacDonald: Bronzoulis is a bit of a Rocky figure. He has that look about him, combined with his apparent disdain for technique. Don't expect a fairy-tale ending, though. Riggs is likely to dominate and finish the fight late.
Riggs, KO, Rd. 1
Amos: Can you believe Joe Riggs is still only 31? The guy has been around forever. Strangely, the culmination of Bellator's answer to The Ultimate Fighter ends up with Riggs facing off with a man three years his senior. Anyway, I like Bronzoulis here, and I like him by stoppage.
Bronzoulis, KO, Rd. 1
Muhammed Lawal vs. Emanuel Newton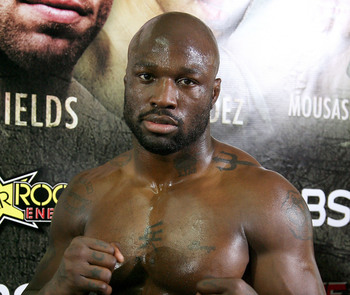 Valerie Macon/Getty Images
Kontek: While I don't think the first match between "King Mo" and Emanuel Newton was a fluke, I do think it was a poor game plan by Lawal. He got striking happy due to his training with the Mayweathers and got caught by a more dynamic guy in Newton. This time around, he is going to use the high-level wrestling and ground-and-pound that have made him so successful. Whether he deserved this fight is a whole 'nother issue.
Lawal, Unanimous Decision
Harris: Lawal has been talking a good game, saying he wants to torture the man who pulled the shocking upset on him. I want to tab Newton to repeat the feat, but I can't ignore Lawal's huge wrestling advantage. Something tells me he won't ignore it this time, either.
Lawal, Unanimous Decision
Smith: That sure was something when Newton put Lawal away with a spinning backfist in February. That'll be the high point in Newton's career, though. King Mo isn't going to be acting like he's the best striker in the light heavyweight division this time around. Wrestling and ground-and-pound will carry Lawal to a shot at Attila Vegh and a Bellator MMA belt that actually means something.
Lawal, Unanimous Decision
MacDonald: The first fight ended with Newton sparking King Mo with a spinning backfist and then cradling him like he was paying homage to Apollo Creed's death scene in Rocky IV. It's hard to imagine Lawal being caught off guard by such a low percentage technique again. He was getting the better of Newton right up until the lights went out. I expect King Mo to finish the job this time.
Lawal, TKO, Rd. 2
Amos: Back in February, Newton showed Lawal that his move to Bellator would be no cakewalk, stunning him with a spinning backfist knockout. This time around, King Mo should be more wary and use his wrestling to gain dominant positions early and often. When it's all said and done, I think he'll return the knockout favor.
Lawal, TKO, Rd. 3
Pat Curran vs. Daniel Straus
sherdog.com
Kontek: These two first met in 2009; since then, both men have grown. The difference in their development is that Curran is well-rounded and Straus is more one-dimensional, but he's very good at that skill. Quickness and athleticism may be on the side of Straus, but footwork and technique on the feet lean in the favor of Curran. His sprawl will keep him upright, and he will tee off on Straus to keep his belt.
Curran, TKO, Rd. 3
Harris: Curran has my vote as the second-best fighter in Bellator, behind only Chandler. Straus is a tough dude who will stand up to Curran's flurries in this rematch, but he will earn a loss and a couple of swollen eyeballs for the effort.
Curran, Unanimous Decision
Smith: Here's another rematch that should end up the same way it did the first time around. Having only lost to Eddie Alvarez over a span of nearly four years, Curran is legitimately one of the best featherweights in the world. Straus is no pushover, only losing to Patricio Freire since his April 2009 loss to Curran. However, an arrest in March kept him out of action for more than 12 months. That won't help the challenger in a matchup that didn't favor him to begin with.
Curran, TKO, Rd. 2
MacDonald: My only worry with Curran is that he never seems to show any sense of urgency. He is methodical almost to a fault. That being said, I think he has too many tools for Straus. Look for the champ to end the fight late.
Curran, TKO, Rd. 4
Amos: Neither fighter has lost since 2011, but when you size up the performances and competition of both guys, the edge rests with Curran. When it's all said and done, look for the featherweight champ to re-enact his 2009 knockout win over Straus.
Curran, TKO, Rd. 2
Michael Chandler vs. Eddie Alvarez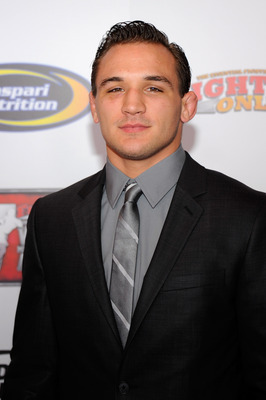 Ethan Miller/Getty Images
Kontek: Do you bet on the long layoff or the newly developed star who took the first fight? Well, despite the legal battle that Eddie Alvarez has endured and the long layoff, he is still a top talent with well-rounded skills. Michael Chandler will make this fight as competitive at the first, but I like Alvarez gaining his revenge.
Alvarez, Unanimous Decision
Harris: I know it feels like voodoo medicine to some, but in my opinion, ring rust is a real thing. Not that I don't think Alvarez has been training and so on, but with the yearlong absence and all the crazy baggage that will accompany him to the cage, I just don't see an A-game Eddie Alvarez making an appearance on Saturday night. I also happen to think Chandler is one of the best lightweights in the world. He'll find a way to win again.
Chandler, TKO, Rd. 2
Smith: With Alvarez being out of action for so long due to contract disputes, I see little reason to believe this fight plays out much differently than the first between Bellator's lightweight stars. Chandler has only gotten better in Alvarez's absence.
Chandler, Submission, Rd. 2
MacDonald: This is the biggest fight in Bellator's history and the biggest fight the organisation could conceivably make. Thankfully it's now the main event, rather than being used as a warm-up act for "Age in the Cage 2013." The problem for Alvarez in this fight is that Chandler has improved so much over the past couple of years. Bellator's 155-pound champ is twice the fighter he was during their first encounter. I can see Chandler ending the fight late again—this time via TKO.
Chandler, TKO, Rd. 3
Amos: It may have taken an injury to Tito Ortiz for this fight to become the official main event, but make no mistake—this was always the best and most meaningful fight on the card. The first time these two squared off, it was competitive and exciting, and I expect nothing less this time around. I also expect the same man to walk away victorious.
Chandler, Submission, Rd. 3
Keep Reading