The Houston Texans come off the bye week ready to face the Indianapolis Colts in the Sunday night game on NBC. They are no doubt looking to reverse the five-game losing streak that has left them with a 2-5 record.
The team taking the field against them sports the reverse record of 5-2, which happens to lead the AFC South. This game of opposites is most evident when the quarterback play of each team is compared and contrasted.
Andrew Luck has continued to develop at a hyperbolic rate and is the main reason the Colts sit atop the division. The downfall of Matt Schaub from capable helmsman of the Texans offense to a catch phrase for a pick-six has been just as rapid. So much so that he has lost his starting job to Case Keenum for the time being.
#khou #texans Matt Schaub practiced and will back Keenum up this Sunday according to Kubiak pic.twitter.com/VBUCB0de6N

— Matt

Musil

(@KHOUSportsMatt) October 28, 2013

The undrafted free agent from the University of Houston had a marvelous first half against the Kansas City Chiefs, going 8-of-12 for 151 yards and a touchdown. After intermission, the combination of a porous offensive line that gave up five sacks and a running game which netted zero yards on eight attempts was too much for Keenum to overcome.
The injury added to the insult of the 17-16 loss was the tear of Brian Cushing's lateral collateral ligament (LCL), which effectively ended his season. His departure did not lead to the same fatal collapse of the run defense that allowed Russell Wilson to run wild in the Seattle Seahawks fiasco.
Then again, Alex Smith went 10-of-11 for 113 passing yards to seal the victory after the defensive captain of the Texans was sidelined.

Houston Defense
This time around the opposing quarterback is not a low-risk game manager like Smith. Andrew Luck is a swashbuckling, go-for-broke field general with a knack for the right play at the right time. Pro Football Reference has him listed with nine game-winning drives in just his second season, tying him with the likes of nine-year veteran Aaron Rodgers.
Luck is just as likely to tuck and run if he finds a hole to his liking. He may be just the eighth-ranked QB in rushing yards, according to the PFR Player Season Finder, but is tied for the league lead with three touchdowns.
In the long run, he will need to learn the discretion of the QB slide to preserve his health. For now, defensive backs have been put on notice that he's not going down easy.
The cost of losing ironman Reggie Wayne to a season-ending torn ACL is comparable to that of Cushing. As far the relationship between Luck and his No. 1 receiver goes, it could be even more devastating.
T.Y. Hilton has the statistics to replace Wayne in the rotation, but at 5'11" and 170 pounds he is more suited to play slot receiver as he does now. Darrius "Wayward-Hands," née Heyward-Bey, and his 6'2", 205-pound frame best serves the needs of his team at the outside position.
Life has been pretty easy for Heyward-Bey since arriving in Indy. The coverage schemes are designed to concentrate on Wayne and Hilton, and the former Oakland Raider is mostly an afterthought.
Here is a 3rd-and-10 against the Denver Broncos with the Colts down 7-0. Heyward-Bey is in the slot, with strong safety Duke Ihenacho in press coverage. Luck has seen deep safety Rahim Moore shading the other side of the field, the side with Wayne and Hilton.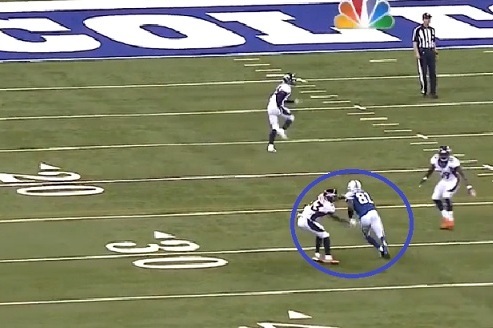 Ihenacho shows so little respect, all the receiver gets is a little shove coming off the line.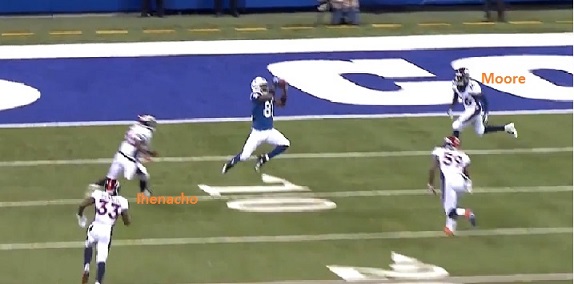 The Broncos are so flabbergasted Luck went to the slot man,
Heyward
-Bey is wide open with four players belatedly converging on him.
The question for the Colts is whether their new No. 1 receiver can handle those 8-yard square-ins in traffic that Luck relied on Wayne to catch with such regularity.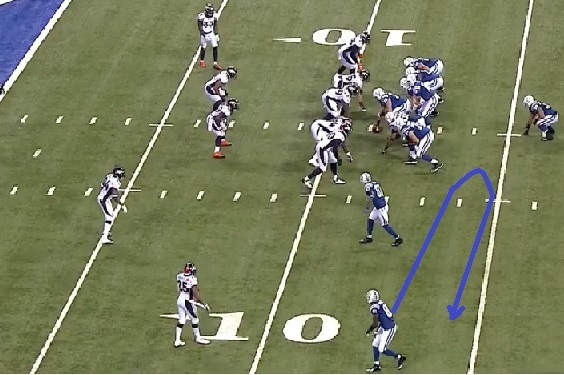 Heyward-Bey caught an 11-yard touchdown pass in this game on a comeback off motion that had the play direction going away from him. Once again, he did not have to worry about anyone in his vicinity and was as wide open as the previous play.
For the Texans, the important tactic to recognize in this formation is that it resembles a standard off-tackle running play. The Colts love to throw off this alignment. Fifteen of Luck's passing attempts against the Broncos came off run formations.
Luck will also go to his running backs more now that his security blanket is hurt. Even before Wayne left the Broncos game in the fourth quarter, he had targeted Donald Brown and Stanley Havili a total of five times. Havili had a 20-yard TD reception on a simple screen pass.
Heyward-Bey is not likely to have 10 targets in this game, but given his success against Denver he would be an effective decoy. A Texans defense ranked 27th in red-zone defense, according to TeamRankings.com, will ignore him and the running backs at their peril.
The Colts offensive line is much improved at the tackle spots over last year. The interior positions is where their soft underbelly lies. No quarterback likes pressure up the middle where there are less room to move.
J.J. Watt got back in the groove in Kansas City, but Antonio Smith didn't even record a tackle. Smith may have four sacks on the year, but his contributions have been spotty at best. A 32-year-old defensive end in his final contract year will not get any bids beyond the veteran minimum if he does not pick his play up fast.
The linebackers unit is being held together right now with duct tape and Bondo. Wade Phillips may call even more nickel and dime packages than normal just to cover up the holes. Shiloh Keo has turned out to be no worse than Danieal Manning and somewhat better than the creaky Ed Reed.
In honor of the passing of Bum Phillips, it's time for the defense "to hold the rope."

Texans Offense
The defense may have lost its leader, but the offense is on the verge of losing a position group.
Arian Foster is working through another hamstring problem, Ben Tate has four busted ribs and the third-string running back was cut for sharing a cigar.
The whole scene remains as murky as to the real reason why Cierre Wood was cut along with Willie Jefferson and Sam Montgomery. Drew Dougherty of HoustonTexans.com tweeted Foster did not practice Wednesday.
Kubiak: Arian Foster, Wade Smith and Darryl Sharpton didn't practice. #Texans

— Drew Dougherty (@DoughertyDrew) October 30, 2013
Brian T. Smith of the Houston Chronicle reported Foster did something other than sit and watch.
#Texans' Arian Foster went through light solo work today. Still end of week decision. #NFL #Colts

— Brian T. Smith (@ChronBrianSmith) October 30, 2013
The one thing everyone agrees on is that nothing will be decided until the end of the week.
Coach Kubiak called it an "end of the week decision". Updates on Arian Foster/Ben Tate HERE: http://t.co/kEHpQelYS3 pic.twitter.com/1Aq2teFC0N

— Houston Texans (@

HoustonTexans

) October 30, 2013
Well, at least we can all celebrate the start of the Keenum epoch. Be forewarned, not all the experts believe Schaub has reached the end of his rope.
Rich Gannon must go by a different definition of "drastic" than most Texans fans. "Drastic times call for drastic measures. I think you have to go with Matt Schaub."
Even Schaub's once-conjoined twin, Gary Kubiak, has seen the light and realizes the separation was necessary. However, without a running game manned by top-flight professionals, does Keenum stand a chance handing the ball off to Deji Karim or Ray Graham?
The Colts have been as lucky as they have been good. They have a winning record, yet have given up more yards than they have gained. A team can get away with that when they throw just three interceptions and have a plus-seven turnover differential.
Their two losses have been to the Miami Dolphins and the San Diego Chargers. The Dolphins won a close one due to a late interception by Andrew Luck. The Chargers prevailed by making Luck look mortal and controlling the clock with a 17-minute advantage in time of possession.
San Diego recorded the lone touchdown in their game with rookie wideout Keenan Allen victimizing the Colts secondary. Allen caught four of the five completions by quarterback Phillips Rivers, including the 22-yard scoring strike.
The touchdown is particularly instructive on how to overload the decision process of a defense. Just give them one too many choices and they will not be able to figure out which one to make.
By the time the Chargers had worked their way down to the Indianapolis 22, Allen had already made two receptions while covered by cornerback Vontae Davis. Rivers had also connected with tight end Antonio Gates, so strong safety Delano Howell had to be wary of Rivers' favorite target.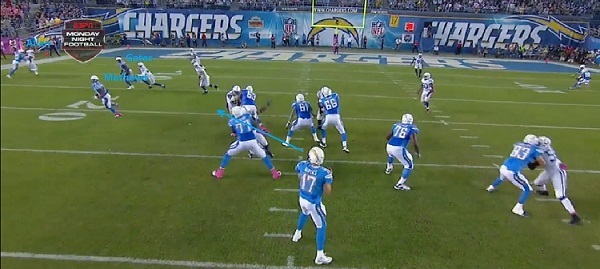 Notice that Gates has run a clear-out but cornerback Darius Butler has plenty of time to close if the tight end is the intended target. Linebacker Pat Angerer is watchful of Ryan Mathews in the flat while Howell is playing too far back to be any help in either situation.
Remember, Allen has already beaten Davis twice during this drive but manages to get the drop on him again. Rivers has disguised his intentions by having three potential receivers in his line of sight. Once Howell realizes Davis has lost control of Allen, the wideout has already split the two defenders.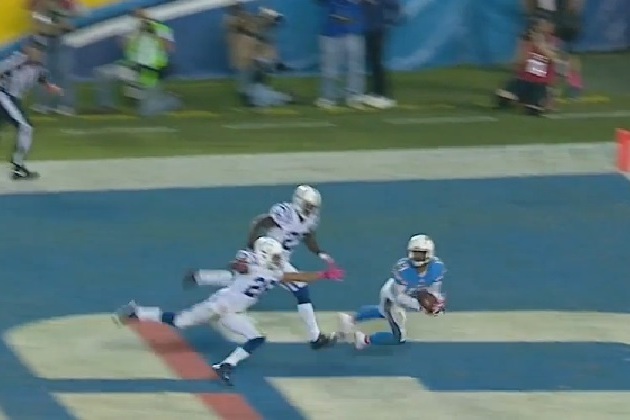 Gates was Rivers' first read, but when Davis got turned around Allen grabbed a scoring pass that was not a tricky as it looked.
With the running back rotation in disarray and Owen Daniels on injured reserve, Keenum may not have the same personnel package at his disposal. Garrett Graham is certain to make his presence felt, as will DeAndre Hopkins.
Foster will have to get the start over Tate. There isn't a way to deploy enough lidocaine and Kevlar to adequately protect Tate's fractured ribcage for more than a handful of carries.
Foster was not targeted by Keenum a single time in in the Chiefs game. That being said, his role in the passing game has been reinvigorated even with Houston constantly playing from behind this year.
The aerial attack will malfunction if the offensive line cannot give the quarterback time to operate. Trotting out Derek Newton every week has become as futile as putting Schaub in the starting role. If Kubiak has freed up his mind to the extent an untested quarterback has been handed the keys to the offense, he could at least start Ryan Harris at right tackle.
The Colts' Robert Mathis has somehow found the fountain of youth as the rush end, and already has 11 sacks in seven games. That puts him up against Duane Brown and his balky turf toe. If there was any single digit on the whole squad that needed a couple of weeks off, Brown has it.
The only Colts defender other than Mathis that is worthy of Pro Bowl consideration is LaRon Landry, who returned after missing four games to face the Broncos. After years of just running around and hitting people, he has finally picked up some cover skills. They could just as easily be forgotten if the Texans throw enough receivers at him.
The promise demonstrated by Keenum in his first start helped Houston play the only undefeated team in the NFL to a standstill. The next step in his progression would be a win in front of the home crowd. It is the fastest way for this team to become his team.