Detroit Tigers Offseason Tracker: Hottest Trade Rumors, Free Agency News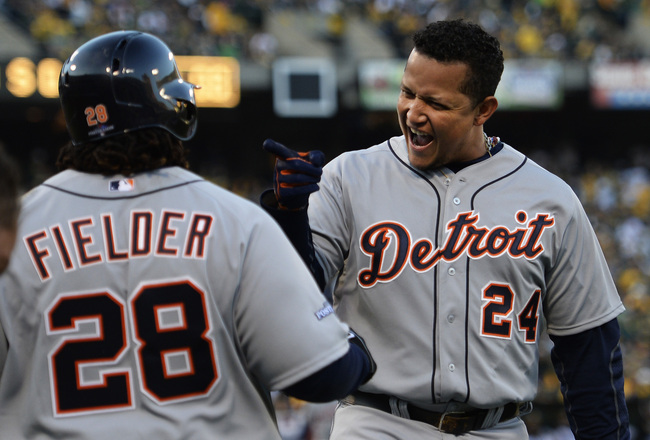 Detroit enters the offseason a team in flux. After three consecutive AL Central crowns, manager Jim Leyland has stepped down, leaving the team searching for a new leader.
Miguel Cabrera had surgery to repair the groin and abdomen injuries that limited him severely down the stretch and in the playoffs (h/t ESPN), and GM Dave Dombrowski has a number of tough decisions to make.
With owner Mike Ilitch not shy about spending money in an attempt to bring another World Series banner to Detroit, will the Tigers be major players on the free-agent market once again?
Or will they look to a potential trade of Max Scherzer, the favorite to take home the AL Cy Young Award, to infuse the roster with new talent?
The rumor mill is sure to be spinning fast and furious when it comes to the Tigers, and right here is where you'll be able to find the latest and most up-to-date news as the offseason rolls along. While the post date will always show October 31, simply click through to see the most recent rumblings and grumblings.
Detroit's Free Agents and Done Deals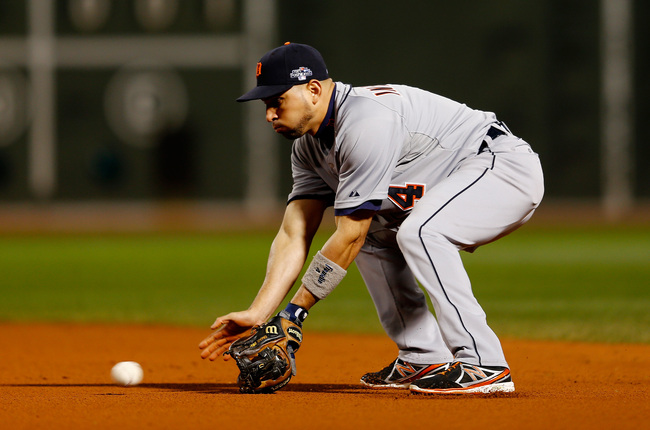 All the juicy rumors and analysis follow, but consider this your one-stop shop for all the comings and goings in Detroit this winter, including the status of the team's own free agents.
Tigers Free Agents
RHP Joaquin Benoit
RHP Jeremy Bonderman
RHP Octavio Dotel
2B Omar Infante
C Brayan Pena (Nov. 8: Signed with Cincinnati Reds)
SS Jhonny Peralta (Nov. 24: Signed a four-year, $53 million deal with the St. Louis Cardinals)
SS/2B Ramon Santiago
RHP Jose Veras (Nov. 1: Team declined $3.5 million option)
Done Deals
Nov. 20: Acquired 2B Ian Kinsler from Texas in exchange for 1B Prince Fielder and $30 million (Analysis)
Nov. 21: Avoided arbitration with LHP Phil Coke, agreed on a one-year deal
Dec. 2: Traded RHP Doug Fister to the Washington Nationals in exchange for IF/OF Steve Lombardozzi, LHP Ian Krol and LHP Robbie Ray (Analysis)
Dec. 3: Signed RHP Joe Nathan to a two-year, $20 million deal (Analysis)
Shin-Soo Choo: Free Agent the Answer to Detroit's Left Field Void?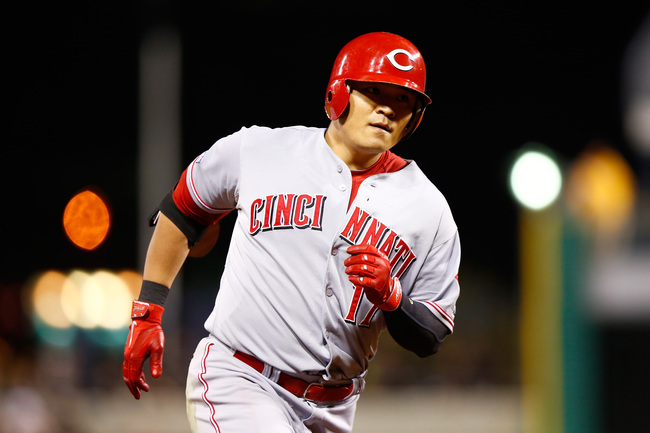 Jared Wickerham/Getty Images
Update: Tuesday, Dec. 3 at 6:50 p.m. ET
With an All-Star closer on board, the Tigers have switched gears and are focused on signing a left-handed outfield bat. According to the New York Daily News' Mark Feinsand, Shin-Soo Choo is the player that Detroit covets the most.
With the money that Detroit freed up in the Prince Fielder trade, coupled with the fact that they won't begin making payments on the $30 million that they sent to Texas along with Fielder until 2016, the Tigers have the financial ability to sign Choo, who is thought to be seeking a multi-year deal in excess of $100 million.
--End of Update--
After freeing up nearly $80 million in current and future payroll by trading Prince Fielder to the Rangers, many expect the Tigers to use that savings to work out long-term extensions with Miguel Cabrera and Max Scherzer.
But what if the Tigers decide to put some of that cash towards making a splash on the free agent market?
It's a scenario that a handful of executives have told ESPN's Buster Olney they believe will materialize, with the Tigers signing free agent outfielder Shin-Soo Choo to patrol left field at Comerica Park.
Choo, 30, is an on-base machine who would make an already dangerous Tigers lineup that much scarier to face. While his defense is suspect, it's far less of an issue in a corner outfield spot than it would be in center field.
While he spent 2013 in the National League with the Reds, Choo spent the bulk of his career in the AL Central with the Indians, so switching leagues should be far less of a concern than it would be for a player that spent his entire career on the senior circuit.
Dec. 3: Signed RHP Joe Nathan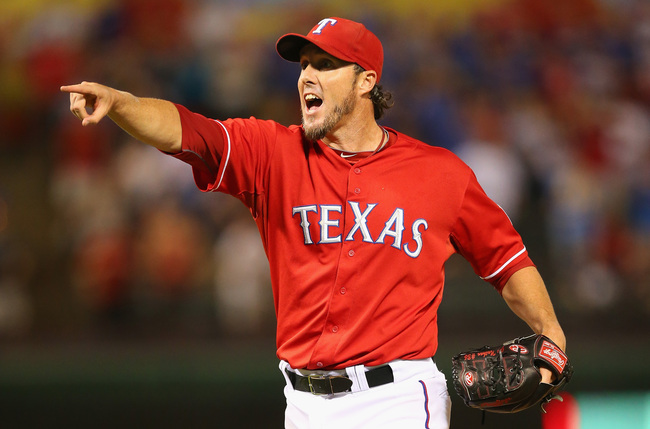 Age: 30
Throws: R
2013 Stats: 67 G, 6-2, 1.39 ERA, 0.90 WHIP, 3.1 BB/9, 10.2 K/9, 43-for-46 SV
Contract Status: Two years, $20 million ($10 million team option for 2016, $1 million buyout)
Tigers GM Dave Dombrowski said that signing a legitimate closer was one of his top priorities this offseason and they don't get much more legitimate than Joe Nathan, who ranks 10th on the all-time saves list with 341.
The soon-to-be 39-year-old was phenomenal for the Rangers over the past two seasons, converting 80-of-86 save opportunities while pitching to a 2.09 ERA and 0.98 WHIP over that span, averaging 2.4 BB/9 and 10.5 K/9.
A six-time All-Star, Nathan owns a career 1.52 ERA and 0.93 WHIP at Comerica Park with 25 strikeouts in 23.2 innings of work. He immediately makes Detroit's bullpen stronger than it was a year ago, with Bruce Rondon and the newly-acquired Ian Krol now his primary setup men.
Dec. 2: Traded RHP Doug Fister to Washington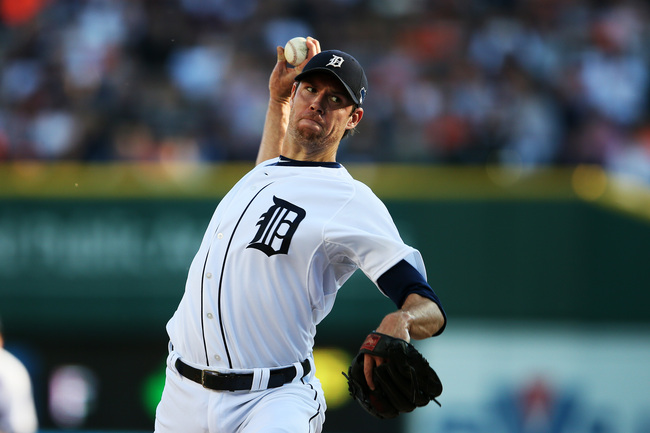 Rob Carr/Getty Images
Trading Doug Fister to the Nationals may seem like an odd decision for the Tigers to make, but the team desperately wanted to open a rotation spot for Drew Smyly, and this deal accomplishes that goal.
Let's take a look at the three players that the Tigers got back from Washington.
IF/OF Steve Lombardozzi
A natural second baseman, the 25-year-old Lombardozzi has spent parts of the past two seasons as a utility player for the Nationals, spending time at second base, third base and in left field.
While he's a switch-hitter, Lombardozzi is significantly more productive from the left side of the plate against right-handed pitching (.269 BA, .655 OPS) than he is when he's turned around against left-handers (.249 BA, .586 OPS).
A career .264/.297/.342 hitter, Lombardozzi figures to serve in a similar utility role with the Tigers, perhaps splitting time with Nick Castellanos at third base as the team's top hitting prospect gets his first full season of big league action under his belt.
LHP Ian Krol
While 22-year-old Ian Krol only has 27.1 major league innings under his belt, he figures to replace Smyly as a left-hander in Detroit's bullpen.
He has five pitches in his repertoire but relies on three more often than not—a low-to-mid-90's fastball, a mid-80's changeup and a curveball that consistently sits around 79 MPH.
Krol finished the 2013 season with a 3.95 ERA, 1.31 WHIP while averaging 2.6 BB/9 and 7.2 K/9.
LHP Robbie Ray
A 22-year-old left-handed starter, Robbie Ray was ranked as Washington's fifth-best prospect heading into 2014 by Baseball America.
He split the 2013 season between High-A and Double-A, going a combined 11-5 with a 3.36 ERA, 1.25 WHIP and 160 strikeouts over 142 innings of work.
Ray has a plus fastball that sits in the low-90's, but the rest of his repertoire needs continued development and refinement. He figures to spend all of 2014 in Double-A for the Tigers. Best-case scenario, Ray becomes a solid back-end of the rotation starter for the Tigers in 2016.
Austin Jackson: On the Trade Block?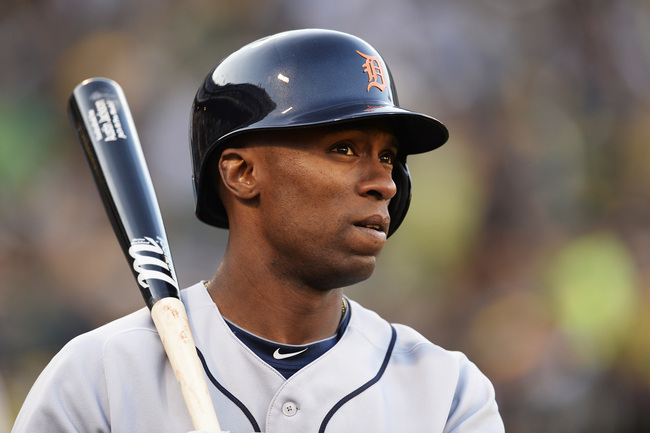 Thearon W. Henderson/Getty Images
Thursday, Nov. 21 at 5:35 p.m. ET
USA Today's Bob Nightengale tweets that the Tigers are listening to offers on center fielder Austin Jackson, opining that should the team be able to move him, they may make a run at free agent center fielder Jacoby Ellsbury.
Jackson, 26, took a step back at the plate in 2013 after a breakout 2012 season, hitting .272 with a .337 on-base percentage and .754 OPS, significantly lower than the .300/.377/.856 that he posted a year earlier.
His offensive woes became even more evident in the playoffs, where Jackson was dropped in the lineup during the ALCS against Boston by then-manager Jim Leyland, managing only a .214/.298/.238 slash line with 18 strikeouts over 42 postseason at-bats.
Despite his struggles at the plate, Jackson remains one of the premier defensive center fielders in the game and sits in the prime of his career. Under team control through the 2015 season, Jackson could fetch the Tigers a significant return from a team desperate to upgrade its outfield.
Max Scherzer: Ace No Longer Available?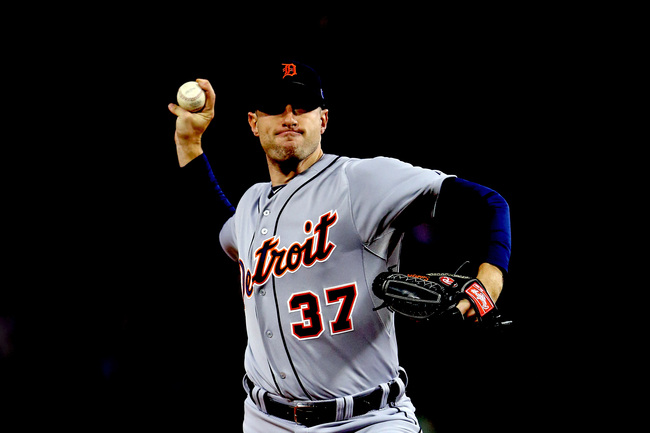 Update: Thursday, Nov. 21 at 12:08 a.m. ET
During a teleconference to discuss the team's acquisition of Ian Kinsler from Texas, GM Dave Dombrowski was asked how the deal may affect Max Scherzer's status.
According to USA Today's Bob Nightengale, Dombrowski said that he'd like to keep Scherzer for the long haul, and that the nearly $76 million that the Tigers saved by trading away Prince Fielder does improve the team's ability to offer Scherzer an extension.
That said, if Detroit's attempts at extending Scherzer fail to result in an agreement, Dombrowski could begin fielding offers on the reigning AL Cy Young Award winner.
--End of Update--
Update: Monday, Nov. 11 at 3:42 p.m. ET
Detroit has officially put Max Scherzer on the trade block, according to CBS Sports' Jon Heyman, who says that the Tigers have let teams know that they are willing to trade either Scherzer or Rick Porcello.
A free agent after 2014, it makes sense for the Tigers to move Scherzer now rather than at the trade deadline, as a player with a full year of control is worth more than a two-month rental.
While there's no indication as to what Detroit is seeking in exchange for the presumptive Cy Young Award winner in the AL this past season, it's fair to assume that it will take a substantial package of young, controllable talent with significant upside to pry him away.
--End of Update--
Update: Wednesday Nov. 6 at 3:13 p.m. ET
In response to a question from Adam Kilgore of The Washington Post regarding Ken Rosenthal's earlier trade speculation between Washington and the Tigers regarding Scherzer, GM Dave Dombrowski refused to confirm or deny that talks had taken place:
"I would not discuss our trade situations going into the wintertime. That's not something we'd talk about."
That shouldn't come as a surprise to anyone, as the Tigers have nothing to gain by showing their hand this early in the offseason. Yet it could be telling that Dombrowski didn't immediately shoot the idea down, perhaps breathing some more life into the theory that Detroit will look to sell high on Scherzer.
--End of Update--
Update: Wednesday Nov. 6 at 11:05 a.m. ET
Fox Sports' Ken Rosenthal reports that the Tigers remain in the "listening, not shopping mode" on Max Scherzer, which he translates as meaning "willing to move for the right return."
He goes on to say that there's a deal to be made between Washington and Detroit involving Scherzer if the Tigers do decide to move the likely AL Cy Young Award winner this winter:
Scherzer and Nationals general manager Mike Rizzo have a history — Scherzer was Rizzo's last first-round pick as Diamondbacks scouting director, going No. 11 in 2006.
The Nationals are deep in young power arms and veteran late-inning relievers, both of which surely are on Tigers GM David Dombrowski's wish list.
The price in prospects for Scherzer, a free agent at the end of next season, would be lower than it is for Price, who is under club control for two more years.
And, finally, the Nats maintain a strong relationship with Scherzer's agent, Scott Boras, and might stand a better chance of signing the pitcher long term than most clubs.
The veteran relievers Rosenthal talks of include Tyler Clippard and Drew Storen, while youngsters like Lucas Giolito, A.J. Cole, Robbie Ray and Sammie Solis are among the team's best pitching prospects, with Giolito considered one of the best in all of minor league baseball.
If the Tigers do ultimately decide to move Scherzer, a package built around Giolito and Clippard (with additional pieces, of course) could be enough to at least pique Dombrowski's interest.
--End of Update--
It's a question that's been asked since CBS Sports' Danny Knobler reported in early October that the Tigers have real concerns about being able to lock Max Scherzer up to a long-term deal given that he's a Scott Boras client and sits one year away from free agency.
Knobler cites unnamed executives around the game as wondering whether the St. Louis Cardinals, who have a plethora of quality young arms, might look to package some of them (Shelby Miller, Carlos Martinez, etc.) in a deal to bring Scherzer, a Missouri native, into the fold, slotting him between Adam Wainwright and Michael Wacha at the top of the St. Louis rotation.
Whether the Cardinals—or any other team, for that matter—are willing to make Detroit an offer that it can't refuse for a 29-year-old coming off a career year remains to be seen, but if the Tigers officially put Scherzer on the trade block, things could get very interesting in Detroit this winter.
Nov. 20: 2B Ian Kinsler Acquired from Texas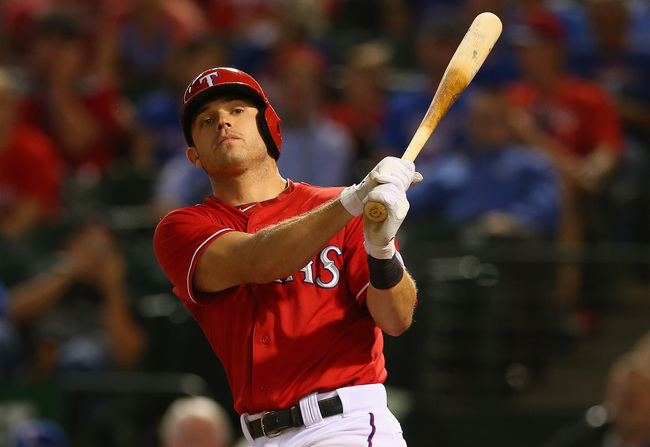 Ronald Martinez/Getty Images
Age: 31
Bats: R
2013 Stats: .277/.344/.413, 13 HR, 72 RBI, 15-for-26 SB
Contract Status: Four years, $68 million remaining
On the surface, this deal fills the void that the Tigers had at second base and gives new manager Brad Ausmus another option for the leadoff spot should he decide that Austin Jackson needs to be dropped in the lineup.
But the deal could have a far bigger impact on the Tigers.
First base is now open and the Tigers could—and should—immediately move Miguel Cabrera back across the diamond to a position where his body would take far less wear-and-tear than it does at the hot corner, and where his defense would be far less of an issue.
That would leave third base open, and there are two obvious choices: either re-sign Jhonny Peralta to play the position, or move top prospect Nick Castellanos back to the hot corner. Castellanos, 21, was a third baseman as he worked his way through the minor leagues before the Tigers moved him to the outfield, as his path to the majors was blocked by Cabrera.
Additionally, the money that Detroit winds up saving on the deal—roughly $76 million—can now be put towards extensions for Cabrera, a free agent after the 2015 season and Max Scherzer, who is set to hit the open market after 2014.
Rick Porcello: Trade Candidate, on the Block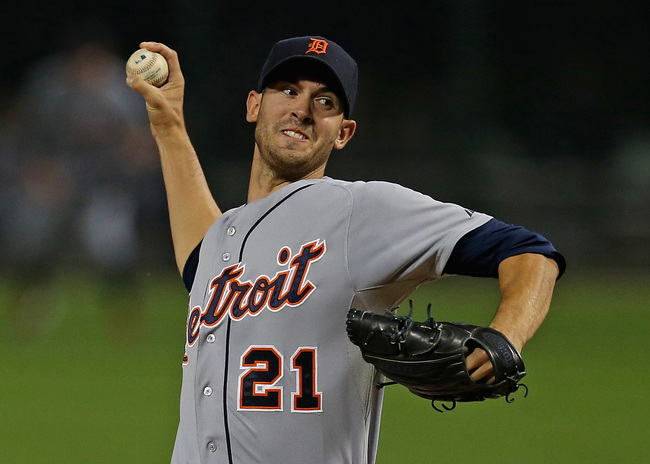 Jonathan Daniel/Getty Images
Coming off of the best season of his five-year career, the Tigers have officially put 24-year-old right-hander Rick Porcello on the trade block, according to CBS Sports' Jon Heyman.
This should come as no surprise to fans—or to Porcello—who was the subject of trade rumors throughout the Hot Stove League last season, rumors that persisted up until the very end of spring training, only to kick up again once the trade deadline neared.
Porcello arguably had the best season of his career in 2013, going 13-8 with a 4.32 ERA and 1.28 WHIP over 177 innings of work, posting a 2.1 BB/9 and career-best 7.2 K/9.
While he's due a raise in arbitration from the $5.1 million he earned in 2013, Porcello is under team control through 2015 and still has some upside. While he won't command anywhere near as gaudy a return for the Tigers as trading Max Scherzer would, Detroit can still count on getting a valuable piece back in exchange for him.
Grant Balfour: Free Agent Reliever on Tigers Radar
Update: Wednesday Nov. 6 at 11:38 a.m. ET
Tigers GM Dave Dombrowski confirmed to Matthew B. Mowery of The Oakland Press that the Tigers will indeed be signing a legitimate closer this winter—and that it's at the top of his to-do list:
You want to bring a closer back. We're going to have a closer, so we'll want to pursue somebody to pitch at the back end of the bullpen.

Joaquin (Benoit) is in that group, but there are a lot of closers out there. It's the one area where there are a lot of guys. That's the one area I think we need to address, with him or someone else. And then we'll look at the rest of the club.
Grant Balfour is in that group as well, and it's entirely possible that the Tigers choose to go with someone who has a bit more experience in the ninth inning—like Balfour—than Benoit does
--End of Update--
Could Victor Martinez and Grant Balfour become teammates in Detroit?
It's a possibility, according to Susan Slusser of the San Francisco Chronicle, who reports that the Tigers are one of five teams interested in signing the veteran reliever.
V-Mart and Balfour got into a heated argument in the bottom of the ninth inning during Game 3 of the ALDS between Oakland and Detroit, dropping f-bombs on one another as the benches cleared.
Balfour, 35, is an intriguing option for the Tigers, who sit without a closer heading into 2014 as Joaquin Benoit remains a free agent and hard-throwing prospect Bruce Rondon will once again need to prove himself in spring training.
Oakland's closer over the past two seasons, Balfour has thrived in the ninth inning and as a setup man over the course of his career, and while he's likely looking for closer money, it simply may not be available to him from a contending team.
Whether the Tigers used Balfour in the ninth inning or as someone to bridge the gap to Rondon or Benoit (should he re-sign with the club), adding him to the bullpen mix would immediately upgrade what was the team's biggest weakness in 2013.
Keep Reading

Detroit Tigers: Like this team?