What 'NBA 2K14' Tells Us About the Upcoming Season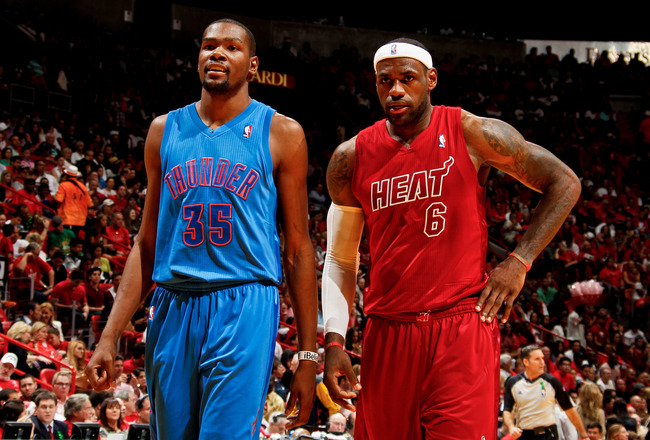 You've heard talking heads and writers predict what's going to happen in the 2013-14 NBA season for months now. It's time to switch things up a bit.
We're firing up NBA 2K14 and finding out just what the best basketball video game on the market thinks about this oh-so-promising season we have in front of us.
To do that, we started a season mode three separate times (we didn't change any settings) and simulated from the start of the season through to the end of the finals, keeping track of everything that happened along the way.
We then averaged our results to figure out what 2K thinks is the most likely scenario for the 2013-14 season. Let's go over our findings!
Awards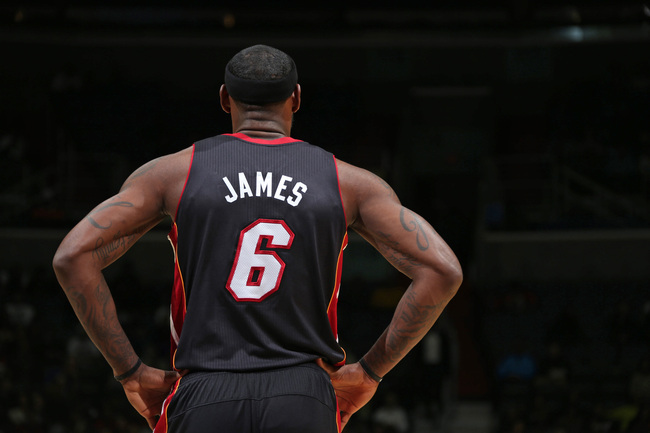 Most Valuable Player: LeBron James (won in every simulation)
Shocker! No, not really. If LeBron didn't win MVP in our simulations, we probably would have thought there was something wrong with the game. Thanks to statistics in the range of 26-29 points, seven to eight rebounds and seven to eight assists, "King James" is going to become the first player in NBA history to win five MVPs in six years, says 2K.
Rookie of the Year: Trey Burke (won in every simulation)
Now, this is one we actually were surprised by. This isn't to say Burke isn't in the conversation to win this award; he absolutely is. But 2K has him as the runaway favorite. He even averaged 20 points, seven assists and four rebounds in one of the sims. Maybe we're all underestimating Burke a bit.
Sixth Man of the Year: Jeremy Lin (won in two simulations)
While 2K's not expecting "Linsanity" to return, the game does expect Lin to get some hardware after his second year with the Houston Rockets. We saw Lin average around 13 points and 4.5 assists. With 2K, it clearly thinks Lin's profile is going to benefit from being on a top team.
Defensive Player of the Year: Dwight Howard (won in two simulations)
Howard looked to be a shell of himself defensively last year. Per 2K, apparently, Dwight is going to round back into form in the 2013-14 season. If our sims prove to be correct, Howard will join Dikembe Mutombo and Ben Wallace as the only players to win this award four times.
Most Improved Player: TIE (Kemba Walker, Marcus Thorton and Gerald Green each won once)
If our results tell us anything, it's that this award is up for grabs. Also, Gerald Green? Really?
Coach of the Year: Tom Thibodeau (won in two simulations)
Thibodeau can win this award with 55 Chicago Bulls wins and a No. 2 seed in the Eastern Conference, according to our sims. That is, unless Erik Spoelstra also leads the Miami Heat north of 65 wins, then the award is his.
All-NBA Teams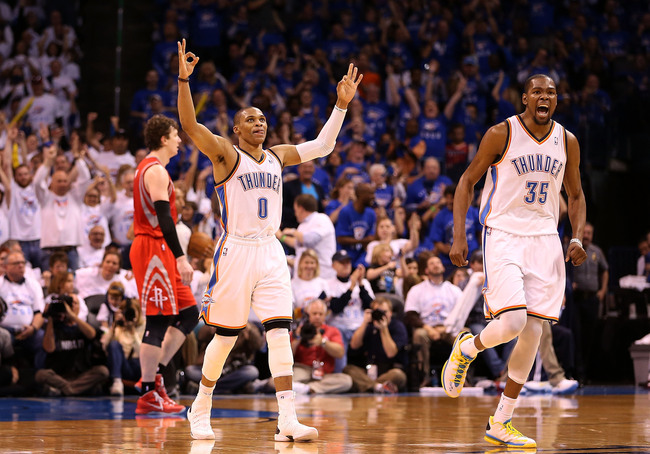 These results are made up of the average result from our simulations. For example, Derrick Rose made the first-team the majority of our simulations (twice), and therefore landed a spot on our All-NBA first team.
All-NBA Teams
Nothing too surprising here, except at the center position. No Marc Gasol? And the idea of Al Jefferson as basketball's second-best center is a tad startling. With 2K, there's clearly an indication of seeing Big Al racking up a ton of points on a bad Charlotte Bobcats team.
All-Defensive Teams:
| | | | | | |
| --- | --- | --- | --- | --- | --- |
| First-Team | Eric Bledsoe | Paul George | LeBron James | Anthony Davis | Dwight Howard |
| Second-Team | Russell Westbrook | Jimmy Butler | Kenneth Faried | Tim Duncan | Al Jefferson |
Our results suggests there will be a changing of the guard on the All-Defensive teams, as Serge Ibaka, Chris Paul and Tony Allen are all nowhere to be found. Also, 2K loses some realism points with me as Jefferson should be nowhere near an all-defensive list.
All-Rookie Teams:
| | | | | | |
| --- | --- | --- | --- | --- | --- |
| First-Team | Trey Burke | Michael-Carter Williams | Anthony Bennett | Kelly Olynyk | Cody Zeller |
| Second-Team | Victor Oladipo | Otto Porter | C.J. McCollum | Ben McLemore | Alex Len |
Per 2K, there isn't an expectation for any rookies to come out of nowhere and make a splash here. The only non top-11 pick on one of the rookie teams is Olynyk, whose hype has continued to build since NBA Summer League.
League Leaders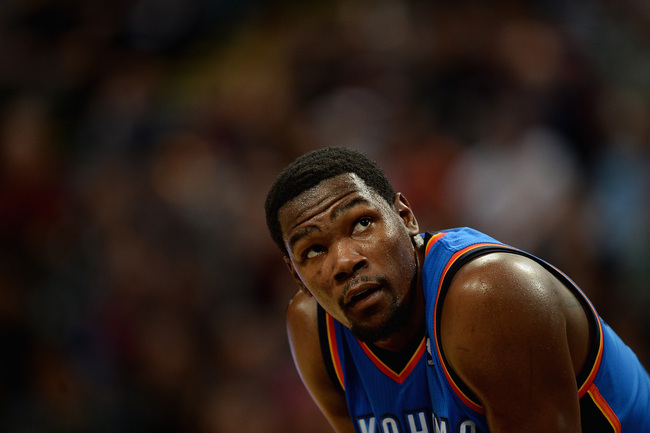 Points per Game: Kevin Durant (won in all three simulations)
Durant narrowly lost the scoring title to Carmelo Anthony last season. He's not about to let that happen again. Not only did "KD" come out ahead in all of the sims, he smoked the competition. He averaged more than 32 points in each of our seasons, while no one else ever topped 30 in a year.
Rebounds per Game: Dwight Howard (won in two simulations)
If you're keeping track, our experiment has Dwight making the All-NBA first team, winning Defensive Player of the Year and leading the league in rebounds per game. If those all come true, he's got to become a legitimate MVP candidate.
Assists per Game: Ricky Rubio (won in three simulations)
Rubio finished just 10th in this category last year, so the fact that he led the league in all of our simulations is really interesting. If Rubio's able to average a double-double like our sims suggests he can, look out for the Minnesota Timberwolves this year.
Blocks per Game: Serge Ibaka (won in two simulations)
The 2K sims definitely got this one right: Ibaka is a blocking machine. He's been the league's best shot-blocker for the past two years, and it'd be a stunner if he didn't complete the three-peat in 2013-14.
Statistical Anomalies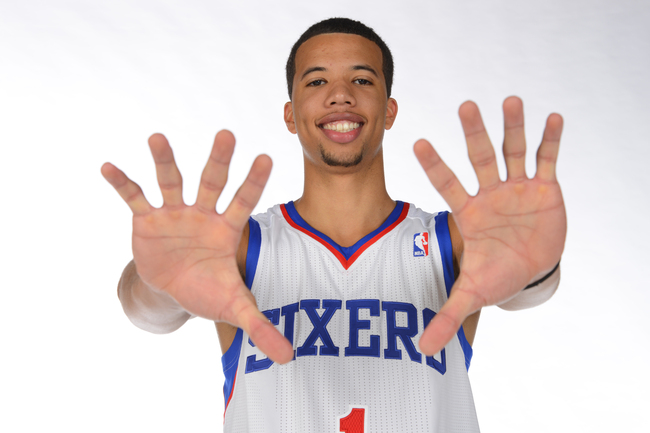 No doubt, 2K is great at providing realistic simulations, but, as we've talked about a little bit before now, we've seen a couple of head-scratching results from our work.
Anomalies from Season No. 1
This simulations saw Emeka Okafor challenge Howard for the rebounding crown by hauling in 11.5 per game. You see, Okafor would actually have to stay healthy to do that.
Perhaps even more absurd, Michael Carter-Williams just missed out on leading the league in assists this year. I'm not even sure Chris Paul could get 9.4 assists per night on this dreadful Philadelphia 76ers team.
Anomalies from Season No. 2
I like the Washington Wizards' chances to make the postseason this year. But making it as one of the top seeds in the East? Not happening.
Speaking of strange postseason results, we saw the Denver Nuggets, who changed coaches and lost their best player this offseason, make the NBA Finals.
Anomalies from Season No. 3
This sim was our most "normal." Shannon Brown averaged 21.9 points per game, and the Cleveland Cavaliers earned the East's No. 4 seed, but other than that, our results were fairly predictable.
Standings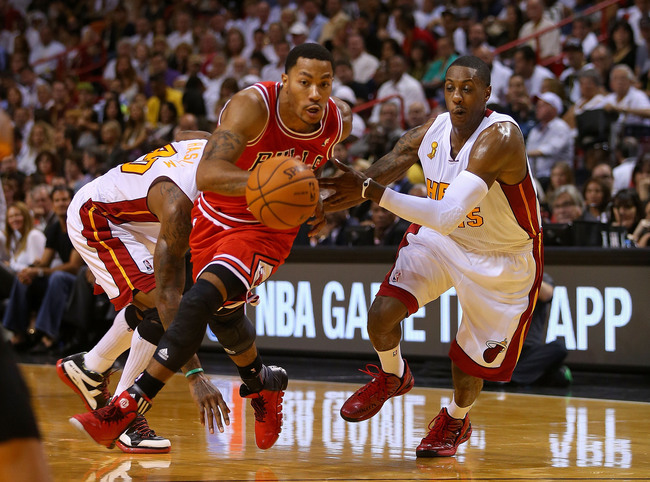 Here we found a composite record for each team and full conference standings through our three simulations. (For example, the Kings won 43 games in sim No. 1, 31 in sim No. 2 and 31 in sim No. 3. Therefore, they averaged 35 wins in our experiment.)
Average Eastern Conference Standings:
1. Miami Heat (63-19)
2. Chicago Bulls (58-24)
3. Brooklyn Nets (52-30)
4. New York Knicks (47-35)
5. Indiana Pacers (42-40)
6. Cleveland Cavaliers (42-40)
7. Washington Wizards (40-42)
8. Detroit Pistons (39-43)
9. Charlotte Bobcats (37-45)
10. Toronto Raptors (36-46)
11. Boston Celtics (36-46)
12. Philadelphia 76ers (33-49)
13. Milwaukee Bucks (31-51)
14. Atlanta Hawks (29-53)
15. Orlando Magic (26-56)
Average Western Conference Standings
1. Oklahoma City Thunder (51-31)
2. Houston Rockets (50-32)
3. San Antonio Spurs (50-32)
4. Denver Nuggets (47-35)
5. Los Angeles Clippers (46-36)
6. Minnesota Timberwolves (44-38)
7. Golden State Warriors (44-38)
8. Los Angeles Lakers (41-41)
9. Portland Trail Blazers (41-41)
10. Dallas Mavericks (41-41)
11. Memphis Grizzlies (39-43)
12. Sacramento Kings (35-47)
13. New Orleans Pelicans (34-48)
14. Utah Jazz (29-53)
15. Phoenix Suns (28-54)
Epic Playoff Battles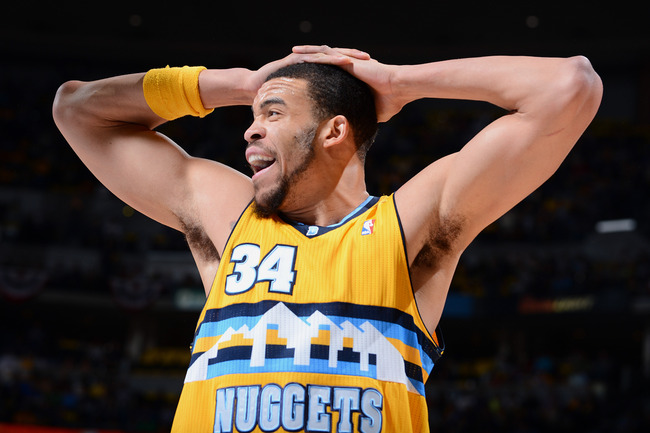 Let's take a look at some of the best postseason results from our experiment!
Epic Playoff Battles in Season No. 1
Our first sim saw a fantastic series in the Eastern Conference Finals between the Bulls and Heat. It went seven games, and Miami needed a 39-point performance from LeBron in order to make it to its fourth straight NBA Finals.
There was also a fun upset in the first round, with the No. 6 Wizards knocking off the No. 3 Nets in six games. The early returns on John Wall's max contract are looking good (at least in 2K).
Conference finals in this sim: Heat-Bulls, Warriors-Clippers
Epic Playoff Battles in Season No. 2
We already told you the Nuggets made the NBA Finals in this sim. But how they got there is interesting, too. Denver took down the Thunder in the conference finals in seven games, with JaVale McGee posting 20 points and 18 rebounds in the series clincher.
Another stunner? Miami went down to the Knicks in the second round in this simulation behind a ridiculous series from Carmelo Anthony. Melo scored more than 30 points in five of the series' six games.
Conference finals for this sim: Knicks-Bulls, Nuggets-Thunder
Epic Playoff Battles in Season No. 3
It took the Thunder seven games to dispatch of the Timberwolves in the second round. Oklahoma City's hero in Game 7 was neither Westbrook nor Durant. It was actually Jeremy Lamb, who poured in 32 to keep the Thunder alive.
This season also gave us another Heat-Bulls conference finals for the ages. Thanks to 24 points from LeBron and 23 from Dwyane, Miami beat Chicago, 97-95, in Game 7.
Conference finals for this sim: Heat-Bulls, Thunder-Spurs
Champs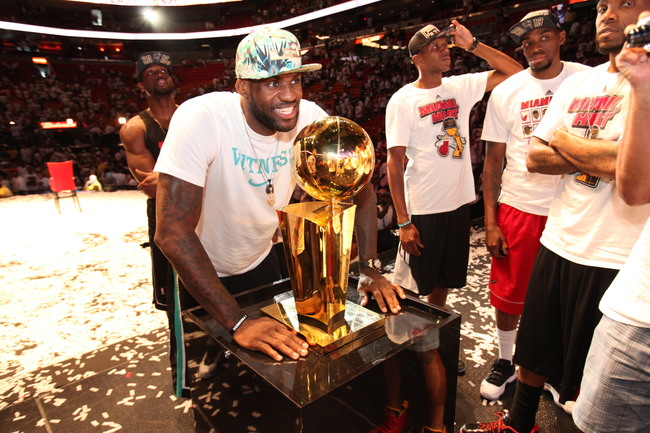 The Miami Heat are going to three-peat, according to our experiment.
They were the champs in two of our three simulations (Chicago won a title in the other sim). In one season, Miami took down the Golden State Warriors in six games. In the other, the Oklahoma City Thunder in five games. LeBron James (obviously) was the MVP in both series.
These sims are just further proof that when LeBron is playing his best basketball, the Heat are unstoppable. LeBron averaged 30 points and 10 rebounds against the Warriors and 29 points, nine rebounds and nine assists against the Thunder.
LeBron has the NBA at his fingertips right now, and 2K tells us that's not changing anytime soon.
Keep Reading