Preview and Predictions for Detroit Red Wings' Upcoming 4-Game Road Trip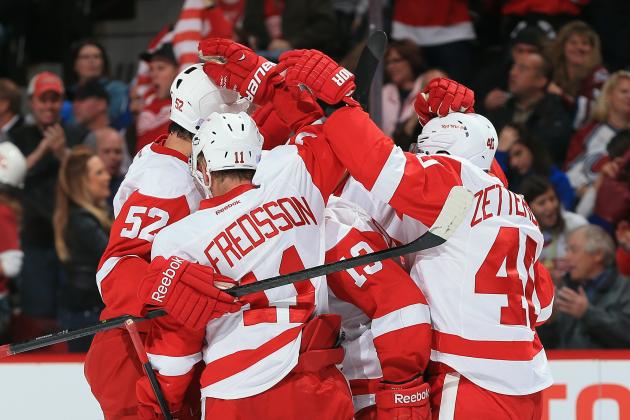 Heading into a four-game road trip against Western Canadian opponents, the Detroit Red Wings find themselves in the midst of an 0-2-2 slide.
While breaking a four-game winless streak on the road is hardly an easy task, the Red Wings do have an opportunity to right their listing ship on this road trip.
Their past two home games have been nothing but forgettable.
An embarrassing 6-1 debacle against the Ottawa Senators was followed up by a puzzling 3-2 overtime loss against a banged up and offensively snake-bit New York Rangers squad last Saturday.
The Red Wings are searching for answers and an identity at this point.
As any restless college student knows, nothing is better for self-discovery than a good old-fashioned road trip.
The Red Wings will face four, let's call them "beatable", teams over the next six days.
Not only will they be facing some familiar Western Conference foes, each team they're facing has some marked deficiencies that, if focused, the Red Wings can exploit to earn a victory.
While their first opponent, the Vancouver Canucks, should pose the most daunting challenge for the Red Wings, the Calgary Flames, Edmonton Oilers and Winnipeg Jets should all have ample motivation and just enough talent to muster strong outings when they face Detroit.
The Red Wings are a team in transition at the moment and are trying to figure out how to resemble in real life the offensive powerhouse they appear to be on paper.
The next four games will gave them an opportunity to do just that.
The goals, and the wins, they need may be just around the corner.
*All statistics cited courtesy of NHL.com unless otherwise noted
Begin Slideshow

»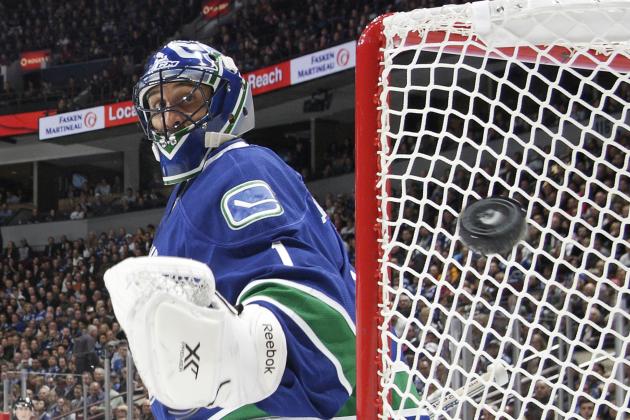 What Wings Can Prove: The offensively starved Red Wings will have their work cut out for them when they face the Canucks. Vancouver doesn't give up a lot of shots (28.1 per game) and their penalty kill is the fifth-best in the NHL, effectively shutting down their opponents 85.4 percent of the time. Added to that, the Canucks are currently riding their own four-game streak, but that of wins, not losses. Their top line of Henrik and Daniel Sedin and Ryan Kesler is as good (or better) than any in the NHL and will surely prove troublesome for Detroit's young and under-performing defense.
Still, there is hope. The notoriously slow-starting Roberto Luongo has heated up of late, but his .908 save-percentage indicates he can still be beaten even when facing limited rubber. If the Wings can get three or more pucks past Luongo, including one or two on the power play, it will go a long way towards elevating their offensive confidence.
Key to Victory: Shots, shots and more shots. The Wings should shoot from anywhere and everywhere as often as they can in an effort to keep Luongo busy and create as much havoc as possible in front of the net.
Prediction: One four-game streak will end (OK, technically two) and another will begin.
Red Wings 4, Canucks 2
What Wings Can Prove: The Calgary Flames are among the most defensively challenged teams in the league. They're giving up 3.46 goals per game on average and are employing a goalie tandem of former Red Wing Joey MacDonald and Karri Ramo, both of whom have goals-against averages over 3.00 and save-percentages under .900. Adding to Calgary's defensive woes, their top defender and captain, Mark Giordano, will be out for the next six to eight weeks with a broken ankle. Flames head coach Bob Hartley will likely rally his team defensively when facing Detroit, but given their shaky goaltending, the Wings should be able to realize their offensive potential.
Key to Victory: The Wings need to have their legs and skate hard in an effort to draw as many penalties as possible. Calgary's penalty kill is the third-worst in the league (75.7 percent) and though they take few penalties, those they do take rarely last a full two minutes.
Prediction: Former Red Wing Jiri Hudler will not be as happy as he's been to start the season.
Red Wings 4, Flames 1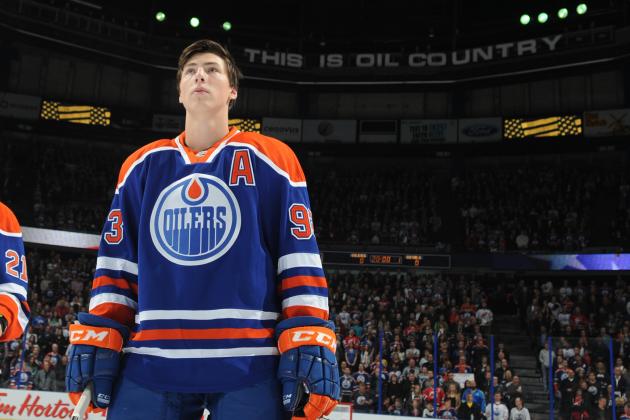 What Wings Can Prove: The Red Wings aren't just in need of scoring. They could really benefit from being on the winning side of a solid offensive beatdown. Their most offensively dominant outing to date was against the Philadelphia Flyers, winning 5-2. Showing some real offensive swagger is something this team certainly seems capable of but they've yet to do this with any regularity so far this season.
Offensive swagger is what the young Edmonton Oilers seem destined to display regularly at some point, what with the likes of Ryan Nugent-Hopkins, Nail Yakupov, Jordan Eberle and Taylor Hall on their roster. However, injuries and the slow pace of maturation have Edmonton sitting in the basement of the Western Conference, accruing just eight points in 13 games played and having a conference-worst minus-14 goal-differential. The table is set for the veterans in Detroit to show the kids in Edmonton what real offensive power looks like.
Keys to Victory: Simply put, the Red Wings need to make sure to not take Edmonton for granted. Though they've proven to be nothing but inept on both sides of the puck, the Oilers have the youth and speed to really take it to a Red Wings team that will be playing their second game in as many nights.
Prediction: The Oilers will score, but not nearly as often as Detroit.
Red Wings 7, Oilers 3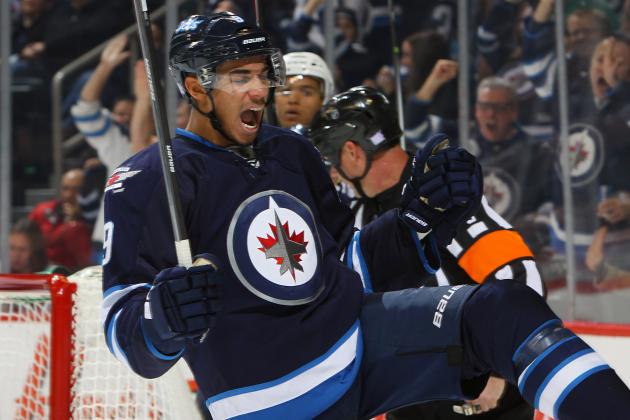 What Wings Can Prove: Though the Red Wings will have faced three familiar opponents from their Western Conference days, the Winnipeg Jets will be a relative mystery. Like the Red Wings, the Jets shifted conferences due to the NHL realignment prior to the start of the 2013-14 season. Detroit has faced Winnipeg only once since the franchise relocated from Atlanta to start the 2011-12 season. That meeting ended quite favorably for the Red Wings, as they won 7-1. However, as far as history goes, there's very little for Detroit to draw from when scouting their last opponent of the road trip.
Given that the Jets will be their last stop on their tour of Western Canada, Detroit will need to squeeze every last bit of energy they have against a younger and deceptively offensive team. Jets forward Evander Kane is the NHL's third-leading shooter, averaging 4.8 per game and defenseman Dustin Byfuglien leads all rearguards in shots with 45 in 13 games played. The Red Wings will have a chance to practice their shot-blocking and weather what could be an unexpected offensive storm in Winnipeg.
Keys to Victory: This is a game Jimmy Howard may need to steal for his team. If Howard and the Wings can limit the Jets' shots and/or turn away most of those they face, they'll have an excellent chance of ending their trip 4-0.
Prediction: The Wings put up a good fight, but fall just a little short against the Jets.
Red Wings 2, Jets 3 (OT)