Celta Vigo 0-3 Barcelona: 6 Things We Learned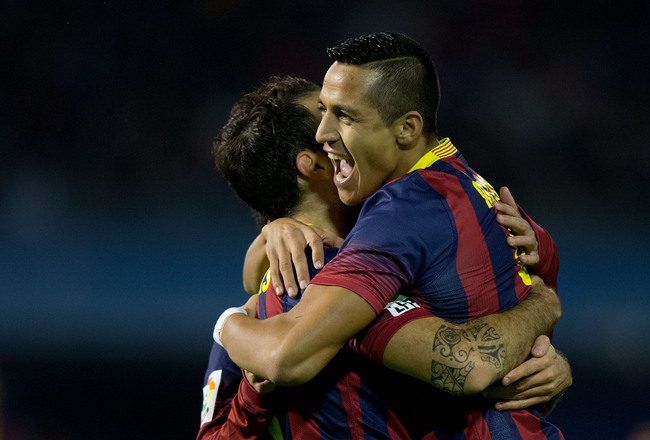 Barcelona kept their hot streak going in La Liga by seeing off Celta Vigo Tuesday by the score of 3-0. The stars were certainly on display, but Lionel Messi played a rare supporting role in the match.
Alexis Sanchez and Cesc Fabregas led the Catalans to victory, but the biggest storylines revolved around the players who did the little things that mattered.
In this article, we will take a quick look at six things we learned from the Barcelona victory and what those lessons mean for both clubs.
*All statistics courtesy of WhoScored.com.
How Many Times Does Marc Bartra Have to Make His Case?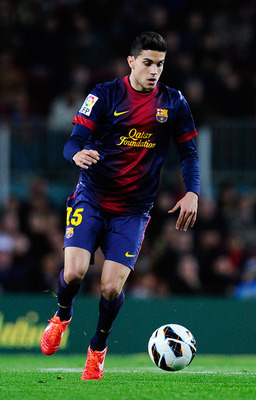 Another match, another dominant performance. Marc Bartra has been truly insane this season, and his confidence is growing with every minute he spends on the pitch.
In Barcelona's win, the 22-year-old made five key tackles and completed 97 percent of his passes. He didn't put a foot wrong and was arguably the best player on the pitch—again.
The real question isn't if Bartra has proven himself; rather it is how much longer he has to before he is awarded the starting role. The young Catalan missed out in the recent match against Real Madrid, but if he keeps this form up, he should be expected to start in the next Clasico.
These matches are regular occurrences for Bartra now. The kid has a future. But the club can't look ahead with Bartra, they must look at the current situation.
Rafinha's Future Is Bright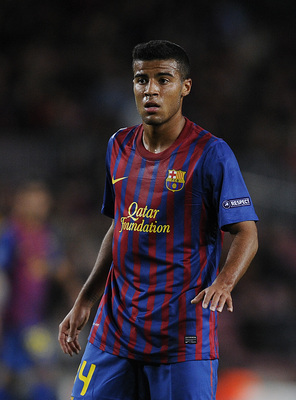 Just look at Rafinha in that old Blaugrana shirt. Will he return and have a future at the Catalan club? It is still too early to tell, but what we do know is that he has a bright future as a footballer.
The Brazilian midfielder is spending the current season on loan at Celta Vigo and has quietly been making his case to return to Barcelona.
In 10 matches this season, Rafinha has scored a goal and assisted another while completing 87 percent of his passes. His link-up play has been phenomenal as well, but that is a statistic that can't be accurately recorded.
Against Barcelona, the 20-year-old showed what he can really do. He was dangerous by getting off three shots and played an important role in nearly every attack that Celta Vigo launched.
At this point, it is still difficult to say that he will definitely have a place in the Barcelona squad next season. He is showing a lot of promise but isn't quite at the level he needs to be. Regardless, Rafinha has a wonderful career ahead of him.
Barcelona Are at Their Best with Cesc Fabregas Running the Show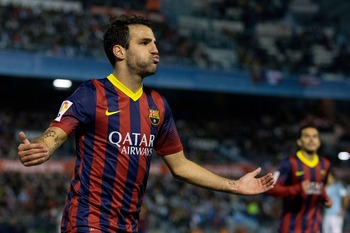 Cesc Fabregas has finally found his place at Barcelona. He may not be quite as good of a passer as Xavi, but he adds something that his mentor does not.
Under Tata Martino, Barcelona have added a much more direct style of play to their tiki-taka system. In all honesty, most of the directness has come from Fabregas alone.
No longer held back by the constant short passes and movement, Fabregas has been unleashed to attack in a more direct way that has Barcelona firing on all cylinders. With him running the midfield, the Catalans look more dangerous than in previous years.
However, the 26-year-old also adds something that has been desperately missing for a while now.
Barcelona have long been a club that have heavily relied on midfielders who can create chances and forwards who can score. Cesc Fabregas can do both.
It has been a long time since La Blaugrana enjoyed a creative midfielder who was also a scoring threat. In truth, that may be the La Masia graduate's biggest contribution to this squad.
Lionel Messi Is Hungry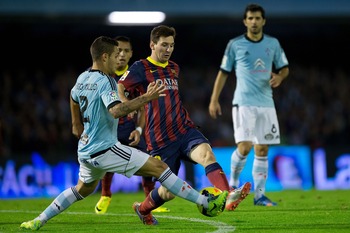 The match against Celta Vigo marked two consecutive matches in which Lionel Messi hasn't scored. It was definitely on his mind, as he looked menacing every time he touched the ball.
Messi had a total of 10 shots against Celta Vigo and won seven dribbles. Just let that sink in for a moment. The Argentine was on a mission and was determined to find the back of the net.
At times, it looked as though Messi would stop at nothing to beat the keeper. It is way too early to say Messi is in a drought; in fact, he put in a wonderful performance setting up chances for others.
However, it is easy to see that Messi wants to start scoring again. As Barcelona prepare to face their upcoming matches, opponents better be ready. There is nothing scarier than facing a hungry and determined Lionel Messi.
Celta Vigo Remain the Most Unpredictable Spanish Club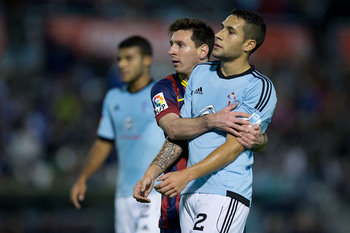 Celta Vigo have had a roller coaster of a season. When at their best, the Galician club can beat almost anyone. Yet, at their worst, they can be pretty disappointing.
Coming off a 5-0 victory over Malaga, many thought Celta Vigo would give Barcelona a stiff challenge. In truth, the Catalans had little trouble against their hosts and eased to victory.
It is very hard to predict where Celta Vigo will finish on the table this season. They could end up facing relegation or even challenge for a spot in the top half of the season.
They may be extremely unpredictable, but Celta Vigo are still one of the most exciting sides to watch in Spain.
Barcelona's Double Pivot Can Work, but Isn't the Best Choice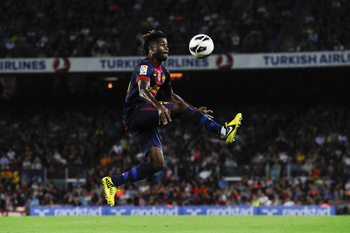 Tata Martino's trial run with a double pivot proved to be inconclusive. Though Sergio Busquets and Alex Song gave more defensive stability, the pairing also took a lot away from Barcelona's attack.
With two holding midfielders, Barcelona lose creativity. Martino should certainly look to only utilize the double pivot when needed rather than as a first choice.
It is easy to say that the double pivot was unimpressive when judged by other similar lineups. However, the pairing of Song and Busquets will never work as a normal double pivot would.
Song does have the ability to go forward into attack while being able to give strength in the midfield. Sergio Busquets uses his vision more and relies on being in the right place at the right time.
In truth, the double pivot did what it was supposed to do. It gave stability in front of defense and won back possession. But with the good came the bad.
For now, Barcelona should stick with one holding midfielder.
What did you learn from the Barcelona victory? Which players stood out and which ones disappointed? Leave your thoughts and comments below!
Follow me on Twitter for more discussions on FC Barcelona and La Liga!
Keep Reading