Victor Oladipo Worth Reaching for in Fantasy Basketball Drafts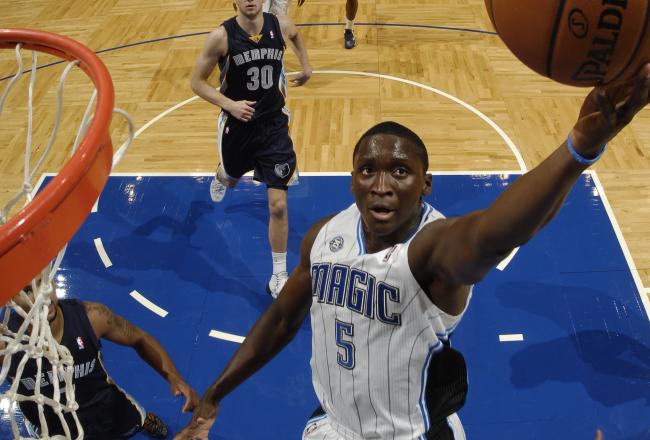 (Photo by Fernando Medina/NBAE via Getty Images)
Victor Oladipo, the consensus front-runner for NBA Rookie of the Year this season, has the makeup to be a real star very soon.
But in fantasy circles, he's already a stud.
Oladipo's game is tailor-made for the fantasy world. He's an ultra-athletic, Energizer-Bunny guard who excels defensively, lives in passing lanes, is explosive going to the rack and is improving as a ball-handler and distributor.
He also plays for an Orlando Magic team in the midst of a youth movement and figures to see heavy minutes from the start of the season.
Of course, despite a spectacular preseason, a spot in the starting lineup for Oladipo probably isn't going to happen right away. When everyone is healthy, the Magic figure to start Jameer Nelson and Arron Afflalo at the guard spots.
But one of his greatest strengths is his versatility. He has been playing point guard a lot in October, and he will see time at backing up both the 1 and 2.
Somewhere in the range of 28 to 30 minutes per night feels like a safe estimate, but there is certainly the potential for more.
And minutes is all Oladipo needs to be successful; his tantalizing skill set is already abundant.
His biggest contribution will come in the steals category, a scarce and valuable commodity in fantasy leagues. He averaged 2.2 steals per contest last year with Indiana, and if you want to count the number of balls he tipped or bad passes he forced with his sticky, aggressive on-ball defense, then that number would skyrocket.
Offensively, he's still a work in progress. But he's someone who will take a large majority of his shots at the rim. And when he does take a jumper, which is continually improving, it will only be when he's open.
At the end of the season, where will Victor Oladipo rank among fantasy players?
Coming into Indiana as a near non-factor on that side of the ball, Oladipo learned to take advantage of his unreal athleticism and stop settling for jump shots—and it turned him into an extremely efficient threat on offense.
He's not going the light up the scoreboard—say 12 to 14 points per night. But add to that solid shooting percentages, a good amount of assists (especially if he gets more time at the 1, as expected) and rebounds and an elite number of steals (with some threes and blocks mixed in), and you've got yourself a fantasy stud.
And it's all for a price—ESPN has him being drafted 69th on average—that can't be beat.
If you haven't drafted yet, don't be afraid to take Oladipo in the late 50s or early 60s. If you have drafted, send out some trade offers before his value really takes off.
This article is
What is the duplicate article?
Why is this article offensive?
Where is this article plagiarized from?
Why is this article poorly edited?