Solutions to Detroit Red Wings' Biggest Problems Early in 2013-14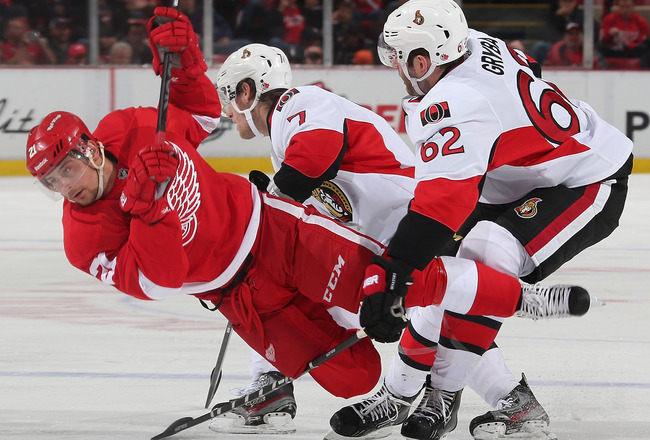 The Detroit Red Wings are mired in a four-game slump, but there is hope on the horizon as they head out to western Canada.
The Red Wings face the Vancouver Canucks on Wednesday night, but then play the Calgary Flames, Edmonton Oilers and Winnipeg Jets in consecutive games.
The Flames, Oilers and Jets are three of the bottom four teams in the Western Conference. While no wins are for certain, this provides ample opportunity for the Red Wings to climb back up in the standings.
But if ample opportunity isn't enough, here are five solutions to the Red Wings' biggest problems thus far.
Note: "Biggest problems" are those that have majorly contributed to the recent losing streak.
Problem: Turnovers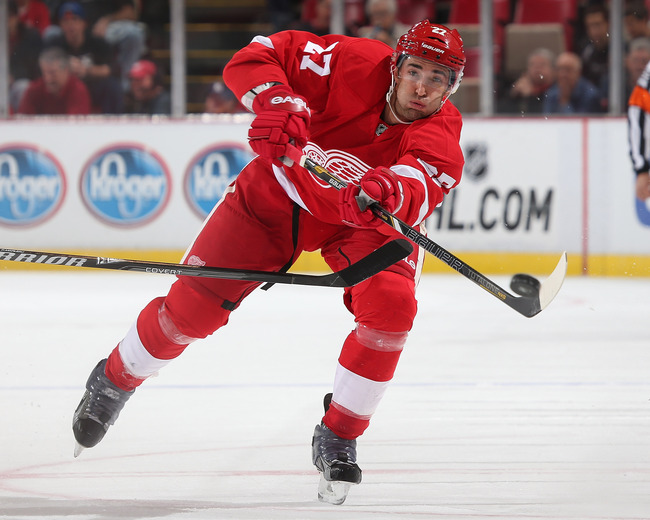 Problem: Turnovers kill any hockey team, but they especially bring the great teams back down to Earth. This is exactly what has happened to the Detroit Red Wings over the past few games.
Detroit has 33 giveaways in their past three contests, and that is far too many to even come close to talking about winning games.
Solution: The Red Wings need to start with the basics (because they can't seem to do those right) and play a full-ice game. Forwards need to come back and help defensemen break out of their own zone. Defensemen can't be throwing away passes either in their own zone or in the offensive zone.
Giving the puck away provides a clear-cut opportunity for a good scoring chance by the other team, and more often than not, it ends up in the back of the net.
Problem: Second-Chance Opportunities
Problem: Lack of control of second chances. A hockey team can only ask a goaltender to give them a chance to win.
That is exactly what Jimmy Howard does on most nights for the Detroit Red Wings. He gives them multiple chances to win.
But Howard can't do everything by himself. Clearing rebounds from in front of the goal is usually the job of the defensemen or center.
Solution: Better defensive-zone positioning. As shown above, Brendan Smith is about 20 feet out of position here. He loses the man in front of the net and Mike Ribeiro slams the loose puck in the goal.
The game against Phoenix started Detroit's recent slide, as they blew a 2-1 lead on the goal shown above and lost 5-2.
Bad positioning has been a theme in this recent losing streak, and it must be rectified before the Red Wings can start winning games on a regular basis.
Problem: Lack of Power-Play Time
Problem: The Detroit Red Wings have an 11th-ranked power play, but it is hardly winning them any games.
Why is it a non-factor in most games? The simple math behind it is that the Red Wings have generated the fifth-fewest chances (37) and the ninth-fewest shots on the power play (53).
Solution: The Red Wings need to hold on to the puck longer in the offensive zone. It seems to have been too much "one-and-done" for Detroit in the offensive zone.
If Detroit can pick up some more power plays, the next logical step is getting shots through on the man advantages.
Detroit is trying too hard to get the perfect shot out there. Sometimes it works (like in the preseason video above), but more often than not, they fail to generate more than a shot or two on the advantage.
Problem: Lack of Scoring out of the Bottom Three Lines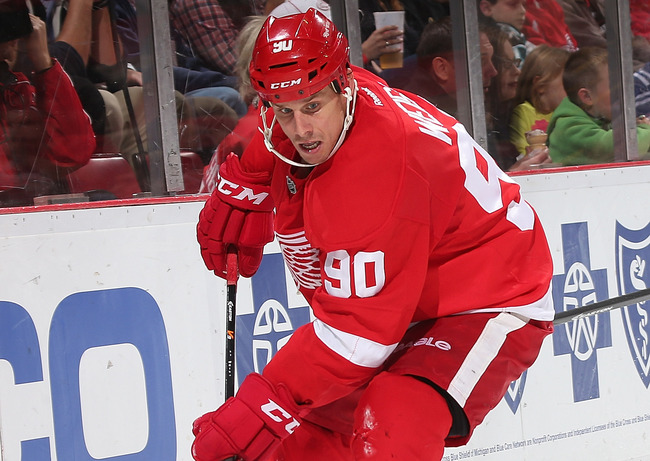 Problem: The Red Wings' scoring, as per usual, is very lopsided toward players like Pavel Datsyuk and Henrik Zetterberg.
The Red Wings have been lacking in serious offense from players like Stephen Weiss (two points), Dan Cleary (two points) and others on the third and fourth lines. This has created a serious problem when Datsyuk and Zetterberg can't find the back of the net in a game.
Solution: Find some line combinations and stick with them for three games or more.
Chemistry is not developed overnight, nor is it something that can be accurately predicted regarding when it will kick in during a game. The biggest issue with Detroit's lack of secondary scoring is that the Red Wings aren't getting any chemistry and things are constantly changing.
In a game like hockey, there are already enough other things that are rapidly changing, and hockey players do not need more distractions to deal with when trying to find the net.
Let players play with the same line for three games and stop tinkering long enough to see what is on the ice.
The Rundown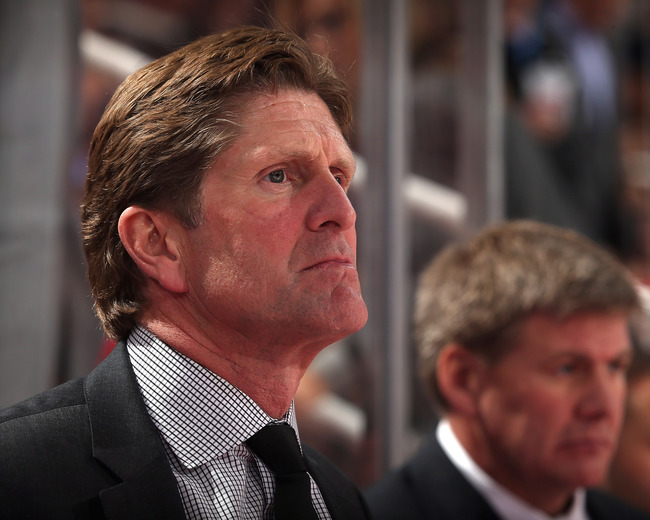 Mike Babcock recently spoke about the Red Wings not being "that far away" as a team.
"We need to get better as a team...We can be way better as a team than we have been, but I don't think we're that far away..." -Mike Babcock

— Detroit Red Wings (@DetroitRedWings) October 29, 2013
The fact of the matter is that Detroit has all of the tools that are needed to win, but they need to emphasize fundamentals and patience in order to achieve success again.
It shouldn't be this hard. They have the raw talent, skill, desire and heart to do well in this league.
If they can get some puck luck or put these "solutions" in action, they should turn the corner Wednesday night in Vancouver.
All statistics via NHL.com.
Keep Reading

Detroit Red Wings: Like this team?