College Football Rankings 2013: Projecting Week 11's Top 25 Teams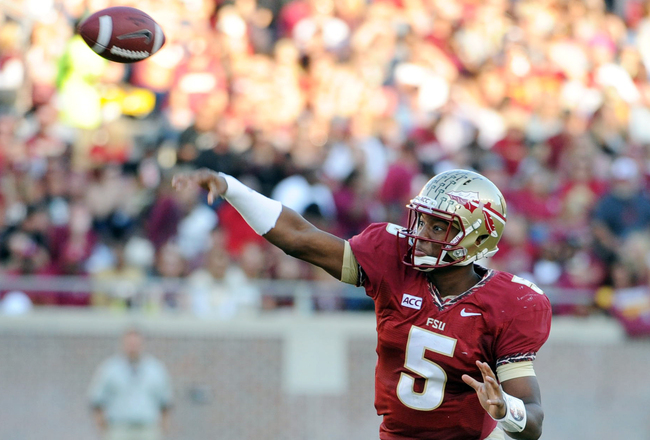 Week 10 feels like a transition week in college football—the final turn in the derby before each team begins its stretch run.
Eight teams ranked in the AP Top 25 have the week off and will spend Saturday at home, licking their wounds and resting up for the final few regular-season games.
But on the field, for the teams that are playing, nobody is safe. A handful of ranked matchups from the Big Ten, Big 12 and ACC should all help decide the fate of those conferences and play a role in the BCS equation.
Here's how things will look when it's all said and done.
Note: Predictions are for the Week 11 AP Poll, not the BCS Rankings.
Dropped from Rankings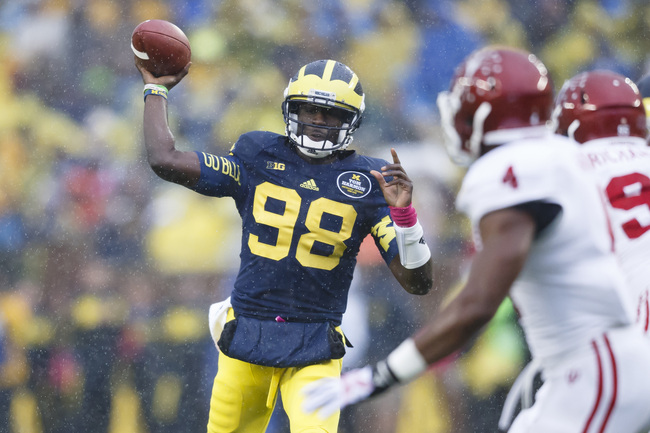 Michigan
Michigan has only one loss this year, but it has played poorly enough to lose in three or four games. The Wolverines won't get away with that type of performance at Michigan State, a rival who hates them and appears to be peaking at the right time.
Arizona State
Arizona State is riding high right now, but it shouldn't take Washington State for granted. The Cougars have shown pluck in a couple of close road losses this year, and they are looking to put another signature win on their resume.
25. Georgia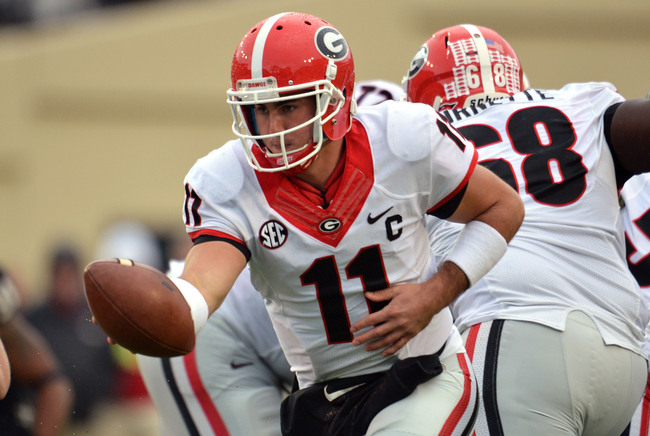 Week 10 Opponent: vs. Florida (in Jacksonville)
Georgia is ranked No. 27 in the AP Poll, and even though the Bulldogs place well behind No. 26 Notre Dame, they could stand poised to leap back into the rankings this week.
Whoever loses between Michigan and Michigan State will almost definitely fall out of the Top 25, and if Arizona State loses as well, someone will need to take its spot.
Georgia would be a fitting "someone," especially if it's coming off a win in the Cocktail Party against Florida. Even though both teams are reeling, neither is close to being a pushover victory.
24. Notre Dame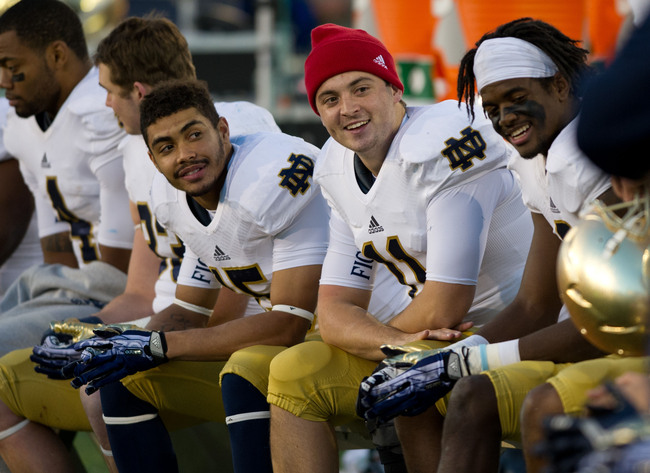 Week 10 Opponent: vs. Navy
Don't look now, but the Irish—who seemed, for a second, to be left for dead after losing to Oklahoma—could quietly get to 7-2 with a win over Navy this week.
That's not a cheap 7-2, either. That's a 7-2 with wins over Arizona State, Michigan State and USC, three teams that are perfectly capable of beating quality competition.
Notre Dame fans will never trust Tommy Rees, who always seems to be one dumb throw away from disaster. But he's actually done a pretty good job for them this year.
23. Texas Tech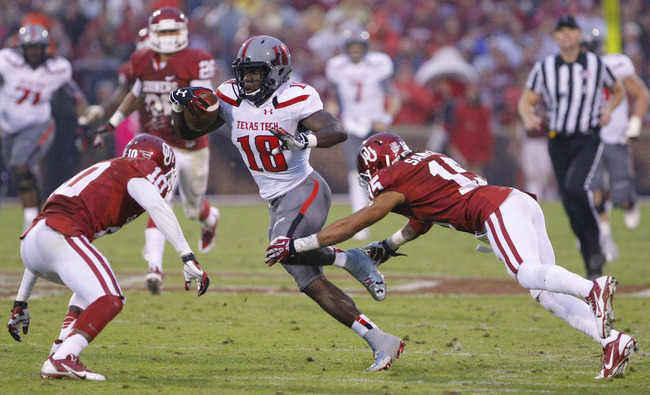 Week 10 Opponent: vs. (18) Oklahoma State
Texas Tech won't drop out of the rankings completely with a home loss to Oklahoma State, but it could be in store for a decent-sized fall.
The Raiders have just hit the hard part of their schedule, and though they're likely to come out fired up for a home game coming off of a loss, they simply don't have the talent or personnel to hang with a very good Cowboys team for 60 minutes.
In their biggest home game to date, Texas Tech scratched and clawed its way to a 10-point win over TCU. The team it will see on Saturday is a much tougher opponent.
22. Wisconsin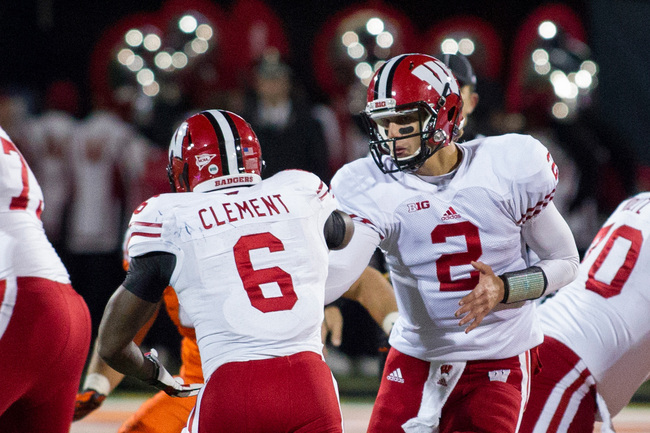 Week 10 Opponent: at Iowa
The Badgers face a tricky test at Iowa this week, heading into a historically difficult environment to play a quickly improving team.
It might not be the blowout Wisconsin fans are used to, but their team should be plenty good enough to leave Kinnick Stadium with a win.
If Michigan State could hang 26 on the Hawkeyes in Iowa City, the Badgers and their three-headed rushing attack should be able to get to 30-or-so points with ease.
21. Northern Illinois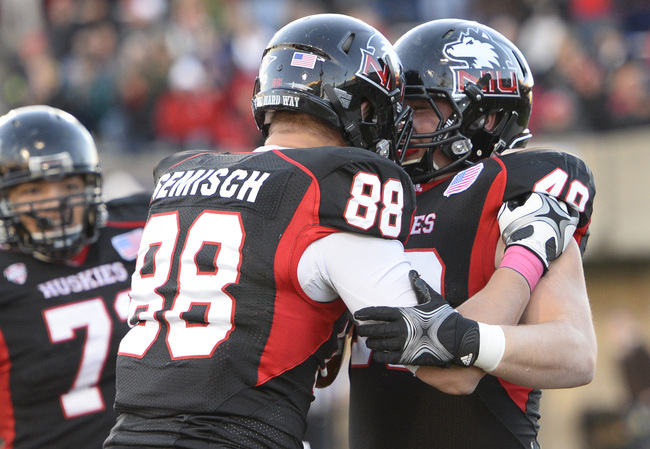 Week 10 Opponent: UMass
Northern Illinois basically gets a bye in Week 10, playing a 1-7 UMass team.
The Huskies have avoided all the competitive MAC teams so far this year, but the next four weeks include games against Ball State and Toledo, both of whom have the horses to steal a game from NIU.
Jordan Lynch is the best player that (still) nobody talks about, but this team has looked far from invincible in the early going. It will need to work its butt off for another undefeated conference campaign.
20. Louisville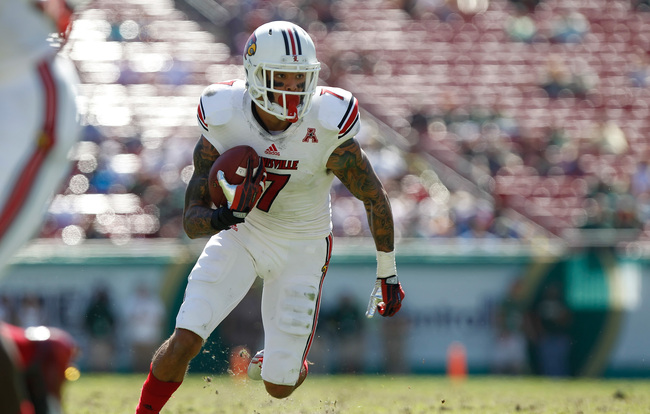 Week 10 Opponent: BYE
Louisville gets a bye in Week 10, which should be an important test for the leadership of head coach Charlie Strong and quarterback Teddy Bridgewater.
This bye week could be spent sulking about lost opportunity or replaying the UCF in their minds, both of which would be toxic. Strong and Bridgewater need to keep the team focused on what's ahead of them, not behind.
What's ahead includes a mid-November game against Houston, which suddenly looks like a legitimate threat to break through and win the AAC. The Cardinals need to be laser-focused for that showdown.
19. Michigan State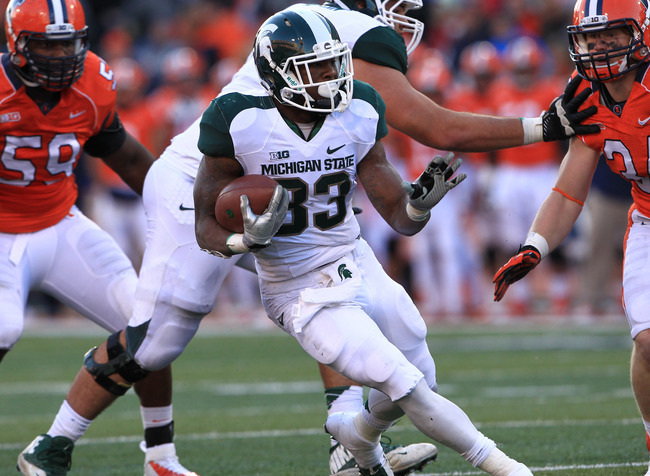 Week 10 Opponent: vs. (22) Michigan
Michigan State plays an ugly brand of football, and it has struggled to put away a couple of bad teams this year, namely South Florida and Purdue.
But it's also a few bad pass interference calls from being 8-0 with a road win at Notre Dame, which would make it much, much harder to criticize the style of play.
The Spartans feel they are undervalued, and they are ready to make a big statement against hated Michigan in East Lansing this week. A convincing win should push them up into the Top 20.
18. UCF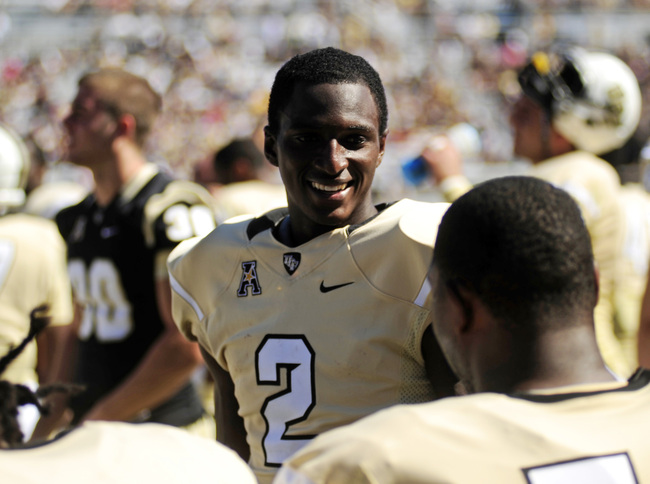 Week 10 Opponent: BYE
Like its AAC rival, Louisville, the Golden Knights get a bye week in Week 10. And also like Louisville, it's prepping for an impending home game with upstart Houston.
UCF has a slightly bigger margin for error in that game, but its path to the conference championship and a BCS bowl game is far less straightforward than it once appeared walking out of Papa John's Cardinal Stadium.
The Houston Cougars are a legitimate hurdle this team needs to jump on Nov. 9. If it clears the top, though, the sailing should be smooth from there on out.
17. UCLA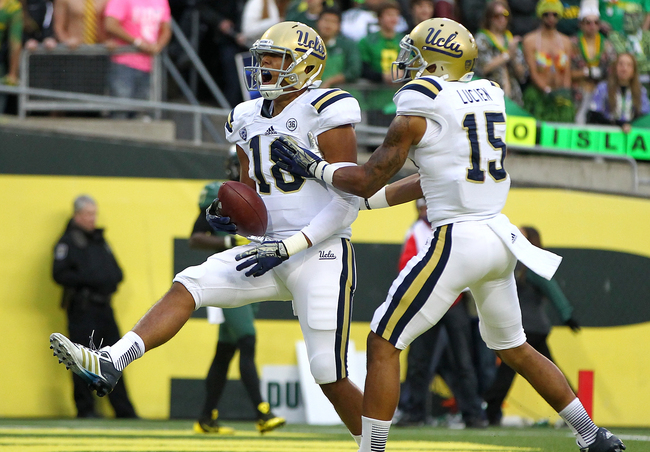 Week 10 Opponent: vs. Colorado
UCLA makes its much-needed return back to Los Angeles this week, fresh off physically taxing losses at Stanford and Oregon.
The Bruins hung close against both of those national title contenders, showing that they might be for real, but there's a chance the "body blow" theory could come into affect against Colorado.
A team that has just played two physical opponents is likely to be sore and sluggish. Look no further than Washington, a team that wilted away against Arizona State after its own road trip to Stanford and Oregon in consecutive weeks.
UCLA should be good enough to come away with a win, but don't be surprised if Colorado makes things interesting for a while.
16. Fresno State
Week 10 Opponent: vs. Nevada
Fresno State is a much better team than Nevada, and playing in front of a home crowd, there is no reason it should let the Wolfpack hang around.
But we've learned better than to trust this team, which has struggled to put away (and genuinely almost lost to) Hawaii and San Diego State already this year.
The Bulldogs' overtime win over Rutgers looks far worse now than it did back in Week 1, as the Scarlet Knights have proven to be a fraud in 2013.
This might not be the week Fresno goes down, but Tim DeRuyter needs to find some answers at some point if he wants to finish the year undefeated.
15. Miami (FL)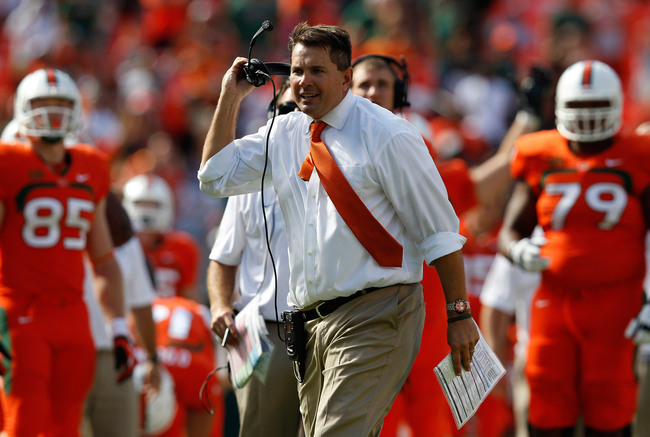 Week 10 Opponent: at (3) Florida State
Miami is talented enough to hang with Florida State for a quarter or half, but with the way it's been playing in recent weeks, it would lucky to even stay close for that long.
Clemson didn't fall this far after losing big to the Seminoles, but voters are likely to be far less forgiving with the Hurricanes, who have almost lost to North Carolina and Wake Forest in consecutive weeks.
This team should be able to fight its way back up toward the Top 10, if for no other reason than an easy schedule moving forward.
Miami fans might not like what they see on Saturday, but if this team loses, regroups, then finishes the year with one loss, that would be nothing to scoff at.
14. Oklahoma State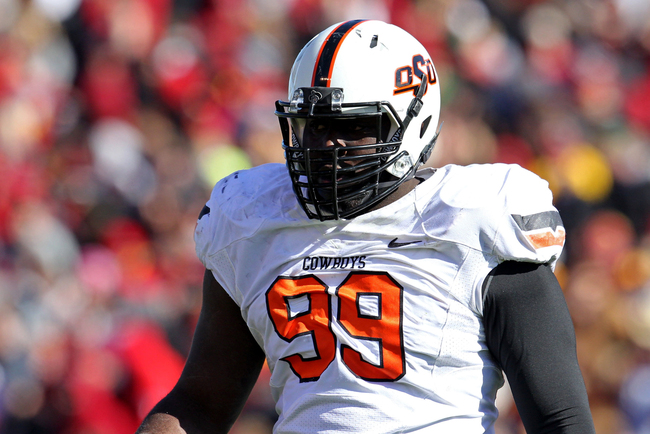 Week 10 Opponent: at (15) Texas Tech
Oklahoma State has quietly looked very good in all but one of its games this year, and if not for the loss at West Virginia, this team would be generating some serious buzz.
That loss was admittedly hard to forgive, and it exposed some foundational problems at every level of this roster. But Mike Gundy has done well to improve his team since that game, and now the Cowboys could be gearing up for a conference championship push.
That all starts on Saturday with an essential must-win game at Texas Tech. OSU can't afford to fall two games behind Baylor in the loss column, and it should be able to beat up the Red Raiders with size and physicality.
13. South Carolina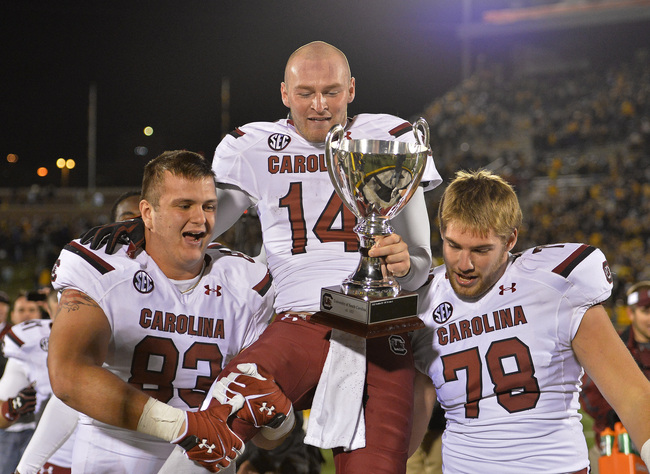 Week 10 Opponent: vs. Mississippi State
Saturday is a potential trap game for South Carolina, which is coming off of an ecstatic high in the overtime win at Missouri but now must face a slowly improving Mississippi State team at home.
The Gamecocks have much more talent than the Bulldogs, which should allow them to eventually eke out a win, but doing so might be harder than they anticipate.
If Connor Shaw looks as healthy and heroic as he did last Saturday, this team still has a very real shot of making the SEC Championship Game.
12. Oklahoma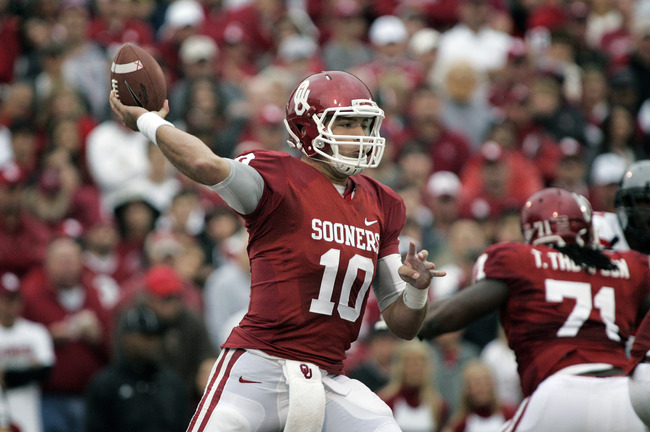 Week 10 Opponent: BYE
The Sooners get a bye in Week 10, which affords them an extra week to game-plan a way to stop Baylor's offense in Week 11.
If anyone in the Big 12 has the personnel to do so, it might be Bob and Mark Stoops' defense. Oklahoma is very strong in the secondary, especially with Thorpe Award semifinalist Aaron Colvin locking down receivers on the outside.
Blake Bell would have to play the game of his life, but with an extra week to prepare, the Sooners have a legitimate chance of winning in Waco.
11. Texas A&M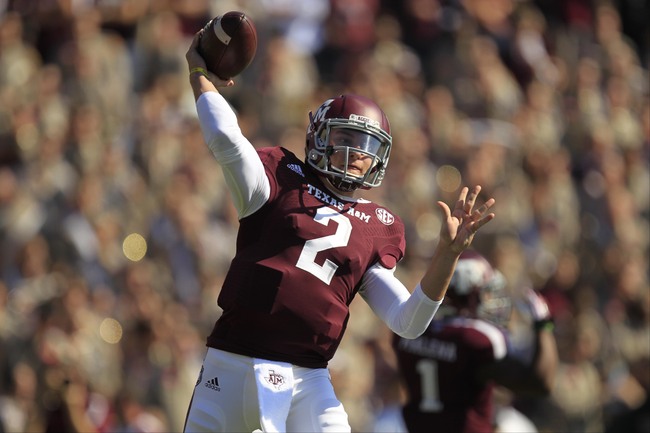 Week 10 Opponent: vs. UTEP
A&M gets a reprieve from the turmoil of SEC play in Week 10, welcoming the UTEP Miners to College Station for what should be one of Saturday's biggest blowouts.
Johnny Manziel should be able to pad some of his Heisman stats against a porous, overwhelmed defense, and the Aggies should cruise back within spitting distance of the Top 10.
Hopefully their own defense will play well and develop some confidence for the rest of SEC play. If that unit doesn't improve, all off Johnny Football's heroics might be for naught.
10. LSU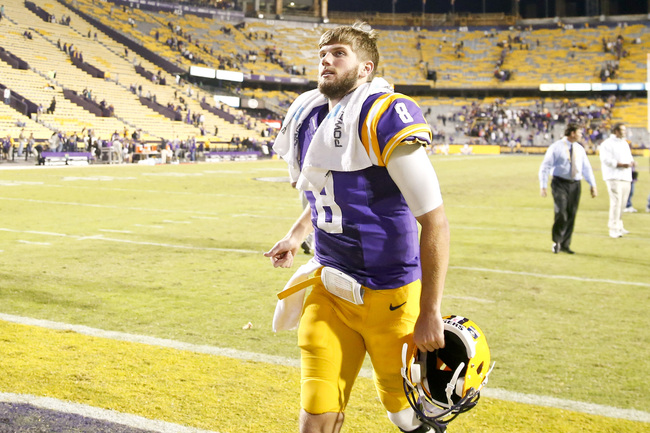 Week 10 Opponent: BYE
LSU looked curiously sluggish in the first half against Furman last week, but it finally woke up after halftime and didn't have to sweat out a win.
Perhaps the Tigers were looking ahead to this week's bye, which would seem to be the only explanation for letting such an inferior team hang around for two quarters.
With Alabama looming in Week 11, Les Miles must use the bye to get his team ready for a bloodbath. If anyone stands a chance of winning in Tuscaloosa, it's probably the Tigers, who have always proven capable of competing there.
9. Missouri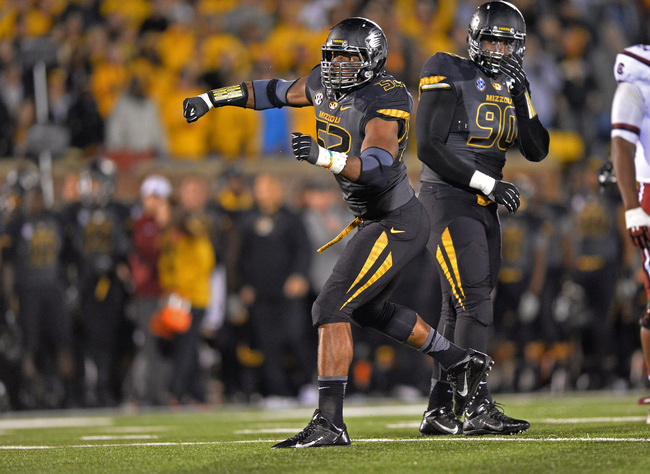 Week 10 Opponent: vs. Tennessee
Gary Pinkel has a job ahead of him this week, needing to pick his team up by the bootstraps after choking away a 17-point lead against South Carolina.
In Columbia, there is no reason this team should lose to Tennessee, which has looked awful away from Neyland Stadium all season.
But if the Tigers are demoralized from last week's loss, the Vols have just enough talent to stick around and make this a four-quarter game.
Someone needs to step up and be a leader for this team.
8. Clemson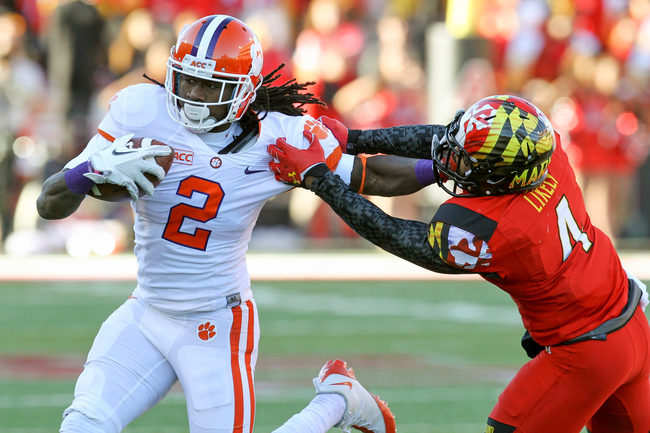 Week 10 Opponent: at Virginia
On paper, Clemson shouldn't have any trouble beating Virginia this week. But it shouldn't have had any trouble beating a depleted Maryland team either.
Tajh Boyd and Sammy Watkins need to step up as leaders and re-invigorate this team with hope. What happened against Florida State was traumatic, sure, but Clemson could still make a BCS bowl by running the table.
Virginia has collapsed this season, but it did start the year with a nice home win over BYU, so it's not like the Cavaliers are utterly incapable of beating good teams. Clemson must come ready to play.
7. Auburn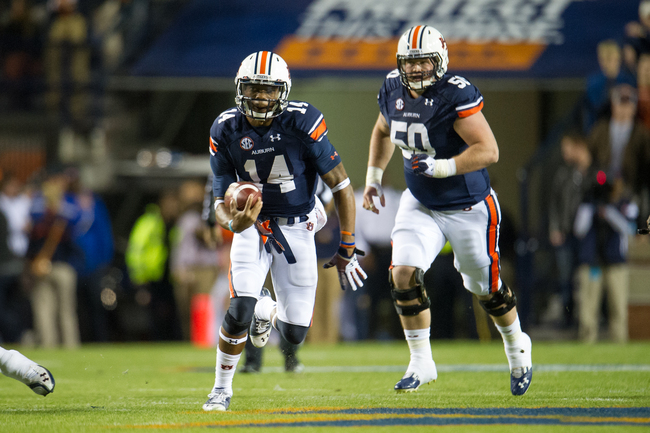 Week 10 Opponent: at Arkansas
It sounds a little odd, since Arkansas is such a mess right now, but Saturday will be a good test of just how far this Auburn team has come.
SEC road games are always tricky, and merely coming away with a win should normally be considered a positive. But Auburn is in the Top 10 right now. These are not normal circumstances.
Look for the Tigers to make a statement this week, attempting to blow out Arkansas the same way other SEC teams have this season.
They just better come ready to defend the run.
6. Stanford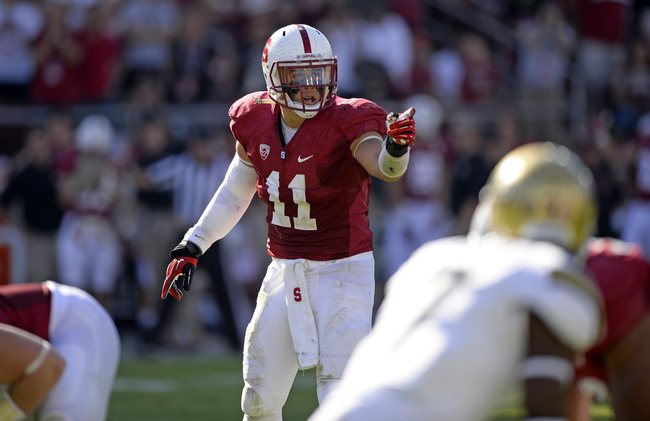 Week 10 Opponent: BYE
Stanford and Oregon both get the week off in Week 10, gearing up for their season-defining Thursday night showdown in Week 11.
The Cardinal made a statement in Corvallis last week, shutting down an offense that previously looked unstoppable. And that was on the road!
If they can do the same in Palo Alto, not only will they set themselves up for a Rose Bowl berth, they will also be in line for a potential BCS National Championship Game appearance.
5. Baylor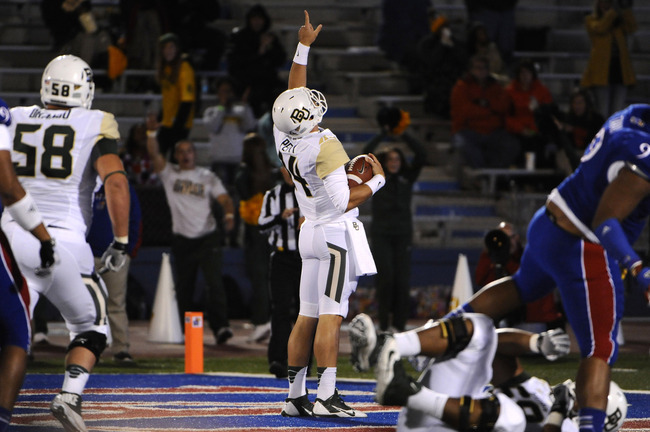 Week 10 Opponent: BYE
Week 10's bye is the calm before the storm for Baylor, which has reaped the benefits of a back-loaded schedule and coasted to a 7-0 record.
Things get much harder next Thursday, though, when Oklahoma comes marching into Waco. The Sooners are followed by games against Texas Tech, Oklahoma State, TCU and Texas, all of whom have the personnel to give the Bears potential trouble.
The rubber is about to meet the road for Art Briles' upstart bunch. Time to see what they're really made of.
4. Ohio State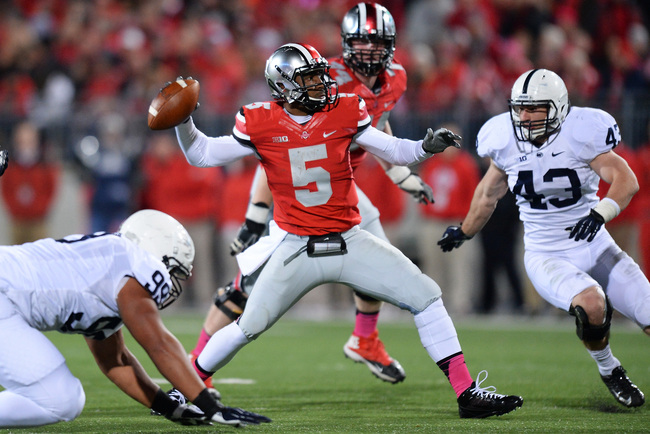 Week 10 Opponent: at Purdue
Purdue is one of the biggest messes in any BCS conference right now, but its history against good teams cannot be ignored.
Earlier this season, the Boilermakers took Notre Dame down to the wire, and they did the same against undefeated Ohio State in 2012.
I'm not saying to put this game on upset alert. Ohio State is leaps and bounds better than Purdue. But weirder things have happened.
3. Florida State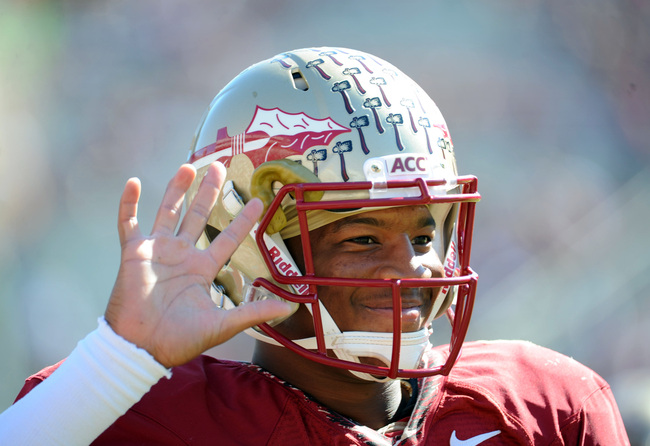 Week 10 Opponent: vs. (7) Miami
Depending on how you think Florida will look in a few weeks, this is the last real test standing between Florida State and an undefeated regular season.
Unlike the Clemson game, the Seminoles will have a home crowd at their back, which should somehow get them even more fired up than they were in Memorial Stadium.
Miami is undefeated and shouldn't be taken lightly, but there's a reason Jameis Winston & Co. are laying three touchdowns at home. Can they make another giant statement?
2. Oregon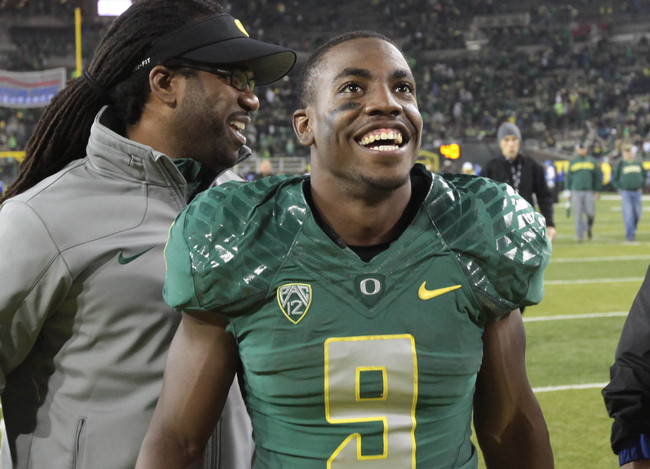 Week 10 Opponent: BYE
There's a chance—albeit a very small one—that Florida State thoroughly dominates Miami and leaps Oregon in one or all of the polls.
But none of that should matter. If Oregon wins out, it will be the No. 2 team in the country, and a win over Stanford would put it back in that spot immediately.
The Ducks can exorcise some demons if they win in Palo Alto, as only the Cardinal beat them in 2012 and kept them from playing in the BCS National Championship Game.
We'll find out in Week 11 whether history repeats itself.
1. Alabama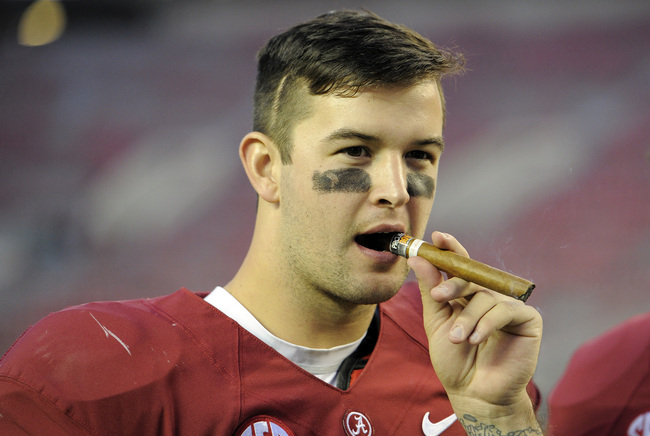 Week 10 Opponent: BYE
Smoke that stogie, Mr. McCarron. You and your Crimson Tide are currently sitting pretty.
But don't get too comfortable with that victory stick in your mouth. Because after this week's bye, an equally rested LSU team will be ready to take you down in Tuscaloosa.
Like Oregon, Alabama controls its own fate, but with games remaining against LSU, Auburn and whoever wins the SEC East, running the table will be easier said than done.
That stretch run starts in Week 11.
Keep Reading