Devin Hester is Ridiculous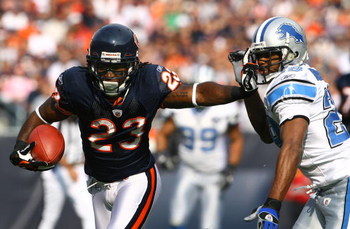 Jeff Joniak, Chicago Bears commentator, has recited the line "Devin Hester you are ridiculous" many times over the last few years. How many times can we expect to hear it this year? What better way to find out than to ask Devin Hester himself.
This article is a list of interview questions for the Chicago Bears WR/KR, Devin Hester.
The Return Game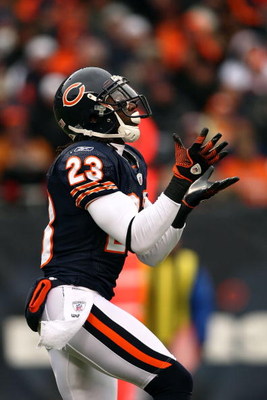 13 returns for TDs in your first 2 years. (including the Super Bowl and missed field goal returns) None last year. First two years in the league you averaged approximately 15 and 12 yds per punt return. Last year you averaged about 6 yads per return.
What do you think the difference was in 2008?

What adjustments did teams make to limit your return yards?

Do you think last season's decline in return yards will give teams more confidence that they can contain you?

What personal goals do you have on punt returns this year?
Playing Wide Receiver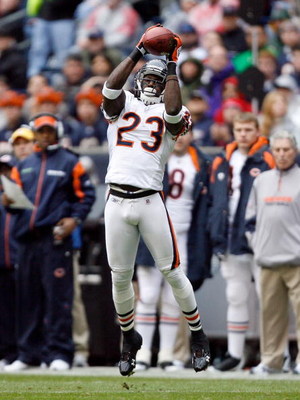 You're coming into your second full season as the #1 WR.
Looking back what has been the hardest part about the transition to WR?

What do you think is the most improved part of your game as a WR?
What do you think you still need to work on?
Devin's Take on the Bears Off Season Changes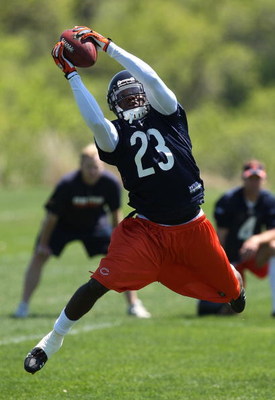 The Bears offense has seen lots of changes this off season.
What will be the biggest difference having Jay Cutler as your QB?

Who do you think will be the other two starting receivers this year?

What rookie WRs have impressed you so far in off season workouts?
What Separates Devin Hester From Everyone Else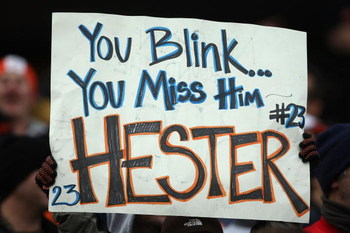 You've been labeled the fastest man in the NFL. Jerry Rice and Walter Payton among others were known to have crazy workouts that kept them ahead of their peers.
What types of training do you do in the offseason?

What do you think is an exercise you do that others would consider 'different'?
What's a typical workout routine for you during the regular season?
Memories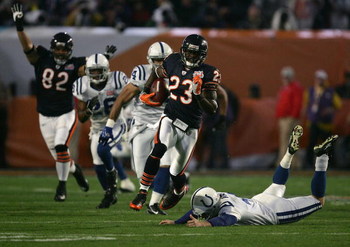 You've had some amazing touchdowns so far in your career.
Excluding the Super Bowl return, which one was your favorite or most memorable one?
Just in case you needed a reminder:
http://www.metacafe.com/watch/1437713/devin_hester_highlights/
What's The Proper Nickname?
There have been a few different nick names and tag lines given to you through you first few years in the league. "Anytime", "The Windy City Flyer", Jeff Joniak has referred to you as "Ridiculous".
Which one is your favorite or is there a new one that fans should use?
How many times can we expect to hear Jeff Joniak exclaim "Devin Hester you are ridiculous!" this year?
Keep Reading

Chicago Bears: Like this team?