Just three months after he was introduced as the Dallas Mavericks' general manager, Gersson Rosas has left his post.

ESPN's Marc Stein broke the story, though it was initially unclear whether Rosas was fired, stepped down voluntarily or if it was a mutual decision:
Just filed to ESPN: Mavericks and recent front-office addition Gersson Rosas are parting company after just three-plus months. More to come

— Marc Stein (@ESPNSteinLine) October 29, 2013
Stein later provided more details:
Sources tell ESPN trigger for Gersson Rosas' departure was Rosas' desire to head basketball operations in Dallas. Mavs brought him in (CONT)

— Marc Stein (@ESPNSteinLine) October 29, 2013
Mavs brought Rosas in from Houston to inject new voice/ideas in supplementary role to longtime president of basketball ops Donnie Nelson

— Marc Stein (@ESPNSteinLine) October 29, 2013
The Mavericks Twitter account later confirmed the news:
Per @MavsPR, Gersson Rosas has resigned as the General Manager. Press Release: http://t.co/pxWdrVWqpR

— Dallas Mavericks (@dallasmavs) October 29, 2013
Rosas, 35, was officially announced as the Mavericks' general manager in July, becoming the team's first person to hold that position since 2005. Donnie Nelson, the team's president of basketball operations, had handled a majority of basketball decisions in recent years along with owner Mark Cuban.

When introduced, Cuban toted Rosas' analytical voice as someone who could help push the Mavericks to the next level.
"We try to take pride in being one of the most technologically advanced teams out there in all of professional sports, not just the NBA," Cuban said, via Corbett Smith of The Dallas Morning News.
Before coming to Dallas, Rosas spent nine years in the Houston Rockets organization. He began as an intern, eventually becoming Daryl Morey's vice president of basketball operations.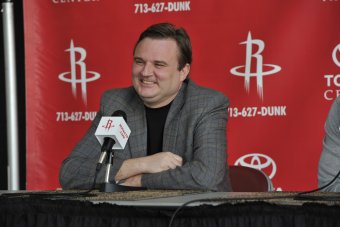 /Getty Images
Morey, the Rockets' general manager who is seen as a figurehead of the NBA's analytics department, has seen an increasing number of his underlings land jobs within other organizations. The Philadelphia 76ers hired former Houston executive VP of basketball operations Sam Hinkie to be their new general manager. International scout Arturas Karnisovas became an assistant GM with the Denver Nuggets.
The Mavericks' hiring of Rosas came at a curious time, after the team had already spent a majority of its cap space. Jose Calderon, Monta Ellis and Samuel Dalembert all signed with Dallas before Rosas joined the organization. They also spent a first-round pick on Shane Larkin and re-signed Brandan Wright this offseason.

Those free-agency moves came in close enough proximity that Rosas was likely made aware of them before taking the job, and it's unfair to speculate about possible tension without tangible evidence. But Rosas was still reporting every day to Nelson, a somewhat unconventional setup with most teams having just one figurehead in charge of basketball operations.
With the Mavericks facing a crossroads heading into this season, Cuban likely found it more amenable to keep people who share his vision. Dallas missed the playoffs for the first time since 1999-2000 last season and is considered a long shot within the Western Conference. Contention for a playoff berth will be a top priority this season, with Dirk Nowitzki headed for unrestricted free agency next summer.
The Mavericks open their 2013-14 campaign on Wednesday against the Atlanta Hawks.
Follow Tyler Conway on Twitter: