Can Liverpool Be Considered Premier League Title Contenders?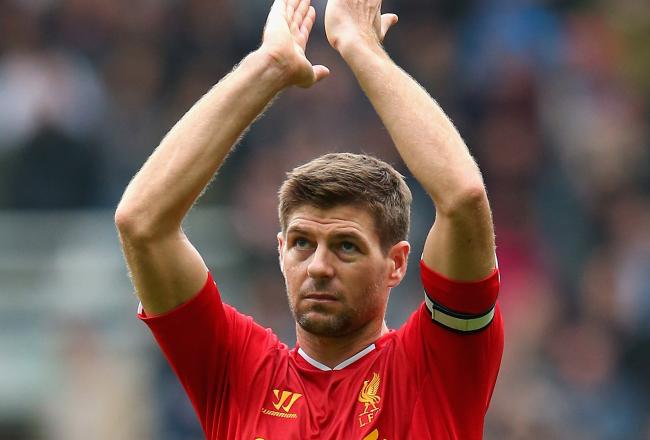 Will Steven Gerrard get the chance to realise his dream of Premier League glory?
(Photo by Julian Finney/Getty Images)
The time at which the Premier League table becomes relevant is a source of great debate, and it is one that you have had yourself on a number of occasions.
Newspapers, websites and certain rolling sports news channels will insist on showing the table as early as the first day of the season.
In some places you can even look at the table before a game has taken place. As an Arsenal fan you can briefly revel in seeing your team at the top of the league, or if you are one of the (many) enemies of Manchester United you can take delight in seeing them slumped dejectedly in the barren realms of mid-table. Both, of course, are utterly laughable concepts...Oh, hang on.
There are those extremists who will argue that the Premier League table becomes relevant from the moment the first ball is kicked on opening day, and there are those super-extremists who will say that it is totally irrelevant until the final whistle in May.
Sensible people, though, will see reason in it all becoming relevant around 10 games in. The clocks have gone back, the winter balls are in use and Sunderland have already changed manager. It is when the Premier League has properly kicked into gear.
Going into their 10th game of the season, Liverpool are sitting just behind Chelsea on goal difference in second and just two points off leaders Arsenal.
The Reds face their sternest challenge of the season so far when they go to the Emirates on Saturday evening, but nick all three points and there is every chance that by the time round 10 of the Premier League is over, they could be sitting top of the pile.
If this is, then, the time of the season when the Premier League table should be taken seriously, should Liverpool now be taken seriously as title contenders?


Should they?

At the start of the campaign, Liverpool weren't realistically even discussed as a potential champion of England. It is an obscenely small sample size, but of the 11 journalists from the Guardian who put forward their preseason prediction for the Premier League champions, not a single one even considered Liverpool.
They even placed them sixth in their final League standings.
But from the signing of Mesut Ozil to the shaky start of David Moyes, a whole lot has changed in the English top flight since then. Just because Liverpool weren't considered contenders then, does not mean that they shouldn't be now.

Why should they?
They have a talented team. Brendan Rodgers has managed to sweep out much of the remaining dross from previous regimes, and what remains is the best and the brightest from the past, the most assured from the present and the most exciting and promising for the future.
In Martin Skrtel, Kolo Toure, Mamadou Sakho and Daniel Agger they have the strongest quartet of centre-backs in the League.
Toure's impressive form in particular has so far made Manchester City's decision to deprive him of game time over the past season or two then get rid of him in the summer look more foolish by the week, especially considering their own recent struggles in that position.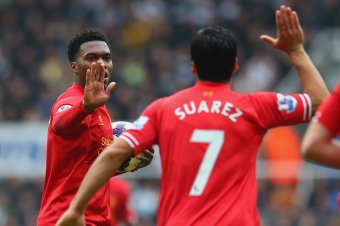 /Getty Images
They also possess two of the best strikers in the Premier League. Daniel Sturridge is currently the leading scorer with eight goals, and Luis Suarez is in third with six. Those six are even more impressive when you consider the fact that he has managed them in just four games.
Both players could easily clear 20 this season, if not more. If you have two strikers who are scoring as freely and rapidly as that, it can only boost your chances of success.
Arguably their main area of their weakness is in midfield, but a certain bitter rival proved last season that it is possible to win
the Premier League even with a dodgy centre. And Liverpool's midfield isn't exactly in the worst of shape.
When fit, Lucas Leiva, Steven Gerrard and Phillippe Coutinho will be a superb triumvirate. Gerrard may not quite be the barnstorming attacking force of old, but the way he has adjusted to a new deeper role has made him far more suited to a well-balanced midfield than he arguably ever was at his very best.

Playing to their strengths

The impressive thing about Rodgers and his side is that they have adjusted and adapted their system to use their assets to the best of their ability.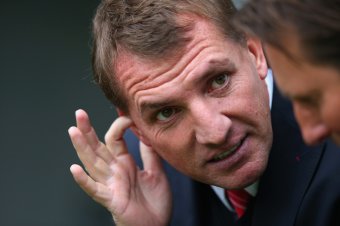 /Getty Images
Liverpool started the season in a 4-2-3-1, but after they signed Sakho and it became clear that they were the strongest in the heart of their defence, he switched to a back three.
Then when Suarez returned from suspension, rather than sacrifice one of their centre-backs or even push either the Uruguayan or Sturridge out wide, Rodgers sacrificed a midfielder so that he could play both his strikers through the middle.
By playing three central defenders and two central strikers, Rodgers has adapted in order to utilize his best options in their optimum positions and you have to give him credit
for that.
Maybe he spoke to his captain, who has told him from experience how frustrating it can otherwise be for a player forced to play out of position for the good of the team.
Are they?

There is still obviously a long way to go. But we are a quarter of the way in, and Liverpool have been as impressive as any other team in their start to the campaign.
They may be slightly lacking in numbers, something that Rodgers can see to in January with one or two acquisitions, but they have a very solid defence and an exceptional attack.

A slightly thin squad also may not provide too much of a problem considering that they have no European fixtures to contend with and are already out of the League Cup.

Top four is obviously still the priority, and it is a target that seems a genuinely realistic probability, which is a huge step considering how far away they've been from it since 2009. Whether you consider them realistic contenders or not, they have, at the very least, joined a debate in which were not even involved in two months ago.
Experience over the course and distance may not quite be there but perhaps, in what is turning out to be the most madcap of seasons, they could have just as good chance as they have had in a very long time.
The league, after all, never lies.
This article is
What is the duplicate article?
Why is this article offensive?
Where is this article plagiarized from?
Why is this article poorly edited?

Liverpool: Like this team?