Coaches hate fanning the flames of rivalry games, and this week the Iowa-Wisconsin rivalry gets renewed after a few years off. So, naturally Kirk Ferentz and Gary Andersen were going to praise the opposition.
However, there's praising the opposition and then there's singling out a specific player, which is what Iowa Hawkeyes head coach Kirk Ferentz did on Tuesday.
Ferentz went out of his way to call Jared Abbrederis the best player in the conference.
Ferentz says there isn't a better player in the conf. than #Badgers Jared Abbrederis.

— MadTown Badgers (@MTBadgers) October 29, 2013
Not the best wide receiver, but the best player in the entire Big Ten, regardless of position.
Could it be Ferentz buttering up the opponent a bit? Maybe. But it could also be a lot of the truth.
Abbrederis comes into this week with 43 of the Wisconsin Badgers' 115 receptions on the season. He is third in the conference in receptions (6.1) and yards (107.4) per game. Additionally, he is averaging 17.5 yards a reception, which is third in the Big Ten.
He's doing all of that despite everyone on the field knowing he is the main, and sometimes only, deep threat in the passing game.
With the Big Ten as loaded as it is with quality wide receivers in 2013, Ferentz sure made a bold statement on Tuesday morning.
Will Taylor Martinez Be Out this Week Against Northwestern?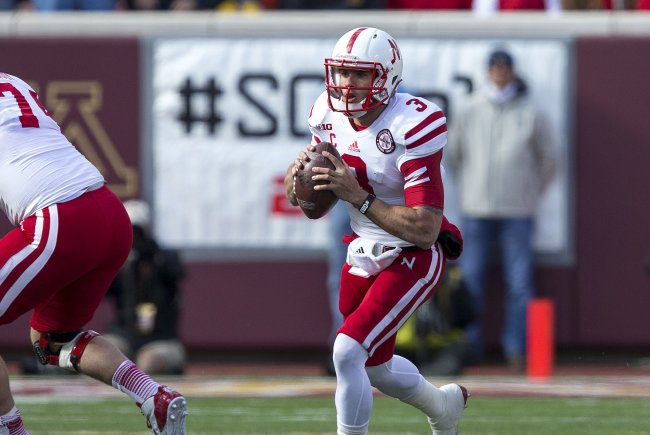 As Bo Pelini faced the media across Big Ten country on Tuesday, one revelation that came out was the semblance that Nebraska Cornhuskers quarterback Taylor Martinez's return to action last week may have only been temporary.
On Tuesday's conference call, Pelini hinted that practice would determine his availability and that Martinez was a no-go over the past two days.
Pelini says T-Magic had a hip-pointer & if it were today they'd be playing Tommy & Ron at QB. See how it plays out this week.

— Andy Coppens (@andycoppens) October 29, 2013
This has been Pelini's M.O. for injured players for as long as he has been the head coach at Nebraska, but it sure doesn't look good for Martinez's chances of playing this weekend.
That could mean a very interesting tussle ahead with the Northwestern Wildcats because Kain Colter is getting healthier and Tommy Armstrong just plain looked bad in his last start against the Purdue Boilermakers (6-of-18, 43 yards, 3 interceptions; 4 carries, 5 yards).
Minnesota Won't Fix What Isn't Broken in Coaching Situation
The continuity and relationship on the Minnesota Golden Gophers coaching staff has been a huge help to the situation regarding head coach Jerry Kill's health. But Kill is getting closer and closer to being fully back.
However, don't expect that to mean he's rushing back to the sideline because his team needs him or anything.
At least that's what he told local media on hand in Minneapolis on Tuesday:
Kill: If it ain't broke, don't try to fix it, I'm not going to try to fix things, my ego isn't that big. I just want to win. #Gophers

— Nadine Babu (@NadineBabu) October 29, 2013
It's hard to blame him for taking that approach. His team did just beat Nebraska with him in the press box and addressing the team at the half and post game.
Kill wasn't the only one with that approach, though, as acting head coach Tracy Claeys uttered those words to the national media before addressing the throngs of local media.
Claeys says how Kill is involved is just part of the process & until he is ready to come back fully I don't see it changing much.

— Andy Coppens (@andycoppens) October 29, 2013
Claeys also made mention to the fact that Minnesota is following its blueprint and that the result on Saturday over Nebraska was more about showing the fans what the coaching staff has seen in practice all year.
Claeys says #Gophers are reacting to bad situations in a game in positive way. Wins like this show fans what we've seen in players.

— Andy Coppens (@andycoppens) October 29, 2013
Is Michigan State's Offensive Line the Deepest of the Dantonio Era?
That question was answered pretty emphatically by Michigan State Spartans head coach Mark Dantonio—yes.
Dantonio says this is the deepest offensive line he's had. Whether it's the best will be determined in final month of season.

— ESPN Big Ten (@ESPN_BigTen) October 29, 2013
Over the past few weeks, the numbers have really started to increase offensively, and a lot of it can be attributed to the depth and jelling of an offensive line that was plagued with injuries earlier this season.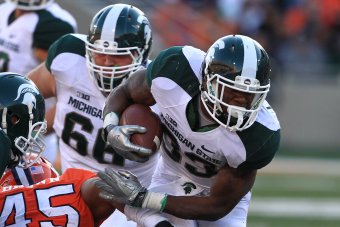 Running back Jeremy Langford has run for 344 yards and five touchdowns in the past three games alone.
Previous to that, Langford totaled all of 311 yards and four touchdowns in five games to start the season.
The passing game has also made huge strides thanks to having an offensive line that can help keep the quarterback upright.
Quarterback Connor Cook has thrown for over 200 yards in three of the four Big Ten games to date. He just got done with a game where he completed 93 percent of his passes (15-of-16) for 208 yards and three touchdowns to no interceptions.
*Andy Coppens is the lead writer for the Big Ten. You can follow him on Twitter: @ andycoppens.