How Should the Red Sox-Cardinals 'Weird Series' Be Remembered in Baseball Lore?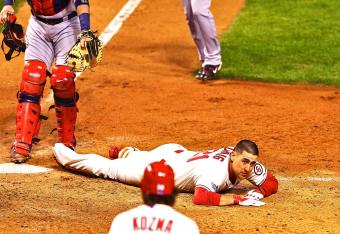 Getty Images
Forget the World Series. This one's the Weird Series. Or maybe the Faulty Classic.
No doubt, this October's final postseason battle, with the Boston Red Sox up three games to two on the St. Louis Cardinals heading into Wednesday night's Game 6, has been one of the—how should we put it—stranger ones in recent history.
Or rather, in history.
There have been managerial mess-ups, umpire overturns and obstruction calls. There have also been, above all else, errors and misplays galore by the players in all facets of the game.
What's especially odd about all this is that the Red Sox and Cardinals finished the regular season with identical 97-65 records that tied for the best in baseball. Heck, this is the first time the team with the top record in the American League has met the team with the best record in the National League since the 1999 World Series between the New York Yankees and Atlanta Braves.

Over the course of 162 games this regular season, Boston and St. Louis played the best baseball around, and it wasn't just based on their win-loss records either. Going by run differential—runs scored minus runs allowed—these were not only the top teams in their respective leagues, but in all of Major League Baseball.
And yet when pitted against each other in the small sample of a best-of-seven set, the Red Sox and Cardinals have produced some of the worst—or weirdest—performances on the diamond that could be expected from such talented, quality clubs.
To wit, there was the unprecedented reversal of a call amid a Cardinals comedy of errors that cost them Game 1.
Game 2 turned when the Red Sox made a pair of errors on a single play that more or less tied up the series.
The third contest? Well, that will forever be known as "The Obstruction Game," thanks to this wild-and-wacky—and again, unprecedented—play to end the game and put St. Louis ahead 2-1.
In Game 4, a Red Sox player who wasn't even in the lineup an hour-and-a-half before the first pitch smacked the game-winning home run for his first hit of the series.
Oh, and did we mention that Game 4 concluded with another uncharacteristic mistake when a Cardinals pinch-runner was picked off first base with his team down by two runs and arguably the best postseason hitter ever at the plate?
At least the Red Sox and Cardinals produced what was, for the most part, a tight and well-played Game 5. Of course, that doesn't mean it came without its own pregame scrutiny, as Game 1's winning pitcher, Jon Lester, took the mound again in the wake of a controversy surrounding the green goo on his glove his first time out.
All of which raises the question: What's in store for Game 6 and, if we're so lucky, a winner-take-all Game 7?
Here's the thing, though. While this World Series hasn't gone as expected to this point, that's not at all a bad thing. It hasn't always—or even often—been good baseball, but that doesn't mean it hasn't been entertaining and unpredictable baseball.
Has this World Series been entertaining?
Fans of the Red Sox and Cardinals obviously still have a rooting interest and want to see their team win, but it seems that everyone else is just waiting for the next bizarre play to happen or way for a game to end.
For folks outside of Boston and St. Louis, it almost doesn't matter which team takes the title. Chances are, when we think back to the 2013 World Series five or 50 years from now, we won't recall who won as easily as we'll remember the above plays, misplays, unprecedented endings and controversial calls.
Then again, there's still at least one game left to be played in this Weird Series and Faulty Classic—and maybe, just maybe, two games.
We should be so unlucky.
This article is
What is the duplicate article?
Why is this article offensive?
Where is this article plagiarized from?
Why is this article poorly edited?