SEC Football 2013 Week 10 Simulation
After Missouri's win over Florida, folks were speculating at how open the SEC East was. It wasn't. The Tigers had a commanding lead and needed just a win over the Gamecocks to effectively secure the title.
This week is different. USC pulled out an overtime win in Columbia, and while Missouri is still in the driver's seat, things are much more open.
The computer called the overtime, though it predicted a UM win. We both struggled against the spread and missed a single game. We're coming up on the final weeks of the year, and I'm close to securing the win.
Will there be any big upsets this week? Only one way to find out. (Spoiler: Yes)
---
| | | |
| --- | --- | --- |
| | This Week | Overall |
| EA Straight-Up | 6-1 | 54-23 |
| Me Straight-Up | 6-1 | 64-13 |
| | | |
| EA vs. Spread | 3-4 | 37-40 |
| Me vs. Spread | 2-5 | 39-38 |
Begin Slideshow

»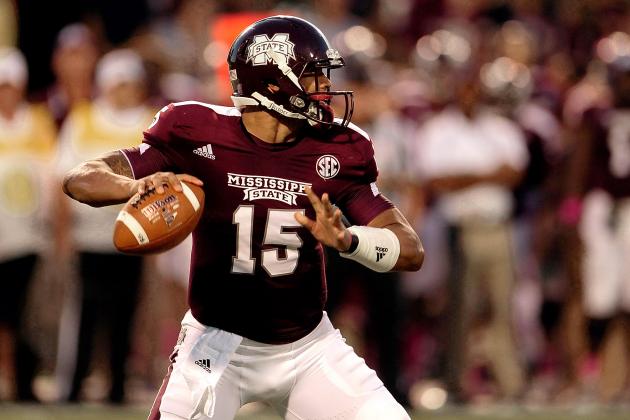 Welp. Rarely has the computer been so confident in such a massive upset.
The Bulldogs have been typically MSU this season, with near-misses against great teams and embarrassing derp-fests against easier opponents.
The Gamecocks are still in the running for the SEC East but haven't been able to put opponents away.
In the simulation, Tyler Russell starts for the Bulldogs and puts up 21 points in the first quarter, putting the game out of reach from that point on.
The Bulldogs force three turnovers, two of those interceptions off of Connor Shaw. The Gamecocks quarterback went 10-of-28 for 121 yards and no touchdowns for a QB rating of 57.7. Numbers like that won't exactly help a team get a win.
On the flip side, Russell passed for 151 yards on 11-of-19 passing and four touchdowns with no turnovers.
Running back Brandon Wilds averages 6.3 yards on his way to 126 yards for South Carolina.
I expect this game to be close, but I don't see MSU pulling out the win in Columbia.
---
EA PICKS: Mississippi State to win, Mississippi State (-13)
MY PICKS: South Carolina to win, Mississippi State (-13)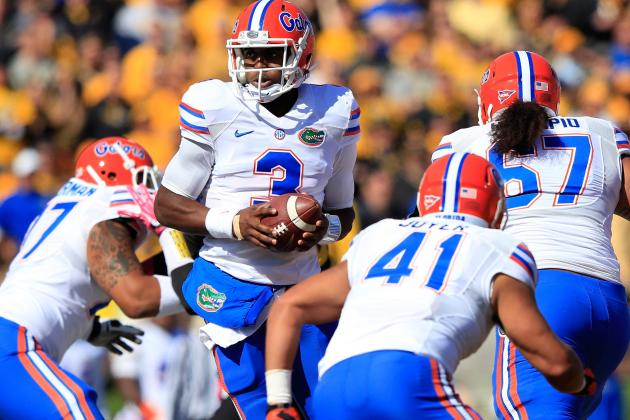 In what has evolved into an SEC East title elimination game, can the Florida LOLfense put away Aaron Murray and the Bulldogs?
Keith Marshall (who is actually out for the remainder of the season due to an injury) strikes first for a two-yard touchdown. A Gator field goal puts the UGA advantage 7-3 after one.
After allowing a 32-yard field goal from Georgia, the Gators put up 10 straight points and take a 13-10 advantage into halftime.
Both teams score a touchdown in the third, and a Kent Taylor score from three yards out in the fourth secures the game and knocks Georgia out of contention for the East.
The Florida LOLfense miraculously manages to outgain Georgia's by 120 yards, led by Driskel's 252 yards on 17-of-33 passing for one score and two interceptions. Murray was ineffecient against the Gator defense, managing just 125 yards on 15-of-26 passing for no touchdowns and a turnover.
I have little-to-no faith in Florida right now, and I think Georgia is underrated. I'm going Bulldogs.
---
EA PICKS: Florida to win, Florida (+2.5)
MY PICKS: Georgia to win, Georgia (-2.5)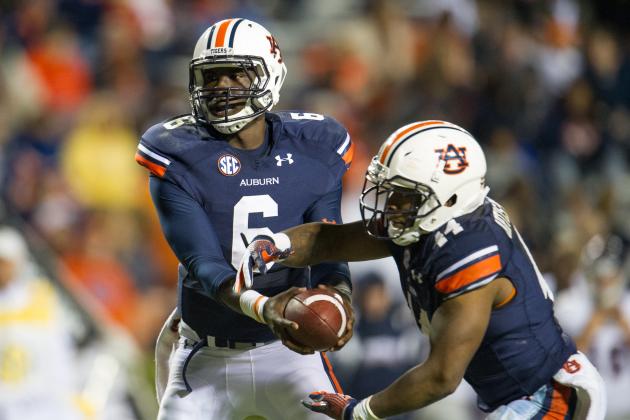 After the defeat of Texas A&M, Auburn's only loss is a competitive game in Baton Rouge. Suddenly, the SEC has yet another national player.
Arkansas' season has been less glamorous. The Razorbacks are winless in the SEC and and have lost five straight overall.
This one is closer than it should be. Auburn quickly falls behind in the first after Alex Collins punches it in from a yard out. The 'Backs hold onto the lead for a 17-13 advantage at halftime. The difference comes in a third-quarter Tre Mason touchdown, giving the Tigers the lead for the final time.
Brandon Allen has had a pretty awful season thus far, but the simulation has his game on the up-swing after 256 yards on 19-of-36 passing in this one.
Jonathan Wallace completes just 13-of-33 passes for 153 yards and a turnover, though Tre Mason racks up 108 yards on 16 attempts.
Arkansas' Trey Flowers led the game with 15 tackles and two sacks.
Arkansas is in full free-fall mode, and I'm not much of a believer in trap games. Auburn cruises.
---
EA PICKS: Auburn to win, Arkansas (+8)
MY PICKS: Auburn to win, Auburn (-8)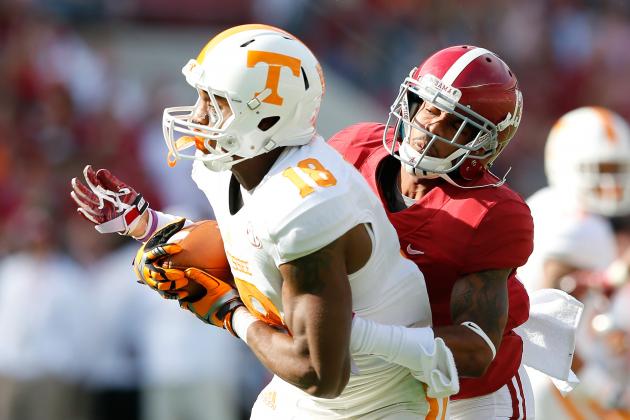 Can a Vol defense ranked 82nd in the country contain a Missouri offense ranked 17th in the country?
As confusing as the SEC East has the potential to be right now, a Missouri loss to Tennessee would complicate matters 10-fold.
Neither team manages points in this defensive battle, and a non-injured Franklin (remember, this is a simulation) connects on a seven-yard touchdown in the second.
Mizzou holds a 7-3 lead at halftime, but the third quarter is kind to Peterman (Worley is injured in the sim as well), and the Vol offense puts up 10 in the stanza.
Despite a single drive, Missouri settles for a field goal with 7:21 left and loses by three.
The simulation has the teams combining for 659 yards of offense, which is in the ballpark of what I expect out of the Tigers alone.
Franklin goes 16-of-33 for 171 yards and a score and Peterman is worse, hitting just 15-of-35 passes for 162 yards and a touchdown. The Vols' Marlin Lane adds 114 on the ground.
With Worley out and Mizzou's offense clicking, I don't see a way for the Vols to compete.
---
EA PICKS: Tennessee to win, Tennessee (+11)
MY PICKS: Missouri to win, Missouri (-11)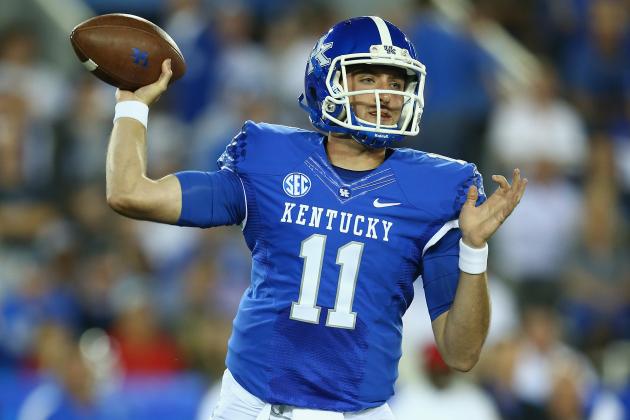 You'll have to forgive Kentucky head coach Mark Stoops. Apparently he thought he was showing up to a UK hoops game and settled for a bunch of free throws.
Well, the equivalent, at least. In the simulation, the Wildcats kick seven field goals; five of those in the second quarter. Talk about struggling in the red zone.
There isn't a whole lot more to say about this game. UK is competitive this season but isn't winning games. This one shouldn't be a struggle like Western Kentucky was.
The sim has three quarterbacks sharing playing time, with Maxwell Smith going 14-of-27 for 201 yards and a touchdown and Raymond Sanders rushing 11 times for 109 yards.
Moving on.
---
EA PICKS: Kentucky to win, Kentucky (-27.5)
MY PICKS: Kentucky to win, Kentucky (-27.5)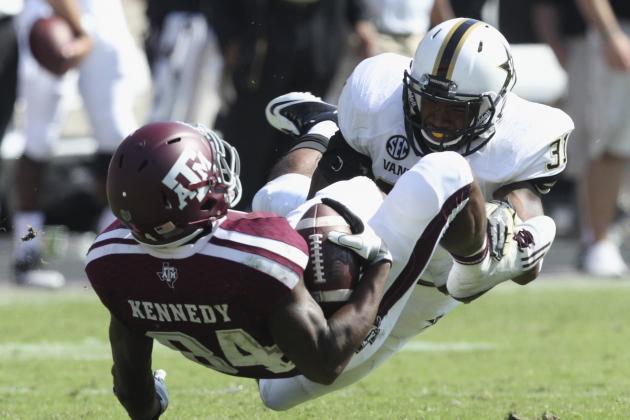 It appears that Manziel will be playing against UTEP, though he may not have to.
After a 17-3 lead in the first, the simulation doesn't have the Aggies checking up.
The Aggies record 506 yards, 337 of those through the air from Manziel, who completed 28-of-41 passes for two scores. The reigning Heisman winner added 86 yards and two touchdowns on the ground.
This one will be a tune-up for a back-weighted schedule.
---
EA PICKS: Texas A&M to win, UTEP (+45.5)
MY PICKS: Texas A&M to win, UTEP (+45.5)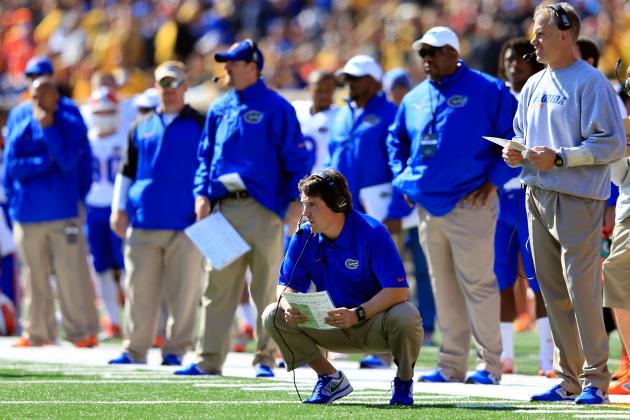 If the simulation is to be trusted, we've got a heck of a weekend coming up.
Regardless, what we do know for certain is that the stakes for the World's Largest Cocktail Party are very high. The winner has a chance to compete for the SEC East and a BCS bid, the loser is mitigated to a .500 record on the year and a disappointing season.
I'm fighting to stay above water against the spread, though I'm holding back the computer on both fronts. I'm hoping this doesn't bring the robot apocalypse any sooner than planned.
Follow me on Twitter @SEC_Nerd.