Why Neymar Won't Win 2013 Ballon D'Or Award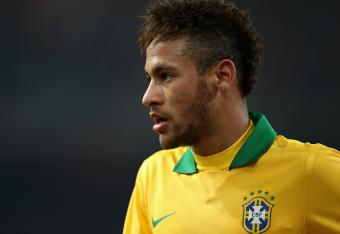 (Photo by Feng Li/Getty Images)
Barcelona's Neymar is among the contenders for the coveted Ballon d'Or award after FIFA revealed their 23-man shortlist Tuesday morning.
Will Neymar rank in the top 10 when the Ballon d'Or votes are cast?
The 21-year-old wizard joined the Spanish champions from Santos at the beginning of the season for £48.6million and has impressed since his arrival in Spain.
Neymar is accompanied on the list by fellow Brazilian Thiago Silva of Paris Saint Germain as well as teammates Xavi, Andres Iniesta and, of course, Lionel Messi.
While Neymar, who scored in his El Clasico debut at the weekend, deserves his place on the list, here are three reasons why he won't be the winner when the votes are cast on January 13 in Zurich.
Lack Of European Experience
Neymar arrived in Europe after a phenomenally successful start to his career in Brazil.
He bagged 116 goals for club and country (check out his highlight reel below) over the course of the previous three seasons, which, as Ken Early points out in his excellent piece on Slate, is twice as many as Romario scored at his age and three times as many as a 21-year-old Cristiano Ronaldo.
While there is a gulf in class between La Liga and the Brasileirao, the early signs suggest Neymar has made a smooth transition.
But the 2013 Ballon d'Or is awarded to those players that have continuously reached the peak of their powers on European pitches throughout the year. After just half a season it is highly unlikely that Neymar will win.
Once the talented forward has a season or two within the top echelons of the game, he will be expected to challenge for the top gong.
But his lack of European experience will affect him this time around.
Lionel Messi
Messi won the award from 2009-2012 and in doing so became the first footballer ever to win it four times.
The diminutive Argentine is top dog at Camp Nou and it's very difficult to outshine the brightest star in world football.
When Neymar arrived at Barcelona at the beginning of the season he lavished praise upon Messi. The young Brazilian even went as far as to say—per John Drayton in the Daily Mail—he was in Spain to help the Argentine player.
And that has been the ethos of the Catalan side over the last number of years. They have world-class talent in abundance—Xavi, Andres Iniesta, Cesc Fabregas, to name a few—yet they all work as a unit to supply the world's best player and he does the damage:
Neymar: "Messi has been the best player in the world on four consecutive occasions and he's got it all to win the Ballon d'Or award again."

— FC Barcelona Fl (@FCBarcelonaFl) September 7, 2013
So far it would appear that Neymar—unlike Zlatan Ibrahimovic when he played for Barca—is happy to jump aboard the culture boat at Barca.
In the three seasons before he joined the Spanish champions, Neymar scored, on average, three times as many goals as he assisted. But this season he has set up more goals than any other Barcelona player, with seven assists and three goals to his name:
2 - Only Neymar (3) has scored and assisted in more different games than Giovani dos Santos in La Liga this season. Delight

— OptaJose (@OptaJose) October 27, 2013
Neymar has become a team player. He has adapted his style of play to benefit both Barcelona and Messi, and while he will learn a lot from the experienced heads around him, he will also remain in the Argentine's shadow for a while yet.
More Worthy Players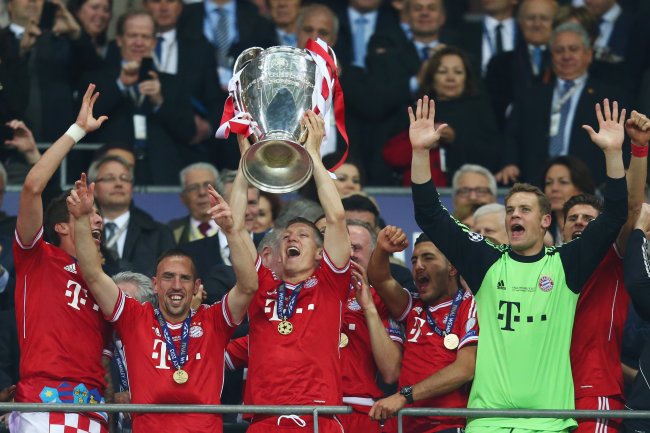 /Getty Images
The last reason Neymar won't win the award is because at the moment there are better, and more experienced, players at various clubs around Europe.
While Messi will be favourite to take home the prize for a fifth year in succession, he will be pushed all the way by Real Madrid rival Cristiano Ronaldo.
Standout players like Robin van Persie, Luis Suarez, Franck Ribery, Arjen Robben, Zlatan Ibrahimovic, Edinson Cavani and Falcao have been incredibly consistent throughout the whole year.
The five Germans deserve their place on the list too. Manuel Neuer, Bastian Schweinsteiger, Thomas Muller and Philipp Lahm all played vital roles in Bayern Munich's treble success last season, and Mesut Ozil's assist record is unrivalled across Europe.
And we haven't even mentioned the world's most expensive player yet. While Neymar has found his feet quicker in La Liga than Gareth Bale, the Welshman enjoyed an incredible run for Spurs during the first half of the season.
If his current progression rate is to go by, then Neymar will have his name engraved on the Ballon d'Or some day.
Just not the 2013 edition.
This article is
What is the duplicate article?
Why is this article offensive?
Where is this article plagiarized from?
Why is this article poorly edited?