Green Bay Packers: 5 Critical Takeaways from Week 8 Win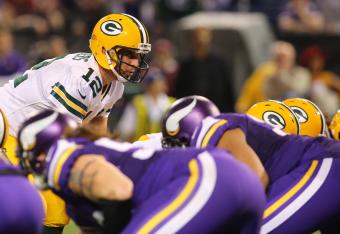 (Photo by Adam Bettcher/Getty Images)
The Green Bay Packers routed the Minnesota Vikings, 44-31, behind a dominating effort from their offense. It was the team's second divisional victory of the season in as many tries.
At times, they just made it look too easy against an inferior opponent. Yet, they could still be plenty better.
The youngsters on the offensive line continue to improve, both in run-blocking and pass-protecting. The running game continues to be a revelation compared to recent seasons for Green Bay. Myles White and Jarrett Boykin are gaining confidence in themselves and with their teammates. Micah Hyde is a weapon as a return man. Oh, and Aaron Rodgers, he's not too shabby himself.
The Packers still had some lapses. The special-teams unit gave up a 109-yard kick return at the very beginning of the game to Cordarrelle Patterson. A typically putrid Vikings offensive attack was able to muster up 24 points on the game.
Green Bay has plenty to take away from this relatively convincing victory.
Micah Hyde is THE Man
Early in the season, it looked like the Packers return game would be a struggling point for the team. Jeremy Ross was struggling as a kick returner, having averaged just 12.5 yards per kick return and 10 yards per punt return, according to ESPN statistics.
Add to that Randall Cobb's injury, and the team was well short with return men. Well, head coach Mike McCarthy has found a solution to at least part of the problem.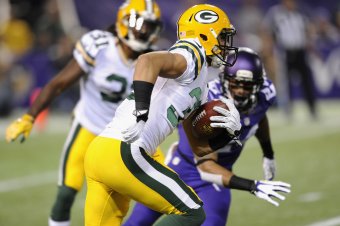 /Getty Images
Rookie defensive back Micah Hyde has assumed the role of punt returning for the team. After Sunday, it is unlikely he loses that role.
Hyde came into the game averaging a healthy 11.6 yards per punt return. That number will go up significantly. Hyde returned a punt 93 yards to the house just before halftime.
"Micah Hyde's return was a huge play in the game for us," said McCarthy in his postgame press conference, per the Green Bay Packers website. "It was a great momentum builder for us."
The threat of the rookie hurting opponents with his returning ability could cause problems for punters. Opposing punters may, at times, be forced to punt away from the rookie, a move that could shorten the field for the offense. His ability can also electrify his teammates and fans.
He has just added another element that opponents have to worry about.
White and Boykin are Getting Better
Myles White and Jarrett Boykin were once two undrafted rookie free agents. In recent weeks, they've been thrown into the fire due to injuries to James Jones and Randall Cobb. They're responding quickly.
Boykin came into Sunday's game as the No. 2 wide receiver for the second week in a row opposite Jordy Nelson. White has taken the place of James Jones as the No. 3 WR.
Each player had five catches on Sunday. Boykin finished with 89 receiving yards and White with 35.
"Jarrett has really progressed," said Rodgers after the game to reporters, per the Green Bay Packers website. "Myles made some big plays."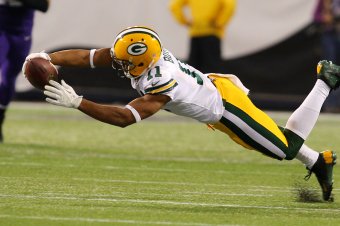 /Getty Images
Their progression can be seen on some plays they made during the game. Boykin caught a pass on a 3rd-and-15 that showed his awareness of where he was on the field. White was able to escape on a short reception and turn it into a 15-yard gain along the sideline.
So, what's the most important development for the duo? Everyone around them is gaining confidence in their abilities, especially Aaron Rodgers.
That's a big development going forward. Rodgers has lost targets with his top two receivers and Jermichael Finley being out. Building a rapport with these young receivers will help downplay those injuries until those players come back.
Jolly, Packers Continue to Stop the Run
The Vikings' Adrian Peterson has repeatedly torn apart the Packers defense. Through his career, he has averaged over 120 yards per game against Green Bay, said Al Michaels during Sunday night's NBC Telecast. Just last season, he averaged over 200 yards in two regular-season contests versus the Packers. Stopping the run has always been a problem for the Packers when facing the Vikings.
This season, however, Green Bay has improved significantly in stopping the run. According to NFL.com, Green Bay is giving up just 83.6 yards per game on the ground, good for fourth best in the league. The turnaround was again on display Sunday as they held Peterson to just 60 yards on 13 carries.
There are many reasons for the turnaround. Green Bay's defensive coaches put a greater emphasis this offseason on figuring out how to stop the run.
Players such as Mike Daniels, Mike Neal, A.J. Hawk, B.J. Raji and Ryan Pickett have played a significant role in slowing the run.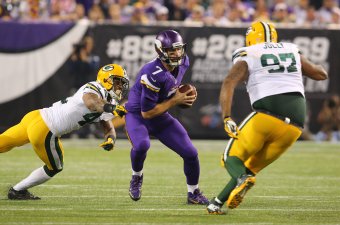 /Getty Images
Now, what's the biggest difference in the improvement? It may very well be the re-emergence of defensive lineman Johnny Jolly. Jolly has spent the last few years out of the NFL due to an admitted codeine addiction, as described in Jolly's interview with the NFL Network's Andrea Kremer.
The resurgent player has been a consistent force on the defensive side, disrupting play after play, no matter if it's to stop the run or to help create a pass rush. He's been a pleasant surprise.
This turnaround is helping Green Bay force more three-and-out situations and is helping the team win time of possession battles.
The defensive unit will continue to be tested as matchups against Matt Forte, LeSean McCoy, Reggie Bush, DeMarco Murray and Peterson, again, are looming.
Expect this bunch to hold their own.
Packers Continue to Run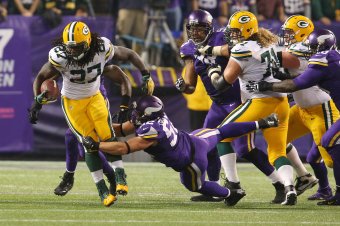 /Getty Images
Eddie Lacy and James Starks are paying dividends for the Packers. The duo had a monster game against the Vikings, rushing for 151 yards and two touchdowns.
The effectiveness of the two backs is making it easier for the Packers to deal with the injuries to their receivers.
They have created another threat for opposing defenses. Teams now have to prepare not only for the Packers' passing attack, but they also have to be ready to stop the run.
"It makes the offense more dangerous, and it makes the team more dangerous," said ESPN's Trent Dilfer on SportsCenter, "because it keeps the defense on the sideline, and it keeps No. 12 healthy."
Green Bay is averaging 438.9 yards of total offense, 297.4 coming from the pass and 141.4 coming from the run.

What the offense could look like once they have their star receivers back has to put fear into opponents.
Lacy was passed up on by several teams during the 2013 NFL draft, with three running backs being taken ahead of him before he landed with the Packers with the 61st pick. The bruising back leads all rookies in rushing yards despite missing practically two games and is among the league leaders in the last four weeks.
Starks was considered to be on the chopping block during training camp with the arrivals of Lacy and rookie fourth-round pick Johnathan Franklin. Now, it looks like Starks, who just came back following a three-week absence due to injury, will be the team's No. 2 back.
Lacy is "The Hammer" (as he's been dubbed by his teammates, reported by Al Michaels and Chris Collinsworth during the NBC Sunday night telecast), and Starks is likely to be the reliever.
The Offensive Line is Developing
Coming into the season, there were a lot of questions concerning the offensive line. Starting tackle Bryan Bulaga was out for the season with a torn ACL. On top of that, the team has yet to really see Derek Sherrod on the field. Well, those questions have been answered.
The offensive front—consisting of center Evan Dietrich-Smith, guards T.J. Lang and Josh Sitton and tackles Don Barclay and David Bakhtiari—is far from the best group in the league. However, it's also far better than people were expecting.
The guards and center are veterans. The coaching staff expected that they would be solid, and they have been.
The tackles were the biggest concern. Barclay, the former West Virginia Mountaineer, is in his second year with the team. He was a starter towards the end of last season, and he continues to impress the coaching staff this season.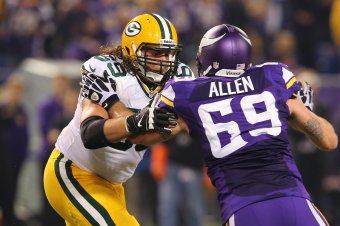 /Getty Images
Bakhtiari, a rookie fourth-round pick out of Colorado, has had his struggles at the left tackle position, but overall he's been about as good as the Packers could have imagined. He just kept the Vikings' Jared Allen from even registering a tackle.
"I thought David did a very good job competing against Jared Allen...He's doing a very good for a first year player and a very good job for a tackle, period," Mike McCarthy said at his Monday press conference, per the Green Bay Packers website.
The offensive line has been terrific in run-blocking and creating seams for the running backs. The effectiveness of the running game is making it easier for the line to protect Rodgers. Defenses now have to be ready for whatever Green Bay throws their way.
Despite injuries to key players, the team has improved in significant areas and continues to find ways to win. The team has won four straight, and as its stars start to get healthy, look for them to just keep things rolling.
"We're getting better as a football team," said McCarthy.
That's a scary thought for opponents.
This article is
What is the duplicate article?
Why is this article offensive?
Where is this article plagiarized from?
Why is this article poorly edited?

Green Bay Packers: Like this team?