Bears vs Packers: Breaking Down Chicago's Game Plan
The Green Bay Packers have taken six straight games against the Chicago Bears and the Bears will need some extraordinary performances to stop that streak.
The Packers—like the Bears— have suffered a number of injuries this season.
Unlike the Bears—or at least many of their fans—they're not using that as an excuse, as they continue to win. They started their last game without two of their starting receivers, their starting tight end and their two best pass-rushers, yet dominated the Vikings for a 44-31 win.
The reason why the Packers have still been successful despite their injuries is their ability to adapt. With three of the team's top receiving options out of the game, second-round rookie running back Eddie Lacy received a season-high 29 carries.
Even when Green Bay did pass the ball, it was a conservative passing game, as quarterback Aaron Rodgers was more of a game manager.
Pro Football Focus (subscription required) indicates that, after throwing 28 passes of 20-plus yards in the Packers' first five games, Rodgers has thrown just four that far in their last two.
Since their top pass-rusher—Clay Matthews—was injured against the Detroit Lions, the Packers have increased the playing time of pass-rushing defensive linemen Mike Daniels and Datone Jones at the expense of run-stuffers Ryan Pickett and Johnny Jolly.
Daniels went from playing 39.4 percent of the team's snaps to 54.1 percent, while Jones went from playing 23.7 percent to 33.4 percent. Daniels' numbers can be seen below.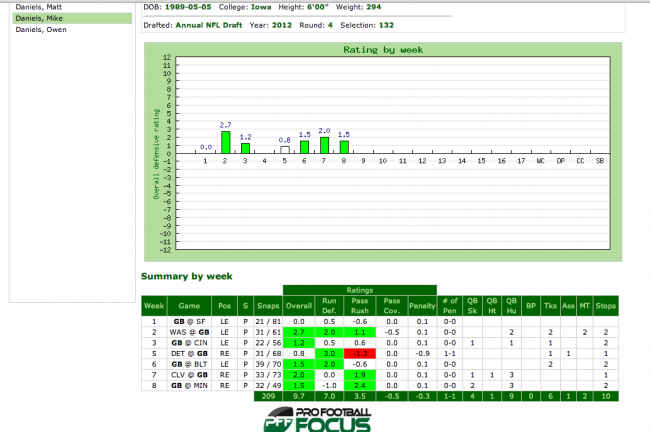 If the Bears are going to upset the Packers, they're going to have to adapt—especially defensively. They've been successful against Green Bay in the past because they've been able to get pressure on Rodgers with just four rushers. They haven't done that yet this year and there's no reason to think they will now.
Here's a breakdown of how the Bears can hope to slow down the Green Bay offense and put some points up of their own.
Defense: Stop the Run
Although he hasn't had any success as the defensive coordinator for the Bears, one could argue that nobody did a better job stopping the Packers last year than Mel Tucker when he was in charge of the Jacksonville Jaguars' defense.
Although Green Bay won, it scored just 24 points, with seven of those coming thanks to a blocked punt. As you see in the screen shot below, Tucker did what the Bears have done against the Packers, playing two deep safeties and daring Green Bay to run the ball.
That won't work this year.
One reason is because Rodgers just so happened to be off his game that day. He missed some open receivers and lost two fumbles—one of which was negated because of a penalty on Jacksonville.
The biggest reason, however, is the Packers' newfound ground game.
Green Bay is the only team in the league that ranks in the top five in both passing yardage and rushing yardage per game. That's primarily due to its offensive line playing at an extremely high level, but the Packers have also added talent to their backfield with Lacy.
While Lacy wasn't getting huge gains on ever rush against the Vikings, he was consistently pushing the pile. The Packers converted their first seven third downs, as they didn't have to go more than six yards once.
The first time they faced a third down with over six yards to go, Rodgers was sacked.
For the game, the Packers converted 13 of their 18 third downs, but were just 1-for-4 when they had to go more than six yards. That one successful conversion came on a terrible defensive play during which Rodgers threw across his body and Jarrett Boykin fell a yard short of the first-down marker, but was still able to get up and get the first down.
Below is Rodgers' passing chart by direction against the Vikings.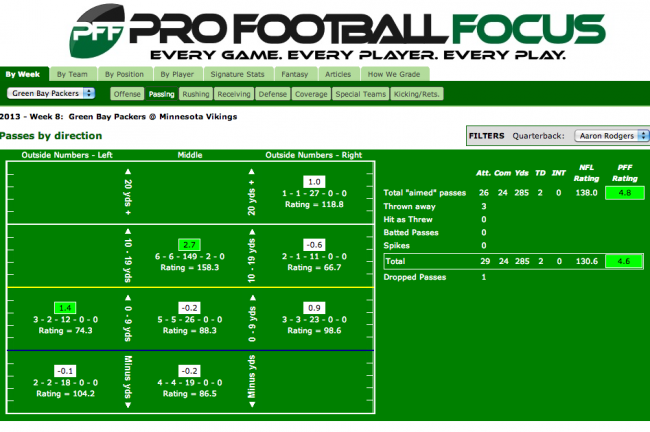 According to Rodgers' splits on ESPN, when the Packers have to go eight or more yards on third down, they haven't been very successful.
While he's completed 19 of 29 passes in that situation, he's averaged just 7.6 yards her attempt—with a large chunk of his yardage coming on an 83-yard touchdown pass to James Jones against the Lions.
The problem the Bears will have with this is that their defense has been gashed against the run. That was with star linebacker Lance Briggs, who won't be playing against the Packers. If they're going to stop the run against the Vikings, it'll require an extra defender in the box. Even that won't guarantee success, as we saw against the Washington Redskins.
One thing that would help them is if they moved Corey Wootton back to defensive end, started Landon Cohen at nose tackle and Stephen Paea at the 3-technique, moving Shea McClellin back to a pass-rushing role.
This is not to say that Rodgers can't beat the Bears if he doesn't have a successful running game. He can and has in the past, but the Bears have to at least try to make it difficult for him.
The next key for the Bears will be to get pressure on Rodgers—another thing they've struggled with.
The Bears are the only team in the entire league with fewer than 10 sacks. It's easy to blame the players for the lack of production, but also consider that Tucker's teams have never ranked higher than 25th in the league in sacks.
They have to try to pressure Rodgers with just their defensive line to start. In order for that to work, Julius Peppers will have to have a throwback game and McClellin will have to start playing like a first-round pick.
There isn't much reason to believe either will happen.
Offense: Play Keep-Away
Whether they should be or not, the Bears are now an offensive team. Even without starting quarterback Jay Cutler, the Bears have to be able to score points and not give the Green Bay offense more chances to wear down their defense.
The best way for the Bears to do this would be to run the ball. However, that will be a tall task against the fourth-best rushing defense in the league.
That doesn't mean they can't involve Matt Forte, though.
The weaknesses in the Packers' run defense appear to be the strengths of the Bears' rushing offense.
Using Adjusted Line Yards from Football Outsiders, the Packers' run defense is weak around the left and right ends, where they rank 28th and 26th in the league. Those happen to be two of the areas in which the Bears have had the most success, as their rushing offense ranks 19th in the league on runs around the left end and fourth on runs that go around the right end.
If the Bears' blockers can hold up in the middle of the field, they should be able to get some good chunks on outside rushes.
The Packers did a good job of stifling the Vikings' ground game for the most part, but Adrian Peterson and Toby Gerhart still combined for 111 yards from scrimmage. Detroit's Reggie Bush and Joique Bell combined for 120 yards, but Green Bay hasn't played many other running backs with multiple dimensions.
One exception to that could be Ray Rice, but he's struggled regardless of the opponent.
One back who had a breakout game of sorts against the Packers was Cincinnati Bengals rookie Giovani Bernard, who had 99 yards from scrimmage and a touchdown on just 14 touches.
Below is a simple pass to Bernard that turned into a 31-yard gain for two reasons. One was the natural pick the receiver put on linebacker A.J. Hawk. The other was because Hawk was in coverage in the first place.
It's common for the Packers to put a linebacker on running backs who are coming out of the backfield. If they do so against Forte, the Bears should be able to go there every time.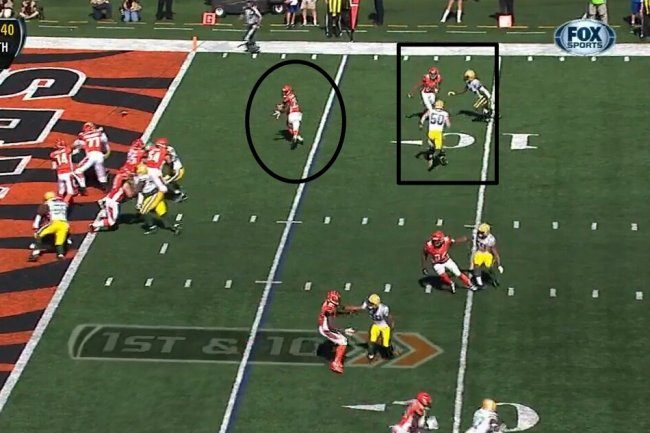 Another matchup the Bears can take advantage of is with tight end Martellus Bennett.
The Packers have struggled against tight ends so far this season, as they've allowed an average of nearly five catches and 56 yards to opposing teams' starting tight ends. Figuring that the Bears will try to run the ball a lot, the Packers will likely try to cover Bennett with a linebacker.
The Bears should be able to get the ball to Bennett in the flat, allowing him to beat a defender after the catch. If they can get adequate pass protection, they can try to challenge the Packers down the seam. If a safety has to help on Bennett, it will open the rest of the passing game up.
That's exactly what happened when the San Francisco 49ers threw for over 400 yards, with tight end Vernon Davis finishing with 98 yards on six catches and receiver Anquan Boldin registering 208 yards on 13 receptions.
Chicago's passing game should resemble a typical West Coast offense for most of this game. The Bears should rely mostly on short passes in space that allow their receivers to run after the catch. They can't ask backup quarterback Josh McCown to do a lot—certainly much less than they ask of Cutler.
As is typically the case, the Bears' passing game will depend on pass protection, which is why they should throw short most of the time. That said, they should have some mismatches down the field if they have time to take advantage of them.
The next issue, of course, will be the play of McCown.
Entering this game, that is the great unknown. He's a veteran with an adequate arm. If he gets protection, makes good decisions and the players around him make plays, the Bears can survive with him.
That might be too many ifs, but that's what this season has come down to for the Bears. If everything goes right, they have a chance to beat the Packers. Unfortunately, they may need that to happen.
Unless otherwise noted, advanced statistics courtesy of Pro Football Focus (subscription required).
This article is
What is the duplicate article?
Why is this article offensive?
Where is this article plagiarized from?
Why is this article poorly edited?

Chicago Bears: Like this team?