Shin-Soo Choo Rumors: Latest Buzz and Speculation Surrounding Star of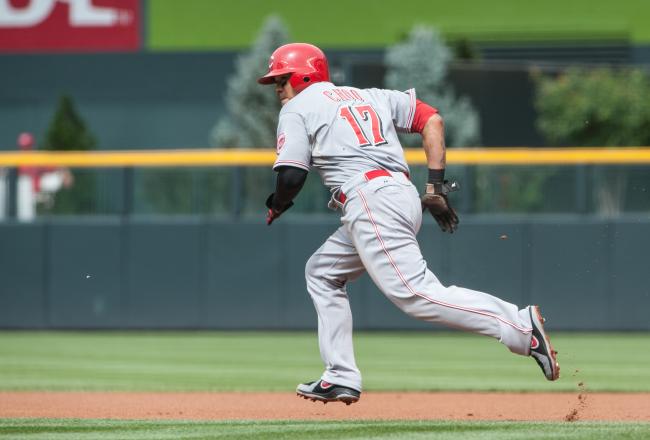 Updates from Thursday, Dec. 5
From MLB Network's Peter Gammons:
Choo negotiations "could move quickly," per Scott Boras. Rumor:Boston in. we shall see

— Peter Gammons (@pgammo) December 6, 2013
Updates from Wednesday, Dec. 4
Jeff Passan of Yahoo! Sports has the latest on the link between Shin-Soo Choo and the New York Yankees:
Source: Not only do the Yankees believe they've got room for Ellsbury and Cano or Choo, they still plan on signing at least one SP as well.

— Jeff Passan (@JeffPassan) December 4, 2013
Updates from Tuesday, Dec. 3
From ESPN's Gordon Edes:
Baseball source said that while Choo would be a great fit in Fenway, Sox not in that hunt. Bigger offers elsewhere.

— Gordon Edes (@GordonEdes) December 4, 2013
Updates from Thursday, Nov. 21
Buster Olney of ESPN has the latest on the buzz surrounding Shin-Soo Choo:
Some rival evaluators believe that Shin-Soo Choo will now land in Detroit, to play LF. We'll see.

— Buster Olney (@Buster_ESPN) November 21, 2013
Updates from Monday, Nov. 18
CBS Sports' Jon Heyman reports Shin-Soo Choo is receiving increased interest from the Texas Rangers:
The Rangers are considering a run at top-tier free-agent outfielder Shin-Soo Choo and apparently have ruled out the other top free agent outfielder, Jacoby Ellsbury.

Texas needs to replace offense provided by Nelson Cruz, and assuming the Rangers don't re-sign Cruz, Choo fits the bill. However, a Rangers connected person suggested they aren't likely to secure him if "rumored prices" are accurate.

[...]

It's possible Ellsbury could be more in play for Texas eventually, but Choo seems to be the main target for now.
---Original Text---
Shin-Soo Choo has quietly developed into one of the most well-rounded outfielders in baseball. He isn't a big name because he's spent his entire career with small-market teams, but he'll be among the likely free agents taking center stage this winter.
The 31-year-old center fielder is coming off a season in which he hit .285 with 57 extra-base hits, including 21 home runs, 20 steals and a terrific on-base percentage of .423. He was a key piece of a Cincinnati Reds lineup that helped carry the team into the playoffs.
He started his career with the Seattle Mariners in 2005 before moving to the Cleveland Indians the next year. It took him awhile to get his footing in the major leagues but finally turned the corner in 2008 and has been a valuable asset ever since.
Now, it's time to find out exactly how valuable he is as free agency looms. His ability to get on base is likely to generate interest from just about every team looking for ways to manufacture more runs in 2014.
Jon Heyman of CBS Sports mentions several possible landing spots for Choo. He lists the Texas Rangers, the Chicago Cubs and the New York Mets among the teams that could join the sweepstakes. He also states that the Reds would be interested in bringing the veteran back.
The report singles out the Houston Astros as an interesting option, too. The Astros spent a microscopic amount of money on players in 2013 compared to other teams, which makes a major free-agent splash like Choo seem like a long shot, but they are apparently in play for the talented outfielder.
The Houston Astros, whose lowest-in-baseball payroll of $25 million or thereabouts was a mere fraction of most teams, may consider making a run at star outfielder Shin-Soo Choo, who is believed to be seeking five times that figure on a multiyear deal on the free-agent market, according to sources.
One other club mentioned in connection with the impending free agent is the New York Yankees. Heyman reports Choo was talked about during the team's organizational meetings, and there is legitimate interest in bringing him in to help the top of the order.
Multiple sources say the Yankees do like Choo very much. Yankees general manager Brian Cashman declined comment about Choo specifically but noted that outfield isn't their top priority for a team that has many needs. The Yankees have quite the puzzle, as a team that had a $230-million payroll but has several big salaries coming off the books and a stated desire to get below $189 million on the payroll.
If Choo landed in New York or another big market, he would finally start receiving the attention he deserves as a key offensive contributor. But the offers are likely to come from every level of franchise since he'll probably be one of the winter's most coveted free agents.
Choo should still have several productive seasons ahead of him, which will only bolster the interest from around the league. A player with 20-20 upside would attract interest in any era, but in the age of advanced statistics, he rates just as highly.
It's only a matter of time before that success translates into a big deal for the outfielder.
This article is
What is the duplicate article?
Why is this article offensive?
Where is this article plagiarized from?
Why is this article poorly edited?