Brian McCann Rumors: Latest Buzz and Speculation Surrounding Star C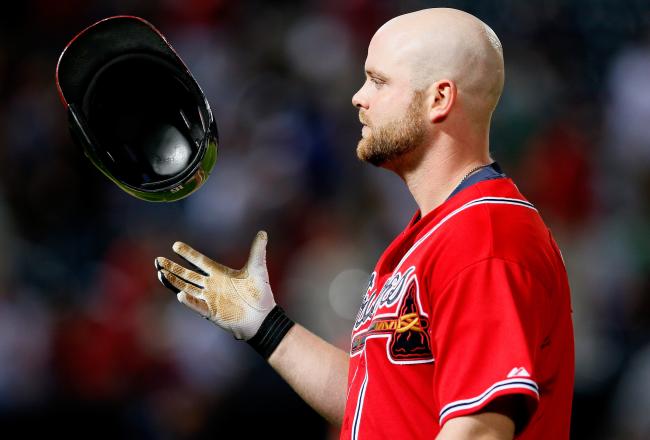 Brian McCann has spent his entire career with the Atlanta Braves and has been one of the best offensive catchers in baseball over that span. Free agency changed that, however, as the New York Yankees gave McCann 85 million reasons to put Atlanta behind him.
Updates for Sunday, Nov 24:
The New York Yankees have obtained the services of Brian McCann according to ESPN:
The Yankees have signed former Braves catcher Brian McCann to a 5-year, $85 million deal. (via ESPN and media reports)

— SportsCenter (@SportsCenter) November 24, 2013
Andy Martino of the New York Daily News reports the Yankees and more teams are interested in Brian McCann's services:
The Yankees are among the teams who consider McCann an ideal fit, and are willing to pay lavishly for his services; McCann, in turn, is interested in the Yankees.

But like all free agents, he is primarily interested in years and dollars -- and, according to major league sources, the Texas Rangers and Boston Red Sox are early rivals for McCann, with Texas identified as a team with particularly strong interest. Those monied clubs could be joined by others, and will make McCann expensive. Some executives predict that the longtime Atlanta Brave will be paid more than $100 million, a figure that one baseball official called "insane."
Anthony McCarron of the New York Daily News provides a statement from Brian McCann's agent:
McCann's agent, B.B. Abbott, said Monday that the Bronx is "certainly a place that is on Brian's radar. How could it not be? You've got an historic franchise and a great park, knowledgeable fans and a chance to win, which is what every guy plays the game for.

"From Brian's standpoint, it would be an attractive place to listen to."

Abbott, who also represented Chipper Jones, added that McCann, a seven-time All-Star, has "a lot of respect for Derek Jeter. He respects the Yankee organization. We've talked about Jeter a lot, like I did with Chipper when he was playing. Brian respects the way the Yankees handle themselves."

[...]

Abbott would not say if the Yanks had called to express interest in his client, which was the most teams could do before Tuesday.
Andy McCullough of The Star-Ledger reports the Yankees have interest in Brian McCann:
When free agency opens on Tuesday, the Yankees intend to cast a net that stretches far and wide, including players like catcher Brian McCann, outfielder Carlos Beltran, infielder Stephen Drew and others.
---Original Text---
McCann was limited to just 102 games in 2013 due to injury, most notably a shoulder ailment that cost him the first five weeks of the regular season. He still managed to tally 20 home runs for the sixth straight season, however.
His track record of success at the plate is going to attract a lot of attention on the open market, especially since he plays a position with a limited number of impact hitters. It could lead to a bidding war between teams in need of an upgrade behind the plate.
Andrew Marchand of ESPN New York reports that one general manager believes McCann's value at a mediocre position could allow him to fetch a six-year contract worth around $100 million. The fact that he could transition to another role later in the deal helps his cause.
Brian McCann could receive a deal for six years and $100 million, an MLB GM told ESPN New York on Tuesday. The GM reasoned that McCann is a top-five catcher and could transition to first and DH toward the end of the deal.
The report also states that the New York Yankees could get involved in the McCann sweepstakes depending on the outcome of Alex Rodriguez's appeal. The price tag could ultimately scare them away, though.
As for the Braves, the rumored amount McCann could demand in free agency combined with the club's depth at the position makes it tough to imagine him remaining in Atlanta.
Breakout star Evan Gattis slugged 21 home runs and provided several key hits for the Braves to help spark their run to the division title. Add in 22-year-old Christian Bethancourt, who's almost ready to make the jump to the majors, and Atlanta should feel confident in its depth at the position.
The Braves have bigger needs to fill looking ahead to 2014, starting with finding an ace to headline a solid rotation that's lacked a true No. 1.
Assuming Atlanta opts to use the resources it would take to re-sign McCann to fill other needs, Jon Heyman of CBS Sports reports several big-market teams are already showing interest, led by the rival Yankees and the Boston Red Sox.
Early predictions that he could reach $100 million may be a bit ambitious, but it has to help that the Red Sox, Yankees, Rangers, Cubs and Angels all are candidates to sign a catcher and could be major McCann players. The Blue Jays and White Sox are among the teams that could have an interest, as well. The Giants and Rockies are said to like McCann very much, but Colorado is very unlikely to be able to afford him and it's hard to imagine how the San Francisco would make it work with superstar catcher Buster Posey and young first baseman Brandon Belt.
With that many teams potentially involved, McCann should have little trouble scoring a huge deal.
The fact that he won't turn 30 until next February also works in his favor because teams don't have to worry as much about a major drop off toward the end of the deal. He could shift to first base like many catchers have done and still provide some power.
All told, McCann could easily become one of the most sought-after free agents during the offseason. Catchers who are consistent offensive contributors are major assets, and the longtime Brave certainly falls into that category.
The list of possible suitors should become more clear once teams finalize their winter game plans in the coming weeks.
This article is
What is the duplicate article?
Why is this article offensive?
Where is this article plagiarized from?
Why is this article poorly edited?