Players Who Must Step Up for the LA Clippers This Season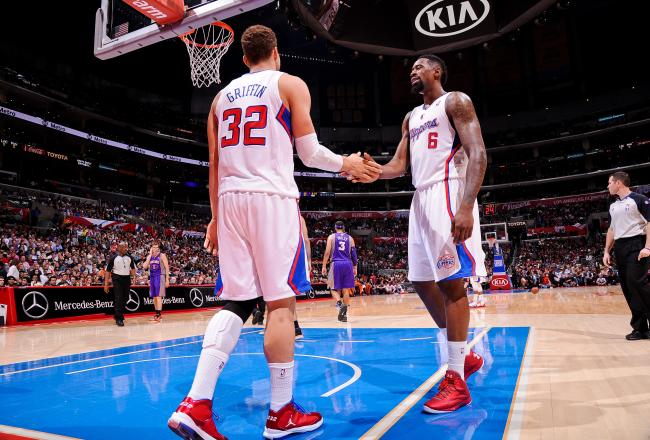 The Clippers could use big years from Blake Griffin and DeAndre Jordan.
(Photo by Andrew D. Bernstein/NBAE via Getty Images)
With expectations through the roof for the 2013-14 season, the Los Angeles Clippers will need some key contributions from players not named Chris Paul. New head coach Doc Rivers' motion offense and complex defensive schemes will result in greater offensive and defensive efficiency for the loaded Clips, but it will be timely contributions from the supporting cast that will push LAC to the next level.
This is the season that the Clippers need the sum of their parts to exceed the value of their star power. Blake Griffin has already established himself as a premiere player in the league, but entering his fourth season he really needs to make the leap to all-around dominant forward.
Competing against the athletic Oklahoma City Thunder, the new-look Houston Rockets and the always-consistent San Antonio Spurs, Lob City needs more players to step up. Clipper Nation knows what it will be getting from Paul on a nightly basis, but even his brilliance was not enough to overcome the physical Memphis Grizzlies last postseason.
Who needs to have a breakout year? Who could perform at an elevated level this season?
Let us take a look at three players that must step up for the Clippers this year.
Blake Griffin
A three-time All-Star earning back-to-back All-NBA Second Team Honors, Blake Griffin still has some room for improvement on the offensive and defensive end.
Each year Griffin continues to impress and develop his explosive game. Although he came into the league as an aerial threat, Griffin has demonstrated refined playmaking, as well as improved ball-handling skills and a more polished game closer to basket.
This season, Rivers will be looking for improvement on the defensive end as well as more efficient operation from the elbow. Rivers' motion offense calls for greater spacing, allowing Griffin to slip picks and knock down the open jumper or use his athleticism to blow by opponents.
With Griffin on the elbow, DeAndre Jordan should have more room to operate in the post, and Paul should take advantage of new passing and driving lanes. Griffin converted around 35 percent of his mid-range shots last season, but he looked hesitant when opponents dared him to shoot.
This season will be more about making defenders pay for leaving BG open on the perimeter. Once defenses begin to respect his jump shot, he can use his athleticism to blow by opponents and get into the paint.
Griffin's free-throw shooting also needs improvement. In 2011-12, Griffin shot a pathetic 52.1 percent from the charity stripe. Last season, that number improved to 66.0 percent. Nevertheless, there really is no excuse for a player of Griffin's caliber to be converting under 70 percent of his attempts from the line.
Defensively, Griffin will have to show greater awareness in team schemes. This will be evinced in sharper rotations, more back-line communication and understanding when to hedge and when to stay. Integrating Rivers' defense will undoubtedly have a learning curve, but the quicker Griffin is able to turn those schemes into instinct, the better the Clippers will be.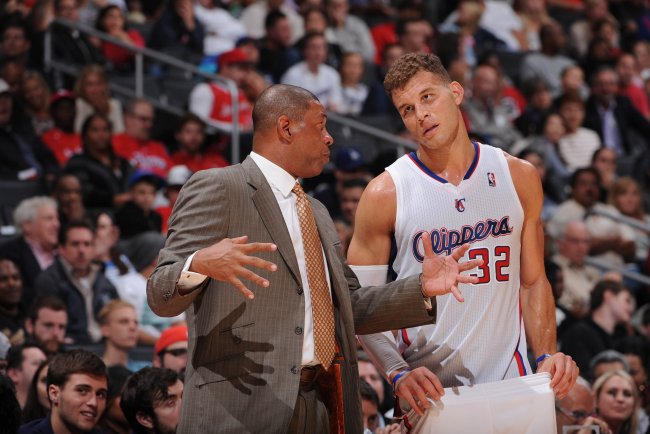 /Getty Images
Jared Dudley
With so many weapons on offense, Jared Dudley should expect to be the fourth or fifth option on LAC's high-octane offense. Dudley is an elite shooter, especially from the corners, and he will need to contribute efficiently in order to maximize the Clips' wing production.
A career 33.9 percent shooter from downtown, Dudley shot 41.1 percent from the corners last season, but only attempted 90 attempts from those spots. As a reference, his predecessor, Caron Butler, attempted 111 corner threes, knocking down an impressive 46.8 percent of them.
With J.J. Redick in the fold, Dudley can certainly expect to take fewer shots than Butler, but his numbers should improve with all of the open looks that he will be afforded. The Clips could really benefit from having Dudley play a role akin to Shane Battier on the Miami Heat.
Last season, Battier lived in the corners, knocking down 46.1 percent of his corner threes, as he capitalized on the open looks afforded to him by the brilliance of LeBron James and Dwyane Wade.
Defensively, Dudley must also step up to defend the other team's best wing player. A noted defender for much of his career, Dudley will need to prove that he can stay in front of the some of the West's best. His high basketball IQ will make him an asset in a team scheme, but it is yet to be seen if his athleticism will be compromised against hyper-athletic forwards like Kevin Durant or Kobe Bryant.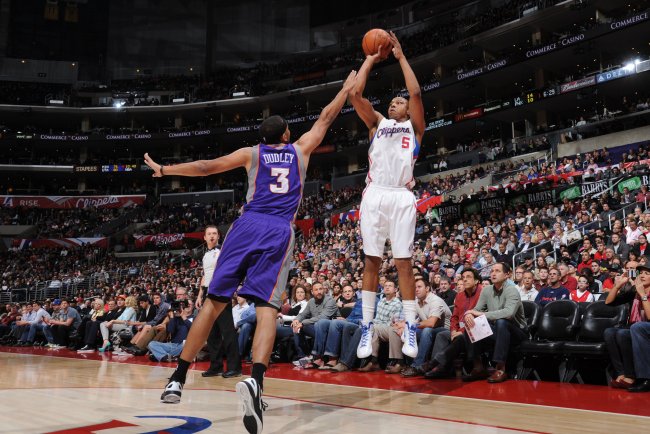 /Getty Images
DeAndre Jordan
The x-factor on this year's edition of Lob City, DeAndre Jordan will be facing incredible pressure to live up to his $43 million contract.
Nearly dealt to the Boston Celtics for Kevin Garnett over the summer, Jordan displayed glimpses of brilliance during the preseason. More times than not, he appeared to be in the right place, blocking shots and altering drives. Rivers has been attempting to boost his confidence after three seasons under lame-duck Vinny Del Negro.
Will DeAndre Jordan have a breakout year in 2013-14?
Jordan is really the piece that can complete the Big Three alongside Paul and Griffin, or be swapped for another asset if he demonstrates no significant improvement by season's end. DJ averaged just 24.5 minutes per game last season, with only 5.0 of those coming in the fourth quarter, fewer than both backups Ronny Turiaf and Ryan Hollins.
A career 42.4 percent free-throw shooter, Jordan will still be relied upon offensively and defensively in crunch time. DJ has all the gifts to become an elite defensive player in the mold of Tyson Chandler; whether he elevates his game under Rivers is another question.
All eyes will be on Jordan in 2013-14, as the Clippers attempt to supplant the class of the conference and earn their first Finals berth in franchise history.
Statistics used in this article from NBA.com and Basketball-Reference.com.
This article is
What is the duplicate article?
Why is this article offensive?
Where is this article plagiarized from?
Why is this article poorly edited?

Los Angeles Clippers: Like this team?