Week 9 Fantasy Football Rankings: Position-by-Position Breakdown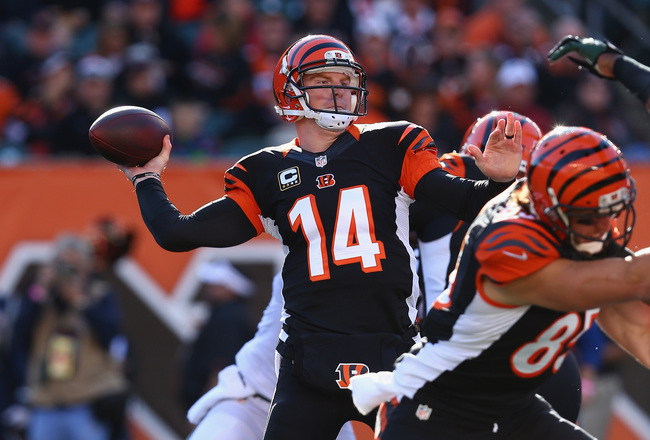 With yet another treacherous bye week to navigate through (Hello? No Denver players this week?), this week's fantasy football rankings are that much harder to compile. It's not just Denver players we'll be missing this week, as five other teams are on the their dreaded bye.
We'll do our best here, though, as there are plenty of players who are set to do some damage this week.
In this slideshow, I will break down every major fantasy spot and give the top 20 options at each position/unit.
So, let's dive right in and break down the matchups and trends in this week's position rankings.
Disclaimer: These lists are just for this week and do not reflect any seasonal value.
Quarterback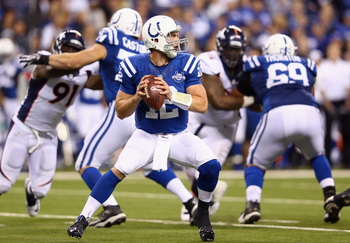 1. Drew Brees, New Orleans Saints: After he passed for five touchdowns against the Bills this past week and with Andy Dalton just passing for five touchdowns against the Jets (the Saints' Week 9 opponent), Brees should go wild in this matchup.
2. Aaron Rodgers, Green Bay Packers: Now starting to get it in gear, Rodgers should only get better from here on out, and he might be able to exploit the Bears on Monday night.
3. Tony Romo, Dallas Cowboys: Romo has been steady all season, and he should once again be a fine option against the Vikings this week.
4. Cam Newton, Carolina Panthers: While he struggled a bit early in the season, Newton is coming on, and he should continue to do well with the lethargic Falcons coming to town this week.
5. Philip Rivers, San Diego Chargers: Well rested after a bye, Rivers should have little trouble lighting up the Redskins this week.
6. Andy Dalton, Cincinnati Bengals: Dalton is absolutely scorching hot right now (1,034 passing yards with 11 touchdowns and just two picks in his last three games). While a Thursday night matchup is not preferred, Dalton is still a solid start against the Dolphins in Miami.
7. Robert Griffin III, Washington Redskins: Griffin III struggled in a good matchup this past week in Denver, but a home matchup against San Diego could get him back on track.
8. Russell Wilson, Seattle Seahawks: With Tampa Bay (Seattle's Week 9 opponent) in disarray, Wilson should bounce back from his mediocre performance in St. Louis.
9. Terrelle Pryor, Oakland Raiders: Between his running ability and arm, Pryor should do enough against the Eagles this week.
10. Andrew Luck, Indianapolis Colts: After a bye and a great effort against Denver the week prior, Luck should be raring to go at Houston this Sunday night.
11. Tom Brady, New England Patriots: Brady's value is diminishing with each game, but he's too good to not be trusted. However, a matchup against the Steelers is still not ideal.
12. Matt Ryan, Atlanta Falcons: Although he did throw four interceptions against the Cardinals this past week, Ryan still makes for a low-end No. 1 quarterback against the Panthers this week.
13. Jake Locker, Tennessee Titans: Locker has been a little bit under the radar, and this may be the week he shines, as the Titans take on the Rams this week in St. Louis.
14. Joe Flacco, Baltimore Ravens: Back and rested after the bye, Flacco is another replacement-level quarterback worth gambling on this week when the Ravens travel to Cleveland.
15. Alex Smith, Kansas City Chiefs: Smith has been steady yet unspectacular this year, and with the bye week wreaking havoc, he is a risk worth taking this week with a trip to Buffalo looming.
16. Ben Roethlisberger, Pittsburgh Steelers: The matchup isn't great (vs. New England), but with so many teams on a bye, Roethlisberger remains a suitable start.
17. Jason Campbell, Cleveland Browns: As long as he holds on to the job (he is) and has Josh Gordon and Jordan Cameron at his disposal, Campbell could do well in his matchup at home against Baltimore.
18. Case Keenum, Houston Texans: With Keenum pushing aside Matt Schaub and having some decent weapons to work with, the rookie has low-end appeal this week when the Texans host the Colts on Sunday night.
19. Ryan Tannehill, Miami Dolphins: Not sensational, but in a pinch you could use Tannehill as a low-end replacement when the Dolphins host the Bengals on Thursday night.
20. Christian Ponder, Minnesota Vikings: You'd have to be desperate to trust Ponder this week, but with options limited, he could surprise us all with a matchup against a vulnerable Cowboys defense up next. If it's Josh Freeman, well, replace him here in this spot. Again, this is a desperation play.
*At this moment the availability of Michael Vick and Nick Foles is uncertain. If one is cleared to play, they would make for a low-end No. 1 QB/high-end No. 2 QB. Avoid Matt Barkley, though, if he is tabbed the starter against the Raiders.
Running Back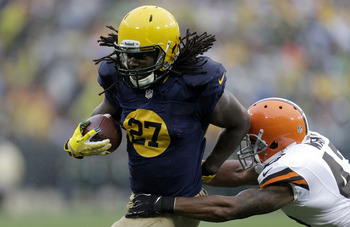 1. Jamaal Charles, Kansas City Chiefs: Charles should be a dynamite start this week as the Chiefs travel to face a Buffalo team that is, at best, defensively challenged.
2. Adrian Peterson, Minnesota Vikings: Peterson got back on the good side of things this past week, scoring against the Packers. Peterson will once again be a high-end start when the Vikings go to Dallas this week.
3. Marshawn Lynch, Seattle Seahawks: A home matchup against the Bucs this week should allow Lynch to produce monster numbers after he had a miserable time in St. Louis on Monday night (eight carries for 23 yards).
4. Eddie Lacy, Green Bay Packers: Continually getting stronger each week, Lacy should have himself a very good outing with the Bears coming to town.
5. LeSean McCoy, Philadelphia Eagles: Although he didn't have the best of days against the Giants, McCoy should do well enough this week with the Raiders coming to town.
6. Stevan Ridley, New England Patriots: Seizing back control of the job as lead back in New England, Ridley should have his number called a lot this week against Pittsburgh.
7. Arian Foster, Houston Texans: Whoever starts for the Texans at running back will be a great start this week against the Colts. Foster (who is nursing a hamstring injury) or Ben Tate (rib injury) should carve up a Colts defense that allows 122.3 rushing yards per game (28th in the league).
8. Le'Veon Bell, Pittsburgh Steelers: Coming off a less-than-inspiring performance (13 carries for 24 yards against Oakland, albeit with a touchdown), Bell should rebound with the shoddy New England rush defense up next on the schedule.
9. Matt Forte, Chicago Bears: Well rested after a bye, Forte should be charged for his game in Green Bay this week.
10. Trent Richardson, Indianapolis Colts: One of these days Richardson will have his coming-out party with the Colts, and a matchup against a porous Texans rush defense (122.1 rushing yards allowed per game and 27th in the league) could be the game.
11. Zac Stacy, St. Louis: If Stacy can have a great outing (26 carries for 134 yards) against the Seahawks, he sure as heck should do some damage against the Titans this week.
12. Darren McFadden, Oakland Raiders: After scoring two touchdowns and rushing for 73 yards against the Steelers, look for McFadden to carry that momentum over against Philadelphia this week.
13. Alfred Morris, Washington Redskins: There are few options out there better than Morris, and he should do well in his matchup with the Chargers.
14. Ryan Mathews, San Diego Chargers: Both Chargers backs make good plays this week in Washington—even Mathews. After all, Mathews is coming off a bye, and his best effort of the season was the week prior (21 carries for 110 yards and a touchdown vs. the Jaguars).
15. Danny Woodhead, San Diego Chargers: A matchup in Washington should allow Woodhead to make plays all over the field as well.
16. Ray Rice, Baltimore Ravens: The slump Rice finds himself in this year is no doubt troubling, but after a bye, Rice should do well enough against the Browns this week.
17. Chris Johnson, Tennessee Titans: Johnson has been feast or famine this year, and a decent matchup in St. Louis makes Johnson a fair option this week.
18. Fred Jackson, Buffalo Bills: As long as C.J. Spiller is out with a high ankle sprain, Jackson will make for a recommended start. However, a matchup against Chiefs is undesirable.
19. DeMarco Murray or Joseph Randle, Dallas Cowboys: Whoever the Cowboys' back is this week (check for the health of Murray), they will be a solid start (even Randle) with Minnesota up next on the schedule. Murray more so than Randle.
20. DeAngelo Williams, Carolina Panthers: While you have to be careful about Mike Tolbert vulturing away carries (especially at the goal line), Williams is still the lead back for the Panthers, and a home game against Atlanta should allow Williams to have a solid day.
Wide Receiver
1. Dez Bryant, Dallas Cowboys: You could certainly argue that Bryant is a diva, but as fantasy players, we could care less. Bryant should once again post beastly numbers this week—this time at home against Minnesota.
2. Jordy Nelson, Green Bay Packers: Coming off a monster performance (seven receptions for 123 yards and two touchdowns against Minnesota), Nelson should be able to sustain it with Chicago coming to Green Bay this week.
3. Brandon Marshall, Chicago Bears: Well-rested after the bye, Marshall should be amped for his game in Green Bay this week.
4. A.J. Green, Cincinnati Bengals: Although he didn't get in on the scoring spree against the Jets, Green was solid nonetheless (three receptions for 115 receiving yards). Green remains a must-start for his Thursday night matchup in Miami.
5. Josh Gordon, Cleveland Browns: After racking up 132 receiving yards and a touchdown against the stingy Chiefs defense, Gordon should be trusted to go off with the Ravens traveling to Cleveland this week.
6. DeSean Jackson, Philadelphia Eagles: Jackson has been mortal the last two weeks, but he should get it in gear this week with Oakland coming to town.
7. Andre Johnson, Houston Texans: Coming off the bye, Johnson should get back into the swing of things when Indianapolis comes to Houston on Sunday night.
8. Terrance Williams, Dallas Cowboys: Having now scored in four straight games, Williams is as reliable a receiver as there is these days. He should rack up the numbers against Minnesota this week.
9. Jarrett Boykin, Green Bay Packers: With the injuries to James Jones and Jermichael Finley, Boykin is relishing in his opportunity. He'll once again make for an advisable start with the Bears coming to town this week.
10. Keenan Allen, San Diego Chargers: As we have seen all year, you can pass on the Redskins (the Chargers' Week 9 opponent), and Allen should be ready to go in this affair.
11. Pierre Garcon, Washington Redskins: Although Garcon has been pedestrian the last couple of weeks and not scoring since Week 4, he should reliable this week with the exploitable Chargers defense up next on the schedule.
12. Alshon Jeffery, Chicago Bears: Well-rested off the bye week and coming off a four-catch, 105-yard performance against the Redskins in Week 7, Jeffery should be a dependable low-end No. 1/high-end No. 2 wide receiver this week when Chicago visits Green Bay.
13. Marvin Jones, Cincinnati Bengals: After erupting for 122 receiving yards (on eight receptions) and a whopping four touchdowns against the Jets, Jones has caught the attention of all fantasy pundits (By the way, he had scored in two straight games prior to this explosion). Can he keep it going on Thursday night against Miami? Well, with the glut of receivers on byes this week, he's certainly worth the try.
14. Vincent Jackson, Tampa Bay Buccaneers: The matchup in Seattle is not exactly conducive for success, but with so many good receivers on byes, Jackson at least makes for a serviceable No. 2 wide receiver.
15. Denarius Moore, Oakland Raiders: While Moore hasn't been the model of consistency this year, he may have a great outing in him this week with the vulnerable Eagles coming to town.
16. Marques Colston, New Orleans Saints: You can possibly list Kenny Stills in his stead here, but until I see more from him, I'm going with Colston (despite his struggles) as the top receiver to run with when the Saints play the Jets this week at home. Stills makes for a good play, too.
17. Torrey Smith, Baltimore Ravens: While he'll likely be shadowed by Joe Haden of the Browns, Smith is still too talented to sit this week.
18. Antonio Brown, Pittsburgh Steelers: While the matchup at New England is not ideal, there are not many better receivers out there better than Brown.
19. Harry Douglas, Atlanta Falcons: While the rest of the team behind him struggles, Douglas continues to impress (12 catches for 121 yards against Arizona), and he may just have enough in him to do well in his matchup at Carolina this week.
20. T.Y. Hilton, Indianapolis Colts: The matchup in Houston (and its No. 1-ranked pass defense) is not great, but Andrew Luck has to throw to somebody with Reggie Wayne out for the year. Hilton is at least a serviceable No. 2 wide receiver this week.
Tight End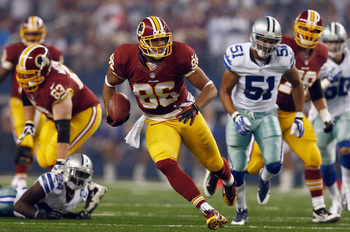 1. Jimmy Graham, New Orleans Saints: Even with a gimpy foot, Graham scored two touchdowns against the Bills this past week. So would you ever dare sit him against Jets this week? I think not.
2. Rob Gronkowski, New England Patriots: While he didn't have a great effort this past week (two receptions for 27 yards), Gronkowski is simply a game-changer at tight end, and he'll look to regroup with the Steelers coming to Foxborough this week.
3. Jordan Reed, Washington Redskins: Rapidly ascending the tight end ranks, Reed just may be Robert Griffin III's most trusted target these days. Reed should do well again in his matchup against San Diego this week.
4. Antonio Gates, San Diego Chargers: With Gates returning from the bye, he should ready to go in his matchup in Washington.
5. Jason Witten, Dallas Cowboys: Witten has been mired in a slump of late, but sooner or later he'll bust out of it. With the much-maligned Vikings coming to Dallas, it may be this week.
6. Jordan Cameron, Cleveland Browns: There are simply not many better tight ends than Cameron, and he should be leaned on heavily by Jason Campbell once again this week as they face Baltimore.
7. Martellus Bennett, Chicago Bears: Back off a bye, Bennett is a solid tight end to trust when the Bears visit Green Bay this week.
8. Greg Olsen, Carolina Panthers: Coming off a game against the Buccaneers where he scored a touchdown, Olsen will look to make it two games in a row with a score. This week he has a home matchup against the Falcons.
9. Tony Gonzalez, Atlanta Falcons: With Gonzalez being a main weapon of Matt Ryan, it's only a matter of time before Gonzalez busts out of his slump (five catches for 56 yards in his last two games). He's still a recommended start despite the tough matchup in Carolina this week.
10. Heath Miller, Pittsburgh Steelers: While the matchup (at New England) is less than ideal, Miller is still a trusted target for Ben Roethlisberger.
11. Charles Clay, Miami Dolphins: As one of Ryan Tannehill's most trusted targets (if not most trusted), Clay will continue to be a dependable tight end—even for Thursday's night game against Cincinnati.
12. Kyle Rudolph, Minnesota Vikings: Whoever his quarterback is (either Christian Ponder or Josh Freeman), expect him to target Rudolph a ton for their game in Dallas this week.
13. Coby Fleener, Indianapolis Colts: With the injury to Reggie Wayne, look for Andrew Luck to target Fleener more this week in Houston.
14. Dallas Clark, Baltimore Ravens: Joe Flacco still has a lot of trust in Clark, and coming off a bye, Clark is a decent option for his game at Cleveland this week.
15. Timothy Wright, Tampa Bay Buccaneers: Even though he scored a garbage-time touchdown at home against the Panthers last week, Wright is still becoming more involved in the Bucs offense. With Mike Williams out for the year, Mike Glennon may rely on Wright more in the coming weeks. The matchup in Seattle, though, could get dicey.
16. Garrett Graham, Houston Texans: Although he hasn't stepped up in the absence of Owen Daniels like many had hoped for, Graham did not score three touchdowns this year by accident. He could do well in his matchup against Indianapolis this week.
17. Delanie Walker, Tennessee Titans: With Jake Locker relying more on Walker, the Tennessee tight end is a deep sleeper for his game in St. Louis this week.
18. Jermaine Gresham, Cincinnati Bengals: Gresham is coming off a game against the Jets where he scored a touchdown. As Dalton's preferred choice at tight end in the red zone, Gresham makes for a low-end choice for his Thursday night game in Miami.
19. Scott Chandler, Buffalo Bills: After recording seven receptions for 72 yards against the Saints this week and quickly becoming a trusted target for Thad Lewis, Chandler just might be worth rolling with this week in a matchup with Kansas City.
20. Jared Cook, St. Louis Rams: With the glut of tight ends on byes, Cook is a suitable replacement, especially with new quarterback Kellen Clemens starting to rely on him.
Kicker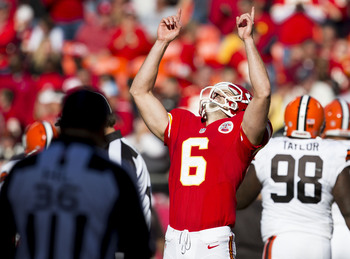 1. Stephen Gostkowski, New England Patriots: As one of the more trusted options at kicker, Gostkowski should be a fine play this week in a game against Pittsburgh that may come down to field positioning.
2. Dan Bailey, Dallas Cowboys: With the banged-up Vikings coming to town this week, Bailey should be able to put up points with little trouble.
3. Steven Hauschka, Seattle Seahawks: With the dysfunctional Buccaneers traveling to Seattle this week, Hauschka could be one busy kicker.
4. Garrett Hartley, New Orleans Saints: With all the points the Saints score, it keeps Hartley busy, and with the Jets fresh off allowing 49 points to the Bengals, expect their slump to continue in New Orleans this week.
5. Mason Crosby, Green Bay Packers: Coming off a game in which he kicked three field goals and five extra points, Crosby is thriving at the moment, and he should have enough opportunities with the Bears up next.
6. Robbie Gould, Chicago Bears: There is a chance that the Bears-Packers game becomes a shootout this week, and as such, Gould is a solid play.
7. Ryan Succop, Kansas City Chiefs: On a team that likes to take care of the ball and judiciously moves the ball, Succop has been great at finishing off drives, and a matchup in Buffalo should make him a more viable option this week.
8. Nick Novak, San Diego Chargers: Novak has been a solid play all season, and a trip to D.C. this week to take on the Redskins should get him going again.
9. Mike Nugent, Cincinnati Bengals: Considering the roll the Bengals are on offensively, Nugent should be active in his game at Miami.
10. Adam Vinatieri, Indianapolis Colts: Vinatieri has been a top-10 option all year, and he is an advisable start this week when the Colts play at Houston.
11. Justin Tucker, Baltimore Ravens: The Browns (the Ravens' Week 9 opponent) can be scored on, and Tucker is as solid as they come at kicker.
12. Graham Gano, Carolina Panthers: Not the sexiest kicker for fantasy purposes, Gano has been solid all year, and he could be in line for some chances this week with Atlanta coming to town.
13. Greg Zuerlein, St. Louis Rams: After kicking three field goals against Seattle on Monday night, Zuerlein could possibly do even better with the Titans up next.
14. Rob Bironas, Tennessee Titans: There may opportunities for Bironas to do some damage this week when the Titans play at St. Louis.
15. Shaun Suisham, Pittsburgh Steelers: In a game that might be determined by field position, Suisham could have his number called a few times for his game in New England this week.
16. Caleb Sturgis, Miami Dolphins: The short turnaround on Thursday night might make Sturgis more of a factor when the Dolphins take on the Bengals in Miami.
17. Nick Folk, New York Jets: Folk was the only offense for the Jets in their 49-9 loss to Cincinnati (nailing three field goals). Expect similar results when the Jets travel to New Orleans this week.
18. Alex Henery, Philadelphia Eagles: While he had been kicking well earlier in the year, the Eagles have not been giving Henery many opportunities lately. But there might be chances this week when the Eagles host the Raiders.
19. Billy Cundiff, Cleveland Browns: Just a low-end kicker this week, Cundiff may be called on more times than not for the Browns in their game against the Ravens.
20. Blair Walsh, Minnesota Vikings: The Cowboys are no defensive juggernaut, and the Vikings may be able to score a few points in this matchup. They should be few and far between, though, and Wash is just a low-end option.
Team Defense/Special Teams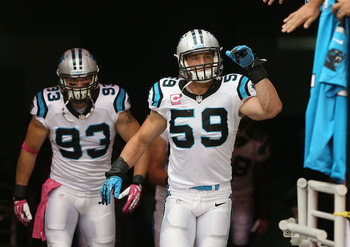 1. Seattle Seahawks: With the aforementioned dysfunctional Bucs coming to town, Seattle's defense should feast on Mike Glennon and Co..
2. Kansas City Chiefs: The Bills will hardly be a challenge for the No. 1 defense in the league.
3. New Orleans Saints: New Orleans' success is not all based on its high-profile offense, as the Saints defense has been criminally underrated all year. The unit should be able to pounce on Geno Smith and the Jets this week.
4. New England Patriots: The Patriots don't get nearly enough credit for their defense, and they should make enough plays to be a No. 1 defense this week against the Steelers.
5. Carolina Panthers: If you saw their game against Tampa Bay, you know the Panthers get at the quarterback relentlessly, and they should do so when Matt Ryan and the Falcons come to town this Sunday.
6. Cincinnati Bengals: While Andy Dalton and the offense are getting all the attention these days, the Bengals defense has been just as good. Look for the trend to continue in Miami on Thursday.
7. Baltimore Ravens: Against a middling offense in the Browns, the Ravens should be a solid start at defense this week.
8. Pittsburgh Steelers: This week's game between the Steelers and the Patriots should be another physical, grind-it-out affair.
9. Indianapolis Colts: The Colts have an underrated defense, and against Case Keenum and a banged-up Texans squad, they could be a formidable force this week.
10. Tennessee Titans: The Titans have a solid defense, and against a less-than-potent Rams offense, they could make enough plays to be a solid start.
11. Houston Texans: While they have underperformed all year, if the Texans want to get back into the mix of things, they are going to need a great effort out of their defense. With no Reggie Wayne, the Texans are a solid unit against the Colts this week.
12. Dallas Cowboys: Thus far, defense has been the Cowboys' Achilles heel, but for their matchup against the Vikings, they could make for a reliable unit.
13. St. Louis Rams: In a game between two teams (Rams-Titans) that don't score all that well, this game could come down to defense.
14. Oakland Raiders: The Raiders defense has been getting better with each week, and a trip to Philadelphia—against a suddenly sputtering Eagles offense—is not the same challenge it was earlier in the year.
15. Cleveland Browns: The Browns have been so-so all year, and they won't be any better in their matchup with the Ravens this week.
16. Miami Dolphins: Miami is not the best of options out there, but sometimes Thursday night games tend to become slog-it-out affairs, and they can be used in a pinch.
17. Philadelphia Eagles: At first a huge weakness, Philadelphia's defense has now limited teams to 30 points in their last three games. Oakland (the Eagles' Week 9 opponent) should not be all that intimidating this week.
18. Green Bay Packers: The Packers have been a decent defense this year for fantasy purposes, but the Bears will present a challenge this week.
19. Chicago Bears: Containing the Packers will be tough, but the Bears always seem to make plays, and that keeps them a decent defense to count on this week.
20. New York Jets: The challenge (playing at New Orleans) is steep, but the Jets are built around their defense.
Keep Reading