Miami vs. Florida State: 3 Most Important Head-to-Head Matchups
Tracy Howard and Thurston Armbrister are both key defensive players for the 'Canes against FSU on Saturday.

Heading into Saturday night's marquee ACC matchup, the No. 3 Florida State Seminoles and No. 7 Miami Hurricanes are both undefeated.
But Florida State is the unquestioned team to beat, coming in as a three-touchdown favorite in many Las Vegas sportsbooks. The Hurricanes must play an absolutely perfect game on both sides of the field, and it starts all with winning certain matchups.
From two player-vs.-player clashes to a collective clash, these matchups will be an important factor in deciding the rivalry game. Miami's defense carries the responsibility of containing Jameis Winston and his collection of skill-position targets, but if the unit steps up, the 'Canes have an opportunity to spring a massive upset.
For Miami this season, its best offense has been a product of good defense, and as has been said, defense wins championships. Saturday will show if the Hurricanes' much-improved defenders are, in fact, championship-caliber as they face one of the nation's best offenses.
Note: This ACC tilt is scheduled to kick off at 8 p.m. ET on ABC.
Miami DB Tracy Howard vs. Florida State Wide Receivers
After getting limited playing time as a true freshman, Tracy Howard has emerged as the lockdown corner for the Miami defense. He is often responsible for the opposition's top receiver, and Florida State has a few top-notch weapons.
Wide receiver Rashad Greene has been a force throughout his two-and-a-half seasons in Tallahassee. The junior has caught at least 38 passes each year, including 39 receptions, 690 yards and a career-high eight touchdowns already in 2013.
Known for his ridiculous speed, Greene is a nightmare for defensive backs. He either avoids initial contact or bounces off a defensive back's bump and breaks into the open field.
As seen in the video, after catching the ball, Greene practically ran a straight line, yet he still eluded every Virginia Tech defender. In a word, his speed is lethal. Greene may not run fancy routes, but simple slants, hitches and drags are big plays waiting to happen when he has the ball in his hands.
Against Florida earlier this season, Howard played against speed similar to Greene's. But the 'Noles' wideout is more talented as a pass-catcher than Gators receivers Quinton Dunbar and Solomon Patton.
Howard is the Hurricanes' best cover corner, and he'll be asked to do more than simply cover speed and elusiveness.
Standing at 6'5" is Florida State's Kelvin Benjamin, and he is to Winston as what Texas A&M's Mike Evans is to Johnny Manziel—an enormous target who does an excellent job high-pointing the ball. Additionally, Benjamin seals off defensive backs with his massive frame before snagging a pass.
Ultimately, I'm not sure there is a defensive back in all of college football who can stop a throw-and-catch combination like that. Benjamin has caught four touchdowns over the last three games, and he imposes the biggest mismatch in terms of physical size.
Howard faces a huge test against FSU's receivers, but shutting down his man means Winston does not have his fastest or biggest wideout open on a given play.
Ultimately, reducing the number of offensive threats is Howard's main responsibility on Saturday.
Florida State TE Nick O'Leary vs. Miami Linebackers
Nick O'Leary is best recognized either for being the grandson of golf legend Jack Nicklaus or surviving a terrifying motorcycle crash.
This weekend, though, O'Leary may be the key to exploiting Miami's defense.
O'Leary only has 17 catches through seven games, but the junior tight end has six touchdowns. He grabbed five passes for 161 yards during FSU's rout of Clemson.
Two games ago, North Carolina's Eric Ebron torched the 'Canes for 199 yards on eight receptions, including a 71-yard touchdown.
O'Leary won't be outrunning Miami defenders down the sideline, but he is more than capable of lighting them up in the seam. Against Pittsburgh, O'Leary caught Winston's first career touchdown pass on a simple vertical route.
O'Leary has the ability to make a defender hesitate when he simply head-fakes an out-route and instead runs up the hashmarks—which is what O'Leary did here. And for a quarterback with vision like Winston, a split-second pause by a defender is all that's needed for Winston to find an open receiver.
The junior tight end has already set a career-high for receiving yards in a season, and he has not shown signs of slowing down.
Whether Miami puts Denzel Perryman, Thurston Armbrister, Tyrone Cornelius or another outside linebacker on O'Leary is not important; the Hurricanes' linebacker guarding O'Leary must not allow him to sneak behind the secondary and into the end zone.
Because, remember, with Greene and Benjamin on the outside, Florida State is already dangerous enough.
Florida State QB Jameis Winston vs. Miami's Blitz
Looking solely at game results, the Seminoles do not appear to have played a phenomenally difficult schedule. Florida State has dominated each opponent, winning every game by at least 14 points and leaving no doubt which team was superior.
One reason for this domination is Jameis Winston's excellence against the blitz.
During the 'Noles' blowout win over Clemson, Winston torched the Tigers through the air, throwing for 444 yards and three touchdowns. What's more, the redshirt freshman gained 293 of those yards (or 66 percent) when Clemson sent extra pressure.
Although Miami's defense is a remarkably changed unit, it still has trouble creating pressure with just its down linemen, so the 'Canes bring linebackers.
For example, take a six-man blitz by the 'Canes against North Carolina out of a hybrid 3-4 defensive formation, as edge-rusher Shayon Green (51) stands in the two-point technique.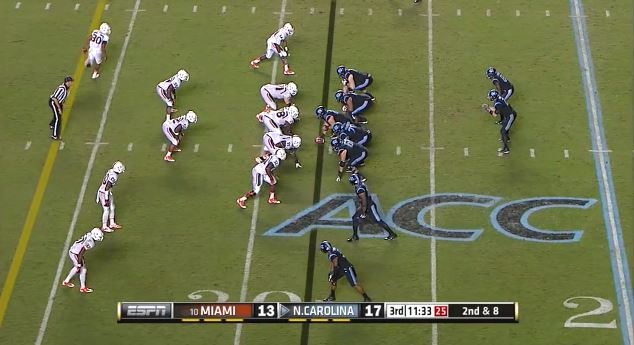 Green, typically a defensive end, is joined by linebackers Denzel Perryman (No. 52) and Thurston Armbrister (No. 34) on the blitz. North Carolina right guard Landon Turner (No. 78) pulls from his position to pick up Perryman.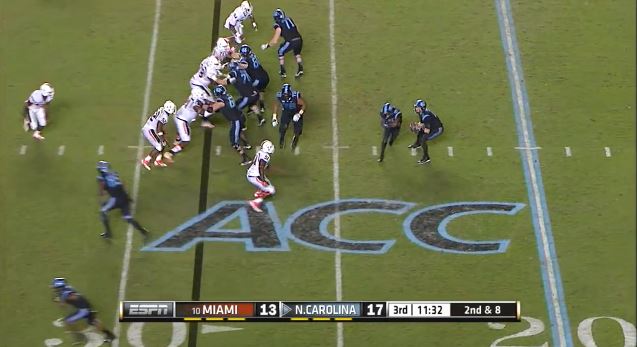 The Tar Heels keep six men in to block, and Green hesitates when Bryn Renner carries out the play-action fake to running back T.J. Logan. The UNC offensive line handles the other five Miami players and creates a huge pocket around Renner.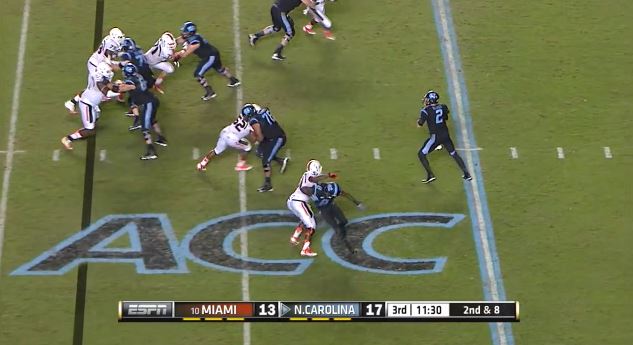 Two Miami defensive linemen—Justin Renfrow (No. 78) and Olsen Pierre (No. 91)—still have not even pushed their respective blockers past the line of scrimmage. Green reads the fake, but Logan chips him, leaving Renner with a half-second more to find an open target and step into the throw.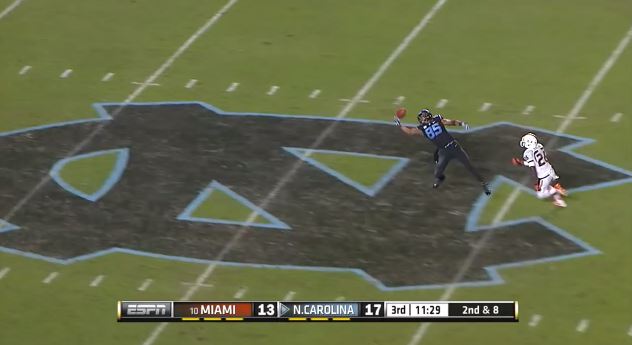 Plus, if it were not for a poorly placed ball—despite ample time—look at the open field in front of Ebron, who makes a stellar one-handed catch across his body.
When the Seminoles' offensive line provides Winston with time like that, Winston throws a better pass than Renner, and an explosive play or touchdown ensues.
Looking forward, it is imperative the 'Canes' defensive line disrupts Winston—something that is not easy to do. When Winston is under center, Florida State's O-line has allowed 12 sacks (1.71 per game) over seven contests.
How many times will Miami sack Winston?
Out of those 12 sacks, though, Boston College dropped Winston four times, and Clemson sacked him thrice. Comparatively, Clemson leads the nation with 29 sacks, while Miami and Boston College have notched 22 and 20 sacks, respectively.
The Hurricanes have the personnel to pressure Winston, it all depends on what the defensive line actually does. This season, eight of Miami's 22 sacks have come with a five-man blitz. The other 14 have come with three- or four-man pressure.
It's a daunting task, but the 'Canes must disrupt FSU's quarterback using only defensive linemen. Overall, Florida State's offensive line has done a respectable job protecting its star quarterback, but its two lapses have come against the Seminoles' best competition.
But when protected from the blitz, Winston typically throws a better pass than UNC's Renner. And when Winston sees fewer men in coverage, he thrives—something Miami cannot allow to happen.
Just ask Clemson.
This article is
What is the duplicate article?
Why is this article offensive?
Where is this article plagiarized from?
Why is this article poorly edited?

Miami Hurricanes Football: Like this team?