Calvin Johnson or Dez Bryant: Who Was More Productive?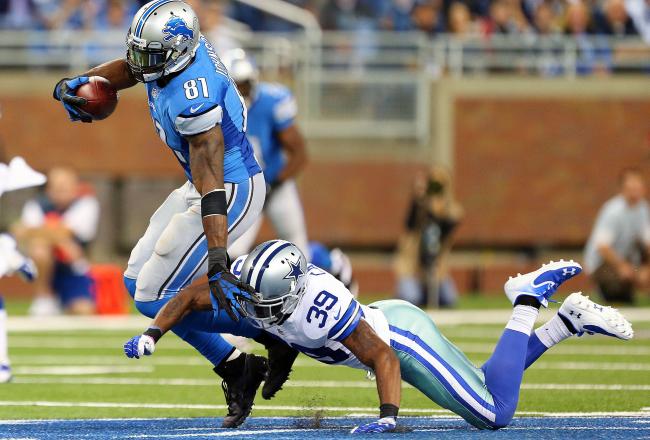 Johnson's mega day propelled the Lions past Dallas.

Calvin Johnson may never see single coverage again in his career.
After Johnson's big day that allowed the Detroit Lions to make a comeback, only one word can describe his performance: phenomenal. The only thing that could cover Megatron Sunday was his blanket on his bed.
The fact that Dallas utilized single coverage on Johnson for the majority of the game Sunday allowed him to put up such ridiculous numbers. No way Dez Bryant can still believe anything Johnson can do, he can do after Sunday's game—right?
Let's not jump the gun.
Yes, stats show Johnson could not be contained, but Bryant had three catches and two touchdowns—Bryant's production can't be ignored.
While Johnson did have the second-best performance from a wide receiver in NFL history (14 receptions for 329 yards), there were a couple of miscues on Megatron's part. He did have—in my eyes—two turnovers: A very catchable ball whizzed through Johnson's hands, bounced off of his chest and fell in the hands of Cowboys linebacker Sean Lee.
Megatron also coughed up the ball in the third quarter.
After picking up more than enough for a first down on a 2nd-and-9, Johnson made it to the Dallas 30 and attempted to spin off safety Barry Church, but fumbled the ball in the process.
There is no question that Johnson had costly mistakes, but if it were not for his performance, Detroit would not have been in the game.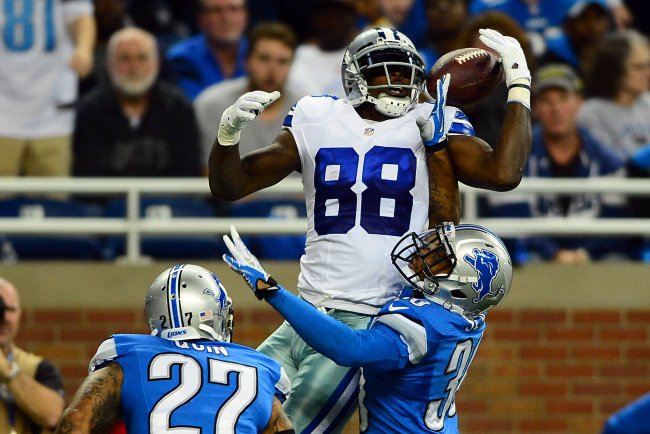 Bryant, on the other hand, had significantly fewer reception yards and targets but produced 14 points (12, if you want to be technical) for Dallas. How could Bryant have so few looks but reach paydirt twice?
His five-yard touchdown catch on the side of his helmet with two defenders draped on him was a highlight that certainly gave Dallas confidence prior to the second half.
His ability to garnish so many yards after the catch was another factor.
Bryant managed to make two Detroit defenders miss what should have been an easy tackle, and then proceeded 50 yards down the sideline to score his second TD of the game. That score gave the Cowboys a 27-17 lead with 6:45 left in the fourth quarter.
Sadly, that would be Bryant's last stamp on Sunday's game.
Unfortunately, as New York Giants receiver Hakeem Nicks said earlier this season, he "can't throw the ball to himself."
Bryant led the Cowboys with 72 reception yards and two touchdowns; however, he had just six targets. Rookie receiver Terrance Williams was targeted 10 times—four more than Bryant. If No. 88 had more balls thrown his way, the game may not have had a Cinderella ending for the Lions.
Who was more productive Sunday?
Should we have looked at what Bryant did with so little? Or should we base it off of how Johnson had the second-best receiving performance in league history?
Johnson made many more impact plays than Bryant, but Dez also made a couple of spectacular catches to give his team two comfortable leads. However, to answer the question, the nod has to go to Johnson.
Megatron's overall performance allowed his team to come back and earn a victory in a game they should have lost. Not only was that a statement win, but it also showed why he is the best receiver in the league.
Sure, when Bryant caught the ball, he was dangerous after the catch. However, Johnson's athleticism and tall frame allowed him to be leaps and bounds ahead Dez.
Some players say things like "Man if that was me, I would have…" or "If I played with so-and-so, I would average…" Well, Johnson went out and made it happen. No doubt his performance will be talked about for many years to come.
Feel free to drop a comment explaining why you agree or disagree.
This article is
What is the duplicate article?
Why is this article offensive?
Where is this article plagiarized from?
Why is this article poorly edited?

Detroit Lions: Like this team?