The Boston Red Sox notched a second straight road victory over the St. Louis Cardinals on Monday evening at Busch Stadium, winning Game 5 of the World Series by a score of 3-1.
Lester's more, and the @RedSox head home ONE win away from a #WorldSeries title: http://t.co/NSX6dU5NmW pic.twitter.com/hbEAjJY36Y

— MLB (@MLB) October 29, 2013
This puts St. Louis on the brink of elimination as the Fall Classic ships back to Boston for the rest of the series.
A power pitching showcase between two dominant aces defined the night, as Boston's Jon Lester topped St. Louis' 19-game winner Adam Wainwright with both in top form.
Jon Lester: 1st pitcher to win first 3 World Series starts since Jack Morris

— ESPN Stats & Info (@ESPNStatsInfo) October 29, 2013
Things started off badly for Wainwright, and it unfortunately foreshadowed how his outing ended.
Red-hot Red Sox first baseman David Ortiz socked an RBI double to plate Dustin Pedroia, putting Boston on the board in the top of the first.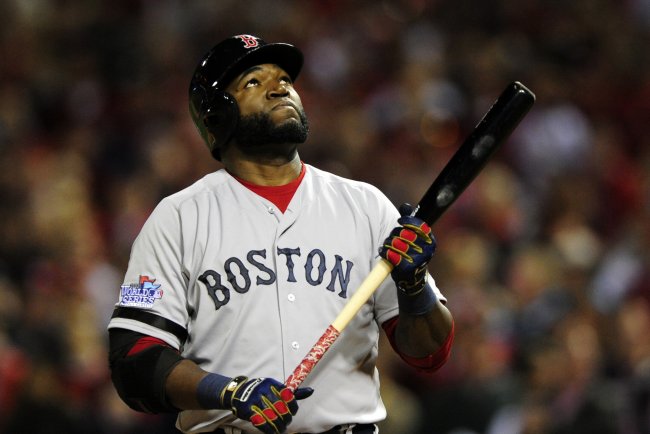 It looked like Wainwright would get tagged as he had in the opening game of the series, when he gave up five runs (three earned), but he was borderline untouchable for five innings thereafter. Wainwright struck out the side in both the first and second innings.
Lester hadn't given up a run in 16.1 previous World Series innings in the midst of clinging to an early lead in this one.
Jon Lester: 16 1/3 scoreless innings in World Series career. That's 3rd-best streak to start career. Leader: Christy Mathewson, (28) (ELIAS)

— ESPN Stats & Info (@ESPNStatsInfo) October 29, 2013
Cardinals left fielder Matt Holliday spoiled that fun with one swing of the bat, smashing a shot to dead center field that cleared the wall by plenty:
The solo blast in the bottom of the fourth knotted the game at one apiece, giving the hosts new life. However, that renewed optimism was relatively short-lived.
Since both pitchers were making rather quick work of the high-octane lineups, the innings were flying by. But it would be Wainwright who was the one who began leaking oil in the top of the seventh.
Adam Wainwright, @JLester31 have combined for 16 Ks through 6 full. @RedSox, @Cardinals remain knotted at 1 on @MLBONFOX. #WorldSeries

— MLB (@MLB) October 29, 2013
After yielding a second single to Xander Bogaerts, Wainwright issued the first walk of the game to Stephen Drew. He then let a pitch hang over the plate to David Ross, who socked a ground-rule RBI double that bounced into the left field stands.
David Ross: 1st career World Series RBI

— ESPN Stats & Info (@ESPNStatsInfo) October 29, 2013
The unexpected production from the bottom of the lineup was a key for the Red Sox. Jacoby Ellsbury was then able to avenge an inning-ending strikeout with two men aboard in the fifth by blooping a two-out single to center, which pushed the lead to 3-1.
The #WorldSeries is tied 2-2. @JacobyEllsbury gives @RedSox 3-1 lead in Game 5. Stretch time in St. Louis.

— MLB (@MLB) October 29, 2013
However, an excellent throw by St. Louis center fielder Shane Robinson allowed for a play at the plate, where Ross was tagged out in an attempt to add more insurance for Lester.
Not that the superior southpaw needed it, as he easily retired the side in the seventh. Lester ended up going 7.2 innings, giving up just four hits, one earned run, zero walks and seven strikeouts to enhance an already stupendous World Series resume.
GEM by @JLester31! Lester tonight: 7.2 IP, 4 H, 1 ER, 0 BB, 7 K Lester in 5 postseason starts: 1.56 ERA

— Jenny Dell (@JennyDellNESN) October 29, 2013
Shutdown closer Koji Uehara struck out Matt Adams on three pitches to finish off the eighth after Lester yielded a double to David Freese.
Uehara then slammed the door in the ninth by retiring the side in order. After the game Mike Mathany stayed upbeat about his team's chances in Boston (via Mark Feinsand of the NY Daily News and Troy Renck of the Denver Post):
Matheny on needing two wins at Fenway: "It's a great opportunity for us to show what kind of team we are."

— Mark Feinsand (@FeinsandNYDN) October 29, 2013
Matheny: "We have to lock arms and trust each other." Said need mental tougness... and obviously more offense. #Cardinals

— Troy Renck (@TroyRenck) October 29, 2013
Below is a brief overview of several marquee performers from Monday's thrilling showcase.
Grades
Adam Wainwright, SP, St. Louis Cardinals: B+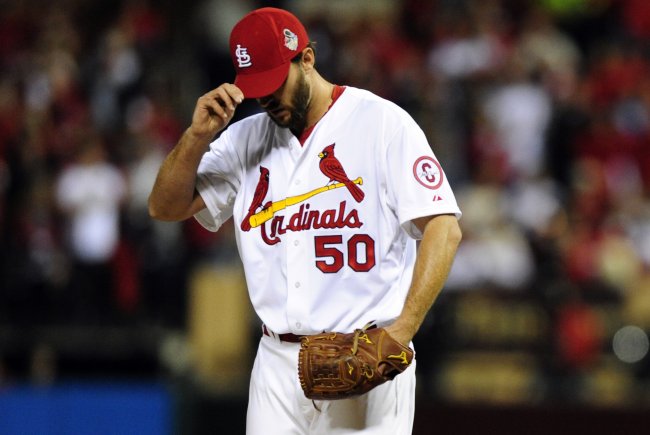 There isn't much for Wainwright to be ashamed of, despite cracking a bit at the end.
Wainwright struck out 10 batters and was far more effective than in Game 1, but it wasn't enough to get the win. This was a must-win scenario, and the 32-year-old veteran couldn't quite deliver.
David Ortiz, 1B, Boston Red Sox: A

To contextualize the World Series tear Ortiz has been on, look no further than when Cardinals fans were cheering perhaps as wildly as they had all night as Big Papi lined out to center in the sixth.
It was Ortiz's first out since Game 3, and it was a development ESPN's Jayson Stark got a kick out of:
Might have been the loudest cheer of the night. David Ortiz made an out! Never seen that!

— Jayson Stark (@jaysonst) October 29, 2013
With Wainwright having to worry so much about Ortiz, it had to be draining, and it showed when Ross came through from the No. 8 slot with the eventual game-winning hit.
Matt Holliday, LF, St. Louis Cardinals: B

It was a game to forget for St. Louis from the batter's box yet again, save for Holliday's homer that kept the Cardinals' hopes alive.
Holliday flew out to center in his third at-bat, and lined a shot to right off Uehara to end the game. That was more than many of his teammates could say, as Lester kept most of his outs in the infield.
Jon Lester, SP, Boston Red Sox: A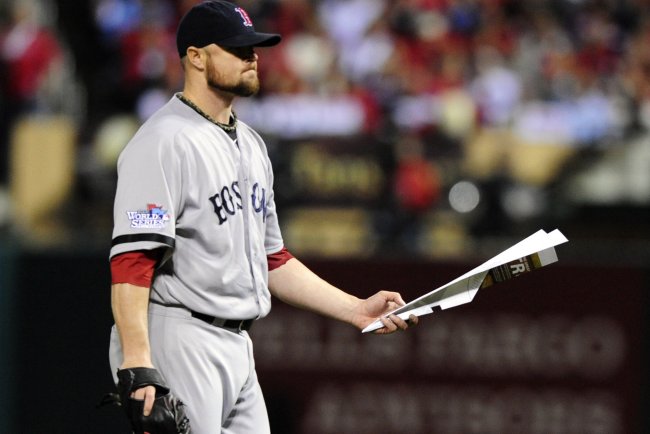 How will the rest of the series play out?
Even paper airplanes weren't enough to break Lester's concentration, but it was the best Cardinals fans could muster.
Just about any superlative used to praise Lester's performance can't be considered hyperbole at this point after yet another amazing outing in which he befuddled St. Louis' stars.
What might have been most noteworthy was Lester's efficiency; he threw only 91 pitches, and 61 of them went for strikes. Moses Messena of MLB Network puts his World Series dominance into perspective:
Jon Lester now has a 2.11 Career ERA in the #postseason..which is the 5th lowest all-time in the postseason (min. 75 iP) #WorldSeries

— Moses Massena (@MosesMassena16) October 29, 2013
What makes the above stat even more impressive? He did so with with a tight back according to Rob Bradford of WEEI.com:
Lester's back was tightening up on him with hard mound. That was physical issue everyone was guessing at

— Rob Bradford (@bradfo) October 29, 2013
Save for the homer he gave up to Holliday, there aren't many holes to poke at in Lester's performance. If the Red Sox win the series, which seems likely at this point, Lester should warrant strong consideration for the MVP award.
What's Next?

Rebounding won't be easy for the Cardinals after losing two consecutive games at home.
ESPN's Darren Rovell points out how severe of a deficit manager Mike Matheny's club is in:
7 teams have come back from a 3-2 World Series deficit to win the World Series since 1985. NONE of those teams did it on the road.

— darren rovell (@darrenrovell) October 29, 2013
St. Louis must travel to Boston's historic Fenway Park and win both games to capture the Commissioner's Trophy, while the Red Sox need just one victory to win the 109th World Series.