The up-and-down season for the New York Jets continues, but this time, the "down" is about as low as one can get.
Not only did the Jets drop back to .500 for the fourth time this season, they did it in spectacularly bad fashion, losing to the Cincinnati Bengals by a 40-point margin.
In order to lose so badly, the Jets would have to be outplayed in about every aspect of the game—which is exactly what happened. The defense gave up big plays through the air, while the offense was outscored by the opposing defense.
As bad as the loss was, it was, after all, just one game. A team as young and inexperienced as the Jets is going to be prone to letting games get away from them, as a talented Bengals team is going to feast on the every mistake their opponent makes.
If the Jets want to contain this loss to one week, they must put what happened last week behind them as if it never happened—which is exactly what Rex Ryan did:
Used same tactic after 45-3 loss to Pats in '10 RT @SethWalderNYDN Rex has players skip film review after loss #nyj http://t.co/8EM0DuNV2K

— Manish Mehta (@MMehtaNYDN) October 28, 2013
The bad news is, things hardly get better next week with the 6-1 New Orleans Saints coming into town next week. Let's take a look at where the Jets stand and what they need to do if they want to avoid a losing record for the first time this season.
Division Standings
While the Jets' loss was not as costly as a divisional loss, it was an in-conference loss that may hurt them in tiebreakers down the line.
AFC East Standings

| | | | | |
| --- | --- | --- | --- | --- |
| Team | Wins | Losses | Points For | Points Against |
| New England Patriots | 6 | 2 | 179 | 144 |
| New York Jets | 4 | 4 | 143 | 211 |
| Miami Dolphins | 3 | 4 | 152 | 167 |
| Buffalo Bills | 3 | 5 | 176 | 213 |
NFL.com/standings
The fact that the New England Patriots beat the Miami Dolphins last week was not good for the Jets' chances to win the division (the Jets are now two games out of first place with no more games against the Patriots), but it was not all bad news. The Dolphins' loss allows the Jets to hold on to their second-place standing in the division.
Meanwhile, the Buffalo Bills have fallen further into the AFC East basement after losing to the Saints. Barring a magical run, their odds of making the playoffs are all but over at this point with a 3-5 record.
Injury Report
The Jets avoided a disastrous injury to an irreplaceable player, but they did leave the Bengals game a little big banged-up in places other than their egos.
Tight end Jeff Cumberland left the game with a head injury, according to Rich Cimini of ESPN.com. Cumberland may not be the Jets' top offensive player, but if he is unable to play next week, it leaves the Jets with a virtually empty cupboard at the tight end position.
With Kellen Winslow still serving his suspension, the Jets are left with Zach Sudfeld and Konrad Reuland as their only two tight ends.
Meanwhile, the status of Santonio Holmes remains uncertain at best, as he has been very committal about his return. When asked about the status of his hamstring last week, he scoffed at the idea of returning to the field any time soon:
Santonio Holmes says the bye comes at a good time, then bristles at idea he won't play this week http://t.co/SCI0FT427s

— ProFootballTalk (@ProFootballTalk) October 25, 2013
Perhaps Holmes will battle through the injury, but based on how cautious he has handled his injuries this year, the Jets should be prepared to go yet another week without their top wide receiver.
What Must Improve
Outside of maybe their run defense, the Jets were dominated in every single facet of the game. If the Jets are going to have a chance of upsetting the Saints at home this week, they will need to make massive improvements in a lot of different areas on both sides of the ball.
Coverage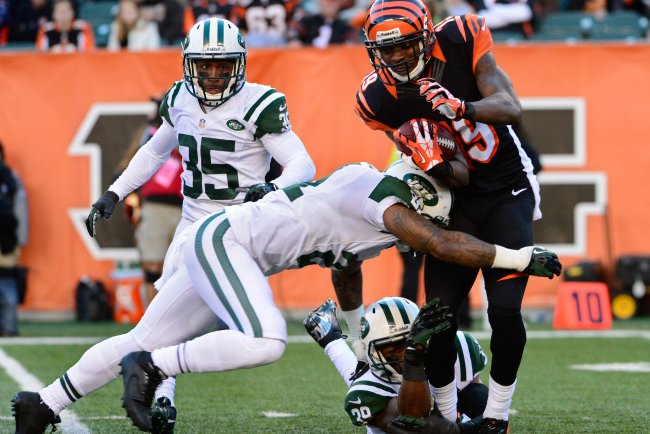 The Jets' coverage has been up and down all year, but the Jets' inability to cover put them in an insurmountable hole against the Bengals right off the bat.
The Jets needed Antonio Cromartie to at least limit the effectiveness of star wide receiver A.J. Green, and Cromartie came up way short. Green finished with 115 yards, but it could have been even worse had Green not dropped a few more passes.
The prime culprit for the defensive meltdown, however, was rookie first-round pick Dee Milliner. Milliner, who was eventually benched for his inability to even come close to defending a pass, was targeted early and often and was victimized by Marvin Jones.
Jets Cornerbacks vs. Bengals

| | | | | |
| --- | --- | --- | --- | --- |
| Player | Targets | Completions | Yards | QB Rating |
| Antonio Cromartie | 4 | 1 | 53 | 79.2 |
| Dee Milliner | 5 | 4 | 108 | 158.3 |
| Darrin Walls | 4 | 2 | 26 | 88.3 |
https://www.profootballfocus.com/data/by_position.php?tab=by_position&season=2013&pos=CB&stype=8&runpass=&teamid=-1&numsnaps=25&numgames=1
Simply put, Milliner is far from ready. The Jets have made the mistake of trying to force him into a starting role too soon, and they have paid the price every time.
While Milliner has been disappointing, especially for a top-10 pick, his slow start should not come as a huge surprise when considering the recent history of Alabama cornerbacks in the NFL.
For one, Alabama players in general have struggled to stay healthy in the NFL—an issue that can be traced to head coach Nick Saban's rigorous training schedule. Second, Saban does not teach his defensive backs NFL-style techniques, such as backpedaling.
Dee Milliner is struggling. Technique is a major issue for the rookie in coverage.

— Matt Bowen (@MattBowen41) October 27, 2013
The last Alabama cornerback taken in the first round was Cincinnati's Dre Kirkpatrick, who spent most of his rookie season on IR and has only seen playing time in lieu of injury to other players.
Meanwhile, Milliner has battled injuries of his own since rookie minicamp, and his lack of technique is costing him even more playing time.
The only serviceable player in coverage was Darrin Walls, who came in relief of Milliner. Still, even he gave up a touchdown just a few plays after being put in the game.
The Jets can blame their lack of a pass rush all they want, but their coverage on the back end was so bad that even a more prolific pass rush would have not made a difference.
A candid Mo Wilkerson on shaky Jets secondary: "If those guys don't hold (WRs) up for a second... there's no point of rushing, really" #nyj

— Manish Mehta (@MMehtaNYDN) October 28, 2013
Pass Rush
One of the reason why the Jets have been able to remain stout on defense with lackluster coverage in the secondary is because of their stout interior pass rush from their young defensive linemen.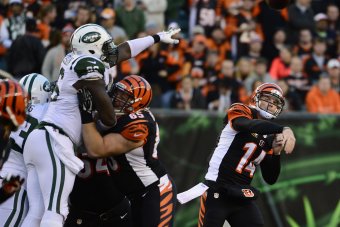 While Muhammad Wilkerson does have a valid point in that the coverage was so bad that even a good pass rush would not have been able to counter on many occasions, they were still unable to get to Andy Dalton when the Bengals were taking deep shots down the field.
Wilkerson recorded the only sack of the game, but that does not do justice to how bad the Jets were when rushing the passer.
Not only was Wilkerson's sack the only time the Jets hit Dalton all afternoon—they only hurried him on five other occasions.
Calvin Pace and Quinton Coples tied for last in Pass Rush Productivity among 3-4 OLBs after failing to record any pressure. #Jets

— Gonzalo

Estrad

é (@PFF_Gonzalo) October 28, 2013
The Jets may not have been able to record many sacks because of the pressure on the back end, but the Jets were unable to stop big plays (that were going to take a long time to develop no matter the coverage) in large part because of their lack of a pass rush.
The secondary deserves most of the blame for this week, but the big men up front deserve their share of the blame as well.
Pass Protection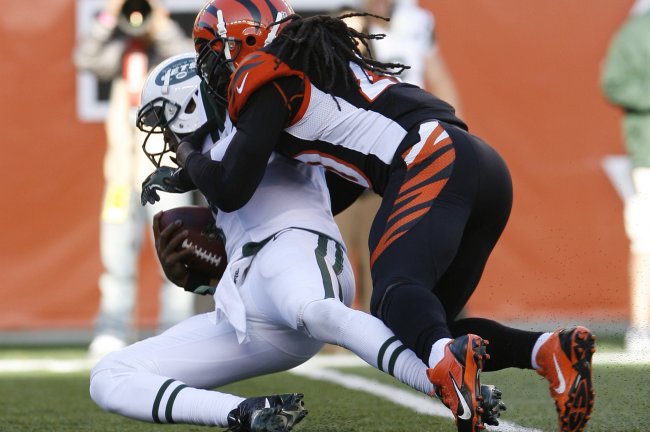 Geno Smith will get most of the bad press because of his two pick-sixes, but the rookie quarterback's performance should not be the Jets' primary concern following the blowout loss. Rather, the Jets' inability to protect Smith on a consistent basis is the most alarming aspect of their offensive performance.
The Bengals have one of the best defensive lines in the NFL, but even the Jets' most stout offensive linemen were abused in one-on-one situations. In particular, the Jets were abused on the left side of the line, where both left tackle D'Brickashaw Ferguson and rookie left guard Brian Winters were abused in protection.
Left side of the OL - Brian Winters and D'Brickashaw Ferguson: -7.0 overall grade, 3 sacks, 1 hit and 7 hurries allowed. #Jets

— Gonzalo

Estrad

é (@PFF_Gonzalo) October 28, 2013
The Jets also struggled to pick up blitzes. Safety Reggie Nelson (one sack) was a menace in the backfield, taking advantage of mental lapses by the Jets offensive line.
It is one thing to get beat outright by a better player—but to make mental mistakes over and over is inexcusable.
As ugly as last week's game was, the Jets cannot afford to lament this loss. While they certainly need to make improvements in all three phases of the game, they cannot let such a big blowout loss affect their confidence.
After all, if the Jets walk into the game against the Saints feeling anything but extremely confident about themselves, they will have no chance at getting a much-needed upset to stay ahead in the playoff race.
There is no schematic adjustment the Jets can make that will be able to mask the deficiencies they showed against the Bengals. Simply put, they have to make incredible improvements on both sides of the ball in a short amount of time if they want to stay above the .500 mark.
Advanced statistics provided by ProFootballFocus.com (subscription required).