Michigan Basketball: 5 Burning Questions for Wolverines' 2013-14 Season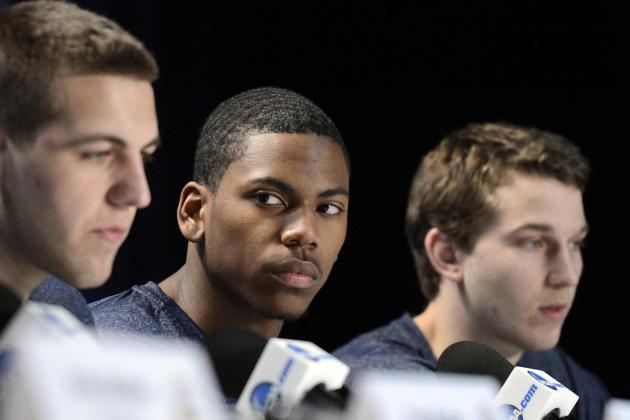 What questions are the Michigan Wolverines facing for 2013-14?
Exhibition play for the Michigan basketball team begins on Tuesday night, but the regular season is still over a week away. Although the Wolverines are set to return to the floor, there are still some burning questions they have to face in 2013-14.
One deals with an issue facing Michigan's top player, another is about how the Wolverines will cope without their star and three others all concern the starting lineup and a potential breakout candidate.
The offseason is finally drawing to a close, which means it is time to answer the only questions remaining after six months of no college basketball.
Begin Slideshow

»
Will Mitch McGary be back for the Nov. 8 opener?
Answer: Unclear
The biggest issue for the Michigan Wolverines is still the "lower-back condition" keeping Mitch McGary from doing much of anything in practice. Head coach John Beilein has already announced the USA Today Preseason All-American will sit out Tuesday's exhibition game against Concordia.
This raises a very frightening question: When will McGary be healthy again?
At this time, it is very hard to say. Beilein continues to tell the media he is just being "super-cautious," which is, unquestionably, the right move. However, this issue has plagued McGary since the summer, so there is reason to believe this could be a problem during the regular season as well. Beilein told Chris Balas of TheWolverine.com:
The doctors have to okay it, When the doctors okay it, we'll bring him back slowly in practice. We want to make sure. We want everybody in full agreement that it's time to go. Knowing Mitch, he's not going to go halfway when it's time to go. He's going to be diving on the floor the first time.
The Maize and Blue need McGary to be at full strength by January in order to contend for a Big Ten Conference title. All Michigan fans can do is wait and hope for the best.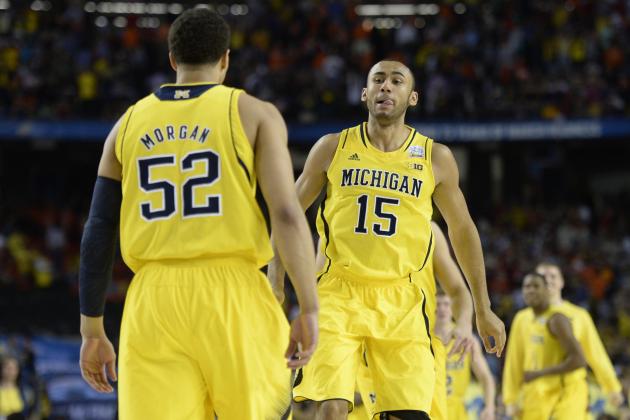 Jordan Morgan and Jon Horford may be asked to do a lot more with McGary dealing with a health issue.
Answer: Jordan Morgan and Jon Horford
The biggest issue with Mitch McGary's injury is the lineup change John Beilein will be forced to make. Power forwards Jordan Morgan and Jon Horford will stay at the 5, but it likely forces Glenn Robinson III to play the 4 once again.
The plan for 2013-14 has been for Robinson to be the starting 3. This is no longer an option until McGary is able to return to the lineup, though.
Morgan is shooting the ball much better these days, and Horford has always shown great potential. However, putting those two on the floor together for an extended period of time is not an option. Neither brings enough offense to the table for that to be a realistic solution.
The only positive about the potential lineup shuffle would be getting Zak Irvin on the floor much more than originally expected. The 5-star shooting guard is already set to make an impact as a true freshman. Sliding Robinson back to the 4 would open up a starting spot for Irvin. Extra experience early on would pay dividends for the Fishers, Ind., product later in the season.
Michigan needs McGary to return to form in order to challenge Michigan State in the Big Ten, though.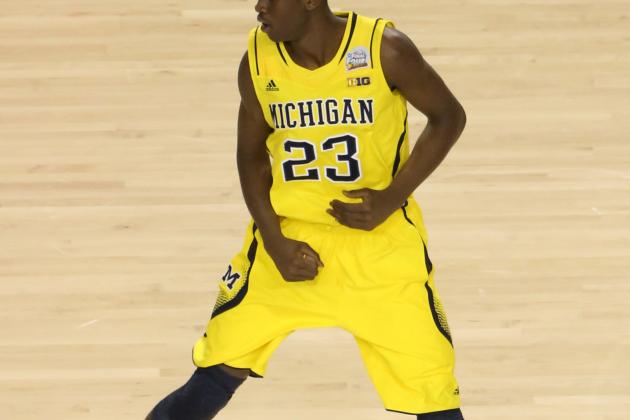 Caris LeVert will no longer just be a defensive specialist.
Answer: Yes
There is no doubt Caris LeVert's strength will continue to be defense. Just do not expect the lanky Ohioan to be a one-way player for much longer.
As a true freshman, LeVert shot just 31 percent from the field and averaged a mere 2.3 points per game. Those numbers should exponentially rise given how confident the sophomore has become.
"He's gotten a lot stronger, quicker," Glenn Robinson III said to Joe Stapleton of UMHoops about LeVert's progress. "He's gotten tremendous confidence in his game. He'll definitely help this team out a lot this year. I'm excited to be on the floor with him."
"Every time he steps on the floor, our defense tends to become better."
LeVert's versatility is what makes him the best candidate for a breakout season. The 6'6", 185-pounder can play the 2, 3 or 4. There has even been some chatter about putting LeVert on the floor as a point guard alongside Nik Stauskas, Zak Irvin and Robinson. Scary stuff.
Watch out for LeVert to emerge as a rising star in 2013-14.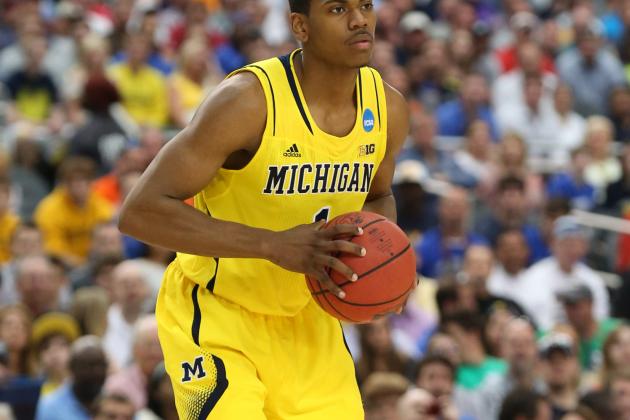 Answer: Yes
Last season's Glenn Robinson III simply relied on his athletic abilities to finish plays en route to averaging 11 points per game. In 2013-14, Robinson will utilize his freakish athleticism to be a scorer and create offense without the help of others.
"I've gotten stronger, I'm shooting the ball more efficiently, I've worked on my ballhandling skills, and most of all, most important to me is my leadership," Robinson told Dylan Burkhardt of UMHoops.
The Maize and Blue faithful will see the potential NBA draft lottery pick coming off ball screens and running pick-and-rolls. Robinson's improvements handling the rock will enable him to be even better driving to the basket than he was as a true freshman.
Putting on some extra muscle over the offseason will only help Robinson become a dynamic playmaker.
"Robinson is noticeably bigger and stronger and he insists he doesn't care where he plays," Chris Balas of TheWolverine.com wrote recently (subscription required). "Teammates say he excels at both and is blossoming into much more of a scorer."
So long as Mitch McGary is able to return, Robinson should have no problem making the transition from the 4 to the 3.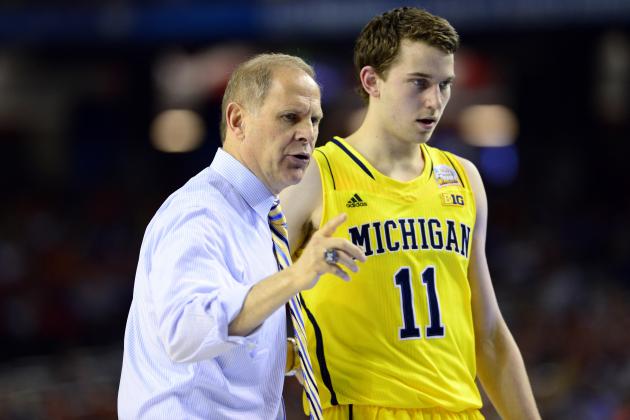 Will Nik Stauskas continue to be a starter?
Answer: Too early to tell
To even fathom a guess as to who the Michigan Wolverines will be starting come March would just be silly. The Maize and Blue have yet to take the floor for so much as an exhibition game. There are just too many possibilities to say what Michigan's best lineup will be when the calendar still reads October.
In fact, the answer right now would sound a lot like the one John Beilein gave the media on Monday.
"Spike (Albrecht) or Derrick (Walton Jr.) will play at the point, Nik (Stauskas) or Caris (LeVert) will play at the two, Glenn (Robinson III) or Zak (Irvin) will be at the three, and at the other three it will be Jordan (Morgan) or Glenn. Jon's (Horford) played real well, too," Beilein said, according to Joe Stapleton of UMHoops. "Jon's going to get a great chance."
Those projections do not even include Mitch McGary for reasons already mentioned.
Walton seems like the best pick to be the point guard, though, turnovers will decide who plays the spot come season's end. Stauskas will have a hard time holding off Irvin and LeVert at the 2. Robinson and McGary are the only sure-starters when healthy. Morgan is probably the safe bet at center given his importance at the defensive end of the floor.
Having too many options for the starting lineup is never a bad thing. In fact, it is a sign of just how scary these Wolverines can be this season.