NFL Power Rankings Week 9: How League Stacks Up Heading into Crucial Weekend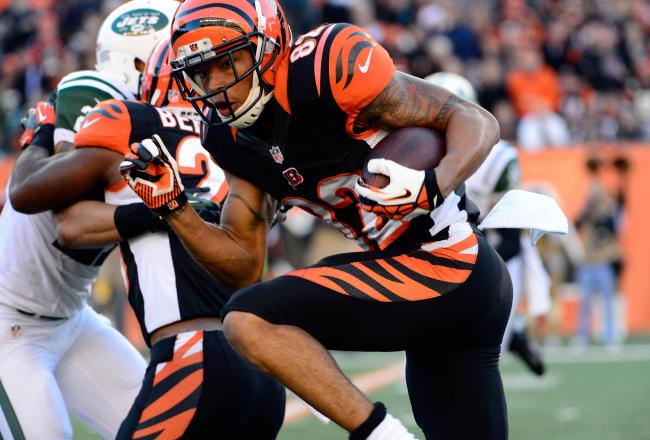 As the NFL season continues to dive deeper into the schedule, each slate of games begins to weigh more heavily on the playoff picture.
With an eventful Week 8 in the books, where each team stands in the NFL at about the halfway point is becoming much easier to discern.
The contenders are obvious, although the order is up for debate—that will ultimately be decided by the playoffs. However, the pretenders in all their ugliness have been fully exposed.
Let's take a look at how the league hierarchy stacks up with a very important Week 9 slowly on the approach.
1. New Orleans Saints (6-1)
The New Orleans Saints are well-known for an elite offense orchestrated by Drew Brees, but it is the defense that has made the Saints the NFL's most complete team.
Plenty of teams can tout an elite offense, but only three teams in the NFL surrender fewer points than Rob Ryan's in New Orleans, which only allows 17.1 points per contest.
Now, this is probably painfully obvious, but for an offense that averages 28 points per game, that means the Saints are ridiculously difficult to beat. In fact, only one team (New England) has done so, via a last-second touchdown pass.
2. Denver Broncos (7-1)
After a well-publicized loss two weeks ago in Peyton Manning's return to Indianapolis, the Denver Broncos took any and all frustration out on the Washington Redskins in Week 8.
Manning threw for 354 yards and four scores in the 45-21 victory, and the Broncos continue to field the NFL's best offense and a top-three run defense.
Despite all this, a win over a lowly Washington defense in no way allows Manning and Co. to jump back to No. 1.
3. Kansas City Chiefs (8-0)
Kansas City remains the lone undefeated team, but a six-point victory over the three-win Cleveland Browns at Arrowhead Stadium does not do wonders for the résumé.
While impressive the Chiefs have made it this far without a loss, at some point Kansas City will have to play a credible opponent with a quality player under center.
Other teams have blemishes on their records, but the Chiefs' lack of quality opposition hurts. Time will tell if the No. 5-ranked defense can hold up against an elite offense.
4. Seattle Seahawks (7-1)
A near-upset by the Kellen Clemens-led St. Louis Rams on Monday Night Football does not change much in the grand scheme of things.
NFC West battles are notoriously tough, although the Seahawks' passing attack desperately needs Percy Harvin to show up to a contest healthy.
At the end of the day, the Seahawks have the best record in the NFC, tout the NFL's best rushing attack and a top defense. Until further notice, Seattle is a top-five team.
5. Cincinnati Bengals (6-2)
The Cincinnati Bengals have arrived
Andy Dalton threw for 325 yards and five touchdowns in a 49-9 evisceration of the New York Jets for the Bengals' fourth victory in a row as well as Dalton's third straight performance of 300 yards or more.
Cincinnati touts a borderline top-10 defense despite injuries and an offense that few defenses can adequately line up with—watch out.
6. Green Bay Packers (5-2)
It was business as usual for Aaron Rodgers and the Green Bay Packers in Week 8 with a 44-31 victory over the NFC North rival Minnesota Vikings behind Rodgers' 285 yards and two touchdowns.
As a whole, Green Bay continues to rank in the top five in both passing and rushing despite the absence of several stars. The defense quietly continues to rank in that same area against the run.
Green Bay continues to be underappreciated thanks to losses against contenders like San Francisco and Cincinnati, but things are quietly getting better and better for the Packers.
7. Indianapolis Colts (5-2)
Week 8 was a bye for the surprising Indianapolis Colts, a team with major victories over San Francisco, Seattle and Denver.
Andrew Luck is an under-the-radar MVP candidate, and a soft schedule the rest of the way is both reassuring and concerning—the Colts have played up and down to competition all year.
Time will tell if Luck and Co. can fire on all cylinders against even the lowest of competition.
8. San Francisco 49ers (6-2)
As expected the San Francisco 49ers had little issue running all over the NFL's worst rush defense as Colin Kaepernick and Co. found space for 221 rushing yards against Jacksonville.
Kaepernick himself was only asked to pass 16 times, so it's hard to gauge whether he's truly broken out of his slump, but the dominance in London makes it five straight wins for one of the NFL's most complete teams.
9. New England Patriots (6-2)
New England continues to struggle in the consistency department, but the good news is the Patriots got back on track in Week 8 with a victory over Miami.
While it's never fun to focus on the negatives (especially for a team playing this well and ranked this high), what in the world is going on with Tom Brady?
Sure, New England won—no thanks to Brady's 116 yards, a touchdown and interception. So much for Rob Gronkowski's return changing things for the better.
10. Detroit Lions (5-3)
What a last-second win by Matthew Stafford over the Dallas Cowboys in Week 8, and what a monster Calvin Johnson truly is with his 329 receiving yards.
Calvin Johnson had 329 receiving yards yesterday. There are 16 teams in the NFL that haven't thrown for 329 yards in a game this season.

— Numbers Never Lie (@ESPN_Numbers) October 28, 2013
Detroit can play with any team, but a defense that ranks in the bottom 10 means Stafford will need more performances of 400-plus yards against playoff-caliber squads to make some noise the rest of the year.
At second place in the NFC North, Detroit clearly has enough firepower to keep pace with Green Bay.
11. Chicago Bears (4-3)
It was a great time for the Chicago Bears to have a bye in Week 8 considering the status of the quarterback position.
Backup Josh McCown looked competent in relief of Jay Cutler two weeks ago with his 204 yards and a touchdown, but that's hard to take seriously against such a weak Washington secondary.
Now with McCown going through an extra week of practice as the lead signal-caller, the Bears will remain competitive thanks to a sound defense.
12. San Diego Chargers (4-3)
The San Diego Chargers have been a nice surprise this season thanks to a revitalized passing attack that ranks No. 6 in the NFL behind the arm of Philip Rivers.
Week 8 was bye mode for the Chargers, which gave the team time to right some wrongs in prep for a tough second half of the schedule in a division featuring the No. 2 and No. 3 teams on this list.
13. Baltimore Ravens (3-4)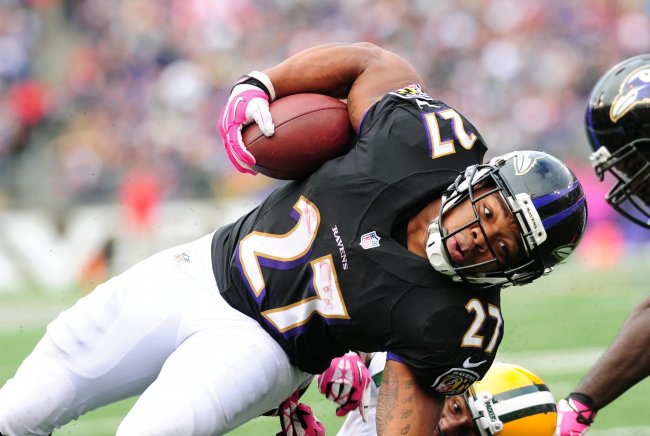 It's never easy for the defending champs, and that is especially the case for the 2013 edition of the Baltimore Ravens.
Joe Flacco and Co. have yet to beat a team with a winning record and rode a two-game losing streak into the bye last week.
If Flacco wants to turn things around, he's going to need some help from star running back Ray Rice, who has been essentially nonexistent so far this season with his 2.8 yards-per-carry average.
14. Buffalo Bills (3-5)
Buffalo has managed to hang tough without rookie quarterback E.J. Manuel, but Thad Lewis was simply not up to the task of overcoming the New Orleans Saints at home—nor was the Buffalo defense.
The Bills continue to struggle in a big way on the defensive side of things, and a unit ranked in the bottom 10 that allowed 332 yards and five touchdowns to Drew Brees didn't help in that regard.
Buffalo is a scrappy team but not against the NFL's elite.
15. New York Jets (4-4)
That was ugly.
A Ryan family defense has a historical weight to it, so it was a shocker to see Rex Ryan's defense give up over 400 total yards and 49 points to the Cincinnati Bengals in Week 8.
Problems persist on the offense, too, with rookie Geno Smith throwing two interceptions that were returned for touchdowns.
It's in no way panic time in New York, but a sign of life would do wonders.
16. Dallas Cowboys (4-4)
The continued emergence of rookie receiver Terrance Williams (64 yards and a score in loss to Detroit in Week 8) has made Miles Austin an afterthought.
A loss to Detroit and 488 passing yards allowed to Matthew Stafford stings, but the Cowboys remain atop the NFC East. That said, an ability to win a close game against a playoff contender would be nice.
17. Carolina Panthers (4-3)
Carolina has now won three in a row, most recently with a major win in front of a national audience on Thursday Night Football as the Panthers picked apart Tampa Bay.
Can Newton continues to play at a high level and found 221 yards and two touchdowns against a defense led by Darrelle Revis.
Thanks to the NFL's No. 3 overall defense, the Panthers will be a scary team in the postseason should Newton and Co. slip in behind New Orleans.
18. Miami Dolphins (3-4)
Miami is now on a four-game skid after a promising start. Quarterback Ryan Tannehill won't survive behind the current offensive line and has been sacked a league-leading 32 times.
While the duo of Lamar Miller and Daniel Thomas finally seems to be productive on the ground (a combined 136 rushing yards Week 8 versus New England), the offense continues to sputter with Tannehill always on his back.
Football starts in the trenches, and Miami has failed to figure it out. Being offseason winners in free agency means little if the wrong areas were upgraded.
19. Cleveland Browns (3-5)
Credit the Cleveland Browns for going to Arrowhead Stadium and nearly knocking off the NFL's only undefeated team, but even veteran Jason Campbell cannot overcome the lack of talent on the Browns roster.
The Cleveland offense looked much better with the savvy Campbell under center, but the Browns have still lost three in a row as Ray Horton's defense has severely underperformed and the offense continues to struggle to find its footing.
20. Arizona Cardinals (4-4)
After two straight losses to contenders in San Francisco and Seattle, the Arizona Cardinals managed a Week 8 victory over the Atlanta Falcons.
The offensive line still struggles to protect Carson Palmer, but the emergence of rookie running back Andre Ellington as an elite weapon (154 rushing yards and a touchdown in Week 8) makes Arizona a very dangerous team moving forward.
21. Oakland Raiders (3-4)
The Oakland Raiders continue to have a top-five rushing attack, which was on full display in a close victory over the Pittsburgh Steelers in Week 8.
Quarterback Terrelle Pryor rushed for 106 yards (93 on one scamper) and a score but was pathetic through the air with 88 yards and two interceptions.
The definition of a run-first team, Oakland is in serious danger if it ever falls behind.
22. St. Louis Rams (3-5)
Kellen Clemens and St. Louis were able to give the Seattle Seahawks a battle on Monday Night Football in Week 8, but the quarterback play from Clemens and lack of major plays from receivers continue to haunt the Rams.
St. Louis has plenty of talent on defense, but the offense without Sam Bradford under center is woeful at best.
It's back to the drawing board in St. Louis after a deflating loss.
23. Atlanta Falcons (2-5)
Matt Ryan and the Atlanta Falcons have hit rock bottom.
Ryan was horrific with four interceptions in Week 8 as the Falcons lost to a .500 Arizona team with a shaky pass defense.
Things are bad in Atlanta. There's one team every year that appears to be a Super Bowl contender before self-destruct mode is engaged on the field. That would be Atlanta in 2013.
24. Tennessee Titans (3-4)
Led by star cornerback Alterraun Verner, the Tennessee Titans quietly boast a top-10 pass defense.
That's the lone bright spot for Tennessee, as the team rode a three-game losing streak into last week's bye.
Quarterback Jake Locker is back in the fold (not that it mattered in Week 7), so now one of the NFL's under-the-radar teams can presumably get back to being competitive as Locker continues to settle back into his role.
25. Philadelphia Eagles (3-5)
Chip Kelly can have the greatest football mind in the world, but if he's without a competent quarterback, he'll be back at the college level sooner rather than later.
In Week 8 against the New York Giants, Michael Vick could only attempt nine passes before Matt Barkley was called upon in injury relief. He proceeded to throw for just over 150 yards and an interception.
Star back LeSean McCoy is an afterthought at this point in a one-dimensional offense. Philadelphia has lost two straight.
26. Houston Texans (2-5)
The Houston Texans sit with a five-game losing streak, mostly thanks to the play of quarterback Matt Schaub.
As ESPN's Adam Schefter reports, the Texans are moving on in favor of Case Keenum:
Houston moving on: Texans announced Case Keenum as their starting QB moving forward.

— Adam Schefter (@AdamSchefter) October 28, 2013
Keenum played well in his debut, and with a bye last week to gain more experience, the Texans may very well be able to jump back to relevancy.
27. Washington Redskins (2-5)
After jumping out to a two-score lead in Week 8 over the elite Denver Broncos, Washington's bottom-five defense somewhat predictably gave up 31 points in the fourth quarter.
Robert Griffin III only managed 132 yards, a touchdown and two interceptions against one of the NFL's worst pass defenses, which is in no way good enough given the state of his defense.
In other words, the loss was the perfect summation of the 2013 edition of the Redskins.
28. New York Giants (2-6)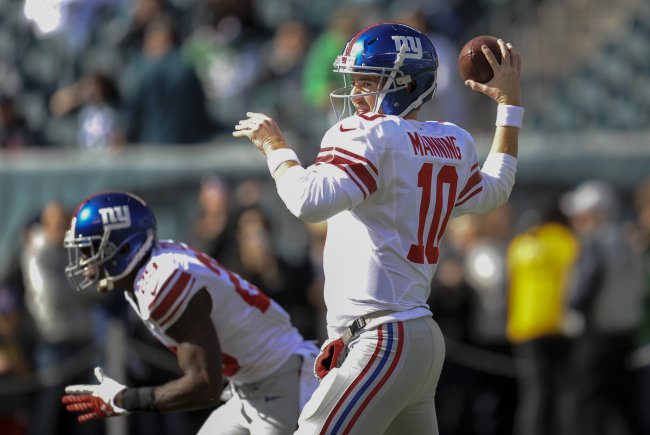 Here we go again?
Maybe. The New York Giants are notorious for stringing together wins and saving seasons, and the 2013 edition has now won two in a row.
Granted, wins over Minnesota and Philadelphia are not overly impressive, but the Giants are at least proving they have a pulse. Perhaps things will continue on a positive note.
29. Pittsburgh Steelers (2-5)
After two straight wins, the Pittsburgh Steelers fell flat on their face in Week 8 against the Oakland Raiders.
Ben Roethlisberger continues to get assaulted behind a laughably bad offensive line as he was sacked five times. Even worse, a fundamentally sound Steelers defense was exposed, especially on a 93-yard touchdown run from quarterback Terrelle Pryor.
30. Minnesota Vikings (1-6)
It's hard to tell the Minnesota Vikings have a star by the name of Adrian Peterson at running back.
Peterson was given just 13 carries in a loss to Green Bay, which he turned into 60 yards and a touchdown.
Yes, the Vikings consistently play from behind. No, that's no excuse to not feed Peterson.
31. Tampa Bay Buccaneers (0-7)
Despite a sound defense, the Tampa Bay Buccaneers look lost on the field and uninspired under the direction of Greg Schiano.
Rookie quarterback Mike Glennon appears to be a deer in headlights that not even Vincent Jackson can save, and the absence of Doug Martin has sunk the ship in Tampa Bay for good.
32. Jacksonville Jaguars (0-8)
No, the Jacksonville Jaguars could not pull off the upset in London, which may very well be their future home.
Chad Henne put together another sound performance, and Maurice Jones-Drew notched 75 yards in what reeked of a star knowing the trade deadline is right around the corner, but the Jaguars still lost by 32 points.
Follow B/R's Chris Roling on Twitter for more news and analysis @Chris_Roling
This article is
What is the duplicate article?
Why is this article offensive?
Where is this article plagiarized from?
Why is this article poorly edited?