Why Mike Daniels Will Remain Key Component of Green Bay Packers' Pass Rush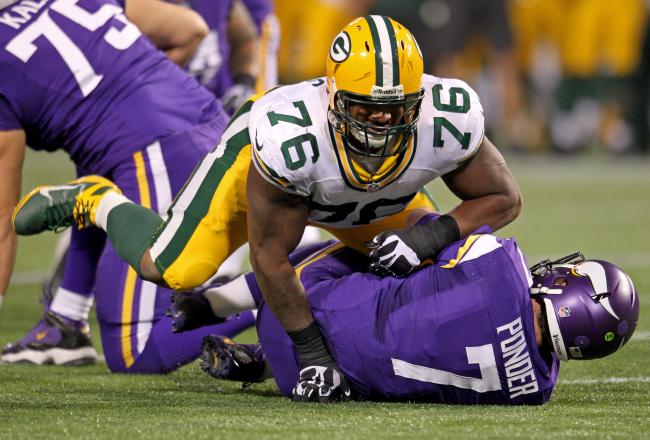 DE Mike Daniels leads the Packers in sacks in 2013.

With Green Bay Packers starting outside linebackers Clay Matthews and Nick Perry having missed a total of five games between them in 2013, and inside linebacker Brad Jones sitting out three, defensive end Mike Daniels has stepped up to become Green Bay's best pass-rusher.
Not only is Daniels leading the team in sacks, but per Pro Football Focus (subscription required), his four sacks are tied for third among 3-4 defensive ends, and for fifth in defensive ends overall in the league.
His efforts are good enough to be Pro Football Focus' No. 9 3-4 defensive end in pass-rushing, sharing the top 10 with the likes of Houston's J.J. Watt, New Orleans' Cameron Jordan and San Francisco's Justin Smith.
It's unusual for a defensive end in a 3-4 scheme to be a team's leading pass-rusher. Linebackers Matthews and Perry, and the surprisingly skilled Jones on the inside, had combined for seven sacks before their injuries.
But the loss of all three opened a big hole in the front seven, and Daniels has stepped up to fill it—which should not come as a surprise to anyone who has been tracking Green Bay's pass-rush development since 2010.
The Packers finished the 2010 season ranked No. 2 in the league in sacks, with 47, largely due to the breakout performance of Matthews, who recorded 13.5 sacks in that Super Bowl-winning year.
They also held opposing quarterbacks to the fifth-lowest passing yards that year: 3,107.
However, in 2011, teams were determined to stop Matthews and, thereby, the pass rush. With Matthews held to a career-low six sacks in 2011, despite starting 15 games, the Packers dropped to being tied at No. 30 in the league in sacks, with just 29.
As a result, with eight picks in the 2012 NFL draft, Green Bay took six defensive players—including Daniels in the fourth round.
Daniels' ability to be disruptive in his first training camp impressed Packers color commentator Larry McCarren right away, as this video shows.
Having played defensive tackle in college at Iowa, Daniels made the switch to defensive end and has been sharply improving in just two seasons: He has moved up 10 spots from his ranking at the end of his rookie season as the No. 19 3-4 defensive end in pass-rushing.
Moreover, while Mike Neal and B.J. Raji ranked ahead of Daniels in the 3-4 defensive end top 10 in 2012, Daniels is now Green Bay's sole top 10-ranked defensive end.
Though Daniels alone can't keep Green Bay's sack numbers at the top of the league, the Packers' 23 sacks in 2013 rank No. 8 in the league, a sure improvement over 30th in 2011 and without their two starting outside linebackers.
As the table below shows, Daniels is leading the pack, guiding the team back in the direction of 2010 pass-rush dominance in leader Matthews' absence.
Packers Pass-Rushers in 2013

| | | | |
| --- | --- | --- | --- |
| | Sacks | QB Hits | QB Hurries |
| Mike Daniels (DE) | 4 | 1 | 9 |
| A.J. Hawk (ILB) | 3 | 1 | 5 |
| Clay Matthews (OLB) | 3 | 2 | 4 |
| Nick Perry (OLB) | 3 | 0 | 12 |
| Tramon Williams (CB) | 2 | 2 | 2 |
| Jamari Lattimore (MLB) | 2 | 0 | 2 |
| Brad Jones (MLB) | 1 | 2 | 3 |
| M.D. Jennings (S) | 1 | 0 | 0 |
| Micah Hyde (CB) | 1 | 0 | 2 |
| Davon House (CB) | 1 | 0 | 1 |
| Mike Neal (DE) | 1 | 2 | 18 |
| Datone Jones (DE) | 1 | 1 | 7 |
| B.J. Raji (DE) | 0 | 1 | 6 |
| Johnny Jolly (DE) | 0 | 1 | 1 |
| Andy Mulumba (OLB) | 0 | 0 | 3 |
| Nate Palmer (OLB) | 0 | 2 | 1 |
Pro Football Focus
As Daniels said recently, according to Tyler Dunne of the Milwaukee Journal Sentinel, when people hear "Green Bay Packers," the team wants "people to have a Ravens-like, Steelers-like, trembling reaction."
The physicality Daniels brings to the table is a step in that direction.
What is so striking to watch in Daniels' play is his relentlessness, which is one trait that helps propel him above his fellow defensive ends in play, as he is by far the Packers' smallest player at the position at 6'0" and 300 pounds.
Of course, sacks aren't everything, and for Green Bay to truly get back to 2010 standards, its defense—especially the secondary—needs to prevent opposing quarterbacks from completing as many passes.
In 2013, the Packers rank 18th in passing yards allowed (1,733) and passing touchdowns allowed (12).
By comparison, the Seattle Seahawks, who also have 23 sacks on the year, have allowed 1,344 passing yards and six passing touchdowns.
However, keeping quarterbacks looking over their shoulders with a legitimate pass-rush threat goes a long way in limiting successful games by opponents.
Daniels' two sacks and three quarterback hurries in Monday's game against the Minnesota Vikings certainly did that, including a crucial one on a 3rd-and-long that forced a Minnesota punt.
Those two sacks combined were a loss of 13 yards for Ponder.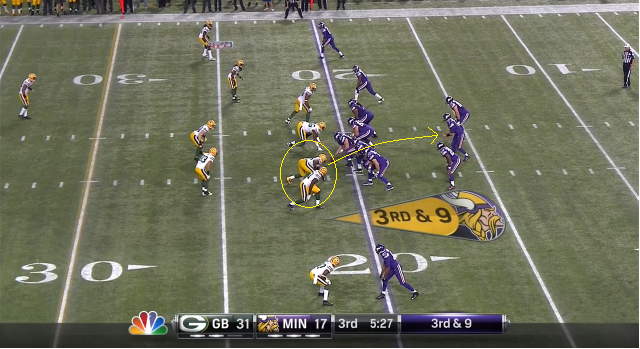 The 3rd-and-9 play on which Daniels had his second sack of Ponder can be seen above.
The Packers are operating out of a nickel sub-package, where, according to McCarthy via Wes Hodkiewicz of the Green Bay Press Gazette, Daniels has been especially effective against the pass.
Daniels easily beats left guard Charlie Johnson in a one-on-one matchup and drills Ponder.
Mike McCarthy was extremely pleased with Daniels' performance against the Vikings, saying he is one of the team's "most productive interior rushers right now," per Tyler Dunne of the Milwaukee Journal Sentinel.
McCarthy on Mike Daniels: Has made an impact in rush packages. One of most productive interior rushers right now.

— Tyler Dunne (@TyDunne) October 28, 2013
It's not hard to see why McCarthy and defensive coordinator Dom Capers will want to continue utilizing Daniels in rush packages, even when Matthews and Perry are healthy. According to Bryan Hall of Pro Football Focus, Daniels led the line in snaps versus Minnesota, with 32.
Moreover, the success that Daniels has had rushing from the right side so far in 2013 against three of the league's top-five ranked left tackles is nothing short of impressive, as the table below shows.
Mike Daniels vs. Top-Five Ranked Left Tackles

| | | | | |
| --- | --- | --- | --- | --- |
| | Sacks | QB Hits | QB Hurries | PFF Pass Rush Grade (0 is average) |
| Week 2 vs. Redskins' Trent Williams (No. 4) | 0 | 0 | 2 | 2.7 |
| Week 3 vs. Bengals' Andrew Whitworth (No. 2) | 1 | 0 | 1 | 0.6 |
| Week 7 vs. Browns' Joe Thomas (No. 3) | 1 | 1 | 3 | 1.9 |
Pro Football Focus
Daniels' effectiveness as a pass-rusher, so developed in just a year's time, will complement the ever-present threat of Matthews on the field, meaning that the right side looks to be stronger than ever for the Packers.
The Packers have three of the league's 10 most proficient passing offenses in yards per game, including the Dallas Cowboys (No. 6), the Philadelphia Eagles (No. 9) and the New York Giants (No. 10), ahead on the schedule.
That simply means Daniels will have even juicier opportunities to prove that, as a defensive end, he's as good as an outside linebacker in the Packers' 3-4 scheme in terms of rushing the passer.
This article is
What is the duplicate article?
Why is this article offensive?
Where is this article plagiarized from?
Why is this article poorly edited?

Green Bay Packers: Like this team?