NBA Trade Speculation: 1 Player from Every Team Who Should Be Traded in 2013-14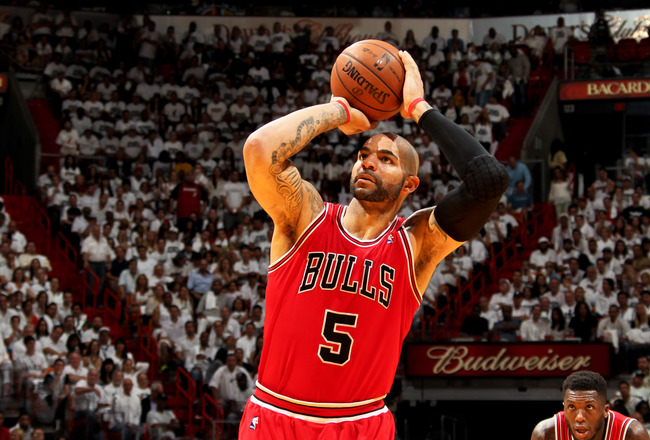 Sometimes, for whatever reason, a player just doesn't fit on his team.
He might be overpaid. His skills might be redundant. Maybe a younger player needs more room to develop. Or perhaps, it's just time for a new situation—a better fit.
Almost every team in the NBA has at least one of these misfit toys. Some have an island's worth.
After examining all 30 rosters, I've picked a player from each who isn't necessarily the most likely to be dealt, but the one who should be.
My selections were based on the contract details of the players and the makeup of the remainder of the team on which they currently find themselves.
All stats courtesy of Basketball-Reference unless otherwise noted.
Atlanta Hawks: Louis Williams, SG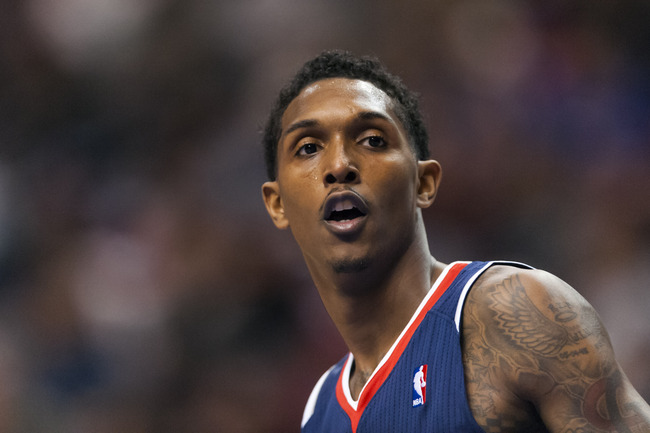 Contract: 2 years, $10.7 million
Team Needs: A full-size shooting guard
Why He Should Go
Actually, I think the Atlanta Hawks are pretty well-balanced, and I wouldn't be at all surprised if they stood pat all season long.
But if Dennis Schroeder and John Jenkins both show a lot of development before the trade deadline, moving Lou Williams could become feasible.
At 6'1", Williams is woefully undersized as a 2 but doesn't play at all like a 1.
A bigger wing who can more effectively defend shooting guards and small forwards in the east like Carmelo Anthony, Paul George and LeBron James could make the Hawks a top-four or -five team in their conference.
Boston Celtics: Rajon Rondo, PG
Contract: 2 years, $24.9 million
Team Needs: Flexibility
Why He Should Go
Do the Boston Celtics really believe Rajon Rondo will re-sign with the team after two seasons nowhere near contention?
And once free agency hits, will Boston be able to compete with the suitors who will inevitably be knocking on Rondo's door?
This is quite the conundrum for general manager Danny Ainge. He might be wise to look to the Utah Jazz model for some insight.
When the Jazz started to realize Deron Williams was unlikely to re-sign, they flipped him for Derrick Favors and a draft pick that wound up being Enes Kanter.
The Celtics have the potential to land a similar haul in exchange for Rondo—something that would put them in a much better position for the future.
Brooklyn Nets: Joe Johnson, SG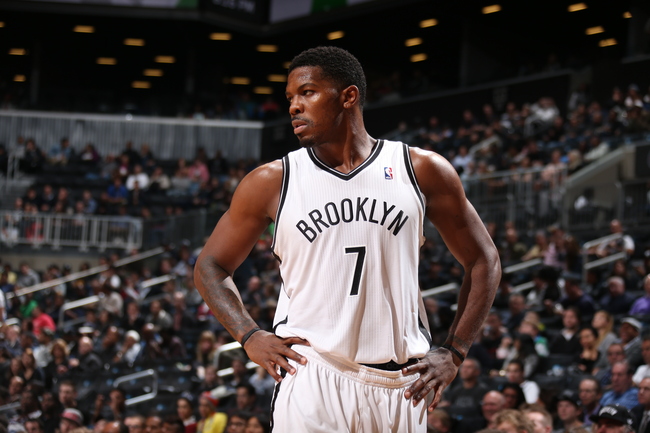 Contract: 3 years, $69.5 million
Team Needs: Youth
Why He Should Go
Like the Hawks, I actually think the Brooklyn Nets are in great shape and that they really don't need to make a deal this season.
But if they do move someone, it has to be Joe Johnson, right?
Can you believe he's the highest-paid player on this star-studded roster? The Nets probably don't need more depth, but the amount of money they have tied up in Johnson could pay at least three, maybe even four, quality players. That's tough to justify for a guy who might be the fifth-best player on the team.
It might be tough to find a taker for his massive contract, but the Nets could use some younger assets to develop underneath the title-or-bust core.
A perfect example of that is the Spurs with Kawhi Leonard and Danny Green.
Charlotte Bobcats: Ben Gordon, SG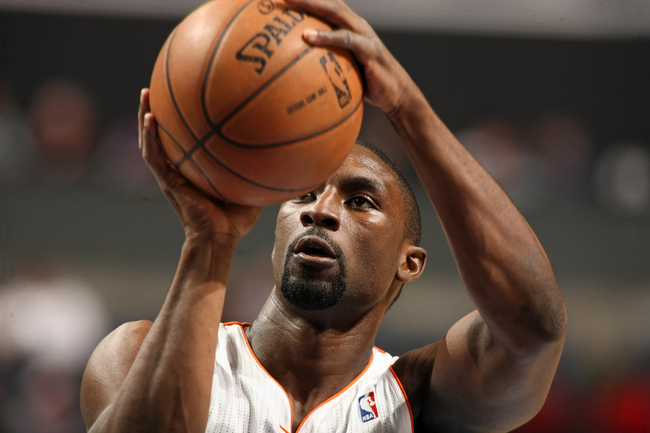 Contract: 1 year, $13.2 million
Team Needs: Draft picks
Why He Should Go
I might be the only person on the planet who thinks this, but I'm going to say it anyway: Ben Gordon might be slightly underrated—at least offensively.
He's a career 40.4 percent three-point shooter who's averaged 15.9 points a game during his career. Around the trade deadline, a fringe contender in need of outside shooting may be willing to rent his expiring contract for the remainder of the year.
And if the Charlotte Bobcats had a draft pick dangled in front of them, they'd have to think about biting. They already have protected 2014 first-round picks coming from the Portland Trail Blazers and Detroit Pistons. A third could be enough of a package to move into the top three to five picks if they don't land there in the lottery.
Chicago Bulls: Carlos Boozer, PF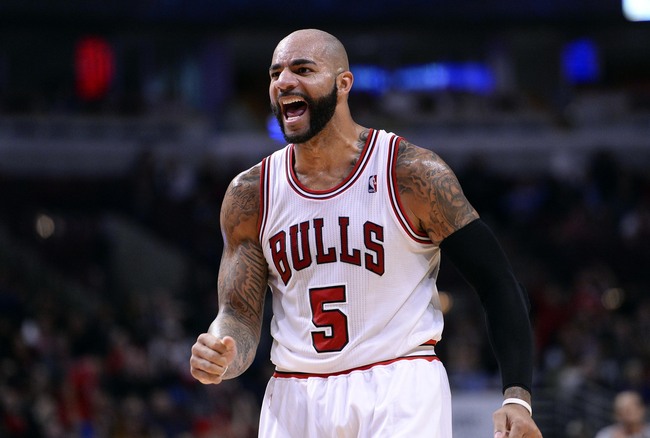 Contract: 2 years, $32.1 million
Team Needs: Backup point guard
Why He Should Go
Carlos Boozer is a productive player. He collects plenty of rebounds and scores plenty of points. But he's also a prime example of basic stats not telling the whole story.
The Chicago Bulls were 8.5 points per 100 possessions better while Boozer was on the bench last season. It's tough to pinpoint the reasons for the drop-off, but Taj Gibson's defense has to be part of the equation.
The combination of Gibson and Joakim Noah is one of the toughest in the league. Chicago was over 10 points better while the two shared the floor together.
The problem here is that Boozer's contract would to be tough to move and the Bulls don't have too many needs right now.
It might be nice to pick up a pass-first point guard to play behind Derrick Rose, who's more of a scorer and coming off an ACL recovery.
Cleveland Cavaliers: Anderson Varejao, C/PF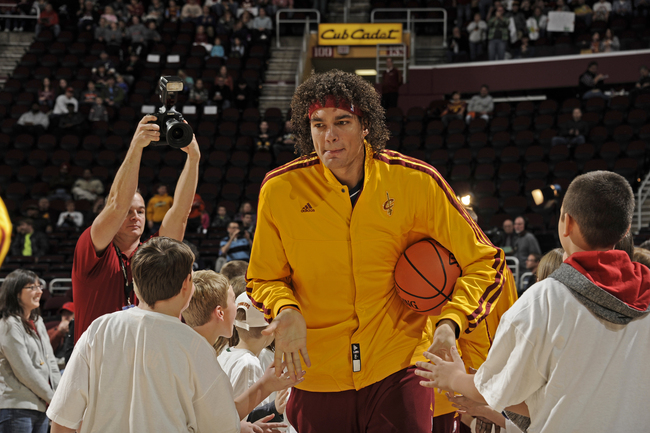 Contract: 2 years, $18.7 million (team option on the second year)
Team Needs: Small forward
Why He Should Go
Anderson Varejao's injury history is certainly robust. Over the last three seasons, he's played in a whopping 81 games. That alone would be enough of a reason for some organizations to try trading him.
And despite all the missed games, the Cleveland Cavaliers might be able to get a decent return for Varejao. Over those 81 games, he averaged 11.7 rebounds and 11.2 points. That kind of production might be good enough for some team to roll the dice on his health.
If the Cavs could flip him for a legitimate starter at small forward, they should pull the trigger. Right now, two of the players battling for that spot are Earl Clark and Anthony Bennett—both natural power forwards.
Dallas Mavericks: Shawn Marion, SF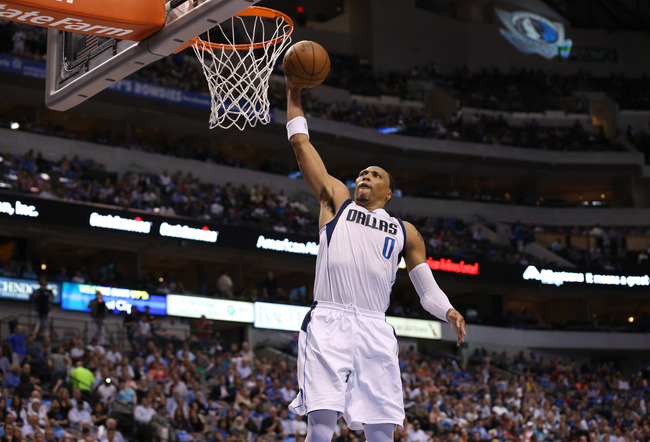 Contract: 1 year, $9 million
Team Needs: Interior defense
Why He Should Go
The Dallas Mavericks were another team for which it was difficult to select someone who should be dealt. The starting five of Jose Calderon, Monta Ellis, Shawn Marion, Dirk Nowitzki and Samuel Dalembert is very balanced and, I think, quite underrated.
One potential hole might be center—where Dalembert has had some injury problems recently. If he can play all 82 games, great. We saw in 2011 what a good rim-protector can do for Nowitzki when the Mavericks won a title with Tyson Chandler.
So if Dalembert goes down, flipping Marion's expired contract for another big might make sense. Vince Carter or Jae Crowder may be able to fill Marion's spot in the starting lineup if that were to happen.
Denver Nuggets: Andre Miller, PG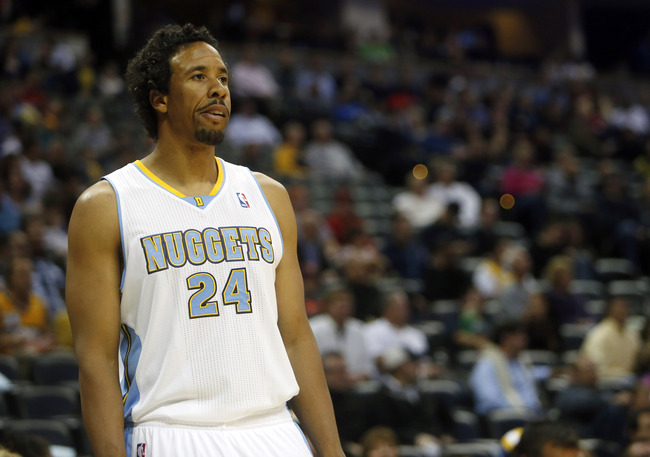 Contract: 2 years, $9.6 million
Team Needs: Wing defender
Why He Should Go
The Nuggets have Ty Lawson and Nate Robinson—two very productive point guards on the right side of 30 who are also too small to play the 2.
So, what's the point in keeping the 37-year-old Andre Miller? Granted, the guy can still ball in his advanced years, but Denver has a need more pressing than a third point guard.
Thanks to Wilson Chandler, losing Andre Iguodala's perimeter defense isn't going to hurt the Nuggets as bad as many think, but they should still look at some way to replace it.
Detroit Pistons: Rodney Stuckey, SG/PG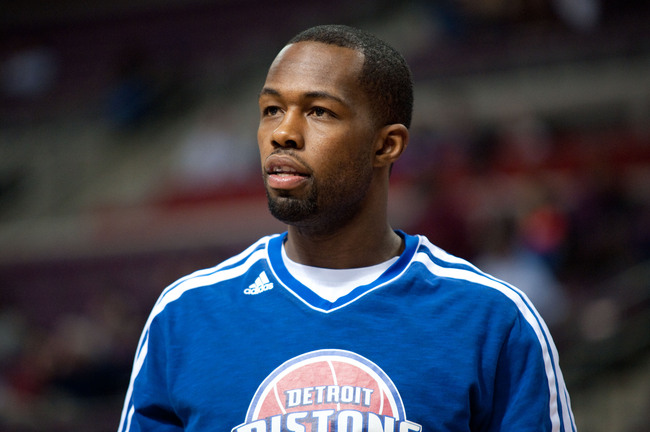 Contract: 1 year, $8.5 million
Team Needs: Spacing
Why He Should Go
The Pistons are already going to have issues with spacing given their frontcourt of Josh Smith, Greg Monroe and Andre Drummond. Smith is the most capable shooter of the bunch, and he shot a measly 31.6 percent beyond 16 feet last season.
If Rodney Stuckey is the starting shooting guard, things will get even tighter. He shot just 30.2 percent from three-point range in 2012-13.
So moving his expiring contract for another shooter makes sense.
Golden State Warriors: David Lee, PF/C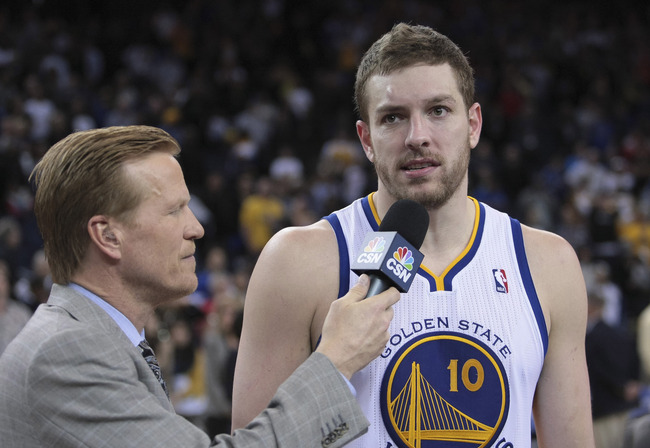 Contract: 3 years, $44.4 million
Team Needs: Backup center
Why He Should Go
Of all the teams in the NBA, this might be the one least in need of a trade.
There is one very specific circumstance that I think might warrant dealing David Lee, and it would require two things: another injury to Andrew Bogut and further development of Harrison Barnes as a 4.
While Lee was hurt during the playoffs last season, Barnes excelled in his place, as he averaged 16.1 points and 6.4 rebounds in 12 games.
I wouldn't mark this as likely, though. If the Golden State Warriors' center stays healthy, I think a starting five of Stephen Curry, Andre Iguodala, Barnes, Lee and Bogut could contend for a title.
Houston Rockets: Omer Asik, C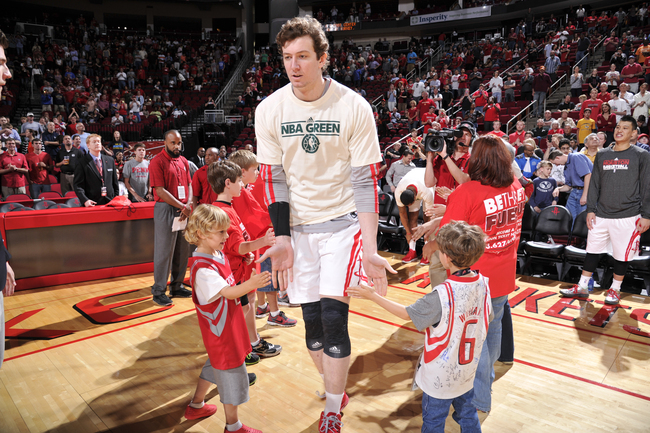 Contract: 2 years, $16.7 million
Team Needs: Stretch 4
Why He Should Go
Omer Asik has been the most talked-about player in the rumor mill since the Houston Rockets signed Dwight Howard this summer.
Asik doesn't want to be a bench player, and spacing could become an issue if Houston tries to play its two eight-figure centers together.
Swapping him for a power forward who can shoot would greatly benefit the Rockets.
But with how well Omri Casspi played in that role during the preseason, a deal involving Asik is looking a bit less likely these days.
Indiana Pacers: Danny Granger, SF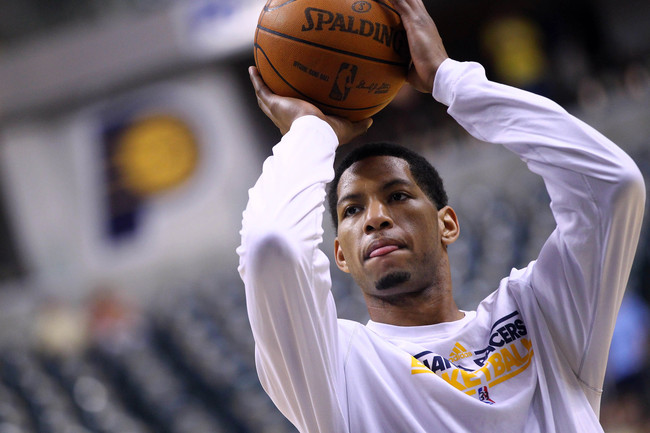 Contract: 1 year, $14 million
Team Needs: Flexibility
Why He Should Go
I was initially on the keep-Danny-Granger-in-Indiana side of this argument, but the preseason has changed my feelings. In five games, he shot 31.8 percent from the field, and now reports from The Associated Press (via ESPN) and several other outlets have him missing the first three weeks of the season with yet another injury—this time a calf.
It's a tough thing to watch, but this has happened several times in the NBA. Often, when a star's health starts to sour, there isn't much that can be done to turn it around. Look at Brandon Roy, Tracy McGrady or Anfernee Hardaway. I hope Granger can buck the trend like Grant Hill, but I wouldn't bet any cap space on it—especially with Lance Stephenson due for an extension.
Los Angeles Clippers: DeAndre Jordan, C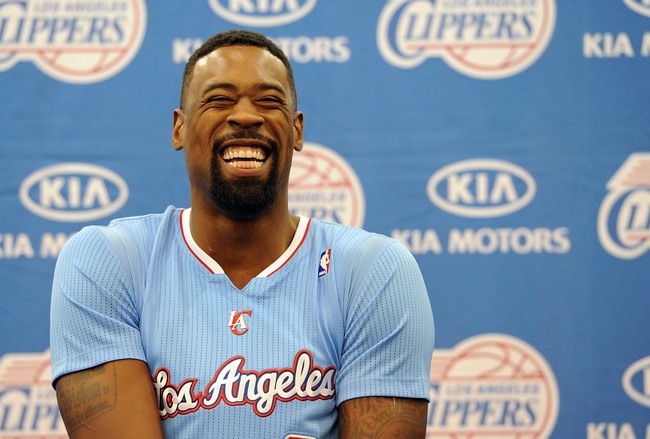 Contract: 2 years, $22.4 million
Team Needs: Big man who can hit free throws
Why He Should Go
The Los Angeles Clippers are pretty set top to bottom. I don't see any moves coming from them this season, but you never know in the NBA.
If there's one guy who might not be completely safe around the trade deadline, it's probably DeAndre Jordan.
He's a great athlete and collects highlight plays on both ends of the floor, but he has yet to round out his game through five seasons in the league.
Perhaps his biggest issue is free-throw shooting. Last season, he hit 38.6 percent of his attempts, which made it difficult to keep him on the floor in late-game situations.
Los Angeles Lakers: Pau Gasol, C/PF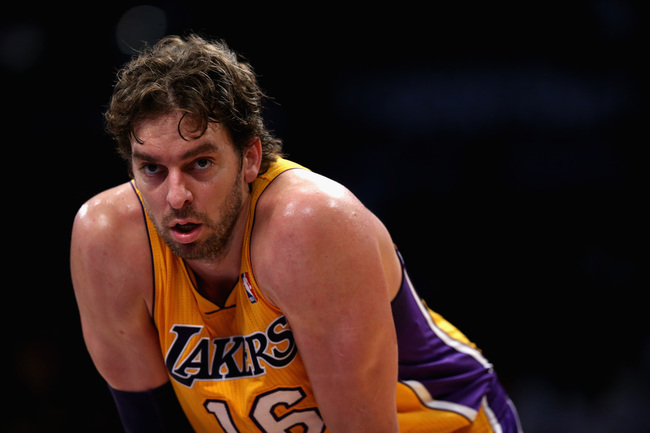 Contract: 1 year, $19.3 million
Team Needs: Direction
Why He Should Go
Diehard fans may still have hope for the 2013-14 Los Angeles Lakers, but it's hard for me to see this group contending. It's even more difficult to see what the plan is beyond this season.
The only fully guaranteed contract on the books after next summer is that of soon-to-be 40-year-old point guard Steve Nash. And there really aren't any assets in the form of young talent or draft picks available either.
Pau Gasol is still good enough to net the team some of those things if it were to deal him.
Memphis Grizzlies: Zach Randolph, PF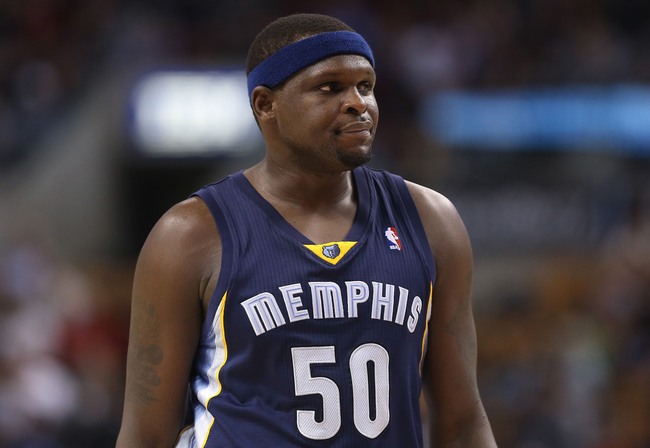 Contract: 2 years, $35.2 million
Team Needs: Flexibility
Why He Should Go
I had a hard time deciding between Zach Randolph and Tayshaun Prince on this slide. But the notorious stinginess of the Memphis Grizzlies pushed me toward Randolph.
Memphis is a penny-pinching franchise—if Ed Davis develops and moving Randolph presents itself as a money-saving move, no one would be surprised to see it happen.
Miami Heat: Chris Bosh, PF/C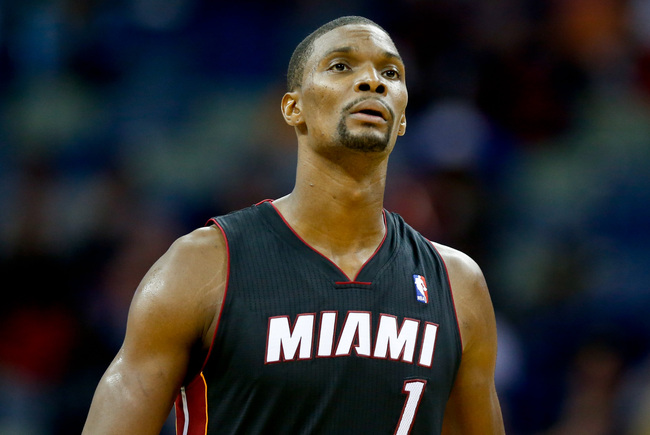 Contract: 3 years, $61.8 million (player option on the second and third years)
Team Needs: Center—maybe?
Why He Should Go
The Miami Heat don't really need anything—especially if Greg Oden continues to progress the way he has throughout training camp.
So for this slide, I decided to go a little crazy.
Let's say bears don't do their business in the woods, Miami struggles (and by "struggles," I mean doesn't completely run away in the East) in the first half of the season, and Michael Beasley starts to live up to his top-two-pick status.
If all that happens, there could be a very long shot that the Heat explore deals involving Chris Bosh.
Right now, his contract takes about one-third of Miami's cap space for the next three seasons (LeBron James and Dwyane Wade take the other two-thirds). Moving all that money might make it easier for Miami to build something that would last beyond this era.
Milwaukee Bucks: Caron Butler, SF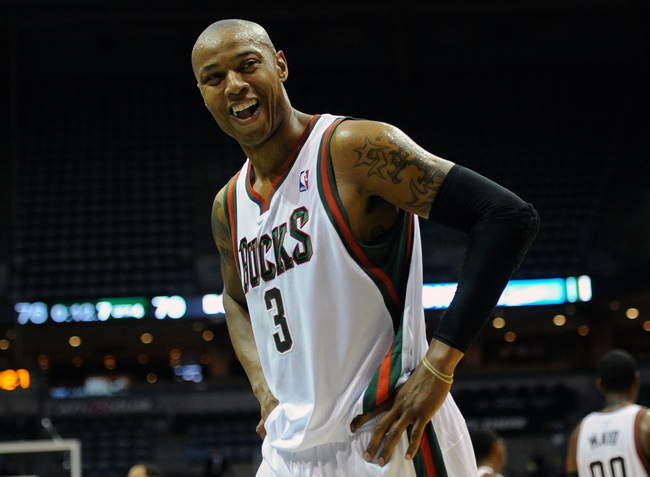 Contract: 1 year, $8 million
Team Needs: Draft picks
Why He Should Go
The Milwaukee Bucks seem determined to hang right around that seven-to-nine range in the Eastern Conference. They could have opted for a rebuild post-Brandon Jennings and Monta Ellis. But instead, they doubled down and added Brandon Knight, O.J. Mayo and Caron Butler while re-signing Larry Sanders.
They'll compete for a playoff spot this year, but not much more. Milwaukee needs to start gearing toward the future (the Knight and Sanders moves kind of do that), and flipping Butler's expiring contract for a future draft pick could help.
Minnesota Timberwolves: Derrick Williams, PF/SF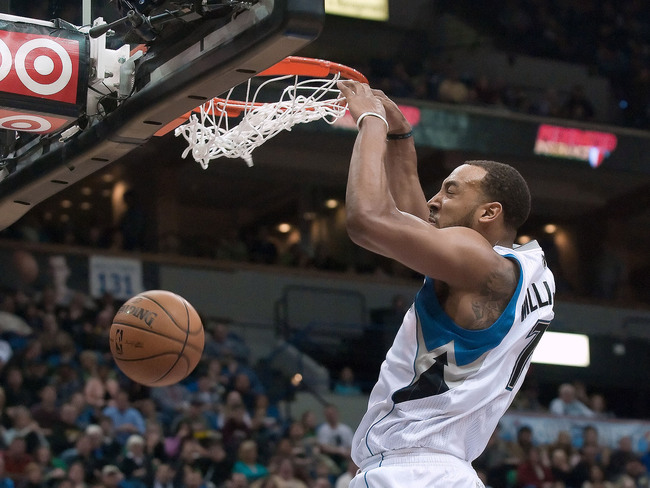 Contract: 3 years, $20.1 million
Team Needs: Statewide petition begging Kevin Love to stay
Why He Should Go
The number of college power forwards who've either failed or come darn close in trying to become an NBA small forward or even combo forward just keeps growing.
But put Derrick Williams in that second category—those we can't officially deem busts yet. Williams has played just well enough to still be intriguing. And if he can be swapped for some young assets or draft picks that will encourage Kevin Love to re-sign in 2015, Minnesota would have consider it.
New Orleans Pelicans: Austin Rivers, SG/PG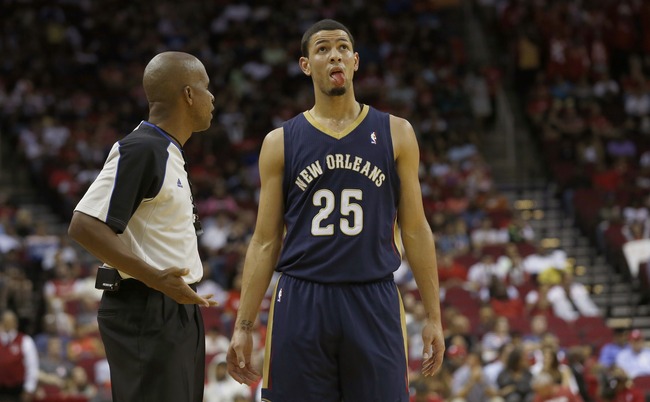 Contract: 4 years, $12.1 million (team option on the third year)
Team Needs: Small forward
Why He Should Go
Austin Rivers really struggled during his rookie season. Was there enough emphasis in that sentence? Probably not.
Maybe numbers will help. There were three players who averaged at least 20 minutes a game while posting a player efficiency rating (PER) under six last season: Mickael Pietrus, Quentin Richardson and Austin Rivers. And since Pietrus and Richardson played a combined 20 games, they really don't even qualify.
That puts Rivers in a league of his own—and it's probably not one in which he wants to be alone.
So how do the New Orleans Pelicans justify hanging on to such an ineffective combo guard when they already have Tyreke Evans, Eric Gordon and Jrue Holiday? Well, I guess not being able to get rid of him would count as such justification.
If they somehow find a taker (probably by combining Rivers with someone else), the Pelicans could use a traditional small forward.
I actually like the idea of Evans at the 3 and on the floor with Holiday and Gordon, but that's not looking very likely.
New York Knicks: Amar'e Stoudemire, PF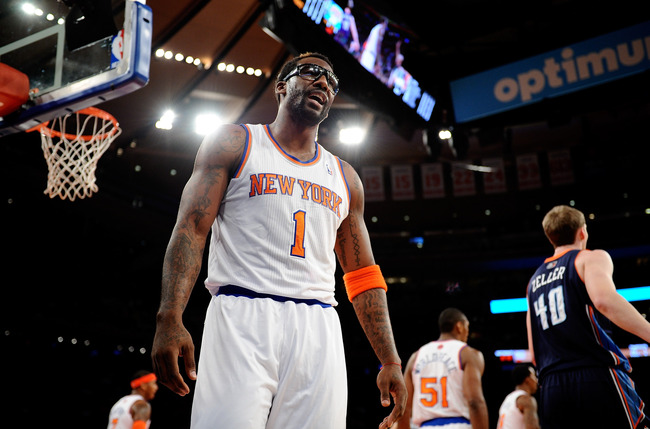 Contract: 2 years, $45.1 million
Team Needs: A new rule allowing lineups of six players
Why He Should Go
New York Knicks coach Mike Woodson has the unenviable task of concocting a rotation that keeps upward of 11 players anticipating a role happy. And four of those players are making over $11 million a year.
Moving the oft-injured Amar'e Stoudemire would create space on the cap sheet and in the rotation.
The trick would be finding someone willing to take on a power forward with such a scary injury history. It shouldn't be impossible, but it will be hard.
He's appeared in only 76 games over the last two seasons, but he was quietly effective as a reserve last season. He averaged 14.2 points in less than 24 minutes a game and posted a PER of 22.1.
Oklahoma City Thunder: Kendrick Perkins, C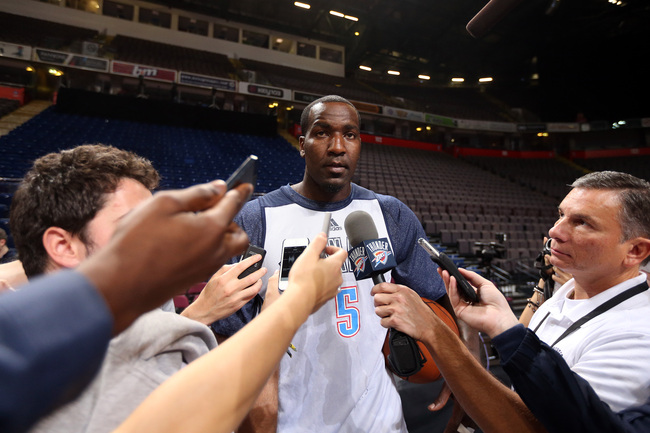 Contract: 2 years, $18.1 million
Team Needs: Third scorer
Why He Should Go
I would be shocked if anyone really expected me to provide an explanation on this one. But if you insist, well, here goes.
Offensive rating (ORtg) estimates the number of points a player produces per 100 possessions. Kendrick Perkins' ORtg was 94 in 2012-13. For a little perspective—four players in the league averaged over 25 minutes and posted an ORtg under 95.
Those four players were Andrea Bargnani, Byron Mullens, Avery Bradley and Perkins. And the lowest PER from that group? Perkins' 8.2.
Whatever he provides defensively—which isn't much these days—doesn't even begin to approach making up for how detrimental he is for the offense.
The Oklahoma City Thunder should move heaven and earth to find a new home for Perkins. If by some miracle they can convince someone to take on this contract in exchange for a guy who can hit a shot every now and then, the Thunder would be much better.
Orlando Magic: Arron Afflalo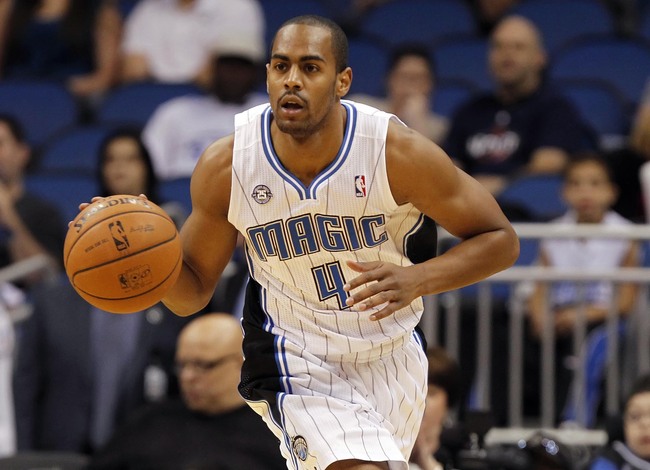 Contract: 3 years, $23.3 million (player option on the third year)
Team Needs: Flexibility
Why He Should Go
The Magic have kick-started a rebuilding in Orlando, but they're still a couple moves away from a truly clean slate.
Arron Afflalo, Glen Davis and Jameer Nelson are all on multiyear deals and set to make a combined $52.9 million over the next three seasons.
I'm sure Orlando would be thrilled to unload all three, but that might not be possible.
The one who should have the most value around the league also happens to be the one the Magic need to move the most. Afflalo is a career 38.3 percent three-point shooter, a solid athlete and still under 30.
He also plays the position of Rookie of the Year favorite Victor Oladipo. The rookie needs to be in the lineup right away, and splitting minutes with Afflalo could slightly stunt his development.
Philadelphia 76ers: Thaddeus Young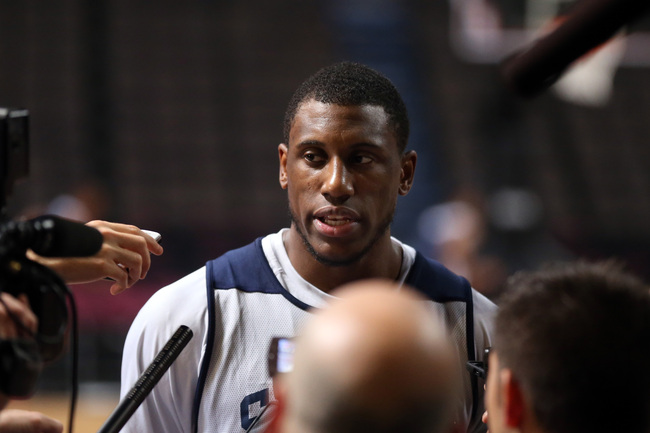 Contract: 3 years, $27.7 million
Team Needs: Time machine set for the future
Why He Should Go
For Thaddeus Young's sake, the Philadelphia 76ers need to move him to a better situation. In Philadelphia, he has to be the best player on the most obviously tanking team I've ever seen assembled.
He'll probably put up some big numbers in that role, but it just seems wrong for the talents of such a solid slashing 4 to go to waste.
He makes the most sense as a fourth or fifth option on a contender.
Phoenix Suns: Goran Dragic, PG/SG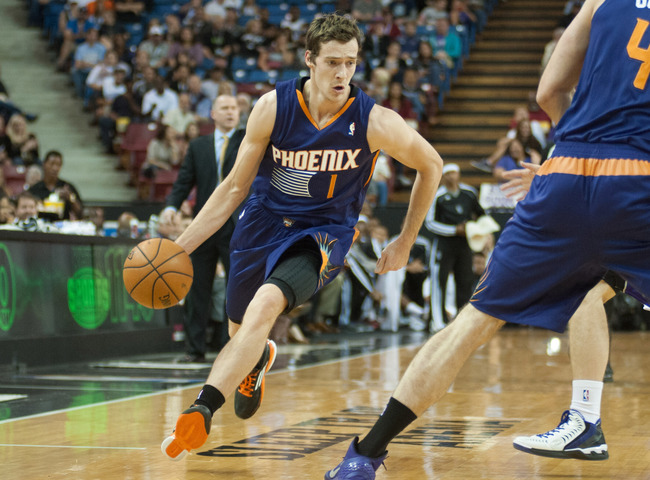 Contract: 3 years, $22.5 million
Team Needs: Draft picks
Why He Should Go
Trading Marcin Gortat, Shannon Brown and Kendall Marshall to the Washington Wizards was a solid move that put the Phoenix Suns a little further down their rebuilding path.
The next step might be moving Goran Dragic—especially if Eric Bledsoe shows the ability to thrive as the starting 1.
If the the Suns can pair Bledsoe with a solid pick from the 2014 draft class, Phoenix will be in good shape.
Portland Trail Blazers: LaMarcus Aldridge, PF/C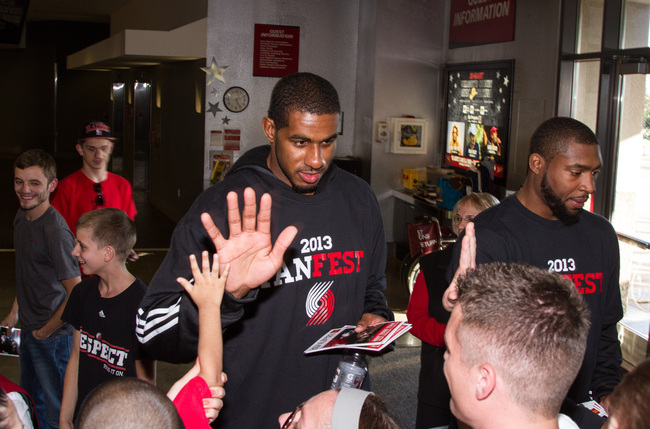 Contract: 2 years, $30.6 million
Team Needs: The 76ers' time machine
Why He Should Go
The Portland Trail Blazers are another team that doesn't need to make a move right now. They have a very solid, balanced starting five, and the bench got much deeper this past offseason.
All this group really needs is a little time together.
However, if things take too long to develop, LaMarcus Aldridge could be right back in trade rumors as he has been for the last couple years.
If a pick from the 2014 draft class is on the table, moving Aldridge might be worth it.
Sacramento Kings: Jimmer Fredette, PG/SG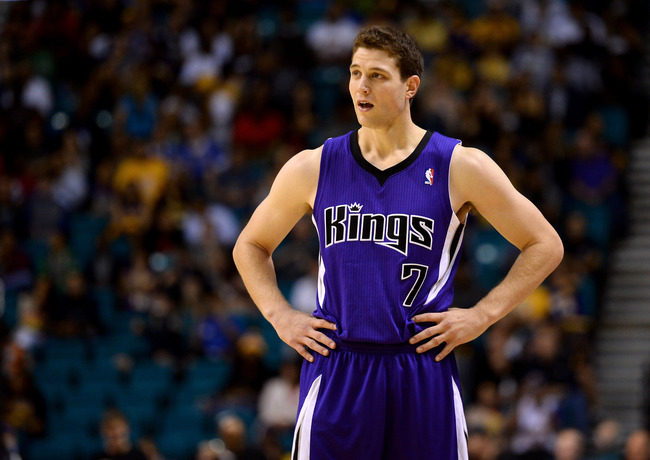 Contract: 3 years, $10 million (team option on the second year)
Team Needs: Small forward
Why He Should Go:
Jimmer Fredette could not have landed in a worse situation coming out of college. Seven games into his rookie season, the only guy in the organization who believed in him (coach Paul Westphal) was fired and replaced by Keith Smart.
From then on, Fredette had to deal with having one of the most inconsistent and inexplicable roles in the NBA. Regardless of solid production or performance on either end of the floor, Fredette never knew if he'd play five minutes, 20 or even none from night to night under Smart.
Even still, he managed to somehow find a rhythm and knock down 41.7 percent of his three-point attempts last season.
In the right situation, Fredette could be a very dangerous offensive threat.
San Antonio Spurs: Boris Diaw, PF/SF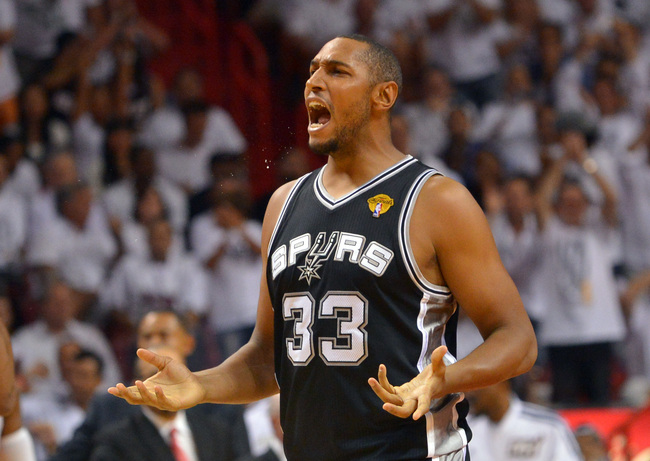 Contract: 1 year, $4.7 million
Team Needs: That time machine, only set for the past this time
Why He Should Go
If I were a big San Antonio Spurs fan, I'd still be stewing over the end of Game 6 of the 2013 NBA Finals. How on earth does the best coach in the NBA not have Tim Duncan in at the end of the game?!
If Gregg Popovich could rewind to right before those fateful offensive rebounds San Antonio gave up, I have to believe he'd have Duncan on the floor.
But there's no use in dwelling on the past. If Danny Green and Kawhi Leonard continue to develop, the Spurs could very well be back in the finals this year with the team as it's currently constructed.
The only moves the Spurs might make would be minor tweaks, and there might be some other organization out there interested in Boris Diaw's expiring contract.
Toronto Raptors: Rudy Gay, SF/SG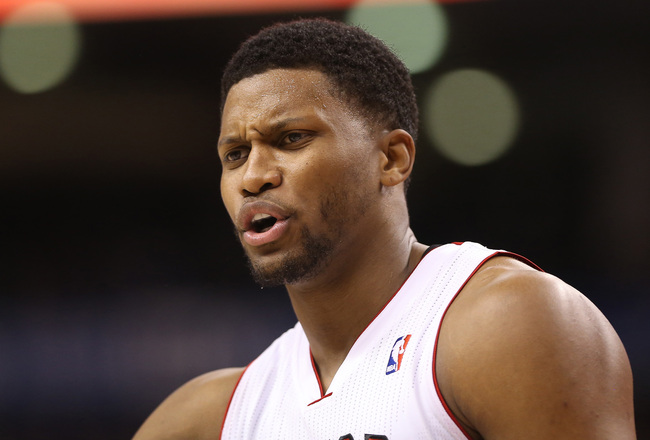 Contract: 2 years, $37.2 million
Team Needs: Andrew Wiggins
Why He Should Go
Can anyone explain to me why the Toronto Raptors are trying to crash the playoff party as a seventh or eighth seed? Seriously, anyone?
Why would Toronto scratch and claw through the regular season, only to get crushed by the Heat, Bulls or Indiana Pacers in the first round of the postseason, when Canadian superstar Andrew Wiggins will be in the 2014 draft class?
The answer to that question seems pretty obvious to me, but apparently not to the Raptors.
Maybe a less-than-stellar start to the season would get Toronto on the same page with me and on the track toward "Riggin' for Wiggins." A step in that direction would be moving Rudy Gay to an actual contender.
Utah Jazz: Andris Biedrins, C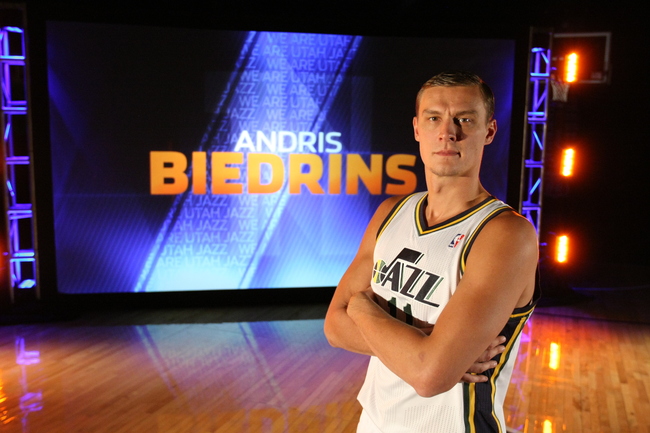 Contract: 1 year, $9 million
Team Needs: Second scorer
Why He Should Go
No team needs are critical in Utah this season, because it's obviously not playing for 2013-14. Even still, if the Jazz can add more young assets loaded with potential, they should.
And the expiring contracts Utah has could help it do that.
Andris Biedrins is probably the most likely to go, since fellow expirings Richard Jefferson, Marvin Williams and Brandon Rush are likely to have spots in the rotation.
Washington Wizards: Trevor Ariza, SF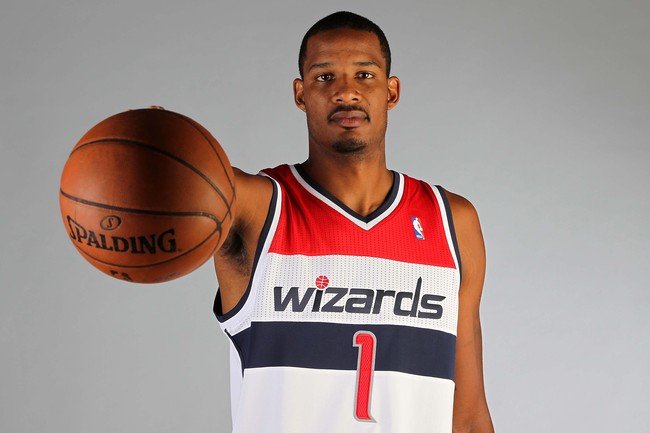 Contract: 1 year, $7.7 million
Team Needs: Clean bill of health
Why He Should Go
It's no secret that the Wizards were a better team when John Wall was healthy last season. Washington scored 6.9 more points per 100 possessions when he was on the floor.
What's not as well-known is how much better the Wizards were when Martell Webster was playing. Three of Washington's top five two-man combinations in terms of plus/minus included Webster.
His outside shooting is a perfect complement for the slashing and playmaking of Wall, and he should be the starting 3. Problem is, there's a bit of a logjam there with Trevor Ariza and No. 3 pick Otto Porter also on the roster.
Ariza's expiring contract could be attractive to a team looking for more cap space in 2014.
For 140-character pearls of wisdom from Bleacher Report's Andy Bailey, follow him on Twitter @AndrewDBailey.
Keep Reading