Manchester United's comeback win against Stoke was like watching a Sir Alex Ferguson side of old. David Moyes' men weren't convincing on Saturday, but their rally in the second half went some way to re-establishing the team's identity.
Man United were poor in the opening 45 minutes, but their character in coming from behind showed that there is life in this side.
Winning the Hard Way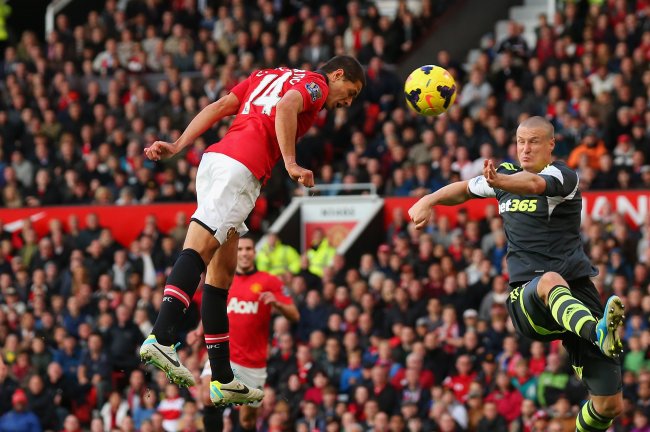 /Getty Images
Javier Hernandez's winner glossed over what was another disappointing showing from United at Old Trafford.
The three points were certainly earned the hard way.
There was something eerily familiar about United's comeback, however. As Hernandez rose to meet an excellent cross from Patrice Evra, it seemed as if the United of old were back.
Hernandez's goal, shown in the GIF below, was typical of the Mexican and typical of United.
When Wayne Rooney equalised to make it 2-2, the winner that followed was inevitable. Skip to 3:10 in the video below to see just how the atmosphere changed with Rooney's leveler.
At 4:04, after Hernandez's winner, the commentator exclaimed: "Now that is more like Manchester United!" He couldn't have said it better.
It was a comeback that re-established the identity of this Manchester United side.
The Passion Was Clear to See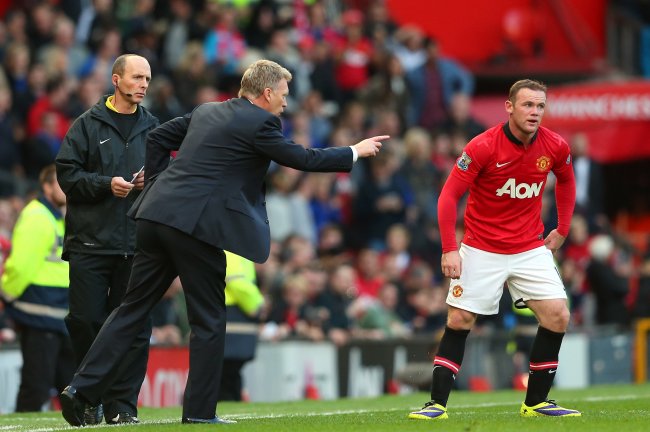 /Getty Images
Despite poor performances in the early stages of this season, there's no doubt that United can turn things around.
David Moyes' reaction to the winning goal, captured brilliantly by ESPN, illustrated the passion felt inside Old Trafford on Saturday…
David Moyes really kept his cool for that Javier Hernandez winner. #MUFC pic.twitter.com/N0DK2Y4fS7

— ESPN.co.uk (@ESPNUK) October 26, 2013
It wasn't just Moyes who showed his passion, though. The Scot was keen to point out the importance of the fans in an interview with the BBC after the game:
I thought with 15 to 20 minutes to go, the supporters were terrific—they drove the team on, and they played a big part in getting the result. I thought in the end, we had to go for it. I thought we did a lot of good things but an awful lot of really poor things that put us in the situation we were in.
Moyes hit the nail on the head. The supporters were magnificent and pushed the team on, despite a flat performance in the first half.
That level of support is what you come to expect of United fans, not the boos that accompanied Nani's substitution.
Key Players Contributed When it Mattered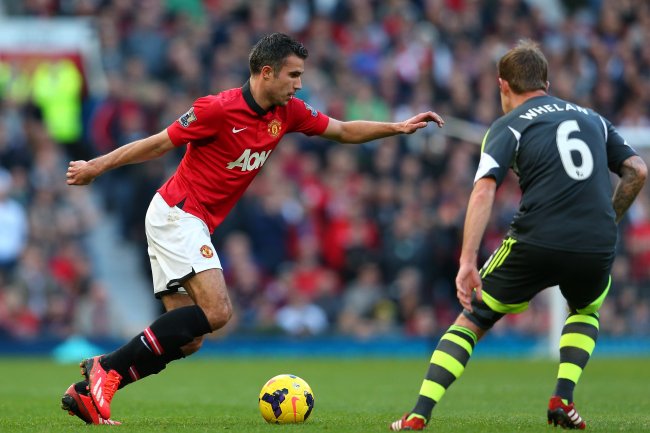 /Getty Images
Without doubt, it was United's attacking trio of van Persie, Rooney and Hernandez who deserved to take the plaudits after the win against Stoke.
Hernandez's winner was his first Premier League goal of the season. The Mexican has always been one to attract an interesting fact or two, and this corker from Squawka is no different…
Javier Hernandez scored a Premier League goal once every 95.4 mins last season. It took him just 100 mins to get his first goal this season.

— Squawka Football (@Squawka) October 26, 2013
Wayne Rooney continued his fine form this season with an excellent headed goal from Robin van Persie's delivery, while the Dutchman scored to tie the scores at 1-1.
In his post-match interview, van Persie hailed the input of the "fantastic" Javier Hernandez. Skip to 1:03 in the video to hear his thoughts on the Mexican...
For United to challenge for silverware this season, the goals from the aforementioned trio will be crucial. With all three registering against Stoke, there were signs that the attacking flair is returning.
Looking Ahead
What can Manchester United achieve this season?
Let's not get ahead of ourselves, because there were still some worrying signs against Stoke. The visitors could have scored three or four goals on another day.
Moyes and his players must use this comeback win to kick-start the season. As the team continues to gel and Moyes progressively adapts to his new environment, we will begin to see a team with a Manchester United identity.
How far that team can go this season, however, is another matter.
With a win against Stoke, United looked back to their old ways. They must kick-on now and build on the win.
Let's see United cruise to wins against the likes of Stoke, rather than come from behind. When that ruthless streak returns, Manchester United's identity will be fully re-established.