Breeders' Cup Picks: Odds and Predictions for Saturday's Classic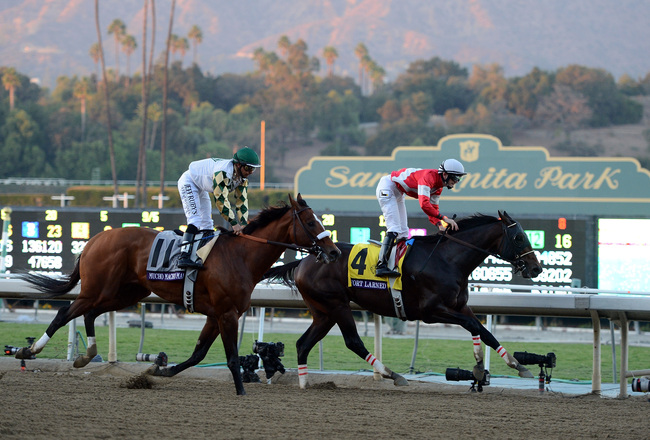 The Breeders' Cup Classic is arguably the biggest race in American horse racing—and one of the biggest in the entire world. This year's field is also one of the strongest in recent memory, and the differences between the race's best and worst horses is nearly indiscernible.
The post positions for the Nov. 2 showdown have been set, and official morning line odds were soon to follow. Because of all that, the official race program is finally up for your reading pleasure.
With the odds set, and the positions drawn, we can finally begin to make predictions as to how the race will unfold. Here, we'll do just that, starting with the longest shot on the board, Planteur, and ending with the morning line favorite, Game on Dude.
Odds for the race come from the Breeders' Cup Classic's official website.
Prior results come from Horseracingnation.com, unless otherwise noted.
Planteur
Odds: 20/1
Notable Wins: 2013 Winter Hill Stakes (G3), 2013 Winter Derby Trial Stakes, 2011 Prix Ganay (G1)
Prediction: Like any other non-American participant, it can be tough to gauge what a horse like Planteur has to offer.
That said, this six-year-old has some impressive bloodlines. On his mother's side, Planteur's lines trace back far enough to include Secretariat, while on the father's side, his family lineage includes near-Triple-Crown winner Northern Dancer—via horseracingnation.com.
Unfortunately for his owner, Sheikh Joaan Bin Hamad Al Thani, this hasn't translated into many major victories. The six-year-old owns a career record of 7:6:2 with career earnings totaling $3.5 million.
Perhaps more impressive than his victories in Britain and France are the two third-place finishes in the 2012 and 2013 versions of the Dubai World Cup. The $10 million race is easily the toughest field in any given season, and his two third-place finishes there are hard to overlook.
Even so, Planteur has never raced in the United States and has never raced on a dirt track—only three races on poly. Additionally, while we've made mention of his impressive finishes in the Dubai World Cup, it's important to note that the field in this year's Breeders' Cup Classic is significantly stronger than that of the World Cup in 2013 or 2012.
Stranger things have happened, but Planteur is likely a middle to back of the pack finisher in the Classic.
Last Gunfighter
Odds: 20/1
Notable Wins: 2013 Philip H. Iselin Stakes (G3), 2013 Pimlico Special Stakes (G3), 2013 Excelsior Stakes (G3)
Prediction: Since breaking his maiden back on Oct. 12, 2012, Last Gunfighter has been on an absolute tear. The four-year-old colt owns victories in seven of his last nine races, including victories in the Philip H. Iseln Stakes, and the Pimlico Special Stakes.
Last Gunfighter's most recent race was a fifth-place finish in the 2013 Jockey Club Gold Cup. The race was his toughest to date, and it shows a logical progression toward a race like the Classic. Aside from this single race, though, there isn't much in Last Gunfighter's resume.
The son of First Samurai has run numerous races on dirt surfaces, but none over the dirt track at Santa Anita, and none on a California track in general.
Even the Chad Brown-Javier Castellano connections won't be enough to save this inexperienced Colt here. Should be a 10th-12th-place finisher.
Moreno
Odds: 15/1
Notable Wins: 2013 Dwyer (G2)
Prediction: Moreno is going to benefit majorly from Joseph Talamo picking up the mount for Saturday's race. Talamo is a young, aggressive West-Coast rider who will have very little trouble getting Moreno out near the front of the pack.
Unfortunately for Moreno, his early speed could become an issue in this race with so many horses looking to gain an early lead.
With speedsters like Game on Dude and Fort Larned looking to stake their own claim to the lead, Moreno will likely burn himself out. As we've seen with Moreno in the past, he tends to have a difficult time rating his speed in the early stages of a race, and tends to give way to closers—e.g. 2013 Travers Stakes.
On a fast track like Santa Anita, Moreno's issues containing his early speed should lead to a major disappointment from the three-year-old colt. Expect a finish near the bottom of the pack.
Paynter
Odds: 12/1
Notable Wins: 2013 Haskell Invitational (G1)
Prediction: Don't be fooled by the lack of major wins on Paynter's resume, this four-year-old is a legitimate threat in this year's Classic. Paynter battled his way back from an illness that nearly cost him his life, and has nearly regained his pre-illness form—via LATimes.com.
If for no other reason, you should be interested in Paynter strictly because of his bloodlines. His father, Awesome Again, is a former Classic winner, while his mother's sister, Tiznow, is a two-time winner of the Classic.
As far as on-track performance goes, Paynter is tough to nail down. Because of the illness referenced above, Paynter missed nearly a year of racing. Prior to the illness, Paynter was a runner-up in the Belmont and winner of the Grade 1 Haskell Invitational.
Since returning, Paynter has only run a handful of races, but second place finishes in the San Diego Handicap (G2), and Awesome Again Stakes (G1) are nothing to scoff at. Ultimately, Paynter looks to be on his way back to stardom, but he'll be up against the best competition of his career.
It may be an ambitious prediction for Paynter, but a third-place finish seems fitting for the four-year-old.
Flat out
Odds: 12/1
Notable Wins: 2013 Suburban Handicap (G2), 2012 Jockey Club Gold Cup (G1), 2011 Jockey Club Gold Cup (G1)
Prediction: Flat Out's best racing is behind him, however, at seven years old, that's something to be expected. Despite his age though, this veteran son of Flatter has turned in five consecutive top-three finishes including wins in the Suburban Handicap (Grade 2) and the Westchester (Grade 3).
Flat Out has to be taken seriously here though, and wins in the Suburban and the 2011 and 2012 Gold Cup are reason enough.
Trainer Bob Baffert will bring in superstar jockey Joel Rosario for the mount, making Flat Out an attractive betting option for the less informed. Though he's got an impressive resume, send your money elsewhere and look for Flat Out to finish somewhere near eighth.
Palace Malice
Odds: 10/1
Notable Wins: 2013 Jim Dandy (G2), 2013 Belmont Stakes (G1)
Prediction: The connections with Palace Malice are insane. The three-year-old colt is the son of Curlin—a multi-time Grade 1 winner—owned by Dogwood Stables, trained by Todd Pletcher and ridden by Johnny Velasquez.
Palace Malice possesses arguably the best tactical speed of any horse in the field, making him a strong contender to walk away with a victory. The only issue, is that we don't know how he'll take to the west-coast dirt.
Dirt tracks on the west coast are significantly faster than their east coast counterparts and that could be an issue for this three-year-old. If the pace isn't too brisk, Palace Malice has a solid chance to upset the field.
However, given the amount of early speed in this race, it doesn't look like an overly promising entry. I'll place my money elsewhere.
Ron the Greek
Odds: 8/1
Notable Wins: 2013 Jockey Club Gold Cup (G1), 2013 Sunshine Millions Classic (G1), 2012 Santa Anita Handicap (G1)
Prediction: Ron the Greek has had some impressive showings here in the 2013 racing season, including first place finishes in both the Sunshine Millions Classic, and the Jockey Club Gold Cup. However, much like we'll discuss with Fort Larned, the most impressive win on his resume—the Gold Cup—was the product of a blown-up start.
In the Gold Cup, perceived pace-setter Cross Traffic broke dead last, allowing Alpha to set a torrid pace at the front end. Because of that, the race broke down in a way that allowed jockey Jose Lezcano and Ron the Greek to sit just off the pace while Alpha burned himself out.
After giving up the rail, Alpha had little chance at holding off six-year-old son of Full Mandate.
In the Classic this year, Ron the Greek will not be so fortunate. Although he's shown good speed over his recent workouts at Belmont Park, Ron won't be able to handle the increased speed we expect to see on the West Coast dirt.
The Classic field is stacked with contenders, and although Ron the Greek has the resume, he won't be able to break out from the middle of the pack without some substantial failures at the starting gate.
Will Take Charge
Odds: 12/1
Notable Wins: 2013 Pennsylvania Derby (G2), 2013 Travers Stakes (G1), 2013 Rebel Stakes (G2)
Prediction: After struggling mightily in all three legs of the 2013 Triple Crown, Will Take Charge turned his season around in a big way. The three-year-old son of Unbridled's Song has since gone on to record second-, first- and first-place finishes in the Jim Dandy, Travers Stakes and Pennsylvania Derby, respectively.
Of the three, the Travers is our best indicator of how this three-year-old will perform in the Classic. In a race where the early speed broke down, Will Take Charge was there to pick up the pieces and come away with an impressive victory over a field including Moreno, Orb, Verrazano and Palace Malice.
The only drawback to Will Take Charge in this race is that he won't get first crack at the lead. With a strong stalker in Mucho Macho Man ahead of him, it's highly unlikely that Will Take Charge is able to earn a victory here.
He and jockey Luis Saez will have to settle for a fourth-place finish at Santa Anita.
Fort Larned
Odds: 6-1
Notable Wins: 2013 Stephen Foster Handicap (G1), 2012 Breeders' Cup Classic (G1), 2012 Whitney Handicap (G1)
Prediction: Of all the horses in this year's field, Fort Larned has the most wins in the biggest races. The five-year-old owns victories in the 2013 Stephen Foster Handicap (G1), the 2012 Whitney Handicap (G1) and even the 2012 Breeders' Cup Classic (G1).
With that said, For Larned won't even hit the board in this year's Classic. Last year's presented trainer Ian Wilkes and jockey Brian Hernandez Jr. with a dream case scenario.
Game on Dude, who figured to set the early pace in this race, broke poorly and was forced to play catch-up, allowing Fort Larned to sit comfortably on the front. Hernandez opened up a commanding lead over every horse not named Mucho Macho Man and was hardly tested by the rest of the field.
This year, Fort Larned will not be so lucky and will have to catch Game on Dude. He'll look to make a bold move near the middle of the final turn, but Fort Larned won't have enough to catch Game on Dude, or even to hold off a surging Mucho Macho Man, or Will Take Charge.
Fifth place looks like a likely landing spot for the defending champion.
Declaration of War
Odds: 10/1
Notable Wins: 2013 Juddmonte International (G1), 2013 Queen Anne Stakes (G1), 2012 Diamond Stakes (G3)
Prediction: Declaration of War presents betters with a difficult option to figure out. A four-year-old son of War Front, Declaration of War has never run a race in the States, and has only run three races in his career on non-turf surfaces.
Declaration of War fits somewhere between Mucho Macho Man and Game on Dude. Although he won't be setting the pace like Game on Dude, he won't come from quite as far off the pace as Mucho Macho Man will.
Ultimately it's tough to tell how Declaration of War will fare on the dirt—a completely new surface for him—and with moving to a completely different country.
Our best predictor is his sibling, Vertiformer. Vertiformer made the transition to the United States and has had very mixed results.
Look for a middle-of-the pack finish for Declaration of War.
Mucho Macho Man
Odds: 5/1
Notable Wins: 2013 Awesome Again Stakes (G1), 2012 Suburban Handicap (G2), Sunshine Millions Classic
Prediction: This five-year-old son of Macho Uno—a two-time Classic participant himself—is a closer, and a damn good one. Because of this closing nature, Mucho Macho Man is going to benefit from all the early speed in this race.
Mucho Macho Man and Hall-of-Fame jockey Gary Stevens have multiple races over the Santa Anita dirt, including a Sept. 28 victory in the Awesome Again Stakes and a second place finish in last year's Classic. The California dirt and poly tracks play entirely differently than their Midwest and East Coast counterparts, so this could be a determining factor in his finishing position.
While Game on Dude, Fort Larned and Moreno burn up the pace on the front end, Mucho Macho Man will stalk the pace and get first crack at the lead. Once Stevens opens him up, Mucho Macho Man will overtake Game on Dude and walk away with the biggest win of his career.
Game on Dude
Odds: 8/5
Notable Wins: 2013 Pacific Classic (G1), 2013 Hollywood Gold Cup (G1), 2013 Santa Anita Handicap (G1)
Prediction: Game on Dude is certainly the horse to beat coming into the Classic. The six-year-old son of Awesome Again is returning to the Santa Anita dirt track on a six-race winning streak, including three Grade 1s.
Like many other horses in this race, Game on Dude will be looking to grab the lead and settle in at a comfortable pace. Should he be allowed to do so, this gelding will have little difficulty taking home both the Breeders' Cup Classic and Horse of the Year honors.
Unfortunately for him and jockey Mike Smith, the amount of early speed in this race will prove troublesome for Game on Dude, who will give way to a closer coming from the middle of the pack. Expect a second-place finish from Game on Dude.
Keep Reading