Peyton Manning Was Called for an Awkward Holding Penalty Against the Redskins
October 28, 2013

Image via TheBigLead
What's that? Oh nothing, just Peyton being Peyton and tickle-tackling Brian Orakpo in the backfield. 
If there's one thing football fans aren't used to seeing Peyton Manning do, it's commit penalties. Rarer still are penalties where Manning ends up diving on a linebacker like he's saving him from enemy fire.
There's a first time for everything, however, and a loose ball on the field put the Denver Broncos quarterback in a desperate position during Denver's matchup with the Washington Redskins on Sunday. 
The incident was spotted by the Fox Sports blog Laces Out, and a GIF of the awkward penalty was crafted by TheBigLead.com.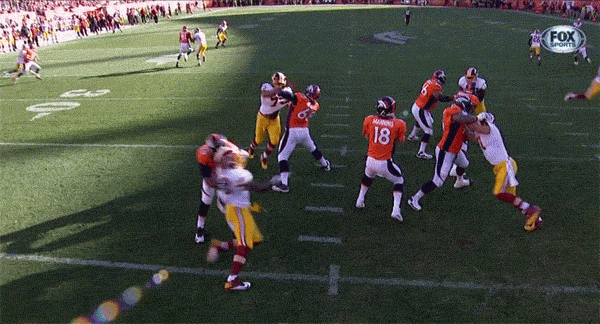 The penalty occurred after Redskins linebacker Ryan Kerrigan appeared to get a finger on the ball as Manning cocked back to throw.
The ball flipped into the backfield, and what happened next made for humorous television involving a footrace between Manning and Orakpo.
Knowing he was outmatched, Manning did the only thing he could do—grab Orakpo and hold onto the rampaging bull. Illegal? Yes. Smart and hilarious? Also, yes.
Yup, Manning grabbed the 'Skins linebacker around the arms and then rode him to the ground like a kid plunging down a water slide on a blue mat. Referees rightfully called for a holding penalty, as players are not allowed to grab opponents from behind to prevent them from recovering a loose ball.
Granted, he didn't actually keep Orakpo from recovering the ball (he still picked it up). With that being said, Manning didn't exactly have a lot of options at that point. It was either jump on the Orakpo-lar Express or give up a fumble recovery for a touchdown. 
Manning chose the latter and kept the Redskins from immediate points. Sunday wasn't the Denver quarterback's best game of the season, however, it could've been much worse. 
He could've been Robert Griffin III, who was flattened under the 336-pound human panini press that is Terrance Knighton in the fourth quarter (GIF via @DrawPlayDave).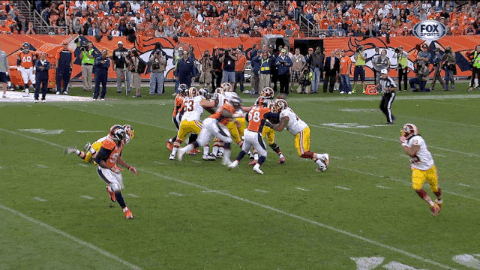 Yikes. 
The Broncos went on to handle the Redskins, 45-21.
QB-ing ain't easy.