Boston Red Sox vs. St. Louis Cardinals: Key Players Who Will Decide Game 5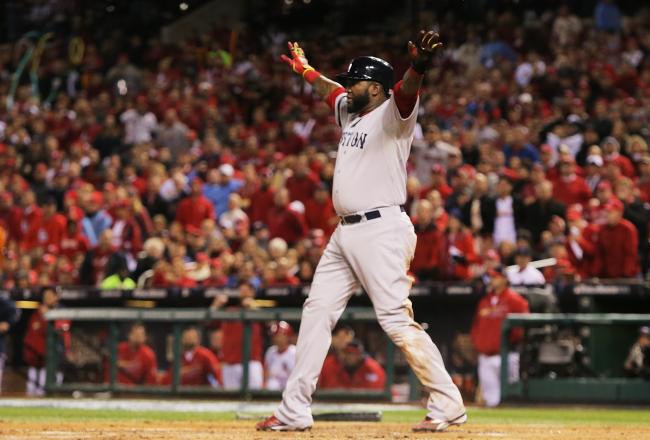 (Photo by Elsa/Getty Images)
The 2013 World Series has been proven to be as close as expected, but one team is going to take a giant step toward clinching a title on Monday night.
With the series between the St. Louis Cardinals and Boston Red Sox tied at 2-2, the winner of Game 5 will be only one victory away from a championship. However, neither side will let Game 5 get away without a fight.
Both squads send their aces to the mound in the hope that the starting pitchers can win it all by themselves. Both pitchers, and others, will be vital in the upcoming battle that could end up deciding the series.
Here are the most important players for both the Red Sox and Cardinals in Game 5.
5. Trevor Rosenthal, RP, Cardinals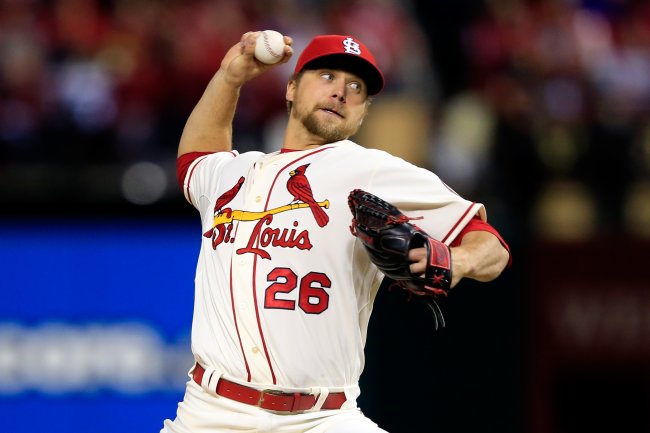 /Getty Images
Although he still has not allowed a run this postseason, Trevor Rosenthal's last appearance marked the first blown save of his playoff career. He gave up a game-tying single with two outs in the eighth to Xander Bogaerts in Game 3.
The 23-year-old Rosenthal eventually earned the win after posting a 1-2-3 ninth inning, but he still has to be able to recover from his first mistake of the postseason. Rosenthal has not had to deal with much failure in his career.
After not pitching in Game 4, there is a solid chance that the Cardinals closer appears in Game 5 if the score is close, regardless of which team is ahead.
It will be important for the Cardinals that Rosenthal showcases the same dominant ability that he has shown throughout the past month.
4. Matt Holliday, OF, Cardinals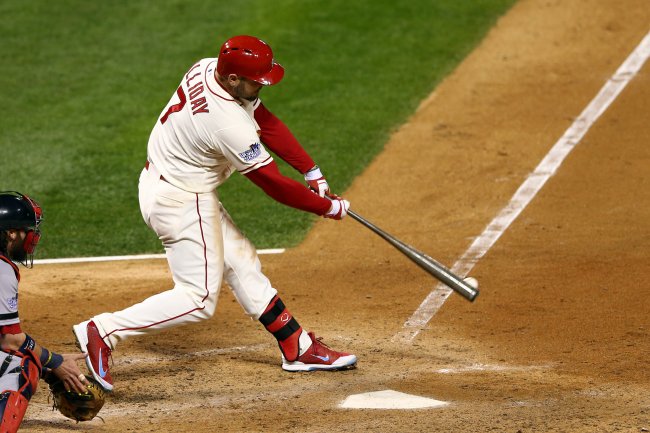 /Getty Images
While Carlos Beltran has been the emotional leader in the St. Louis lineup this postseason, Matt Holliday is the player who must step up in Game 5.
Beltran is a switch-hitter, but was much better hitting from the left side of the plate this season with a batting average 63 points higher against right-handed pitchers. Beltran might struggle against the left-handed Jon Lester.
Consequently, Holliday is the player who the Cardinals will look toward to for a big hit. The veteran is the type of experienced hitter who can beat an ace like Lester.
The Cardinals outfielder already has some important hits in this series, but Holliday must continue to produce at the plate in order for St. Louis to be successful.
3. David Ortiz, 1B, Red Sox
What David Ortiz has been doing in the World Series has simply been incredible. Through the first four games, Boston's designated hitter/first baseman has a .727 batting average and an OPS of 2.114.
Obviously, this is an extremely small sample size, but it is also about double Miguel Cabrera's major league-leading numbers for the regular season.
We should know by now never to doubt Ortiz's ability in the postseason, but the question remains whether he can keep it up. Odds are that he will slow down, which could be devastating for the Red Sox considering that he has one-third of Boston's hits in the series.
The Red Sox hope that Ortiz continues at his incredible rate at the plate while avoiding mistakes in the field.
2. Adam Wainwright, SP, Cardinals
The Red Sox got to Adam Wainwright in Game 1, although the Cardinals did not help him either. A handful of St. Louis errors led to five runs in the first two innings, giving the visitors little chance of a comeback.
Although some of the runs were unearned and Wainwright continued to pitch for five innings, he expects better of himself in a key game. In reality, the Cardinals need better out of him as well in his final start of 2013.
Wainwright has to go right after Boston's lineup, which is hitting a combined .189 in this series. He cannot afford to dance around the strike zone while his pitch count gets out of control.
If Wainwright can keep the Red Sox off the board, the Cardinals will own a huge advantage on Monday night.
1. Jon Lester, SP, Red Sox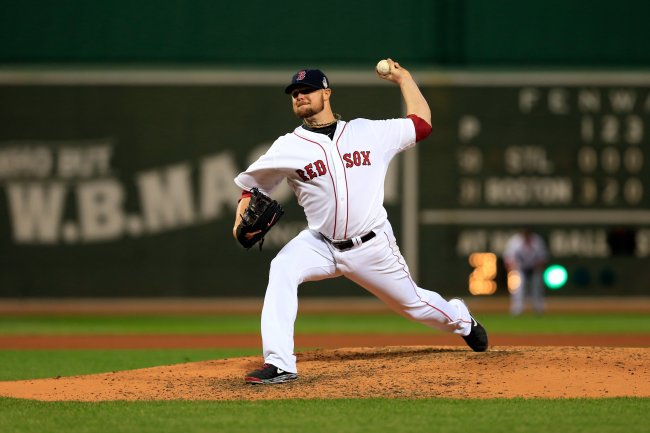 /Getty Images
If both pitchers are vital to the game, why is Lester No. 1 on this list? The reason is the Red Sox need this game more than the Cardinals.
St. Louis is expected to send Michael Wacha to the mound for Game 6, and the rookie has been virtually unhittable this postseason. Wacha has won all four of his playoff starts to go with a 1.00 ERA.
Even though Boston was able to get two runs across against Wacha in Game 2, the Red Sox certainly do not want to take their chances against someone pitching this well.
Consequently, the Red Sox need to win behind Lester, who pitched 7.2 scoreless innings in his first appearance in the series. He will need to do something similar in Game 5 or else Boston could be in serious trouble.
Follow Rob Goldberg on Twitter for the latest breaking news and analysis.
This article is
What is the duplicate article?
Why is this article offensive?
Where is this article plagiarized from?
Why is this article poorly edited?