Another night, another dramatic ending for the Boston Red Sox—and the World Series is tied at two games apiece.
Jonny Gomes, who has struggled at the plate all postseason, hit a clutch three-run home run in the sixth inning, Felix Doubront was terrific in long relief, John Lackey came on for the hold in the eighth, and the Sox took care of the St. Louis Cardinals in Game 4 Sunday night at Busch Stadium, 4-2.
Oh, and there was another insane ending:
Picked off! Koji Uehara picks off pinch-runner Kolten Wong to end Game 4. Red Sox win 4-2, tie the World Series at 2 games apiece.

— SportsCenter (@SportsCenter) October 28, 2013
Sox starter Clay Buchholz, dealing with shoulder tightness, was only able to last four innings, but he kept his team close. The only run to cross the plate against the 29-year-old was an unearned one when Carlos Beltran singled home Matt Carpenter, who was on second because on an error by center fielder Jacoby Ellsbury.
Initially, that looked like it might be enough for Lance Lynn, who faced the minimum at-bats through four dominant innings.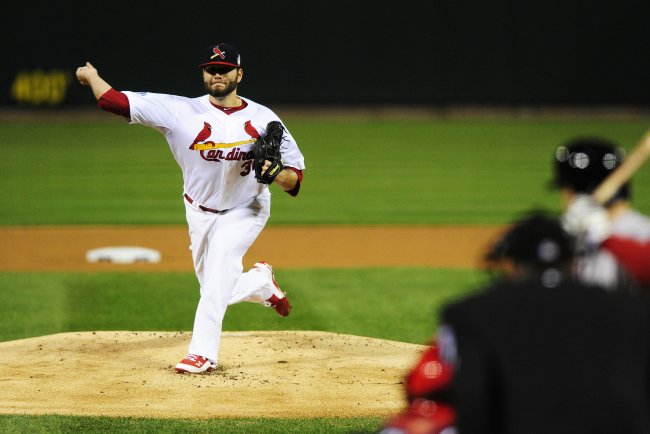 /Getty Images
He finally ran into some trouble in the fifth, loading the bases with zero outs. But he was able to escape with just one run allowed—a Stephen Drew sacrifice fly to tie the game at 1-1.
After getting the first two outs in the sixth, however, Lynn gave up a single to Dustin Pedroia and walked David Ortiz, forcing Mike Matheny to take him out.
Matheny's move backfired in a major way, as Seth Maness gave up a three-run shot to Gomes, who was only in the starting lineup as Shane Victorino was hobbled by back tightness.
Doubront relieved Buchholz and pitched 2.2 strong innings, allowing just a double to Shane Robinson in the bottom of the seventh. Robinson would shortly come around to score when Craig Breslow, who has struggled mightily in the Fall Classic, gave up a single to Matt Carpenter.
That wasn't enough, though, as Junichi Tazawa, Lackey and Koji Uehara combined to preserve the 4-2 lead and shut down the Cardinals in the final innings to earn the crucial victory.
The final out, which was only appropriate for this wild series, came when Uehara picked off rookie Kolten Wong at first base, who was pinch running for Allen Craig. Oh...and the tying run at the plate was none other than longtime postseason hero Carlos Beltran. Needless to say, Wong wasn't happy after the game, according to Charlie Marlow of Fox 2 in St. Louis:
Kolten Wong fighting back tears in the clubhouse.

— Charlie Marlow (@CharlieMarlow_) October 28, 2013
Pete Abraham of the Boston Globe, meanwhile, shared an interesting tidbit from Uehara:
Koji was asked if something in the scouting report alerted him Wong could be picked off. "I don't read the scouting report," he said.

— Pete Abraham (@PeteAbe) October 28, 2013
ESPN's Bill Simmons sums up the World Series in less than 140 characters:
This World Series is on drugs.

— Bill Simmons (@BillSimmons) October 28, 2013
Buckle up—we've got at least two more of these.
Player Grades
Clay Buchholz, Red Sox: B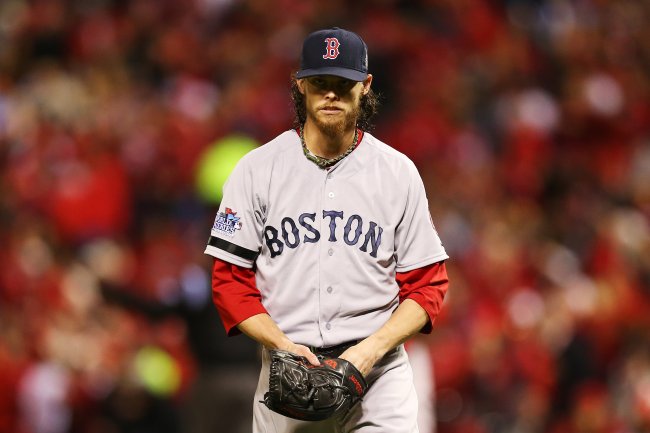 /Getty Images
As has been the story for the most of the postseason, Buchholz wasn't exactly sharp. It took him 66 pitches to get through just four innings, and he gave up three hits and three walks in that span.
But he found a way to get it done, giving up just one unearned run and leaving the Red Sox bullpen in decent shape for the rest of the game.
So Buchholz gives Sox 66 pitches and 1 unearned run against., Leaves with a tie score. Under the circumstances, a job well done.

— Gordon Edes (@GordonEdes) October 28, 2013
It wasn't a world-beating performance, or even a great one, but considering Buchholz came in far less than 100 percent, this was all manager John Farrell could have hoped for. The Sox manager talked about Buchholz's night via Brian MacPherson of providencejournal.com:
Farrell on Buchholz: "Given that he might not have had his midseason stuff ... he gave us everything he could."

— Brian MacPherson (@brianmacp) October 28, 2013
Lance Lynn, Cardinals: B-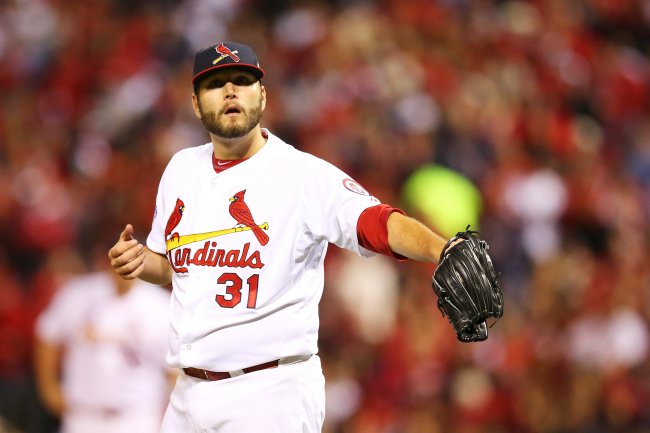 /Getty Images
Lynn was dominant and electric through the first four innings, but he really struggled after that and was eventually saddled with the loss.
Still, the defeat can't be completely put on him.
Two of his three earned runs came on a home run that Maness allowed, and Mike Matheny's slow hook once again made a mess of things (instead of bringing in Randy Choate to face David Ortiz, Matheny essentially let Lynn unintentionally intentional walk Ortiz, then brought in Maness to face Gomes).
When you mash all the good stuff and bad stuff together, B- feels about right for the 26-year-old righty.
Jonny Gomes, Red Sox: A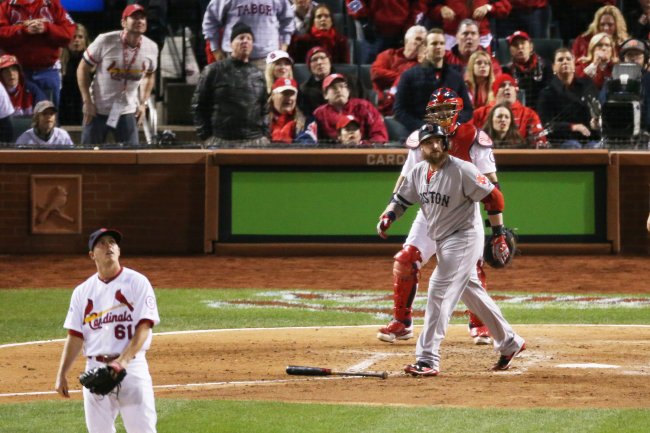 /Getty Images
Gomes hasn't had many fans lately, and you could probably hear the collective groan coming out of Boston when it was announced earlier on Sunday that he would be starting for Victorino in left field.
But a clutch three-run home run to put your team ahead in what some probably considered a must-win game is pretty much enough to earn him an "A" for the entire series.
David Ortiz deserves credit here, as well, as he recorded three hits, reached base four times and scored two runs. But that dude is a machine right now, and no one really needs to be told how good Ortiz is playing.
Gomes was brief when talking about his night via MacPherson:
Gomes: "If you're looking for words, I don't have much for you."

— Brian MacPherson (@brianmacp) October 28, 2013
What's Next
Game 5 (Jon Lester vs. Adam Wainwright) will be on Monday at 8:07 pm ET on Fox, but we are now guaranteed to head back to Boston for at least a Game 6 on Wednesday.