Who's Hot, Who's Not After NFL Week 8?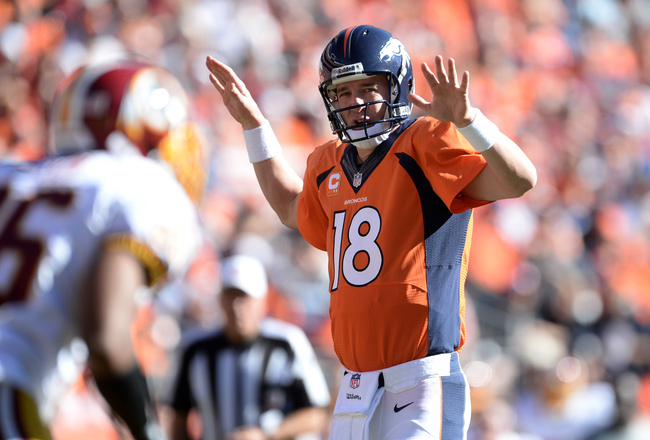 Another Sunday is in the books.

Large portions of the early games looked nearly unwatchable, but if you stuck with them, you were often rewarded with some compelling endings.
New England-Miami, Cleveland-Kansas City and Dallas-Detroit all turned out to be exciting. The afternoon games weren't quite as entertaining, but overall they were fun to watch, as was the Sunday night drubbing the Green Bay Packers put on the Minnesota Vikings.
As always, the following list contains a few players who either had a great weekend or a poor one. Sometimes it's a trend—other times it seems as if it could be a one-time thing.
Make sure you add your choices in the comments below.
HOT: Calvin Johnson, Detroit Lions and Dez Bryant, Dallas Cowboys
There were some exceptional wide receiver days in Week 8, so I crammed two together. It was only fitting since they were playing each other.
First, I present to you Calvin Johnson of the Detroit Lions.
Let's just throw the stat line up there and marvel at it: 14 receptions for 329 yards and one touchdown.
Do we actually need more? Like this catch in double coverage?
This game came on the heels of a nine-catch, 155-yard, two-touchdown game against Cincinnati.
In that game he beat triple coverage.
There's very little "Megatron" can't do. He beats press defense. He beats help over the top. He beats zone. He beats triple coverage.
He makes defensive backs look silly. He would of had an even more incredible game (is that even possible?) had he not been tackled several times on the 1-yard line.
Calvin Johnson is the very definition of hot.
And then there is the Dallas Cowboys' Dez Bryant.
While Johnson was making Cowboys defensive backs look silly, Bryant was doing the same to the Lions secondary.
He only had three catches on six targets, but two of them were for touchdowns and all together totaled 72 yards.
One of his touchdowns was an absolutely amazing display of body control and eye-hand coordination.
Of course, Bryant could also be accused of being "hot" in a less positive way.
He yelled at quarterback Tony Romo.
He got into it with tight end Jason Witten.
He got a lecture from DeMarcus Ware.
All that said, he played a good game on the field. We have no idea what really happened on the sideline—Witten and Bryant both downplayed their spat—but we do know how dominant he was between the lines.
If Johnson hadn't had a 300-plus yard game, we might be talking more about Bryant's performance on the field than his sideline antics.
NOT: Tom Brady, New England Patriots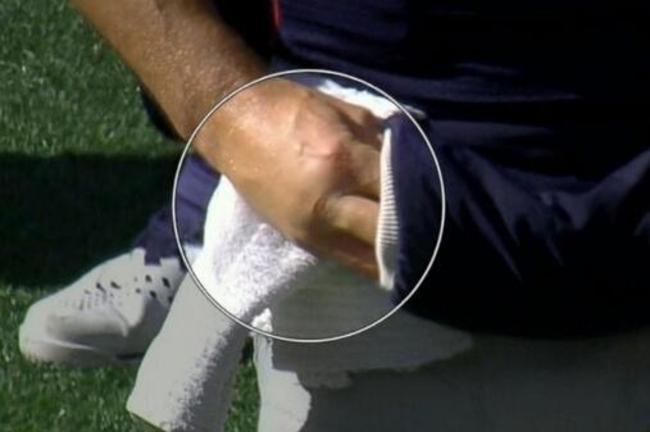 via Cian Fahey of PreSnapReads.com
You can tell from the above picture that things weren't totally hunky-dory with New England Patriots quarterback Tom Brady's hand.
That's not the only reason he struggled, but you have to think it had something to do with it.
Brady also tried to force the ball to tight end Rob Gronkowski a few times, resulting in an interception, and generally struggled with his timing, even when it came to the guys who he normally has great chemistry with like wide receiver Danny Amendola and the aforementioned Gronkowski.
Brady has been struggling for the last four weeks—ever since he threw for 316 yards and a pair of touchdowns against Atlanta in Week 4.
Much of that time he lacked both Gronkowski and Amendola. But now he has both back, can he recover his early-season form?
We'll see, starting with a game against the Pittsburgh Steelers next week.
HOT: Jordy Nelson, Green Bay Packers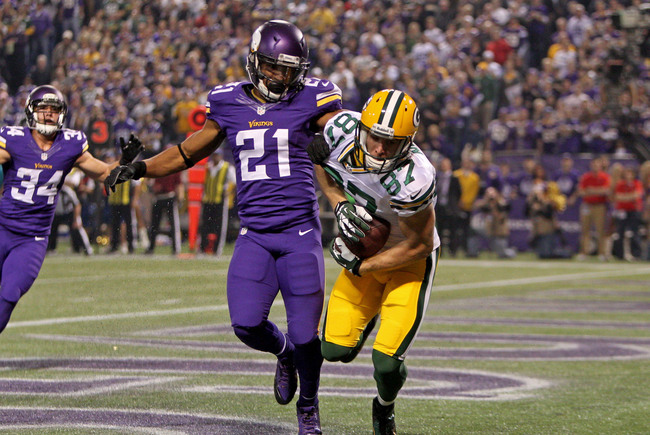 We've talked about Calvin Johnson and Dez Bryant, but what about the Green Bay Packers' Jordy Nelson?
It's hard to argue that Nelson and quarterback Aaron Rodgers are among the best receiver-quarterback pairings in football right now.
Despite dubious receiving talent around him, Nelson caught seven of his eight targets for 123 yards and two touchdowns. The anticipation he shows for what Rodgers will do with the ball, as well as the amazing catches he makes on a regular basis, were both on display Sunday night as he demolished the Vikings secondary.
Nelson's first touchdown was a short one where he outmaneuvered his defender and caught a perfectly thrown Rodgers ball. The second one was a smartly run route where Nelson got behind the linebacker quickly, taking advantage of the defense shifting to account for a cornerback blitz.
Nelson hauled in the catch and then it was off to the races for a 76-yard touchdown.
On a day with several superlative displays of receiving prowess, the Kansas State product will probably get overlooked.
It's a mistake—and one opposing defenses better not replicate.
NOT: Adrian Peterson, Minnesota Vikings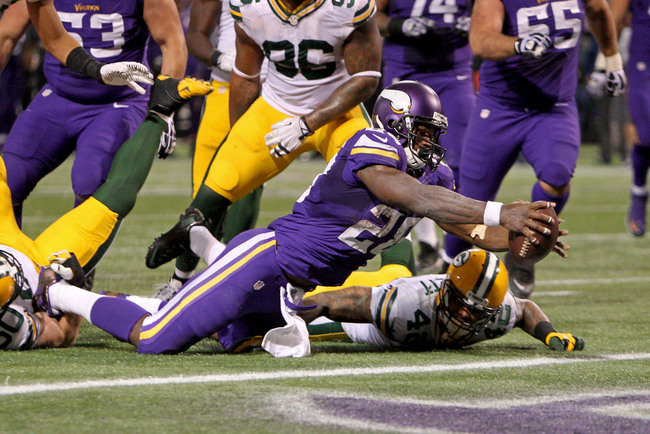 This isn't so much on Minnesota Vikings running back Adrian Peterson as it is on the way the coaching staff chooses to use him.
Or not use him, as the case may be.
Last season, the Vikings decided to ride Peterson at about the midpoint of the year and to limit the mistakes their young quarterback, Christian Ponder, would make. It worked, and Peterson not only nearly broke the all-time single season rushing record, but led them to the playoffs.
This year began in that same vein, but the last three weeks have seen Peterson carry the ball just 36 times—that's less than 15 times a game.
Now, the Vikings have trailed for much of those games— by a significant margin against both the Green Bay Packers on Sunday and the Carolina Panthers two weeks ago.
That said, it doesn't even have to be a big deficit for head coach Leslie Frazier and offensive coordinator Bill Musgrave to ditch Peterson and the running game.
Against the New York Giants in Week 7, the Vikings were in the game for three quarters, yet the 2012 NFL MVP ran the ball just 13 times.
Peterson can still carry this team. He's faced stacked fronts nearly his whole career.
However, he is being hampered both by his quarterback play as well as the game plan.
HOT: Drew Brees, New Orleans Saints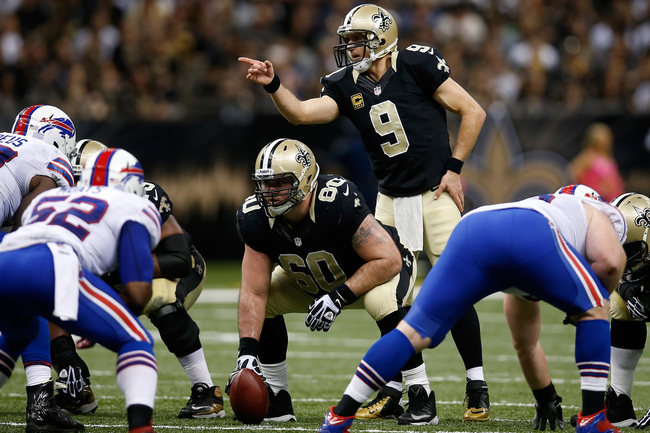 It looked for a little while like the Buffalo Bills were going to make a game of it.
And then Drew Brees floored the accelerator with a 69-yard touchdown pass to Kenny Stills and then found tight end Jimmy Graham with a 15-yard touchdown throw.
After that it seemed like it was all Brees, who found 10 different receivers for completions and made very few mental errors.
This was the eighth time in Brees' career he's thrown for five touchdown passes and the fifth game in a row he has thrown for multiple scores.
NOT: Mike Wallace, Miami Dolphins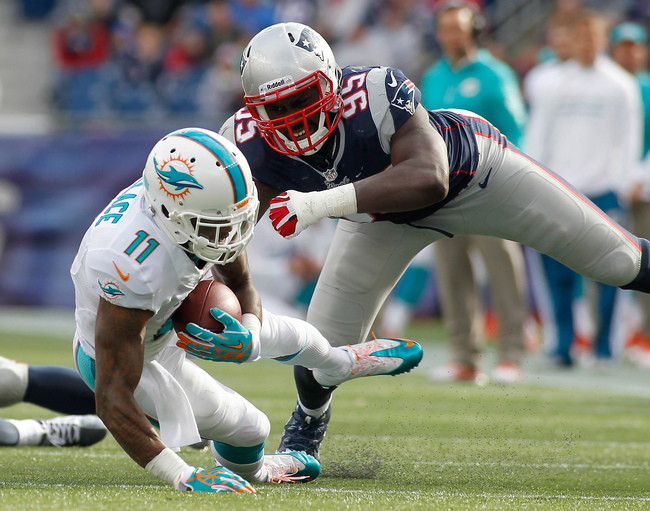 The Miami Dolphins gave Mike Wallace a huge contract this past offseason. He was being outproduced on the year by journeyman Brandon Gibson prior to Gibson's season-ending injury early on Sunday. It shouldn't take a season-ending injury for your top offseason acquisition to outproduce your No. 3 receiver should it? Yet, here we are.
Wallace's contract really isn't unbearable until next year, when it's a $17.2 million cap hit, but this season has been a giant disappointment at any price. The fact that a major reason he hasn't produced has been constant drops makes it worse.
Sunday was a day where the drops weren't the story, as he was pretty well covered by the Patriots. Still, he has just one touchdown and two 100-yard games all season.
HOT: Cincinnati Bengals Offense
I haven't been a huge fan of Cincinnati Bengals quarterback Andy Dalton and there are certainly some aspects of his game that I'll never love, but you can't knock a guy who helped blow up a defense which was top 10 before it got destroyed Sunday afternoon.
Dalton tossed the ball for 325 yards and five touchdowns with just one interception, providing two of his receivers with enough targets for them both to top 100 yards on the day.
We expect A.J. Green to pile up yards, although usually with more passes caught from him (just three on seven targets). Still, when he broke free, he easily beat the Jets coverage, and it was the quality—not quantity—which torched New York.
Anyone who wasn't a Bengals fan (or fantasy football freak) might have had to jump on Google to figure out who Marvin Jones was.
By the time he finished his eight-catch, 122-yard, four-touchdown tour de force, everyone knew his name.
Jones was unstoppable against any and all type of coverage that the Jets threw his way and caught all of his targets as well.
It looks very much like the Bengals are putting the AFC on notice that they are not just a good defensive team—they can ball on offense as well.
NOT: New York Jets Defense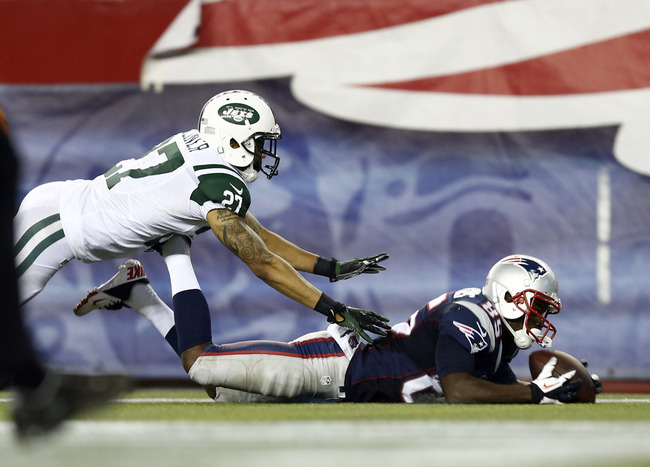 At least for this game, the New York Jets defense was grounded.
The Jets' vaunted front line had a grand total of one sack and one quarterback hit (courtesy of Muhammad Wilkerson) and the secondary was embarrassed by A.J. Green and Marvin Jones.
Sure, the offense played badly. And sure, their rookie quarterback had an awful game.
However, the Jets were never really in the game, and a large reason for that was the below-average play of the defense.
Smith didn't give up 28 points in the first half. That was the defense. Smith didn't allow Jones to score four touchdowns. That was the defense.
More than anything else you have to be disappointed by the exceptionally poor play of first-round pick Dee Milliner. I have to admit, I really liked Milliner coming into the draft.
Right now he is looking like a bad pick. Is it early? Yes. However, you expect more from the No. 9 overall selection.
I guess I have to go back to the drawing board.
Meanwhile, expect the Jets defense to bounce back.
HOT: Andre Ellington, Arizona Cardinals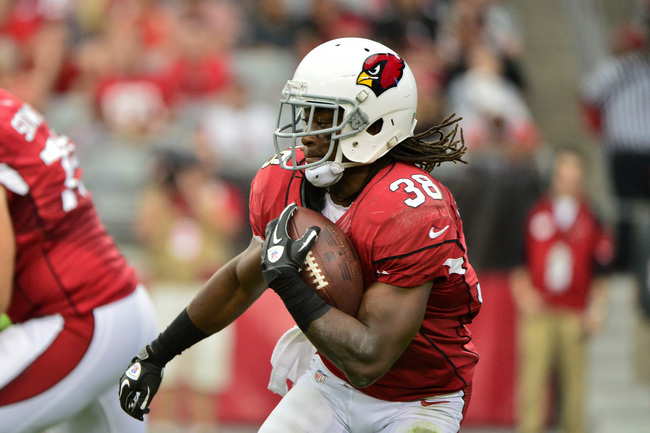 For weeks, Arizona Cardinals fans and media have been wondering when the team would start using rookie Andre Ellington more.
Well, they doubled his previous season-high for carries (from seven to 15) and Ellington responded by nearly tripling his previous highest rushing total (from 56 yards to 154).
Ellington has an incredible yards per carry average of 7.7 on the season and showed that he can be a dangerous runner, even behind a shaky offensive line.
With inconsistent quarterback play from Carson Palmer, you'd think Ellington would get more play as the season continues.
Week 9 is a bye week for the team and then Ellington has a nice schedule—facing Houston, Jacksonville, Indianapolis, Philadelphia and St. Louis. We might see a lot of him by the end of the year.
NOT: Roy Helu, Washington Redskins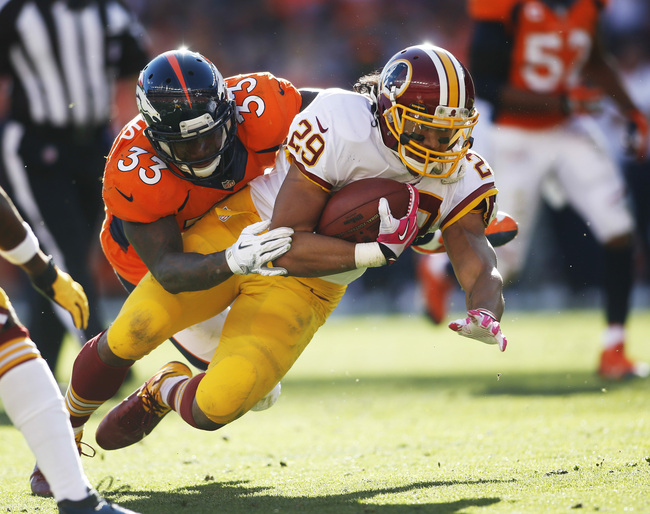 Last week it looked as if Washington running back Roy Helu was going to start stealing goal-line looks and touchdowns from Alfred Morris.
There was some evidence he might be in for a bigger role, as Morris has had an up-and-down season and Helu has had a few solid games.
However, we were reminded on Sunday who Washington relies on to carry to load through good times and bad—Morris.
And Morris looked good too, as he had a nice 5.5 yards-per-carry average and nearly cracked 100 yards in a losing effort against a stout Denver Broncos run defense.
Helu only carried the ball five times for just 11 yards.
Maybe Helu will see some more goal-line carries in games where Washington isn't struggling as they were in the second half of Sunday's game.
More than likely though, they will stick with Morris and give him the bulk of the carries.
Andrew Garda is a member of the Pro Football Writers Association. He is also a member of the fantasy football staff at FootballGuys.com and the NFL writer at CheeseheadTV.com. You can follow him at @andrew_garda on Twitter.
Keep Reading