NASCAR: Nationwide Pictures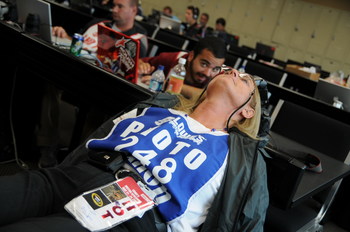 Rain and more rain. After a steady downpour of about an hour, Sprint Cup practice was cancelled, and NASCAR started immediately on drying the track for the Nationwide Series race.
A rain delayed race would end up being a rain shortened finish, with Mike Bliss being the car in the lead when the red flag flew.
First picture: A photographer in the media center takes a break as another rain shower covers Lowes Motor Speedway.
All pictures are copyright David Yeazell
Gas Wars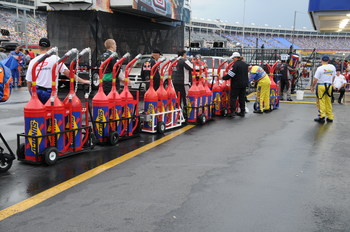 Given the go ahead for racing, Nationwide teams line up at the pump for Sunoco racing fuel.
Blow Dryer?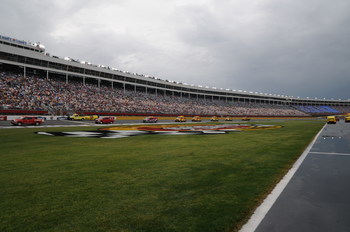 The ominus clouds hang over the speedway as the jet dryers, safety trucks and even the pace car, do their best to dry the track for competition.
Glued To The Race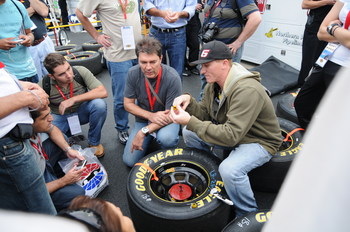 A pit crew member glues lug nuts to a wheel as Goodyear Tire store owners from Brazil look on.
Staging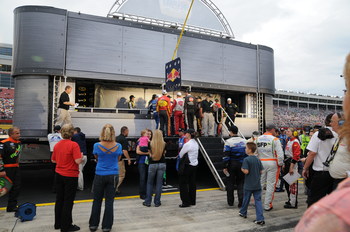 Nationwide Series drivers load into the rear of the introduction stage.
We Honor America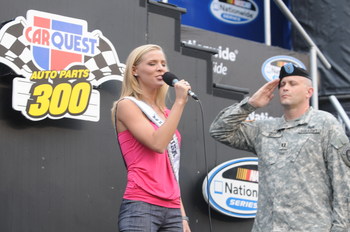 Miss USA sings the National Anthem as a US Army soldier stands at attention.
Bind Faith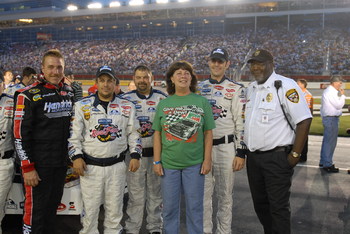 During pre race ceremonies, a blind fan was lead out by a security guard so she could have her picture taken with Dale Earnhardt Jr's crew.
Mr. and Mr. Keselowski
Brad Keselowski and his proud father were kind enough to pose for a picture.
Racing Tools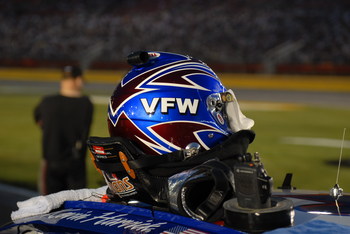 A race car, a helmet, black duct tape and a radio. Got all I need, lets go racing!
Ok, So We Were Begging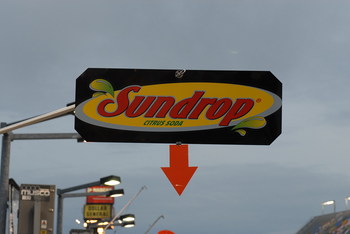 The sun didn't make an appearance, but the rain held off long enough to get the majority of the race in.
No Bull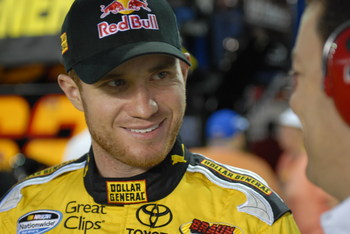 Brian Vickers stops for a pre-race chat with ESPN.
We Get Free Pizza!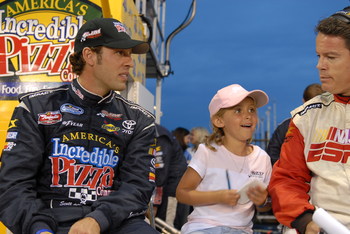 Scott Lagasse Jr. and his daughter talk to Dave Burns during pre-race activities.
No Penalty?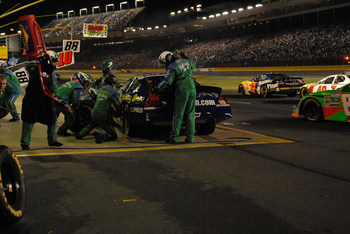 Jeff Burton gets service from his crew on the first pit stop. A tire (lower left hand corner), got loose and rolled down pit lane into an emergency vehicle opening, then down to the access lane. Whats missing here is an official. Do you see one?
No penalty was accessed to Burton for the rogue tire.
What Would You Do For A Klondike Bar?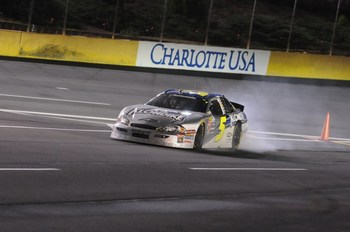 Dale Jr. smokes the tires as he enters pit road too fast.
Did You See That?
A curious fan looks for action down the track.
Net Flix
Scott Lagasse Jr's crew watches a video taped overhead view of their previous pit stop.
Speed Trap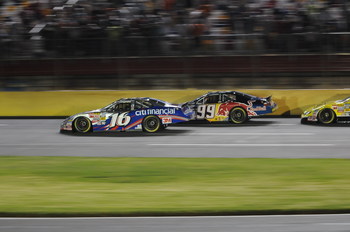 Greg Biffle slips past Scott Speed entering the tri-oval.
Service Plan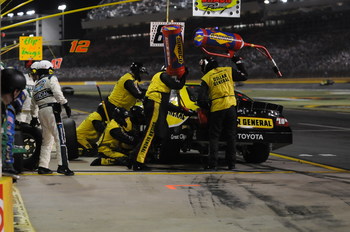 Burney Lamar gets service from his crew late in the race.
Trim the Busch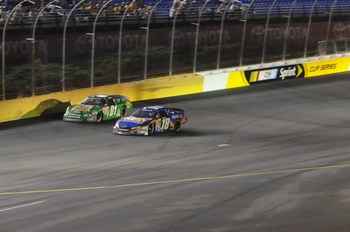 Kyle Busch breezes by Danny O'Quinn Jr. as he exits turn four.
Busch would lead the most laps for the race, except the one that counted.
Keep Reading