Seattle Seahawks vs. St. Louis Rams: Live Score, Highlights and Analysis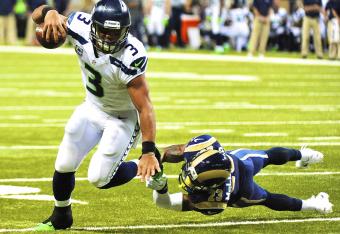 Getty
The St. Louis Rams (3-5) put up a fight against the powerhouse Seattle Seahawks (7-1), but the effort was spoiled with a 14-9 loss.
The St. Louis defense held Marshawn Lynch to 23 yards and hassled Russell Wilson with seven sacks, but the second-year quarterback managed to find Golden Tate for two touchdown passes, which turned out to be the difference.
Zac Stacy led the St. Louis offense with 134 rushing yards and the Seattle defense had no answer for him. On the final drive, St. Louis marched 97 yards down field in the final minutes for a shot at winning the game, but rough playcalling at the goal line allowed Seattle to exit with a victory.
Seattle will attempt to pick up its eighth win of the season against Tampa Bay next week. St. Louis will take on Jeff Fisher's former team when it hosts Tennessee a week from now.
Thank you for following and be sure to stop by next week.
Final
Seattle Seahawks 14, St. Louis Rams 9
Final Leaders
Passing
Kellen Clemens, STL: 15-for-31, 158 Yards, 0 TD, 2 INT
Russell Wilson, SEA: 10-for-18, 139 Yards, 2 TD
Rushing
Zac Stacy, STL: 26 Carries, 134 Yards
Marshawn Lynch, SEA: 8 Carries, 23 Yards
Receiving
Chris Givens, STL: 4 Receptions, 58 Yards
Golden Tate, SEA: 5 Receptions, 93 Yards, 2 TD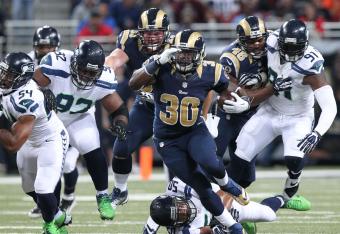 Beast Mode
One running back has certainly been in "beast mode" tonight, but it's not who you might think...
Lynch has been held to 23 rushing yards in this game, but Stacy—St. Louis' fifth-round rookie—has pounded his was to 134 yards on the ground.
With Steven Jackson in Atlanta, it appears the Rams have located his successor.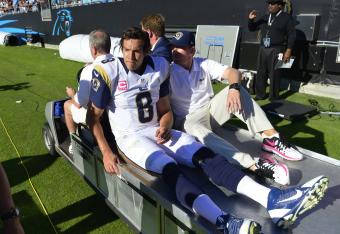 "They need him (Sam Bradford) back, in the worst way." -Jon Gruden on the Rams starting quarterback.
The Rams have witnessed backup quarterback Clemens cough up two needless interceptions in this game. Also, in the fourth quarter, he spoiled a goal-line appearance by failing to run the ball into the endzone when a lane was open.
Regardless of Bradford's national reputation, he exited last week's game ranked fifth in touchdown passes (14) with 1,687 yards.
Bradford had his struggles this season, but the Rams are missing his production in this game.
Seattle's passing game will have to rely on Golden Tate for the rest of this game...
Seattle WR Sidney Rice out with knee injury; return doubtful.

— Jim Thomas (@jthom1) October 29, 2013
The Rams have struggled to move the ball on offense, and things could get worse without starting guard Harvey Dahl.
G Harvey Dahl has a knee injury. His return is questionable.

— Nick Wagoner (@nwagoner) October 29, 2013
Defensive Showdown
If someone told you that Wilson and Clemens would combine for less than 100 combined passing yards in the first half, you'd probably laugh.
But that's exactly what happened. Both passing games have been hopeless in this contest—Seattle's aerial attack has been haunted by sacks, while St. Louis has been plagued with interceptions.
At this point, the games going to come down to which team runs the ball better in the second half and maintains a solid defensive presence.
Halftime Leaders
Passing
Kellen Clemens, STL: 6-for-13, 40 Yards, 0 TD, 2 INT
Russell Wilson, SEA: 6-for-11, 37 Yards, 1 TD
Rushing
Zac Stacy, STL: 13 Carries, 76 Yards
Russell Wilson, SEA: 3 Carries, 16 Yards
Receiving
Austin Pettis, STL: 2 Receptions, 33 Yards
Golden Tate, SEA: 4 Receptions, 13 Yards, 1 TD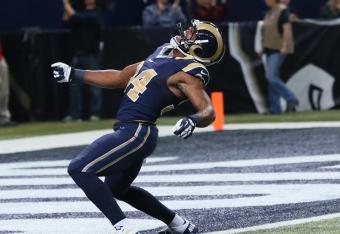 Quinn-sational
Rams defensive end Robert Quinn entered the game with seven sacks on the year, but after just one half against Seattle, his season total has reached double digits.
Quinn has been a nightmare for the Seattle offense with five tackles and three sacks in the first half, giving him 10 sacks on the year.
The Rams enter halftime still in this game with a score of 7-3, and Quinn has been a major factor.
The Rams are not the only team giving the ball away to the Seattle defense...
Seahawks lead NFL with 19 takeaways this season. They've forced at least 2 turnovers in all 7 games.

— ESPN Stats & Info (@ESPNStatsInfo) October 18, 2013
The St. Louis defense made an admirable goal-line stand—Janoris Jenkins broke up a would-be Sidney Rice touchdown, and Wilson was stuffed at the one-yard-line twice.
Regardless, Golden Tate made it in for six. Seattle leads 7-3.
Richard Sherman is having a Richard Sherman-like year.
Richard Sherman is now tied for the NFL lead with 4 interceptions. #MNF

— SportsCenter (@SportsCenter) October 29, 2013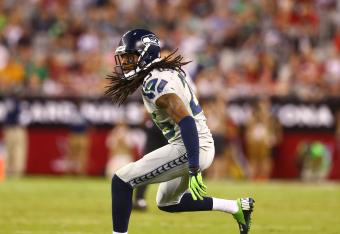 Clemens aired out his second interception of the half, ending another Rams drive prematurely.
This time, it was All-Pro cornerback Richard Sherman who came up with the pick and returned it 38 yards into Rams territory.
If you're a Rams fans, you can rest assured that Clemens has never had more than two picks in a single game, so at least he got them out of the way early on.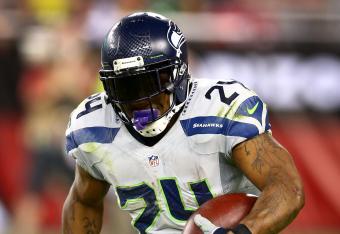 After one quarter, the Seahawks managed just six yards on four carries (1.5 yards a carry), while the Rams produced 35 yards on six carries with rookie running back Stacy.
This is quite the opposite of expectations entering the game, considering Seattle entered the game with the No. 1-ranked rushing offense, averaging 154.4 yards a game.
Turnovers Still a Problem for Kellen Clemens
Clemens has 13 career interceptions and only seven touchdown passes. With nearly twice as many picks as touchdowns, it was inevitable that the eight-year veteran would turn the ball over in this game.
Clemens cut a promising Rams drive short by coughing up a first-quarter interception. The ball was picked off by Seattle linebacker Bruce Irvin.
The St. Louis defense has been stout early in this game, but Clemens has to make better decisions to give the Rams a shot at winning.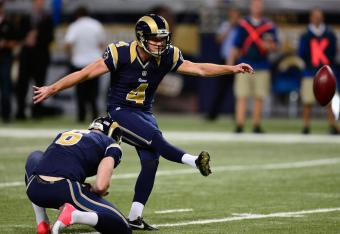 Rams second-year kicker Greg Zuerlein is a perfect 12-for-12 on field goals this season.
A 26-yard reception by Austin Pettis put the Rams in scoring position and allowed Zuerlein to sink a 33 yarder.
Rams lead 3-0.
Stopping the Run
Rams entered this game ranked 30th in run defense, allowing 126.4 yards per game, but St. Louis is eager to stop the run tonight.
On Seattle's first drive, the Rams stacked eight men in the box every play to shut down Marshawn Lynch. When Russell Wilson dropped back on third down, he was sacked by Robert Quinn.
Seattle will have to piece together a consistent aerial attack to win this game, as the Rams are daring Wilson to throw the ball.
Veteran cornerback Cortland Finnegan is back in the lineup for the Rams, according to Nick Wagoner of ESPN via Twitter.
CB Cortland Finnegan is active, as expected. He'll likely play inside as the nickel corner exclusively.

— Nick Wagoner (@nwagoner) October 28, 2013
Is that a positive for St. Louis? Not according to Pro Football Focus.
Finnegan back for MNF. QBs throwing his way currently have a perfect 158.3 passer rating in 2013

— Pro Football Focus (@PFF) October 28, 2013
Finnegan was burned by the deep ball frequently early in the season before being sidelined with a thigh injury, according to ESPN. His presence may be a liability for the Rams if he's not 100 percent.
Zac Stacy Hits the Ground Running
Rookie Zac Stacy, a fifth-round draft pick out of Vanderbilt, was handed the starting role in Week 5 against Jacksonville and has been an upgrade for the Rams.
The Rams averaged a pathetic 47.2 rushing yards per game during the first four games of the season, but the team has averaged 101.6 rushing yards in the last three games with Stacy at the helm.
Stacy is averaging 71.3 yards per start and is now on pace for over 800 yards this season.
Between 2003 and 2012, there have been 41 back selected in the fifth or sixth round, and 39 of them were held under 500 yards their rookie years.
Stacy is well on his way to being just the third back in that category to surpass 500 yards as a rookie—the other two being Vick Ballard of the Colts and Alfred Morris of the Redskins.
The St. Louis Cardinals are hosting Game 5 of the World Series just down the street from the Edward Jones Dome—the first pitch is scheduled for 30 minutes before the Rams and Seahawks kickoff.
With the city primarily focused on the Fall Classic against the Boston Red Sox, the Rams organization surely has pessimistic attendance expectations for the Monday Night Football showdown, but will Rams fans be outnumbered in their own house?
Not likely, but the early indications are not promising...
Seahawks fans making a lot of early noise in dome.

— Jim Thomas (@jthom1) October 28, 2013
They are offering free hot dogs and beer to ppl who go to the Rams Game,also 8$tix...so basically they will pay for you to come to the game.

— #RamFansProblems (@RamFansProblems) October 28, 2013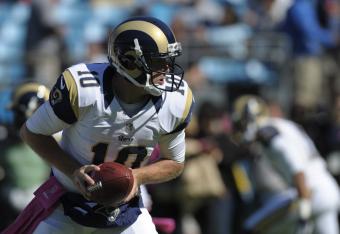 With Rams franchise quarterback Sam Bradford done for the year with a knee injury, the Rams will depend on veteran Kellen Clemens, who has six years of prior experience under offensive coordinator Brian Schottenheimer.
Clemens, an eight-year veteran, has 12 career starts. He has a 4-8 record as a starter and has a pick in seven of those 12 games. He has yet to throw multiple touchdowns in a single game.
These are the inactive players for each team, according to Jim Thomas of the St. Louis Post-Dispatch via Twitter.
Rams inactives: QB Brady Quinn, RB Benny Cunningham, G/C Barrett Johnes, DT Matt Conrath, G/T Mike Person, DE Gerald Rivers, RB Isaiah Pead.

— Jim Thomas (@jthom1) October 28, 2013
Seattle inactives: QB B.J. Daniels, SS Jeron Johnson, FB Derrick Coleman, RT Breno Giacomini, OT Caylin Hauptmann, DE Benson Mayowa. . .

— Jim Thomas (@jthom1) October 28, 2013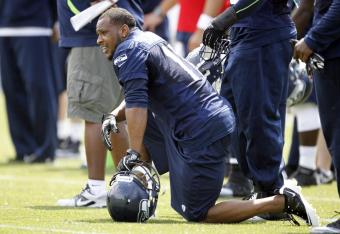 Percy Harvin Still Out of Action
Percy Harvin was placed on the PUP (physically unable to perform) list prior to Week 1 but recently returned to the practice field for the Seattle Seahawks.
The electric slot receiver is expected to provide a boost to the Seattle offense and fantasy owners are anxious for his return, but he'll once again be forced to watch from the sidelines, according to Rams beat writer Jim Thomas of the St. Louis Post-Dispatch via Twitter.
Per Seattle Times, Pete Carroll says WR Percy Harvin will not play Monday vs. Rams.

— Jim Thomas (@jthom1) October 26, 2013
This article is
What is the duplicate article?
Why is this article offensive?
Where is this article plagiarized from?
Why is this article poorly edited?