Danny Granger Injury: Updates on Pacers Star's Calf and Return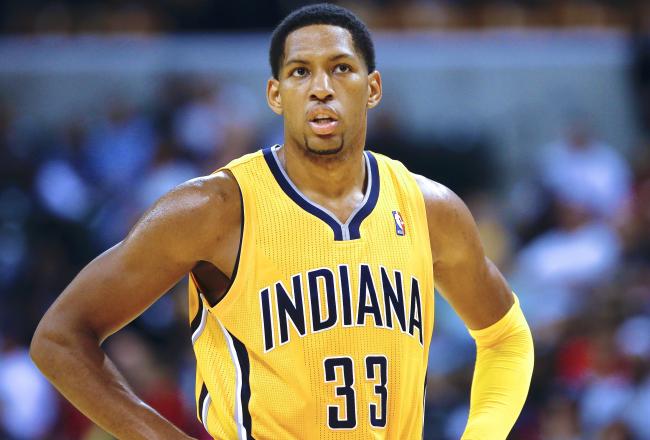 Getty
Updates from Thursday, Dec. 19
From the Indiana Pacers:
Coach Vogel confirms Danny Granger will play in tomorrow night's game.

— Indiana Pacers (@Pacers) December 19, 2013
Vogel on Granger's return: "There's no way to simulate game intensity. There's going to be an adjustment period while he gets used to that."

— Indiana Pacers (@Pacers) December 19, 2013
Vogel says he expects Granger to see about 15-20 minutes of playing time tomorrow night against Houston.

— Indiana Pacers (@Pacers) December 19, 2013
Updates for Thursday, Dec. 12
Pacers.com's Scott Agness provides the latest on Granger:
Danny Granger is excited to play again. That we know. But when he might make his season debut continues to be a fluid situation. Following his first full practice on Thursday, Granger said that he doesn't think he will play on Friday when the Pacers host the Charlotte Bobcats.

"I don't like where I'm at with my timing and my rhythm and obviously my conditioning," he said. "…I don't feel like I'm ready yet. I dribbled the ball off my foot a couple times and just things where you haven't [been] playing. Lost the ball in transition on a pass. My rhythm isn't there yet.

"By all means, I could physically play, easily. Like I said, it's more of a rhythm thing. When you're playing at those type of speeds, you have to do it for a while to get used to doing it again."
Updates for Tuesday, Dec. 10
According to Yahoo! Sports' Marc J. Spears, Danny Granger feels as though he is almost ready to return to the court:
Pacers forward Danny Granger says there is "a good chance" he makes his season debut on Friday.

— Marc J. Spears (@SpearsNBAYahoo) December 10, 2013
Updates for Monday, Nov. 11
Indiana Pacers head coach Frank Vogel updated Danny Granger's status as he tries to return from a calf injury, per the Associated Press (via ESPN):
"I think it's really a new beginning to the process of getting him game minutes and his game-timing back in his legs," Vogel said when asked to update Granger's status. "I'm not sure when his return date will be."

The fact that Granger is about to start practicing, though, is an encouraging sign. He missed all but five games last season because of a tendon injury in his left knee, and hasn't played in nearly a month after injuring his left calf. The day before the season opener, Indiana said Granger would miss three weeks.

Indiana intended to keep Granger out until he was pain free.
The Pacers updated Granger's injury timetable, and the news is not good:
Indiana Pacers forward Danny Granger will miss approximately three weeks as he rehabilitates a strained left calf injury sustained in the preseason. The length of time is a precautionary measure as the team wants to ensure Granger is physically ready to play in light of missing all but five games last season due to his knee injury. The rehabilitation time is strictly related to the calf injury.
Original Text
Danny Granger initially suffered the injury in a preseason matchup with the Dallas Mavericks on Oct. 16 . He saw only 16 minutes against the Chicago Bulls on Oct. 18 before hitting the bench for the remainder of the exhibition schedule.
The 30-year-old participated in just five contests last year due to a knee injury, averaging a mere 5.4 points, 1.8 rebounds and 0.6 assists in 14.8 minutes per game during that span.
Michael Pointer of The Indianapolis Star noted that the calf issue is unrelated to the knee injury that plagued Granger, a veteran going into his ninth season in the league.
Lance Stephenson is likely going to assume more minutes and is almost guaranteed to start due to this calf issue. Vogel admitted as much after practice last week, according to Pointer:
We'll see where Danny is as he heals and that could change down the road. If Danny was healthy and playing great, and Lance is healthy and playing great, I could see stretches throughout the season where Lance was starting, and I could see stretches where Danny is starting.
The Pacers are expected to be one of the top teams in the Eastern Conference this coming campaign and need all the firepower they can get to challenge the Miami Heat again during the playoffs.
Indiana lost in Game 7 of the 2013 Eastern Conference Finals, a series for which Granger was sidelined with his knee injury. A healthy Granger could definitely swing a playoff game or two, so the Pacers must do their best to keep the veteran swingman on the court come the postseason.
This article is
What is the duplicate article?
Why is this article offensive?
Where is this article plagiarized from?
Why is this article poorly edited?