World Series 2013: Questions That Will Define Remainder of Fall Classic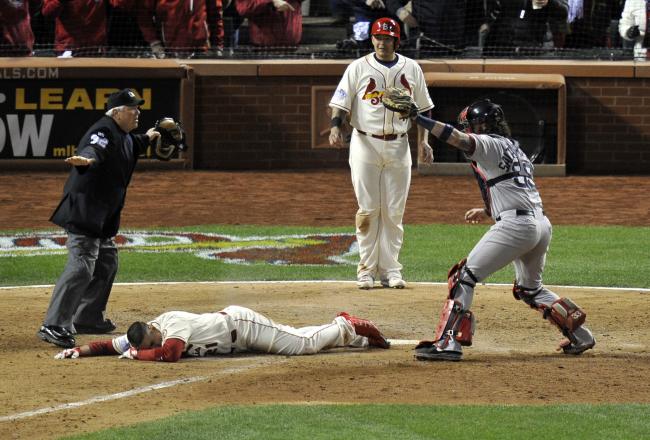 Boy, that escalated quickly. I mean, that really got outta hand fast.
You all know the origins of that quote and saw your entire social media circle use it in the late-night hours on Saturday. One of the beaucoup famous lines from Anchorman was just about the only way to categorize the 2013 World Series after perhaps the craziest and best (or worst) finish to a Fall Classic game in history.
As has been discussed ad-nauseam on every sports outlet available, the St. Louis Cardinals were awarded a 5-4 victory in Game 3 when third-base umpire Jim Joyce controversially (and correctly) called Red Sox third baseman Will Middlebrooks for obstruction when he tripped Allen Craig heading for home.
It was the first time in postseason history that a game was decided on an obstruction call and just the fourth instance of a World Series contest being decided on an error—the first since the famous Bill Buckner game.
The game-ending controversy also gave St. Louis a marked advantage going forward. Teams that win Game 3 have historically won the series about two-thirds of the time, and the next two contests are at Busch Stadium starting with Sunday night's Game 4.
When major calls go against a team, it's a sportswritery thing to wonder how much the "momentum" in the series has shifted. But since momentum is merely an abstract concept that holds no statistical merit, I figure it'd be best to just check out the major baseball storylines for the remainder of the series.
Here's a look at a few major questions—both for Sunday and going forward—that could define the Fall Classic.
Can Clay Buchholz Buck (Sorry) Playoff Woes and Return to Form?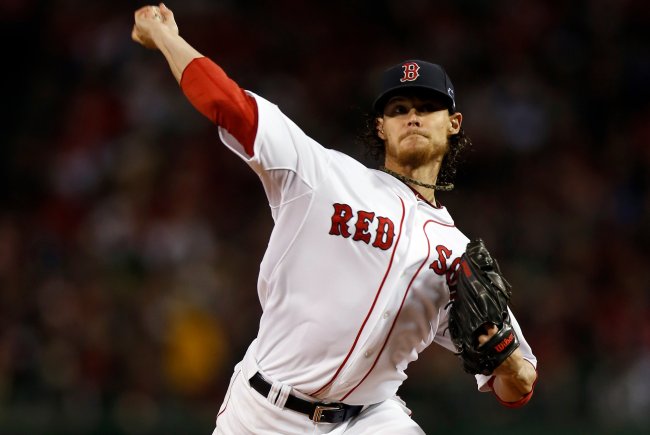 Because if he can't, the series may never return to Boston. Buchholz takes the mound essentially with his club's playoff livelihood in the balance. Adam Wainwright will return to the mound for St. Louis in Game 5, and Michael Wacha will take the nod in Game 6.
Asking the Red Sox lineup to defeat one of those aces will be difficult enough. Going back to back and forcing Game 7? Well, umm, good luck, pumpkin.
That's the reality that Buchholz faces heading into his first World Series start. And skepticism is boundless in the New England area for a good reason.
After looking like the best pitcher in baseball in his 16 regular-season starts, Buchholz has started showing cracks in the postseason. He's more than tripled his ERA to 5.40 and has allowed nearly a baserunner and a half per inning. Only once has he gone a full six innings.
Looking at the advanced metrics, the problem areas come flying off the page. Buchholz has allowed a home run on 15.8 percent of his fly balls compared to 4.5 percent during the regular season, become a fly ball pitcher after having a 47.7 percent ground-ball rate and has frankly gotten unlucky. His .327 BABIP is unsustainable, as is his 1.62 home runs per nine innings.
Over a large sample, things would regress toward the mean eventually, and this would be a momentary slump. His velocity is still at its regular-season averages, per Brooks Baseball. We're not talking about a completely different pitcher here.
Unfortunately, we're only working in small samples. Buchholz has one game to rectify the problems that have plagued his postseason, and he'll be attempting to do so while dealing with shoulder discomfort.
"Obviously, given the couple of days that I've been out so far, [I'm] not a hundred percent," Buchholz said, via Newsday's Erik Boland. "But I've said it a couple of times this year: I don't think anybody, especially at this time of the season, is a hundred percent."
Buchholz is correct in his sentiment, but a pitcher having shoulder discomfort heading into the biggest game of his career isn't exactly comforting. We'll get a good idea of how he looks early; the Red Sox will just have to hope for a return to form.
Can John Farrell Recover From His Grady Little Moment?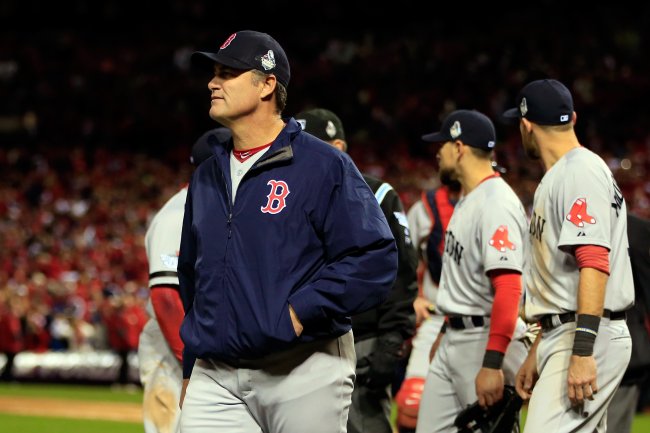 /Getty Images
It's been pushed to the backburner because of how things ended, but the top half of the ninth inning on Saturday also featured a curious call. This one came not from the umpiring crew, but from Red Sox manager John Farrell.
With Mike Napoli sitting on the bench and available to pinch hit, Farrell chose to allow reliever Brandon Workman to hit in his expected spot in the lineup with one out in the frame. Workman had exactly zero plate appearances in his major league career before Game 3 of the World Series. And Farrell let him bat against Trevor Rosenthal, who throws so hard I'm half afraid his arm is going to come off on every pitch.
You can only imagine what happened next. Workman struck out on three pitches, and then Jacoby Ellsbury grounded out to end the frame. For a little snapshot of how unprecedented Farrell's decision was, here's a nice stat from ESPN Stats & Info:
Red Sox pitcher Brandon Workman was the 1st pitcher to bat in the 9th inning or later in a World Series game since Graeme Lloyd in 1996.

— ESPN Stats & Info (@ESPNStatsInfo) October 27, 2013
By allowing Workman to hit, Farrell was essentially playing for extra innings. It was the equivalent of an NFL coach taking consecutive kneel-downs with 50 seconds remaining and a timeout. It was, frankly, buffoonish. He should be almost thankful that Jim Joyce has taken the villain hat.
Here's how Farrell justified the decision, via NESN's Ricky Doyle:
In hindsight, probably should have double-switched after Salty [Jarrod Saltalamacchia] made the final out the previous inning, with Workman coming in the game. I felt like we get into an extended situation, which that game was looking like it was going to — held [Napoli] back in the event that spot came up again. In hindsight, having Workman hit against [Cardinals closer Trevor Rosenthal] is a mismatch. I recognize it, but we needed more than one inning out of Workman.

Farrell seemed to love the phrase "in hindsight" there, but there was no hindsight needed. His decision was one of inertia, one far worse than Grady Little leaving Pedro Martinez in for the eighth inning of the 2003 ALCS. Whereas Little was trusting the game's best pitcher to get a couple more outs, Farrell was giving up an out to keep Brandon Workman in the game.
These are the types of decisions that Farrell has rarely had to make in his managerial career. The increase in interleague games gives managers a better understanding of situational substitutions. But there's no sugarcoating this: Farrell made an awful decision, and he needs to recognize obvious substitutions, no matter whether he's an "AL manager" or not.
Should Mike Matheny Move Matt Adams Out of the Cleanup Spot?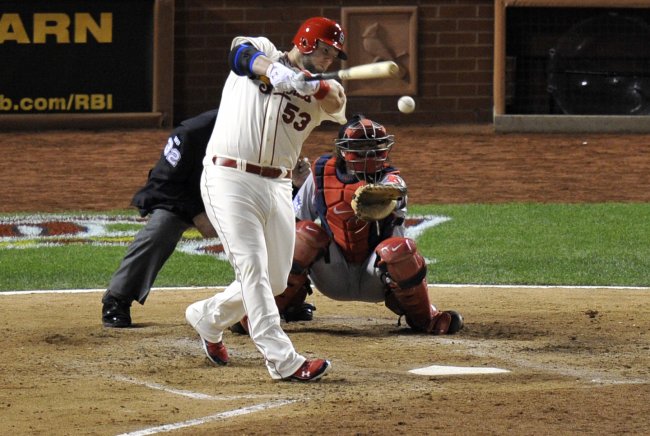 There's something fun about watching Matt Adams play baseball—and not just because he grew up 20 minutes from my hometown.
Adams is a throwback slugger. Built like a 2013 Matt Stairs, Adams looks like the type of dude who celebrates every win with a hearty steak and a 12-pack of Budweiser. He swings as if every swing is his last, whipping his bat through the zone with such effort and force you'd swear the baseball said something disparaging about his mother.
Matt Adams home runs are brought to you by the same people who invented Fat Guy Touchdowns and happiness. And when he's swinging the bat well, it's hard to argue against his positive effect on the Cardinals lineup. He hit .284 with 17 home runs and 51 RBI during the regular season, numbers that prorate to about 32 dingers and 95 RBI over a 550-at bat sample.
Odds are Adams will be a regular fixture in the Cardinals lineup for years to come. He's also yet another example of the team's excellent farm and scouting systems, as Adams was taken in the 23rd round of the 2011 draft.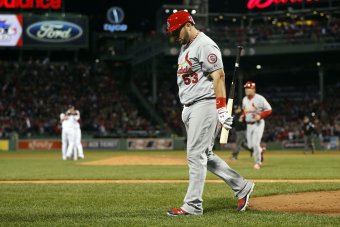 But his move to cleanup for the World Series has come with mixed results. Adams has only three hits through his first 13 at-bats, and even though he went 2-for-5 in Game 3, the three outs were all whiffs. Like many high-variance sluggers before him, Adams strikes out a ton—only without the Adam Dunn-esque patience at the plate.
In 57 postseason plate appearances, he's walked only three times and struck out 16. Although the Cardinals could probably live with that in the No. 6 hole—and they'll probably have to, considering Allen Craig looks like an octogenarian when he runs—it's not working at cleanup. Yadier Molina and Matt Holliday have both been raking in this series, and Adams has become the sieve stuck between them killing rallies.
Adams isn't Pete Kozma, who may actually be legally blind. But Matheny should think about reverting to his NLCS lineup or at least swapping Adams and Molina, as David Freese hasn't exactly been lighting it up this postseason, either.
Advanced stats are via Fangraphs, unless otherwise cited.
Follow Tyler Conway on Twitter:
This article is
What is the duplicate article?
Why is this article offensive?
Where is this article plagiarized from?
Why is this article poorly edited?