As the NBA prepares to start the 2013-14 season, a number of teams continue to make significant roster moves to create the best team possible. These moves will continue over the next few months.
In a fast-moving league like this one, you have to be improving at all times. Anyone who stays the same is really just getting worse.
With this in mind, the top organizations will remain active to help out the current season as well as the future.
A lot can change in the coming weeks; these are moves you can expect based on the latest rumors from around the league.
Pau Gasol is Once Again on the Trade Block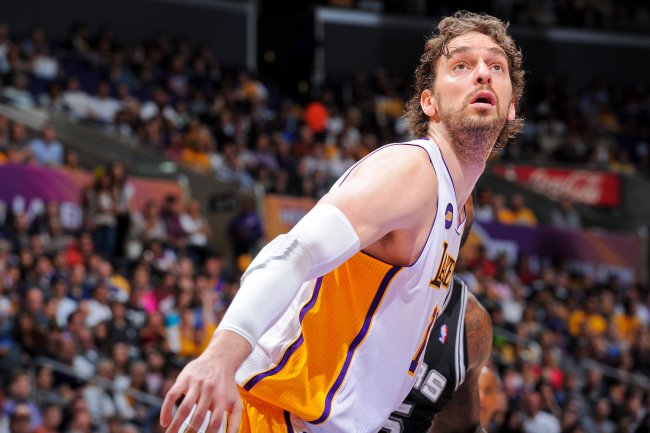 /Getty Images
Stop me if you heard this before: Pau Gasol might be traded. This has become a yearly saga for the Los Angeles Lakers, but he remains in the purple and gold heading into the year.
However, this season might finally see the All-Star power forward shipped out of town.
Sam Amico of Fox Sports Ohio provides the latest:
One Eastern Conference executive told FOX Sports Ohio he's heard from the Lakers recently, and word around the league is they may try to make a "substantial" trade before the regular season. Apparently, forward Pau Gasol remains far from untouchable.
The biggest change from recent years is that Gasol is finally in the last year of his contract, which means any team that acquires him would not have to pay too much of his enormous salary. It would also clear cap room for the upcoming offseason.
Additionally, the Lakers could end up struggling this year with Kobe Bryant out for the near future with an Achilles injury.
If Los Angeles starts too fall deep out of contention, the team should have no problem allowing Gasol to go to a contender.
Kenneth Faried to Be Traded?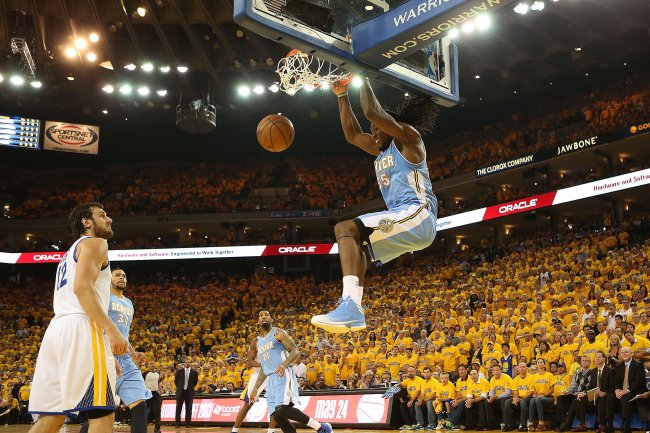 /Getty Images
While it seems as though it is just a matter of time until Gasol is traded, perhaps a much more surprising move would be any deal that includes Kenneth Faried of the Denver Nuggets.
The former Morehead State star proved doubters wrong upon entering the league and has been impressive with his first two years with the Nuggets. Last season, Faried averaged 11.1 points and 9.2 rebounds per game and had 31 double-doubles.
However, Grantland's Zach Lowe reports that he could be traded for the right price:
Multiple sources around the league have reported in the last month that Denver has put out targeted feelers on Faried, gauging his value and demanding very good return. The Nuggets, for their part, deny they've put Faried's name out there at all.
This move would be surprising if the Nuggets play as well as they did last season while finishing third in the Western Conference. Of course, it also makes sense to sell when the stock is at its highest.
Faried does not have a true position in the NBA. He is undersized for a power forward at 6'8" and does not have the speed or shooting ability to play as a wing. The organization might prefer a more prototypical player, which could lead to a blockbuster trade for the young player.
Aftermath of Marcin Gortat Trade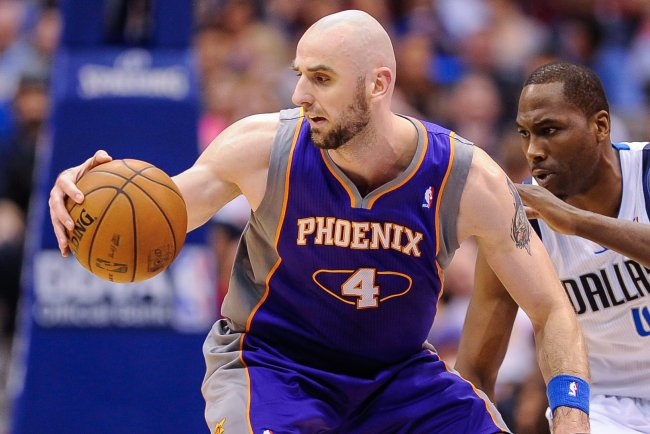 One of the biggest NBA moves this month featured a trade that sent Marcin Gortat, Shannon Brown, Malcolm Lee and Kendall Marshall to the Washington Wizards while the Phoenix Suns received Emeka Okafor and a first-round pick, via ESPN's Marc Stein.
Amazingly, very few of the players involved in this trade will make any sort of impact on their new team.
According to J. Michael of CSN Washington, the Wizards only made the move because of the significance of Okafor's injury:
CSN Washington has learned that the Wizards had talked about making the swap with the Phoenix Suns before, but the deal was fast-tracked over the last three or four days when it became evident that Okafor -- who is listed as out indefinitely -- won't be coming back any time soon.
Michael continues by saying that Okafor could have been back in a few months as a best-case scenario. As a result, the Wizards needed a healthy center they can trust right away, and they got that in Gortat.
Then again, the Suns are not even interested in the newly acquired player, as David Aldridge of NBA.com speculates:
Will be shocked if Okafor ever plays a minute in PHX. Suns didn't get him to play. Wiz could still have as much as $16M in cap room next yr.

— David Aldridge (@daldridgetnt) October 25, 2013
On the other side of the trade, Aldridge also reports that Gortat is the only player who will stick with the Wizards:
This was Gortat for Wizards' '14 first (protected thru 12). Wiz will not be keeping any of Marshall, Lee, Brown.

— David Aldridge (@daldridgetnt) October 25, 2013
Steve Kyler of USA Today reports that Shannon Brown will at least land on his feet:
All three expected to be waived by the Wizards -- word is Shannon Brown headed back to the Lakers.

— Steve Kyler (@stevekylerNBA) October 26, 2013
Still, this deal represents an interesting case of an NBA trade full of mostly unwanted parts just to fill salary-cap demands.
Follow Rob Goldberg on Twitter for the latest breaking news and analysis.