NFL Injuries Week 8: Latest News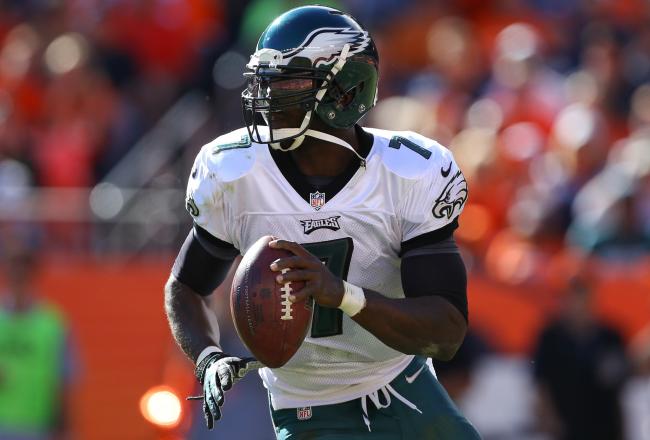 After one of the more brutal injury weeks in recent memory, NFL teams head into Week 8 trying to stay as healthy as possible.
A number of marquee players on both sides of the ball were knocked out for the season during an action-packed Week 7.
Offensive stars Reggie Wayne and Sam Bradford both tore their ACL and will spend the rest of the year on injured reserved. Meanwhile, defensive stalwarts Brian Cushing and Leon Hall were also ruled out for the season with various injuries.
Additionally, many more big-time players will miss at least a few games with smaller, but still significant injuries. Quarterback Jay Cutler was declared out four weeks with a torn groin muscle, while running back Doug Martin will also miss significant time with a torn labrum.
Of course, there are also some stars who will try to play in Week 8 if their ailments do not hold them out.
Fans and fantasy owners will want to see if running backs DeMarco Murray, Steven Jackson or C.J. Spiller can return to the field after being limited this season with various issues. High-profile players like Calvin Johnson, Jimmy Graham and Michael Vick will also affect real and fantasy games around the league based on health.
The status of these players range from probable to doubtful on this week's injury report, according to NFL.com.
Keep up with the latest news and information of each injury throughout Sunday's games along with immediate implications for both the league and fantasy football.
As much of an X-factor as tight end Julius Thomas has been in the Denver Broncos' offense this season, the league's highest-scoring unit should still be a formidable force even if he's out for an extended period.
Thomas left Sunday's 45-21 win over the Washington Redskins with an ankle injury, which could prove to be ominous, as Mike Klis of the Denver Post observed:
TE Julius Thomas has ankle injury. Return questionable. He's had serious ankle issues before. Two years worth.

— Mike Klis (@MikeKlis) October 27, 2013
The players behind Thomas are more than capable of contributing. Legendary quarterback Peyton Manning has innate chemistry with Jacob Tamme, with whom he was teammates in Indianapolis. Then there's ex-Houston Texans tight end Joel Dreessen, who logged 41 receptions just a season ago.
Plus, the Broncos have a plethora of other weapons, headlined by a trio of receivers in Demaryius Thomas, Eric Decker and Wes Welker.
Former first-round pick Knowshon Moreno has shed the "bust" label and has become a reliable receiver out of the backfield and an effective runner.
Moreno posted team-highs with six catches for 89 yards and a touchdown in Week 8, as Manning was able to adjust on the fly and produce no matter who was on the other end of his passes.
Hopefully Thomas' injury isn't serious, because he's been among the most exciting breakout players of the 2013 NFL season. In the unfortunate event that it is, though, Manning and Co. will keep lighting up the scoreboard.
This article is
What is the duplicate article?
Why is this article offensive?
Where is this article plagiarized from?
Why is this article poorly edited?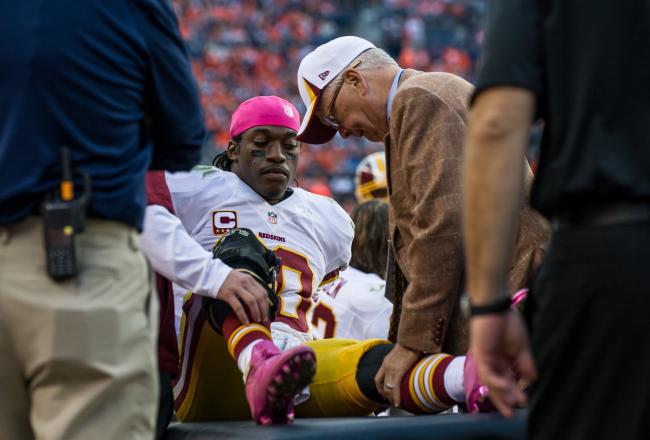 Washington Redskins quarterback Robert Griffin III exited in the fourth quarter of Week 8's 45-21 loss to the Denver Broncos with a left knee injury.
It was not a setback of any sort of severe variety, though, which should allow the nation's capital to breathe a sign of relief with regard to its pro football prospects:
Mike Shanahan: Robert Griffin is okay. The doctors cleared him to go back into the game but Shanahan held him out based on the score.

— Grant Paulsen (@granthpaulsen) October 27, 2013
Or maybe not.
Griffin followed up his best game of the 2013 season with his worst in Denver on Sunday, completing just 15 of 30 passes for 132 yards, a touchdown and two interceptions while losing a fumble.
Last week's QBR was 91.8, and in this contest it was at the opposite end of the spectrum at 7.5.
The Redskins faithful should be more worried about Griffin's on-field production than any further health problems, but perhaps the two are more interrelated than the stubborn, competitive QB will let on.
Whatever is causing the decline in Griffin's play might be hurting Washington's chances of defending the NFC East title. However, head coach Mike Shanahan isn't likely to remove his franchise signal-caller from the field unless RGIII is flat-out incapable of playing.
This article is
What is the duplicate article?
Why is this article offensive?
Where is this article plagiarized from?
Why is this article poorly edited?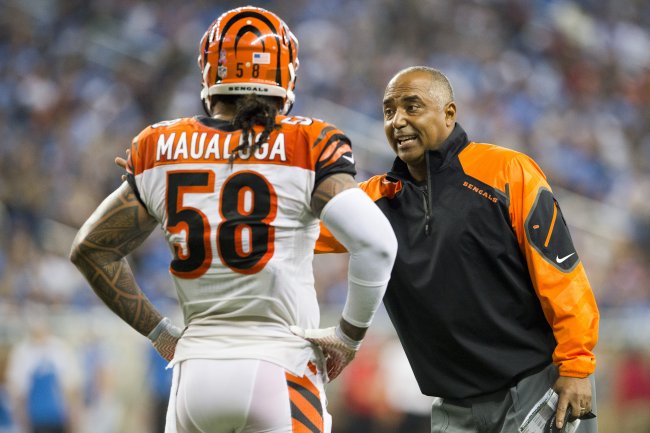 Cincinnati Bengals linebacker Rey Maualuga was carted off the field late in the first half of the Bengals' 49-9 victory over the New York Jets.
The five-year veteran went down with an apparent knee injury, and after his return was initially listed as questionable, he was downgraded. He did not return, and it was revealed that he also suffered a concussion.
Maualuga went down on a routine play, as he collided with Jets' running back Chris Ivory on a 2-yard run. Maualuga stayed down after the play, and several minutes later, he tentatively rose to his feet and lifted himself onto the cart with the help of teammates and trainers.
His current status is unknown, but we will have updates for you as they became available.
This could potentially be a major blow for the Bengals, who boast one of the best defenses in the NFL. Maualuga is a key part of that, as he had racked up 49 tackles entering Week 8.
This is also the second consecutive game he left with an injury. He did not return after suffering a hamstring injury last week against the Detroit Lions.
Luckily for the Bengals, they can afford to rest Maualuga over the next couple weeks.
Their next three opponents (Miami Dolphins, Baltimore Ravens, Cleveland Browns) have gone just 3-10 since Week 4, combining to score an average of just 19.8 points per game during that span.
Following their Week 11 matchup with the Browns, Cincy will head into their bye week. It's unfortunate that Maualuga is hurt, but now is a perfect time for the Bengals to let him rest and recover for the final stretch of the season.
This article is
What is the duplicate article?
Why is this article offensive?
Where is this article plagiarized from?
Why is this article poorly edited?
There has been plenty of speculation regarding a trade involving Hakeem Nicks, but one play proved why the New York Giants should hold onto the talented receiver.
In the third quarter of the team's game against the Philadelphia Eagles, Victor Cruz was brought down hard by a pair of defenders. The star receiver was immediately brought into the locker room to look at a potential neck injury, according to Art Stapleton of The Record:
Victor Cruz is in locker room getting X-rays on his neck. #NYG

— Art Stapleton (@art_stapleton) October 27, 2013
While the extent of the injury is not yet know, it still proves that you can never have enough depth in the NFL, especially at wide receiver where so many players are needed every game.
To this point, the Giants had resisted all trade offers for their receiver, according to ESPN's Adam Schefter:
With Tuesday's NFL trade deadline approaching, Giants so far have resisted all overtures for WR Hakeem Nicks.

— Adam Schefter (@AdamSchefter) October 27, 2013
However, there is clearly a lot of interest. It would not have been surprising to see New York part with the veteran player set to be a free agent at the end of the year.
Still, the Cruz injury shows why Nicks remains valuable to the squad going forward. He has the ability to take over as a No. 1 receiver if needed and provide Eli Manning with a lot of support in the passing game.
Considering the struggling team is still in contention in the NFC East, Nicks should stay with the Giants for at least the rest of the season.
This article is
What is the duplicate article?
Why is this article offensive?
Where is this article plagiarized from?
Why is this article poorly edited?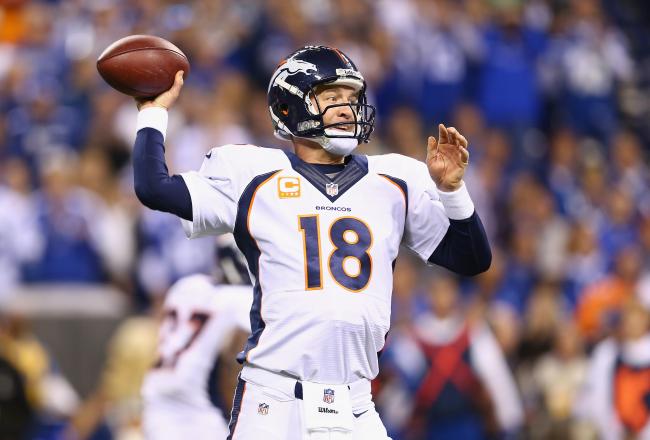 Not much has slowed down Peyton Manning this season, but an injury to both ankles could possibly do that. Still, this is unlikely to become an issue in Week 8 against the Washington Redskins.
ESPN's Chris Mortensen reports that the All-Pro quarterback will be dealing with plenty of pain in the upcoming game:
Both of P. Manning's ankles are sprained, including a high right ankle sprain aggravated by Robert Mathis' 2nd sack. Pain killer for today.

— Chris Mortensen (@mortreport) October 27, 2013
However, all that matters is that Manning will be playing.
The superstar has been the best quarterback in football this season by a wide margin. He leads the NFL in passing yards, touchdowns, quarterback rating and total QBR. He has also been incredibly consistent with with at least 295 passing yards and two touchdowns in each game.
Even with the injuries, Manning will be able to keep this going against one of the worst pass defenses in the league. The Redskins allow the second-most yards per pass attempt at 8.5, while opposing quarterbacks have a rating of 102.1 against them this season.
To make matters worse, starting free safety Brandon Meriweather is suspended for the game due to multiple illegal hits to the head. This makes an already bad defense even worse.
Manning has never been someone to move around much on the football field, so the injured ankles should not slow him down. He will have yet another huge game to keep Broncos fans and fantasy owners happy once again.
This article is
What is the duplicate article?
Why is this article offensive?
Where is this article plagiarized from?
Why is this article poorly edited?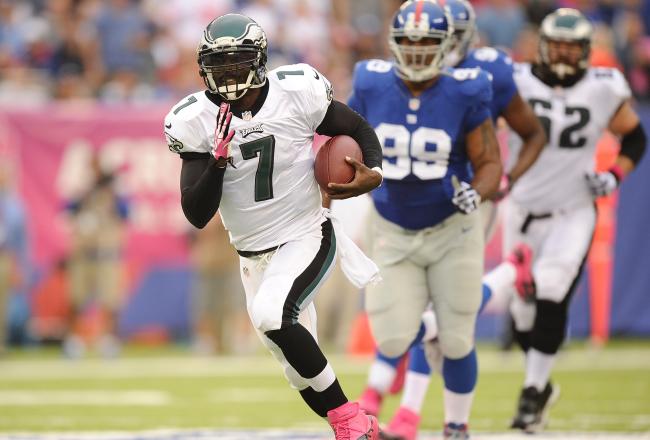 Michael Vick returned to action in Week 8 after missing the previous two games with a hamstring injury. Unfortunately, the same injury took him out of the battle against the New York Giants.
Micheal Vick is coming out of the game. Aggravated his hamstring injury. Matt Barkley coming in.

— NFL: AroundTheLeague (@NFL_ATL) October 27, 2013
To make matters worse, the quarterback was largely ineffective before being replaced by Matt Barkley. Vick completed six of his nine passes for only 31 yards with an interception. He also had one carry for only one yard.
If he is unable to return, it represents yet another dud for fantasy owners who put the dynamic player in their lineup. At this point, the veteran is tough to trust at any point this season.
Injuries have been an issue for Vick throughout his career. Only once since getting drafted in 2001 has the quarterback played in all 16 games in a season, and this year will be no different.
However, the difference in 2013 is that he has been largely ineffective while in the lineup. He only has one 300-yard passing game this season and has not scored a touchdown since Week 3. Additionally, his completion percentage of 53.8 percent is his lowest since his first year with the Philadelphia Eagles.
This keeps his job in jeopardy, even when healthy. Either Nick Foles will take over the starting job, or the struggling team will see what it has in rookie Matt Barkley.
Vick's time as a starting quarterback could be coming to an end, either by injury or ineffectiveness. Neither is good for fantasy owners, and it is about time to give up on the once-great player.
This article is
What is the duplicate article?
Why is this article offensive?
Where is this article plagiarized from?
Why is this article poorly edited?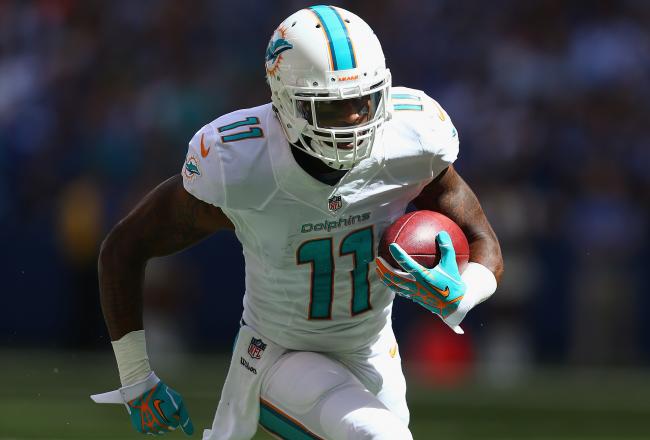 Brandon Gibson has gotten off to an excellent start to the regular season, but it appears as though the Miami Dolphins will have to move on without him.
According to Albert Breer of NFL.com, the wide receiver possibly suffered a season-ending injury in the Week 8 game against the New England Patriots:
Per source, the initial diagnosis for Dolphins WR Brandon Gibson is that his knee injury is likely season-ending.

— Albert Breer (@AlbertBreer) October 27, 2013
Gibson has been one of the most pleasant surprises of the 2013 season for the Dolphins. While Mike Wallace was the high-profile free agent signing over the summer, Gibson had more receptions and touchdowns through the first six games of the year.
Overall, the former St. Louis Rams receiver had 29 catches for 322 yards and two touchdowns entering Week 8. He also added a touchdown against the Patriots before coming out of the game.
As a result, Miami will need more production out of the rest of the receivers on the roster, mainly Wallace. The 27-year-old receiver has two 100-yard game this year, but also has three games of 25 yards or less.
Alongside him is Brian Hartline, who has been consistent but has not topped 70 receiving yards since Week 1.
Both players will need to be more productive for the remainder of the year in order to help out young quarterback Ryan Tannehill.
This article is
What is the duplicate article?
Why is this article offensive?
Where is this article plagiarized from?
Why is this article poorly edited?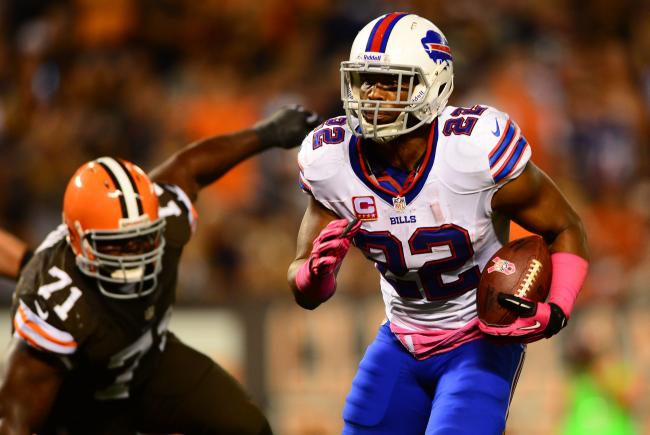 With C.J. Spiller declared inactive for the Buffalo Bills' Week 8 game against the New Orleans Saints, it has become clear that Fred Jackson is the better fantasy running back going forward this season.
Tim Graham of the Buffalo News provided this interesting statistic about Spiller:
C.J. Spiller went into this week with the fifth-longest games-played streak among all RBs. Streak ends at 44 games with deactivation.

— Tim Graham (@ByTimGraham) October 27, 2013
Although he has played in these games, the running back has still been limited by injuries throughout the season. In the last three weeks, he is only averaging 9.7 touches per game.
As a result, Jackson has taken over as the primary runner in the Bills offense. In the same stretch, the veteran is averaging 16.7 touches per game. This should only increase with Spiller officially out of the game.
While Jackson's yards per carry has dropped in recent weeks, he still finds a way to be productive either on the ground or in the passing game. He has a total of 595 yards from scrimmage this season and is tied for fifth in the NFL with five rushing touchdowns.
Meanwhile, Spiller has been one of the biggest fantasy disappointments of the year after being selected in the first round of most drafts. He only ranks 34th among running backs in fantasy points this year despite playing in every game.
With his reduced role and uncertain injury situation, Jackson becomes the safer choice for the remainder of the year. If you can still buy low on the running back, you would be smart to complete a trade before it is too late.
This article is
What is the duplicate article?
Why is this article offensive?
Where is this article plagiarized from?
Why is this article poorly edited?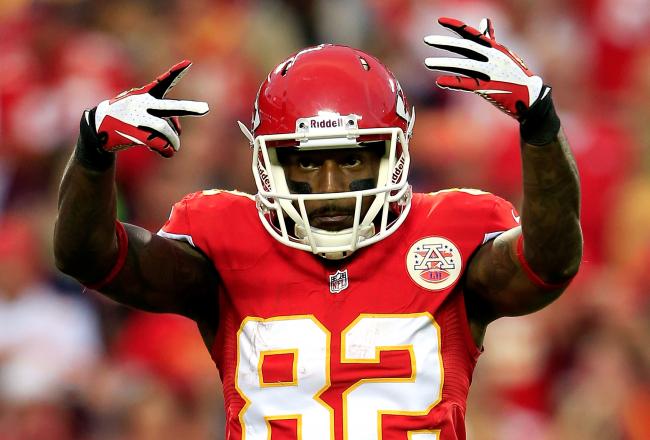 Dwayne Bowe will be on the field for the Kansas City Chiefs this week, but he should not be in your fantasy lineup.
The wide receiver was declared active for the team's Week 8 game against the Cleveland Browns despite dealing with a pulled groin, according to Jay Glazer of Fox Sports:
Jimmy graham, Amendola, Dwayne Bowe active. More on Graham coming up on #foxnflsunday

— Jay Glazer (@JayGlazer) October 27, 2013
On the other hand, Eric Karabell of ESPN provides everything you need to know with this tweet:
Dwayne Bowe active. Though based on previous stats, perhaps will be tough to tell.

— Eric Karabell (@karabellespn) October 27, 2013
The talented player entered the year with high expectations, but he has only managed 295 receiving yards on 25 catches in seven games this season. Last week, he finished with a season highs of five catches for 66 yards.
What we have seen from the Chiefs this season is an extremely conservative strategy led by quarterback Alex Smith. In an effort to reduce turnovers, Smith has been quick to find his check-down targets like Donnie Avery and running back Jamaal Charles.
As a result, Bowe has been the forgotten man in the offense, which has not helped out fantasy owners who drafted him early.
Going up against shutdown cornerback Joe Haden in Week 8 will certainly not change this trend. He should remain on the bench in all fantasy leagues.
This article is
What is the duplicate article?
Why is this article offensive?
Where is this article plagiarized from?
Why is this article poorly edited?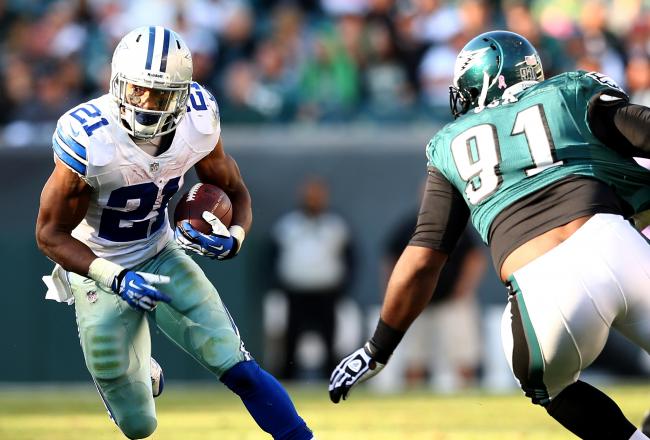 Despite appearing in practices during the week, DeMarco Murray will miss his second-game for the Dallas Cowboys. Unfortunately, this will not lead to a big day for backup Joseph Randle.
The team's official Twitter account released the inactive list before the start of the Week 8 game against the Detroit Lions:
INACTIVE TODAY: DeMarcus Ware, DeMarco Murray, Miles Austin, JJ Wilcox, DeVonte Holloman, Phil Costa, Darrion Weems. #CowboysNation

— Dallas Cowboys (@dallascowboys) October 27, 2013
When Murray missed the previous game against Philadelphia Eagles, Randle was the one who took over as the focal point of the running game. He finished with a solid 65 rushing yards on 19 carries while adding 28 yards through the air.
Unfortunately, it was fourth-string running back Philip Tanner who received the goal-line carries, including a one-yard touchdown in the third quarter.
Additionally, Randle will lose out on touches to fellow running back Lance Dunbar, who was inactive last week with a hamstring injury. The second-year player has a lot of talent, and the Cowboys will like to see what they have in the youngster now that he is healthy.
Finally, Dallas remains a pass-first team that has the sixth-fewest rushing attempts in the league this season.
While Randle will still probably get the majority of carries in the backfield, the reduced role with a minimal scoring opportunity makes him a bad fantasy start against the Lions.
This article is
What is the duplicate article?
Why is this article offensive?
Where is this article plagiarized from?
Why is this article poorly edited?