El Clasico 2013: Best and Worst Players from Barcelona vs. Real Madrid Clash
October 27, 2013

Saturday's El Clasico was far from the most exhilarating clash between Barcelona and Real Madrid in recent years. Nonetheless, the game lived up to its billing as one of the premier derbies in world football.
In the end, it was the Catalan hosts who ended their bad run in the fixture to claim a 2-1 win over Los Merengues and maintain their place at the summit of La Liga, extending their lead to four points.
With hundreds of millions of euros worth of talent on the pitch, some players delivered their expected star performances. Others, however, would rather forget this day at the Camp Nou.
Read on to find a breakdown of who impressed and who didn't shine quite so brightly, with performances rated on a scale of 1-10.
All statistics courtesy of Squawka.
Talismanic Teammates
Dani Alves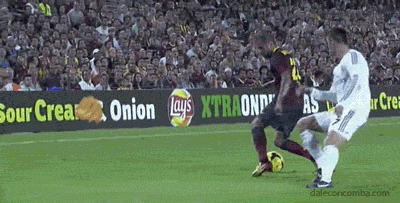 Dani Alves' match was best summed up by the Brazilian's sensational nutmeg run against Cristiano Ronaldo, emphasising his ability to run at even the best opposition and succeed.
Combining well with the likes of Lionel Messi and Cesc Fabregas, Alves had a rampaging outing down Barca's right flank, although that tendency to get forward may have allowed Ronaldo a little too much space of his own in return.
Rating: 8.0
Neymar
Neymar couldn't have picked a better time to resume his scoring run in La Liga, netting his maiden El Clasico goal at the first time of asking.
The Sun Herald's Craig Foster praised the youngster for his showing on the night:
After breaking the deadlock against Carlo Ancelotti's men, the youngster then fed Alexis Sanchez for what would eventually be the match-winner, capping off a good day for Gerardo Martino's Brazilian contingent.
Rating: 8.5
Games to Forget
Daniel Carvajal
Of course, the main victim of Neymar's fine outing was Real Madrid's right-back on the day, Daniel Carvajal.
The young Spaniard finished with a 98 percent passing rate, but managed to complete only one tackle on the night and was continuously shown up by his Barcelona oppressors.
Rating: 5.0

While one El Clasico debutant flourished, another fumbled and Gareth Bale didn't get his derby career off to the start that Real's masses would have liked to see, largely unnoticeable for the 60 minutes he played.
Aside from two missed attempts at goal and failing to find the target with 11 of his 24 attempted passes, Bale showed himself to be out of his depth on this particular occasion, although that's not to say he won't improve.
Rating: 4.0