New York Giants vs. Philadelphia Eagles: Live Score, Highlights and Analysis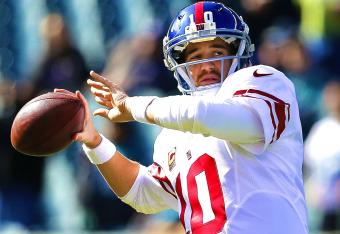 Getty Images
The New York Giants came into Week 8 hoping their first win of 2013 was a sign of good things still to come this season. The Philadelphia Eagles were hoping to shake off the previous game's abysmal showing like it was only a bad dream.
Only one of these NFC East rivals could walk out of Lincoln Financial Field with the peace of mind they were searching for on Sunday, and it was the G-Men. New York kicked five field goals and kept turnovers to a minimum, a strategy that allowed them to grind out a 15-7 win over a Philly squad with serious woes on offense.
Michael Vick started the game under center for the Birds, yet it was clear from the outset that his hamstring was not 100 percent. Vick gave way to rookie Matt Barkley in the second quarter, but the offense only improved marginally. With his defense getting the job done, quarterback Eli Manning ably managed the game for the Giants, which was enough to secure a victory.
With the win, New York secures a series split with the Eagles this season and moves its record to 2-6. The Eagles fall to 3-5, and their quarterback situation is as unresolved as ever. Scroll down for more lowlights and analysis from the game.
Giants 15, Eagles 7
Sloppy football makes for boring watching, as was the case today. The only touchdown by either team came off of a botched snap on a punt, picked up by Eagles linebacker Najee Good for an easy score. The Giants kicked five field goals and other than that one hilarious play, refused to turn the ball over. It's a sound way to beat a struggling team, but not great television.
There are more new questions than answers for Philadelphia after this one, especially with regard to the quarterback situation. The Giants meanwhile will happily pick up their second win of the season and end a road losing streak at eight games.
15-7 Giants, :13 fourth quarter
There's the pick by Barkley to seal it. Ugly, awful game I'm glad to see end.
So who starts next week? Hard to feel comfortable about Vick w/his hamstring. Foles coming back from concussion. Might go Barkley. #eagles

— Eliot Shorr-Parks (@EliotShorrParks) October 27, 2013
15-7 Giants, :27 fourth quarter
After today, it would be hard to argue with Matt Barkley as next week's starter at Oakland for the Eagles. He didn't play too bad all things considered, completing 17 of 24 passes for 158 yards (6.6 AVG), no touchdowns and no interceptions. He was sacked three times and lost a fumble, but not awful for a rookie.
If Foles can go, though, I think you have to give him a second chance. He's looked great in some previous starts, so you'd like to find out whether or not he has a rebound in him.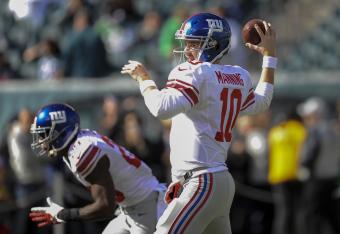 Giants 15-7, 2:00 fourth quarter
Credit Eli Manning for managing this game. His 24-of-38 for 246 yards (6.3 AVG) and no touchdowns doesn't look great, but the important part is no turnovers. Nothing has been easy for the Eagles today, at least not from New York's offense, and that's why the G-Men are going to win this game without ever getting the football across the goal line.
I never thought Chip would be a worse game manager than Andy, but I was clearly wrong. He might get better, but has a lot to learn. #Eagles.

— Nick Fierro (@NickFierro) October 27, 2013
Harsh words for Chip Kelly, who will be held to the fire this week in Philadelphia even if the Birds somehow pull off a miraculous win.
15-7 Giants, 4:03 fourth quarter
Have to agree with the broadcast: Kicking onside there was the wrong decision (again) by Chip Kelly. Birds defense has been getting the job done, so why not kick it deep and try to force another punt? After all, that is how they scored their only points in the first place.
15-7 Giants, 4:11 fourth quarter
It's not over yet! Horrible snap over Steve Weatherford's head, and suddenly this is a one-possession game!
Nothing is better than 3+ hours in the car for an NFL game with no touchdowns. Thanks, @Eagles!

— BountyBowl (@bountybowl) October 27, 2013
15-0 Giants, 5:13 fourth quarter
Two straight games without a touchdown for the Eagles, and at home no less, provided the score stays where it does. Not that it matters, as fans have no doubt already piled out of the Linc in droves.
Chip seems to be on a mission to burn every bit of credibility he has built up this season. And yeah, he did build some.

— Les Bowen (@LesBowen) October 27, 2013
15-0 Giants, 7:13 fourth quarter
New York seems content with taking whatever the defense concedes at this point, then punting the ball away if they must. Can't say I blame them.
The Giants now have four sacks in this game, after recording six sacks in the first seven game of the season. #NYG

— Ralph Vacchiano (@RVacchianoNYDN) October 27, 2013
Not surprisingly, Matt Barkley's internal clock has not caught up with the speed in the NFL in roughly one game's worth of action.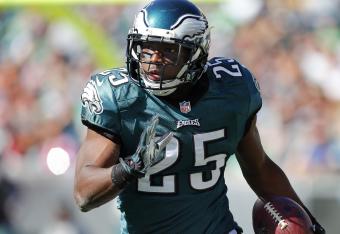 15-0 Giants, 10:13 fourth quarter
Where is LeSean McCoy on that last series? I realize the Eagles need to gain yards in bunches at this stage in the game, but asking a rookie QB to drop back every play is a recipe for disaster. Plus, Shady is perfectly capable of hitting an occasional home run himself. Can't say it enough, but I think Chip Kelly has really mishandled this game for the Eagles.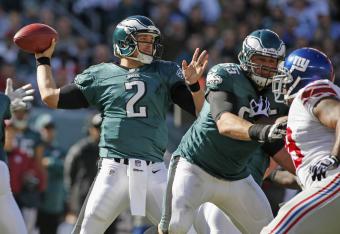 15-0 Giants, 12:23 fourth quarter
New York takes the three points, because the Eagles have zero and haven't threatened very much. Shame, because Barkley hasn't been bad. The rookie has gone 10-for-12 for 86 yards so far, and the fumble lost can partially be blamed on questionable play-calling. We'll see if the kid has any magic up his sleeve.
That's 10 penalties for 87 yards now against the Giants. Been their own worst enemy today.
12-0 Giants, 15:00 fourth quarter
G-Men driving here as we head into the home stretch. They have nearly doubled the Eagles in production today with 272 yards to 138, and they're keeping just enough drives alive, converting six of 13 third downs. A touchdown here would probably put this game out of reach.
Cruz back on Giants sideline, still has shoulder pads on. Seems to be looking for his helmet.

— Tom Rock (@TomRock_Newsday) October 27, 2013
12-0 Giants, 1:02 third quarter
That's certainly good news for New York.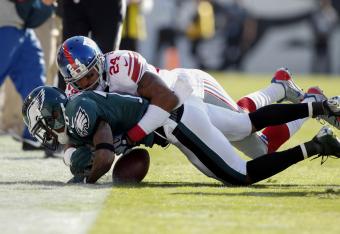 12-0 Giants, 3:21 third quarter
When it rains, it pours. Barkley hits DeSean Jackson on the shallow cross, and he can get first-down yards, but instead the wide receiver inexplicably tries to run around the defense and gets tackled short of the sticks. These guys just are not playing a smart football game today on offense, nor has it been well-coached.
Eli Manning has three intentional grounding in 6+ quarters against the Eagles this season. #EaglesTalk

— Geoff Mosher (@GeoffMosherCSN) October 27, 2013
12-0 Giants, 5:05 third quarter
New York is giving the Eagles yet another chance, this time at their own 3-yard line. Not liking their odds of scoring on this possession any more than the last.
Victor Cruz is in locker room getting X-rays on his neck. #NYG

— Art Stapleton (@art_stapleton) October 27, 2013
Yikes.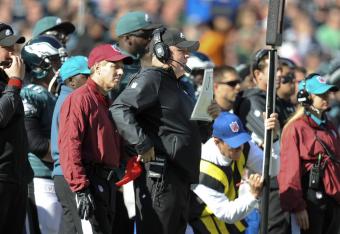 12-0 Giants, 5:45 third quarter
Eagles need two yards, so they run a slow-developing play where LeSean McCoy is trying to get to the edge. Chip Kelly has said in the past that he doesn't have a "system," but if you want to run the ball for two yards in the NFL, sometimes you just have to run a dive play instead of these fancy zone-reads. New York can only give you so many more opportunities in this game.
12-0 Giants, 7:23 third quarter
Earlier in the first quarter, Steve Weatherford gave the Eagles great field position with a terrible punt. On his second attempt, he pins the Birds on their own 5-yard line. Long way to go for the rookie QB.
Victor Cruz is hurt. He was just slammed to the ground by CB Bradley Fletcher. #NYG

— Ralph Vacchiano (@RVacchianoNYDN) October 27, 2013
12-0 Giants, 8:35 third quarter
Wow, that injury to Victor Cruz looked bad. Cary Williams just German suplexed Cruz on the turf with Nate Allen's assistance. I swear I heard a pop on TV. Would not be surprised if this is a dislocated shoulder or something to that effect.
LeSean McCoy, held to 7 yards on 6 carries in the first half, ran 6 times for 32 yards on that last #Eagles drive.

— Jeff McLane (@Jeff_McLane) October 27, 2013
One positive for the Eagles at least.
12-0 Giants, 9:15 third quarter
On 4th-and-9 from the NYG 32-yard line, the Eagles...go for it? Are you kidding? Forty-nine yards is not a gimme field goal with the wind, but Philly needed points from that drive. Instead, they turn it over on downs. Ridiculous decision there by Chip Kelly.
On the #Eagles first five drives they had 33 yards. They got 68 on the one drive with Barkley.

— Eliot Shorr-Parks (@EliotShorrParks) October 27, 2013
12-0 Eagles, start of third quarter
Eagles do have some glimmer of hope now that they realized a Mike Vick who can't run or even move around very much is not a Mike Vick at all. They really should've used this week to have Barkley work with the first-team offense more, but they'll just have to make do. Birds get the ball to start the second half.
Giants had the ball for 21:22 of the first 30 minutes of this game ... lead in yardage 229-72.

— Ralph Vacchiano (@RVacchianoNYDN) October 27, 2013
One-sided game so far to say the least.
This article is
What is the duplicate article?
Why is this article offensive?
Where is this article plagiarized from?
Why is this article poorly edited?