Must-Know Stats, Facts from 2013 World Series Game 3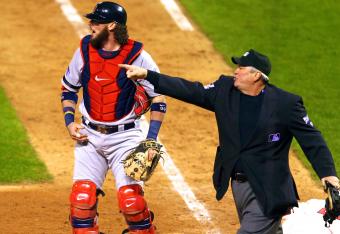 Getty Images
The 2013 version of the World Series is shaping up to be the best in recent memory. Game 3 provided fireworks that will be sure to carry on the rest of the series.
The St. Louis Cardinals took a 2-1 series lead over the Boston Red Sox with a 5-4 win Saturday on what Boston fans may say was a controversial call.
Anyone can look at the stats and see that David Ortiz is batting .625 in the World Series or that not having the designated hitter is affecting both teams' strategies. But there was more to Game 3 and the series than meets the eye.
Here are some must-know stats and facts from Game 3 and the 2013 World Series.
It Was Obstruction
This play will be logged into the memory banks of many fans as a play that potentially turned the tide of the World Series. Regardless of what your opinion is on the play, it was obstruction.
The call made Twitter blow up:
What a call. Heck of a way to end this game. This World Series just got that much crazier. #Cardinals #RedSox

— Zachary Krueger (@ZacharyKrueger) October 27, 2013
#WorldSeries now tied 1-1-1. Red Sox 1, Cardinals 1, Umpires 1.

— Paul Newberry (@pnewberry1963) October 27, 2013
My fellow Red Sox fans, that was obstruction and the umpires made the right call. We lost. Here's the rule: http://t.co/JIrN74w61w

— Garrett Quinn (@GarrettQuinn) October 27, 2013
Red Sox fans may not like the call, but MLB rules state that the ball is dead when a runner is obstructed:
The obstructed runner shall be awarded at least one base beyond the base he had last legally touched before the obstruction. Any preceding runners, forced to advance by the award of bases as the penalty for obstruction, shall advance without liability to be put out.
After a controversial call in Game 1, Boston's Dustin Pedroia spoke to the importance of getting the call right, according to a USA Today article by John Perrotto. "They've got a lot of great umpires out here," Pedroia said. "They put their heads together and tried to get it right. That's the best way to do things."
It stinks for the Red Sox, but rules are rules.
History Favors Game 3 Winner
In the history of the World Series, the two teams have been tied after two games 53 times. Of those 53 times, the winner of Game 3 won the World Series 38 times. That's a .717 winning percentage.
You have to like the Cardinals' chances after winning Game 3.
According to Cliff Corcoran of Sports Illustrated, the trend is even stronger since the divisional era began in 1969:
In that time, there have been 18 World Series that were tied after two games, and the winner of Game 3 has gone 16-2 (.889) in those Series. That's a fairly amazing record given that, even after winning a Game 3 tiebreaker a team still has to beat its opponent two more times to win the championship.
The only two teams that didn't lose the series after going down 2-1 following a 1-1 tie: the 1979 Pittsburgh Pirates and the 2003 Florida Marlins. Prior to that, you have to go all the way back to the 1951 World Series, when the New York Yankees came back to beat the New York Giants.
Errors Are Deciding Games
For two teams that were in the top 10 in fielding percentage during the regular season, errors have helped in deciding all three games thus far.
The Cardinals were tied for third in baseball with a .988 fielding percentage, while the Red Sox were tied for seventh with a .987 fielding percentage.
In Game 1, seven of Boston's eight runs resulted from errors. The five runs in the first two innings came courtesy of Pete Kozma. Then a two-out error by David Freese in the seventh inning allowed Ortiz to bat, and he hit a two-run home run.
While it's never a guarantee that the runs wouldn't have scored anyway, it's hard to argue the effect each error had in the game.
Game 2 saw Boston make two errors, although it's hard to argue the game would have been different had it not. St. Louis had taken a 3-2 lead on an RBI sacrifice fly by Matt Carpenter when Craig Breslow made a throwing error in the seventh inning. Daniel Descalso still might have scored on Carlos Beltran's single in the next at-bat.
Regardless, the two errors stick out for the Red Sox.
In Game 3, the obstruction call on Will Middlebrooks goes down as an error, but it was really the wild throw by Jarrod Saltalamacchia that put Middlebrooks in that position. If he hangs on to the ball and settles for there being runners on first and third with two outs, the game might have gone into extra innings. After all, Kozma was up next, and he was 0-for-4 in the game up to that point.
Let's also not forget Koji Uehara was on the mound, and we know how dominant he's been this postseason with an 0.87 ERA.
The bottom line is, these two teams are making key mistakes, and they're helping decide games.
It's Time for David Ross to Take Over at Catcher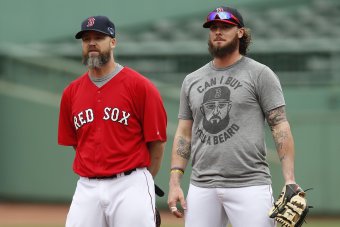 Game 3 showed us a lot when it comes to Saltalamacchia at the plate and behind it. His throw in the ninth inning set the Red Sox up for failure, allowing the Cardinals to win.
That play is excusable considering he was trying to make a play. What's inexcusable is the fact that he's 0-for-6 with four strikeouts in the World Series.
In fact, his entire postseason has been horrible, as he's batted .188 with five RBI and 19 strikeouts.
Compare that to Ross, who is batting .308 in the postseason. He's also a savvy veteran who likely doesn't make a throwing error in the ninth inning.
Just to let everyone know David Ross started game 1 of the World Series #EnoughSaid

— Parker Murray (@Parker_Murray) October 27, 2013
The Red Sox need someone with more experience behind the plate. While Saltalamacchia may have more power, the Red Sox still have him batting in the bottom of the order. How is that a change from Ross?
At least with Ross, the Red Sox know they have a guy who has seen the Cardinals' next two starters (Lance Lynn and Adam Wainwright). Against Lynn, Ross is 1-for-4 with a double, while he has three hits in 13 at-bats against Wainwright, including a three-run home run. Saltalamacchia has never faced either.
Moving Forward
After a wild Game 3, who will win the World Series?
Obviously, there's a lot of emotion after Game 3, but everyone must remember that the series is still only 2-1. History may be against the Red Sox, but the fact remains, St. Louis has to win two more games.
The way the Red Sox offense has performed this postseason (55 runs scored, eight home runs, 23 doubles), they are by no means out of it. When you have Dustin Pedroia and David Ortiz in the middle of your lineup, you're never out of it.
All Boston has to do is win one of the next two games and the series moves back to Boston. In the postseason, Boston is 5-2 at home. During the regular season, it was an AL-best 53-28 at home.
One thing Game 3 guaranteed us is that neither team is going away quietly.
So buckle your seat belts—this ride is not even close to being over.
This article is
What is the duplicate article?
Why is this article offensive?
Where is this article plagiarized from?
Why is this article poorly edited?